About
New World Symphony Alumni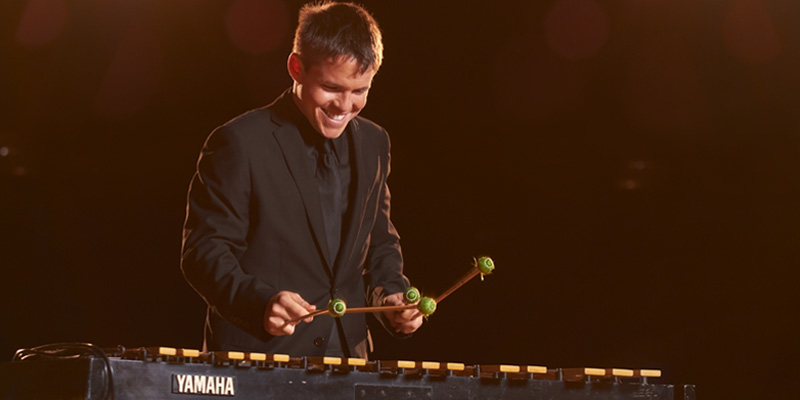 The New World Symphony has over 1,000 alumni making a difference in orchestras, ensembles and educational institutions around the world.
Here is a list of NWS musicians who have accepted positions during our 2016-17 season.
Zubaida Azezi, Violin, The Florida Orchestra
Ashton Bush, Librarian, New England Conservatory of Music
James Button, Oboe, San Francisco Symphony
Tommy Carpenter, Cello, Atlanta Symphony
Alison Chung, Oboe, Kansas City Symphony
Maya Cohon, Violin, San Francisco Opera
Tim Dilenschneider, Bass, Baltimore Symphony
Dima Dmitrova, Violin, Charlotte Symphony
Emma Gerstein, Flute, Chicago Symphony
Caroline Gilbert, Viola, Buffalo Philharmonic
Gary Ginstling, Executive Director, National Symphony
Christopher Hamlen, Bass, Detroit Symphony
Jory Herman, Bass, Los Angeles Philharmonic
Jennifer Hsieh, Violin, San Francisco Opera
Michael Jarrett, Percussion, Vancouver Symphony
Vivek Jayaraman, Violin, The Florida Orchestra
Ran Kampel, Clarinet, Jacksonville Symphony
Lisa Kim, Violin, Boston Symphony
Natsuki Kumagai, Violin, Minnesota Orchestra
Owen Levine, Bass, Kansas City Symphony
Si-Yan Li, Cello, Cavani String Quartet
Genevieve Micheletti, Violin, Calgary Philharmonic
Jane Mitchell, Viola, Naples Philharmonic
Derek Mosloff, Viola, The Florida Orchestra
Joseph Peters, Oboe, North Carolina Symphony
Joseph Petrasek, Percussion, Atlanta Symphony
Rebecca Reale, Violin, Los Angeles Philharmonic
Chris Riggs, Percussion, Milwaukee Symphony
Louis-Philippe Robillard, Cello, Utah Symphony
Russell Rybicki, Horn, Vancouver Symphony
Clare Semes, Violin, Toronto Symphony
Charles Settle, Percussion, Toronto Symphony
Madeline Sharp, Viola, Atlanta Symphony
Kelly Zimba, Flute, Toronto Symphony
Josh Cote, Horn, Sarasota Orchestra
Jennise Hwang, Violin, Pacific Symphony
Here is a list of NWS musicians who have accepted positions during our 2015-16 season.
Anne Aderman, Viola, Suwon Philharmonic
Max Blair, Oboe, Pittsburgh Symphony
Beth Breslin, Viola, Milwaukee Symphony
Matthew Decker, Percussion, Seattle Symphony
Evan Epifanio, Bassoon, Sarasota Orchestra
Karl Fenner, Bass, Atlanta Symphony
Austin Fisher, Cello, Colorado Symphony
George Goad, Trumpet, Columbus Symphony
Blake Hinson, Bass, New York Philharmonic
Matthew Howard, Percussion, Los Angeles Philharmonic
Miles Jaques, Clarinet, Toronto Symphony
Kevin Kunkel, Cello, Oregon Symphony
Jonathan Kuo, Violin, Jacksonville Symphony
Elizabeth Mahler, Artistic Administrator, Carnegie Hall
Aspen McArthur, Librarian, Houston Grand Opera
Brandon McLean, Bass, Pittsburgh Symphony
Julia Noone, Violin, Louisville Orchestra
Hugh Palmer, Violin, Utah Symphony
Sunjoo Park, Violin, Baltimore Symphony
Amy Pickler, Viola, San Antonio Symphony
Nick Platoff, Trombone, San Francisco Symphony
Robert Rearden, Horn, National Symphony
Christian Reif, Resident Conductor, San Francisco Symphony
Daniel Tosky, Bass, Atlanta Symphony
Foster Wang, Violin, President's Own Marine Band
Henry Ward, Oboe, Buffalo Philharmonic
Jeanne Weisman, Horn, Baltimore Symphony
Brad Whitfield, Clarinet, Alabama Symphony
Audrey Wright, Violin, Baltimore Symphony
Aya Yamamoto, Piano, Lincoln Center Stage
Yanghe Yu, Violin, Auckland Philharmonia
Erin Zehngut, Violin, North Carolina Symphony
Yuping Zhou, Violin, Jacksonville Symphony
To our NWS alumni – is your name missing?  Would you like to be included?  Please send us an email!