Community Engagement
Rehearsal Observations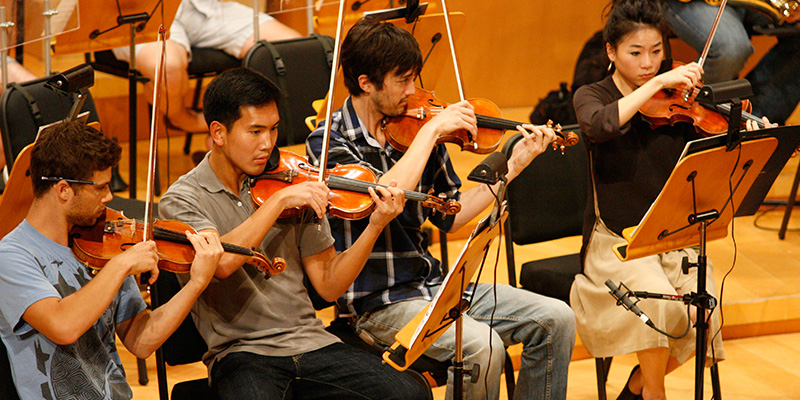 Rehearsal Observations offer the unique opportunity of viewing the inner workings of a symphony orchestra for grades 5 and up. During the visits, students and community groups will witness a working rehearsal with internationally renowned conductors and soloists. The observation requires that groups remain in the performance hall for approximately 75 minutes. Prior to the rehearsal, groups will meet with Fellows of the New World Symphony to learn more about works to be rehearsed and answer questions relating to their specific orchestral instrument. 
Deadline for Reservation: Reservation forms must be received at least one month in advance of desired Rehearsal Observation date. September reservations must be received at least two weeks in advance.

List of Available Dates:
Registration for Rehearsal Observations between September 2017 - December 2017 are currently open.
Thursday, September 14: Pre-Season String Orchestra: Mozart and Copland
Friday, September 15: Pre-Season Brass Ensemble Concert: Opening Fanfare
Friday, September 22: Pre-Season Orchestra: Fate and Fury
Friday: October 13: Season Opener with MTT and Yuja Wang
Thursday, October 26: Mendelssohn's Italy
Thursday, November 9: Poetic Reflections
Friday, November 10: Poetic Reflections
Thursday, November 30: Appalachian Spring
Friday, December 1: Appalachian Spring
Friday, December 15: Sounds of the Season
Registration for January - May 2018 observations will open in November 2017. See below.
Thursday, January 11: Beethoven and Barber
Thursday, February 15: The Firebird
Thursday, February 22: Brahms the Romantic
Friday, February 23: Brahms the Romantic
Friday, March 9: A Return to Bach's Coffeehouse
Thursday, March 22: Concerto Showcase
Thursday, April 5: Pines of Rome
Friday, April 6: Pines of Rome
Friday, April 13: Maurice Ravel: A Musical Journey
Friday, May 4: The Mahler Legacy: 9