Events & Tickets
Art Basel at SoundScape Park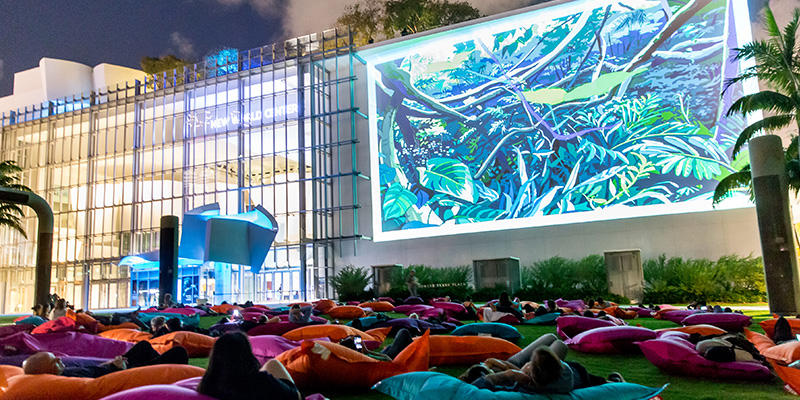 Art Basel stages the world's premier art shows for Modern and contemporary works, sited in Basel, Miami Beach and Hong Kong. Defined by its host city and region, each show is unique, which is reflected in its participating galleries, artworks presented, and the content of parallel programming produced in collaboration with local institutions for each edition. In addition to ambitious stands featuring leading galleries from around the world, each show's exhibition sectors spotlight the latest developments in the visual arts, offering visitors new ideas, new inspiration and new contacts in the art world.
The New World Center's projection wall will be home to a selection of this year's premiere program of films and videos titled "Our Hidden Futures." Curated by Art Basel film curator David Gryn, Director of Daata Editions and London's Artprojx, the lineup will highlight an international selection of emerging and established artists, encompassing a range of moving image works that illustrate the breadth of these various analogue and digital mediums.
Join us for these events in SoundScape Park. For detailed information about each event, please click here.
Wednesday, December 2
6:00 PM | Sound work
Mariele Neudecker, Figure of 8 (Rainforest, Ecuador, sound recorded at height: 1.39m, 9.78m, 22.59m, 30.79m and 37.26m), 2015, Galerie Barbara Thumm
8:00 PM | Short Film program
Fairy Doll; Running time approximately 58'; the 2015 Film program will open with a selection of short works in which artists focus on single portrait to reveal nuances of the human condition.
Speak Easy; Running time approximately 78'; Speak Easy will consider the artistic use of the creative, the audience, and the allure of the arena, the theater and the theatrical to explore the unsaid or unsayable.
Thursday, December 3
6:00 PM | Sound work
Sofie Alsbo, Close Encounter, 2015, courtesy of the artist
9:00 PM | Short Film program
Afterward Via Fantasia; Catherine Sullivan with George Lewis and Sean Griffin, Afterword via Fantasia, 2015, 60ʹ, Metro Pictures
Sea of Silence; Running time approximately 56'; works within Sea of Silence reflect on the poetic silence of the absent and, in so doing, create a louder and much more visceral language.
Friday, December 4
6:00 PM | Sound work
Camille Norment, Toll – Dissonant Image, (Re-mixed and mastered from 2011 version of Toll), 2015, courtesy of the artist
8:00 PM | Short Film program
Duet; Running time approximately 45'; Duet will present artworks that embody pairs, the split screen, duos and unions, which are found in the style of the film, the artistic process or within the narrative.
Snow Job; Running time approximately 62'; selected works in Snow Job use satire to communicate messages that engage and humor us.
Saturday, December 5
6:00 PM | Sound work
Alice Jacobs, The Intent I Owe, 2015, courtesy of the artist
8:00 PM | Short Film program
Vanishing Point; Running time approximately 58'; Vanishing Point will feature a selection of artworks which employ kinetic and choreographed movement to investigate the factory, machines, and the futility of war, as well as the demise of manufacturing and its consequences.
Bikini Carwash; Running time approximately 52'; the seven works in this program will explore the great outdoors, capturing urban and rural encounters.
Photo of Art Basel 2014 in SoundScape Park courtesy of Art Basel.