Events & Tickets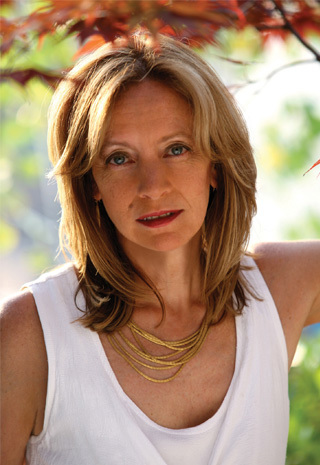 Orchestra Concert,Friends of NWS
ENCOUNTERS: THE LURE OF THE LATIN: NORTHERN COMPOSERS LEAN SOUTH
New World Center
Friday, February 26 at 7:30 PM
Saturday, February 27 at 7:30 PM
Program
France, Germany, Italy and Russia are known for their unmistakable musical styles and the masters that embraced and championed them. Hear what happens when these famed composers trade in their patriotic compositional pursuits and embrace the panache and sultry sounds of Latin America! With the fiery dances of George Bizet's Carmen and the tantalizing melodies of Nikolai Rimsky-Korsakov's Capriccio espagnol, favorite musical icons transport audiences south for an unforgettable raucous adventure. 
**We're experimenting!** Encounters are one-hour, intermission-less evenings hosted by Jamie Bernstein. We invite you maximize your experience by clicking here for early access to the concert's expanded program notes with additional resources and artist biographies. This information will only be available online, which you will be able to access after the event at www.nws.edu/LatinLure. Click here to tell us what you think of this new format!
Encounters concerts span approximately one hour and feature engaging narration from the stage, providing context and history for the music. After each performance, mix and mingle with the Fellows and fellow concertgoers with a complimentary cocktail reception.
Program
Georges Bizet
(1838-1875)
Approx. Duration: 7 minutes

Selections from Carmen (1875)

Felix Mendelssohn
(1809-1847)
Approx. Duration: 6 minutes

Symphony No. 4 in A major, Op. 90, "Italian" (1833)

Ottorino Respighi
(1879-1936)
Approx. Duration: 4 minutes

Mvt. III from Brazilian Impressions (1928)

Nikolai Rimsky-Korsakov
(1844-1908)
Approx. Duration: 8 minutes

Capriccio espagnol (1887)

IV. Scena e canto gitano
V. Fandango asturiano
Georges Bizet
Selections from Carmen (1875)

Approximate duration: 7 minutes
Set in Seville, the opera Carmen details the romance between a soldier and a Gypsy girl. Carmen contains some of the most celebrated "Spanish" music ever written—even though its composer was French. Georges Bizet had been a precocious student, writing an effective symphony at age 17 and winning the prestigious Rome Prize at 19. He spent his short adult life mostly occupied with operas, planning as many as 30 but leaving only six intact. He died at the age of 36, three months after the premiere of Carmen. Later Bizet's friend Ernest Guiraud responded to popular demand by extracting the opera's highlights into two orchestral suites, published in 1882 and 1887. 
The Aragonaise from the first orchestral suite captures the essence of a flamenco dance with its strong triplet beat and jangling tambourine. That dance style from the region of Aragon is actually native to northern Spain, rather than the southern region of Andalusia where Carmen takes place, but we can grant Bizet artistic license in his geography. 
The famous Danse bohème from the second suite translates literally as "Bohemian Dance," a way of referencing the Romani people—colloquially known as "Gypsies"—who came to Spain by way of Eastern Europe. The flamenco music and dance of southern Spain developed when Romani traditions mingled with those of the local population, including many descended from the North African "Moors." 
Additional Resources 
PDF scores (Suite No. 1 and Suite No. 2) from the IMSLP Petrucci Music Library 
Synopsis and libretto for the complete opera 
History of flamenco written by a flamenco guitarist
Felix Mendelssohn
Symphony No. 4 in A major, Op. 90, "Italian" (1833)

Approximate duration: 6 minutes
At 20, Mendelssohn did what most young men from wealthy families did at the time: he embarked on a "grand tour" through Europe. Whereas Scotland inspired the stormy Hebrides Overture and the "Scottish" Symphony, a visit to sunny Italy sparked a symphony that, according to the composer, was "the jolliest piece I have ever done." 
Mendelssohn sketched part of that symphony while in Italy in 1830–31, and he completed the work in 1833, using it to fulfill a prestigious commission from the Philharmonic Society of London, the same group that had commissioned Beethoven's Ninth Symphony. Mendelssohn made substantial revisions to the symphony's final three movements in 1834, and he intended to revise the first movement, too, but he postponed that task and finally suppressed the symphony altogether. The work was published posthumously as the Symphony No. 4, although it was actually composed third. 
For the symphony's whirlwind finale, Mendelssohn borrowed lively rhythmic patterns from two Italian dances. He named the movement after the saltarello, a folk dance from central Italy defined by its fast triplet pulse and its leaping movements. Another dance with a similar rhythmic profile comes from the southern region of Taranto, on the heel of Italy's "boot." Legend holds that this manic tarantella dance could be used to ward off the effects of a poisonous bite from the area's giant spider, the tarantula.   
Additional Resources 
PDF score from the IMSLP Petrucci Music Library 
History of the tarantella dance 
Letters Mendelssohn wrote while in Italy and Switzerland
Ottorino Respighi
Mvt. III from Brazilian Impressions (1928)

Approximate duration: 4 minutes
The Italian composer Ottorino Respighi, best known for three tone poems celebrating his adopted city of Rome, benefited greatly from his world travels. After studying violin and composition in his hometown of Bologna, he set out for Russia, where he spent two seasons playing viola in an orchestra and taking lessons from master orchestrator Nikolai Rimsky-Korsakov. Further time abroad in Berlin, studying with Max Bruch, helped hone Respighi's voice. He secured a teaching position in Rome in 1913 and soon made his first big splash with Fountains of Rome in 1916. 
In 1927 a conducting engagement brought Respighi to Rio de Janeiro for the first time. He returned the next year with a three-part tribute to the country, Brazilian Impressions. The middle movement may have turned heads with its creepy depiction of a snake farm Respighi visited outside of São Paulo, but a more characteristic Brazilian atmosphere is presented in the finale, constructed as a Canzone e danza ("Song and Dance") in the spirit of Rio's festive Carnaval. 
Additional Resources 
Snake research institute that Respighi visited in 1927
Nikolai Rimsky-Korsakov
Capriccio espagnol (1887)

Approximate duration: 8 minutes
Nikolai Rimsky-Korsakov, who rose to prominence among the group of nationalist composers known as the "Russian Five," exercised his mastery of orchestral color to depict far-ranging sounds and places. In the wake of a successful fantasy for violin and orchestra on Russian themes, he turned to Spain for inspiration in Capriccio espagnol. Between that work and his next published opus, the Arabian-themed Scheherezade, Rimsky-Korsakov set a new benchmark for sparkling, evocative orchestration. 
The most demonstrably "Spanish" music of Capriccio espagnol comes in the dramatic fourth movement labeled Scena e canto gitano ("Scene and Gypsy Song"). Solo cadenzas capture the free-flowing spirit of the cante jondo, or "deep song," an emotionally charged style of flamenco singing. 
The final movement of Capriccio espagnol takes up a Spanish folk dance style, the fandango asturiano. The Gaelic tone of the music is well suited to the remote northern region of Asturias, which was settled by the Celts but never conquered by the Moors. The castanets (and bouncing bow strokes from the strings that imitate the same percussive effect) introduce a more conventional Spanish color.
Additional Resources 
PDF score from the IMSLP Petrucci Music Library 
Classic orchestration textbook by Rimsky-Korsakov 
Online orchestration course developed from the Rimsky-Korsakov textbook 
-- Copyright © 2016 Aaron Grad 
Aaron Grad is a composer, guitarist and writer based in Seattle. Besides providing program notes for the New World Symphony, he has been the Orpheus Chamber Orchestra's program annotator since 2005 and also contributes notes to the Saint Paul Chamber Orchestra and Seattle Symphony.
Christian Reif, conductor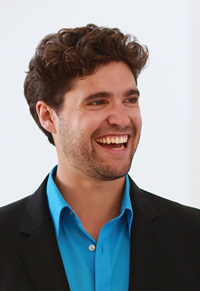 German conductor Christian Reif has just been appointed Resident Conductor with the San Francisco Symphony and Music Director of its internationally acclaimed Youth Orchestra, after making a "powerful symphony debut" with the Symphony in the fall. He is currently the second-year Conducting Fellow at the New World Symphony. This past season he conducted the Tanglewood Music Center Orchestra in several world premieres as part of Tanglewood's 75th anniversary summer and worked as cover conductor for the Los Angeles Philharmonic. In 2014 he served as assistant conductor for Alan Gilbert at the NY PHIL BIENNIAL. Mr. Reif is currently a member of Germany's prestigious Conductor's Forum (Dirigentenforum). He won the 2015 German Operetta Prize, awarded by the German Music Council. 
This season Mr. Reif led the Munich Chamber Opera in performances of Mozart's La finta semplice in Munich's famous Cuvilliés Theater. He has led several orchestras and ensembles both in the U.S. and abroad, including the Juilliard Orchestra, Salzburg Chamber Soloists, Georgian Chamber Orchestra and Israel Chamber Orchestra. His enthusiasm for performing contemporary music has led to many world premieres, among which were Michael Gordon's El Sol Caliente, a city symphony in honor of Miami Beach's centennial, and also concertos for DJ and orchestra, performed at the New World Symphony's nightclub-style PULSE events. 
A dedicated and enthusiastic educator, Mr. Reif has taught piano, coaches instrumentalists and works with singers as a repetiteur. He also worked as a Teaching Fellow in The Juilliard School's Ear Training Department and additionally served as its Department Assistant. He hosted and conducted the New World Symphony's 2014 education concerts, which were also webcast to area schools. 
In 2014 Mr. Reif completed his master of music degree in conducting at The Juilliard School under Alan Gilbert, after studying with Dennis Russell Davies at the Mozarteum Salzburg. For his outstanding achievements at The Juilliard School, Mr. Reif was the recipient of the Charles Schiff Conducting Award. He also holds a scholarship from the German study promotion program of the Cusanuswerk and two Kulturförderpreise awards given to promising artists of the region who promote cultural advancement in their communities.
Jamie Bernstein, host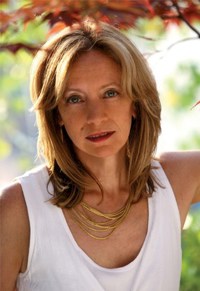 Jamie Bernstein is a narrator, writer and broadcaster who has transformed a lifetime of loving music into a career of sharing her knowledge and enthusiasm with others. She grew up in an atmosphere bursting with music, theatre and literature. Her father, composer-conductor Leonard Bernstein, together with her mother, the pianist and actress Felicia Montealegre, and their legions of friends in the arts, created a spontaneous, ebullient household that turned Ms. Bernstein into a dyed-in-the-wool cultural enthusiast. 
Ms. Bernstein's symphony pops concert, "Bernstein on Broadway," produced with conductor Michael Barrett, has enjoyed success with the Vancouver Symphony, Minnesota Orchestra, Phoenix Symphony, San Antonio Symphony and Rochester Philharmonic, among others. An evening of Leonard Bernstein's music for Broadway, the program features Ms. Bernstein's concert narration performed live with orchestra and vocalists. 
Replicating her father's lifelong compulsion to share and teach, Ms. Bernstein has written and produced several concerts for families and young people on the music of Copland, Mozart, Bernstein and others. The acclaimed program "The Bernstein Beat," a family concert about her father modeled after his own groundbreaking Young People's Concerts, has been presented by Carnegie Hall Family Concerts, the Caramoor Festival and orchestras across the country. In 2009 she was commissioned by The Philadelphia Orchestra to write a youth concert narration in partnership with The Philadelphia Orchestra's education department based around Pennsylvania State curriculum standards for school children. The final program, "Music Can Morph: Folk Music in the Concert Hall," was presented by The Philadelphia Orchestra in nine sold-out school-time concerts during the 2009-10 season. 
Ms. Bernstein also travels the world as a concert narrator, appearing with orchestras from Philadelphia to Minnesota, Havana to Beijing. In addition to her own scripts, she also performs standard concert narrations, such as Walton's Façade, Copland's A Lincoln Portrait, Prokofiev's Peter and the Wolf and her father's Symphony No. 3, "Kaddish." She is a frequent speaker on musical topics, including in-depth discussions of her father's works. 
In her role as a broadcaster, Ms. Bernstein has produced and hosted numerous shows for radio stations in the United States and Great Britain. In addition to hosting several seasons of the New York Philharmonic's live national radio broadcasts, she has presented several series for New York's classical station, including annual live broadcasts from Tanglewood. Most recently she presented a series for BBC Radio 3, "Fast Machine," about the music scene in New York City. In addition to writing her own scripts and narrations, Ms. Bernstein writes articles and poetry, which have appeared in such publications as Symphony, DoubleTake, Town & Country and Gourmet.