Events & Tickets
Special Event
¡FIESTA CUBANA!
New World Center
Friday, March 18 at 7:15 PM (Doors open at 7:00 PM)
Celebrate Cuba's cultural heritage with the New World Symphony during ¡Fiesta Cubana! on March 18. Explore a variety of Cuban music, art and food at the New World Center, transformed into a gallery of live musical performances and art installations. Doors open at 7:00 for the Fiesta Cubana art walk. Cuban artwork will be curated by the Conde Contemporary art gallery, accompanied by a diverse range of Cuban chamber music repertoire performed throughout the New World Center.

After experiencing the musically decorated art walk with delicious Cuban food and drink, the New World Symphony will perform a short selection of Cuban orchestral works at 8:30. Immerse yourself in the illustrious Farber Collection of Cuban art as the New World Symphony transports you across the Straits of Florida.

Following the concert, all guests are welcome to join an exuberant after party* held at the nearby Miami Beach Botanical Gardens, energized by the live Cuban band Cortadito! Cortadito is a traditional Cuban Son group that performs Son Montuno (Cuban Country Music from the early 20th century). Their sound is reminiscent of the Buena Vista Social Club. The quintet setting features Tres and Spanish Guitar, Trumpet, Bass, and percussion. The group covers a wide variety of classics by composers such as Miguel Matamoro, Nico Saquito, Compay Segundo, and more.
Lyft is the official ride sharing service for Friends of NWS and a proud sponsor of ¡Fiesta Cubana! Take your first ride using the promo code NEWWORLDSYMPHONY on Lyft's app. Lyft will generously donate $10 to NWS and you'll receive $20 in ride credits.
Doors open at 7:00 PM.
*Friends of NWS and MBBG members will have access to the after party's special VIP area with complimentary cocktails courtesy of Bacardi and delicious bites by Thierry Isambert Culinary and Event Design.
The New World Symphony thanks Diario Las Américas, the communications sponsor for this event.
Program
Part 1: SunTrust Pavilion
Art for this event's gallery walk courtesy of Conde Contemporary.
ILEANA PEREZ VELAZQUEZ          Duendes Alados for String Quartet (2001)
(b. 1964)                                                Jojas de Marfil
YALIL GUERRA                                Aché for Flute and Cello (2009)
(b. 1973)                                                Allegro e Trionfante
                                                           De Congo y Carabali for Flute, Clarinet and Bassoon (2009)
GUIDO LÓPEZ-GAVILÁN                 Un Recuerdo for Violin and Piano (1984)
(b. 1944)
                                                           Chacona Tropical for Solo Violin, Piano and String Quintet (1987)
AMADEO ROLDAN                           Dos Piezas Infantiles for Piano (1937)
(1900-1939)                                          Cancio de cuna del nino negro
Part 1: Atrium
LEO BROUWER                                Nuevos Estudios Sencillos for Guitar (2001)
(b. 1939)                                                Omaggio a Debussy
                                                               Omaggio a Mangore
                                                               Omaggio a Caturla
                                                               Omaggio a Prokofiev
                                                               Omaggio a Tarrega
                                                               Omaggio a Sor
                                                               Omaggio a Piazzolla
                                                               Omaggio a Villa-Lobos
                                                               Omaggio a Szymanowski
                                                               Omaggio a Stravinsky
                                                            20 Estudios Sencillos for Guitar (1973)
                                                               No. 17 Moderato (Para los ornamentos)
                                                               No. 14 Allegro (Para ligados y el pulgar)
                                                            Paisaje Cubana con Campanas for Guitar (1986)
                                                            Mr. Musgrove Stetson
YALIL GUERRA                                 Carnaval for Brass Quintet (2009)
                                                               Con moto
PAQUITO D'RIVERA                        Wapango for Woodwind Quintet (2001)
(b. 1948)
YALIL GUERRA                                La Rumba for Clarinet and String Quartet (2009)
GUIDO LÓPEZ-GAVILÁN                Camerata En Guaguancó for Strings (1983)

ERNESTO LECUONA                      La Comparsa (1912; arr. Michael Linville)
(1895-1963)
Part II: Performance Hall
Art for this event's concert courtesy of The Farber Collection.
ALEJANDRO GARCIA                     Tres Danzas Cubanos (1927)
CATURLA                                            Danza del tambor
(1906-1940)                                          Motivos de danzas
                                                               Danza lucumi
ERNESTO LECUONA                       Rapsodia Cubana (1955; arr. Thomas Y. Tirino)
                                                            Mr. Wilson
                                                            Malagueña from Andalucia Suite (1928; arr. Morton Gould)
AURELIO DE LA VEGA                     Elegia for Strings (1954)
(b. 1925)
AMADEO ROLDAN                           Suite from La Rebambaramba (1928)
                                                               Final del primer cuadro
                                                               Interludio
                                                               Comparsa lucumí
                                                               Comparsa de la culebra
                                                               Final
Josh Cote, horn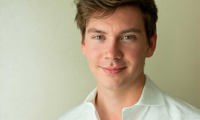 Josh Cote, a native of rural Illinois, is a second-year Horn Fellow at the New World Symphony. He is consistently exploring music performance and the broader entertainment industry in hopes of forging a brighter future for classical music. An accomplished horn player, he has performed with the Los Angeles Philharmonic, Saint Paul Chamber Orchestra and Dallas Symphony under renowned conductors such as Michael Tilson Thomas, Gustavo Dudamel, Sir Neville Marriner and Peter Oundjian. Outside of classical music, Mr. Cote learned how music is produced and placed into movies and television from some of Los Angeles' best music supervisors at Cutting Edge Group and Warner Music Group. Having explored different aspects of the music and entertainment industry, he has become passionate about the power and necessity of experiential branding in classical music's path forward.
Mr. Cote's education has taken him across the globe. He began his music studies at Southern Methodist University in Dallas studying with Greg Hustis, and spent a winter in Oslo, Norway studying with Frøydis Wekre before moving to Los Angeles, where he studied at the Colburn School with Andrew Bain, Principal Horn of the Los Angeles Philharmonic and Guest Principal Horn of the Berlin Philharmonic. Mr. Cote has designed logos and image assets for music licensing companies and maintains a side hustle producing graphic content for a wedding invitation firm. Although music is his calling, he loves graphic design, squash and mountain climbing.
Anthony Delivanis, horn fellow and host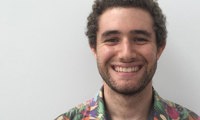 Anthony Delivanis is a third-year Horn Fellow at the New World Symphony. He received his bachelor's degree in horn performance from the University of Southern California's Thornton School of Music, where he studied with James Thatcher. He has also studied with Julie Landsman, Kevin Rivard and Steve Becknell, all of whom hold or have held principal horn positions in the Metropolitan, San Francisco and Los Angeles opera companies.
Mr. Delivanis has performed with renowned conductors including Michael Tilson Thomas, John Williams, James Conlon, Leonard Slatkin, James Gaffigan, Osmo Vänskä, Mark Wigglesworth and Pablo Heras-Casado. In September 2011 he participated in the International Horn Competition of America and received the highest award given in the professional division.
In addition to the New World Symphony, Mr. Delivanis has performed with the Saint Paul Chamber Orchestra, Mobile Symphony, Tanglewood Festival Orchestra and the Music Academy of the West Festival Orchestra. In December 2011 he participated in the Los Angeles based Debut Orchestra's first tour of China, where he played eight concerts in seven cities in 10 days. 
In his spare time, he enjoys racing bikes, DJing and writing music. 
John Wilson, piano
A third-year Piano Fellow at the New World Symphony, John Wilson regularly performs solo, chamber, concerto and orchestral repertoire, and is equally at home on the piano, organ, harpsichord, celeste and synthesizer. In addition to the New World Symphony, he has recently won keyboard auditions for guest orchestral positions with the Milwaukee and San Diego symphonies. Previously he served as Principal Keyboardist for the Reading Symphony, and as répétiteur for Baltimore Lyric Opera. 
Mr. Wilson has recently performed as a soloist with the New World Symphony, Napa Valley Festival Academy Orchestra, New Amsterdam Symphony and Camerata Notturna in New York City. Taking a particular interest in contemporary music, he has performed on the U.S and World Premiere performances of works by Reinbert de Leeuw, Michael Tilson Thomas, HK Gruber, Timo Andres and Bernd Deutsch. Mr. Wilson has performed in recital with violinist Joshua Bell and cellist Johannes Moser, and in ensembles with Daniel Hope and Robert McDuffie. He has also collaborated with David Foster, on synthesizer, and Audra McDonald, on piano. 
While at the New World Symphony, Mr. Wilson has studied with Emanuel Ax, Garrick Ohlsson and Jean-Yves Thibaudet. He is also a graduate of Peabody Conservatory, where he studied with Benjamin Pasternack and Marian Hahn, performed in master classes with Leon Fleisher and Murray Perahia, and was a recipient of the Presser Award and Clara Ascherfield Prize.
Federico Musgrove Stetson, guitar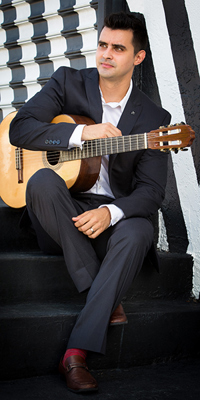 Federico Musgrove Stetson, born in Buenos Aires, Argentina, started playing guitar at the age of 12. In 2001 he moved to Miami and decided to pursue a career in music. Although he trained as an electric guitarist, he decided to focus on classical guitar. In 2007 he graduated from the University of Miami where he completed his bachelor's degree in music performance. As a student, he has played in master classes for artists such as Denis Azabagic, Manuel Barrueco, Margarita Escarpa, Máximo Diego Pujol, Berta Rojas and Hopkinson Smith, to name a few.
In 2011 Mr. Musgrove Stetson became the first student to earn a master's degree in classical guitar performance from Florida International University, where he studied with Rafael Padrón. Although the guitar represents his biggest passion, his interest in music took him in different directions. Besides studying jazz guitar and performing with the Gold Coast Opera, he also holds a diploma in Audio Technology from the SAE Institute, one of the most recognized centers in music production and sound engineering.
Mr. Musgrove Stetson's most recent performances include solo recitals, appearances with the Miami Guitar Trio, the FIU Symphony Orchestra, the Henry Mancini Institute Orchestra and the New World Symphony. He is currently pursuing his doctor of musical arts degree at the University of Miami under a full scholarship, where he is a teaching assistant and a Henry Mancini Fellow.
Mr. Musgrove Stetson is currently the head guitar instructor at Music Instruction Specialists in Miami, faculty member at the Miami Conservatory of Music and founding President and Executive Director of the Florida Guitar Foundation.