Events & Tickets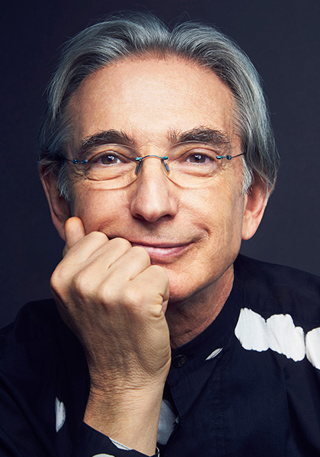 Special Event
NEW WORK
New World Center
Saturday, February 3 at 7:30 PM
Program
Join New World Symphony Artistic Director and composer Michael Tilson Thomas (MTT) as he leads an evening exclusively dedicated to new artistic creations. This event celebrating Miami and creativity in the arts is the cornerstone of NWS's commitment to multi-genre innovation. The program includes the world premieres of a newly-revised Miami in Movements, two musical compositions and a short literary work by MTT himself and a micro-play by New York playwright Christopher Wall.  
What does Miami sound and look like? The program includes the world premiere of the newly-revised Miami in Movements, a vibrant multisensory reflection on, and a love song to, contemporary Miami created by composer Ted Hearne and filmmaker Jonathan David Kane. Miami in Movements is the culminating work resulting from Project 305, which invited residents to share their stories and experiences of life in Miami in sound and video. 
Glimpse of the Big Picture features three world premieres by MTT that include a short work for solo piano, a reading inspired by his recollection of a dream and a work for large ensemble, which MTT will himself conduct.  
The Inherent Sadness of Low-Lying Areas explores how past experiences such as trauma can impact interpersonal relationships. The play weaves selected Fellows into the performance both musically and theatrically. This play will come to life through actors Joel Leffert and June Ballinger and through five Fellows, who will perform excerpts of musical works spanning three centuries. 
Don't miss your chance to be part of history in this visionary program.
The commissioned works on this program are supported in part by a donation from Mr. Douglas S. Cramer and Mr. Hubert S. Bush. 
Miami in Movements was commissioned by the New World Symphony with support from Knight Foundation.
Pre-Concert Chat:
Ticketholders can join NWS Fellows for a free Pre-Concert Chat in the New World Center's Ensemble Room 1! These half-hour chats begin one hour prior to the performance.
Tickets no longer available online.
Program
Michael Tilson Thomas
(b. 1944)

Selections from Glimpse of the Big Picture  (world premieres)

Whitsett Avenue: Sunset Soliloquy (1963)
Auction Dream (1977)
Lope (2012)
Michael Tilson Thomas, composer, author, reader, conductor
John Wilson, piano
Shaun Wright, projection designer
Christopher Wall
(b. 1970)

The Inherent Sadness of Low-Lying Areas (2018; world premiere of NWS commission)

Kel Haney, director
Joel Leffert, actor
June Ballinger, actor
Elizabeth Lu, flute
Roman Yearian, violin
Alan Ohkubo, cello
Michael Daley, percussion/Foley artist
Elizabeth Dorman, piano
Michael Linville, musical coordinator
Clyde Scott, projection designer
Luke Kritzeck, lighting designer
Music by J.S. Bach, Luciano Berio, Leoš Janáček, Sergei Prokofiev, Kaija Saariaho and Erwin Schulhoff. 
Ted Hearne and Jonathan David Kane
(b. 1982 / b. 1984)

Miami in Movements (2017; world premiere of revised version, NWS commission)

Out of the swamp….
The Neighborhood Game
Pocket here, pocket there
Closer than family
Ode to that Miami bass
A canary in the coal mine
Ted Hearne, composer and Jonathan David Kane, filmmaker
Michael Tilson Thomas, conductor
New World Symphony
Michael Tilson Thomas
Selections from Glimpse of the Big Picture  (world premieres)
Glimpse of the Big Picture is the title of a lifelong collection of remembrances. The earliest date from around my tenth year, the latest from the last few months. The remembrances are in the form of piano pieces, poems, dreams, conversations, chamber and orchestral works, pictures, films and of course songs. These pieces have slumbered in my journals for the last 60 years. Very few people know them. They are all the record of moments of illumination when I was able to see, however briefly, some of the design of my life. Tonight represents the first showing of three of them.
                                                                                  — Michael Tilson Thomas
Christopher Wall
The Inherent Sadness of Low-Lying Areas (2018; world premiere of NWS commission)
It's gone by many names: nostalgia, soldier's heart, railway spine, shell shock, battle fatigue, traumatic neurosis, combat hysteria and, more recently, Post-Traumatic Stress Disorder. If you know anything about PTSD you might associate it with war—for good reason. The incidence rate among Iraq veterans is between 11-20% within a given year and an estimated 30% of Vietnam veterans have had it over the course of their lifetime.*
You may not know that PTSD occurs in the general population as well. Ten percent of women and four percent of men develop it over the course of their lifetime from a wide range of causes: physical and sexual assault, neglect, even witnessing a calamity that leaves you otherwise unscathed, such as a car accident or natural disaster. Charles Dickens got it from a railway accident, not from bodily injury, but from tending to the carnage. Samuel Pepys got it from witnessing the Great Fire of London. The comedian Darrell Hammond from childhood abuse. Lady Gaga from assault. Whoopi Goldberg from witnessing a plane crash.
PTSD is serious business. Symptoms can emerge years after an event, clustering around intrusive thoughts, a permanent state of arousal, emotional numbing and avoiding reminders of the trauma. Unchecked, it can put you in a downward spiral. If you have a reaction on an overcrowded subway, for example, you might stop taking the subway. If you're wary of strangers because you learned, the hard way, that you can't always read body language, you might meet fewer and fewer people until you realize, at some point, that you know very few people at all. Since you can't tell what will trigger a reaction, mundane activities like going to the grocery store can feel fraught. So you order online. You ask your spouse to get something. You realize, at some point, that you haven't left the house in a while.
I was first diagnosed with PTSD after a violent mugging in 2008, though I'd shown symptoms since childhood. Since then I've become aware of how often this disorder is portrayed in war literature, from The Red Badge of Courage to Catch-22, from Apocalypse Now to The Hurt Locker. Looking further back we can see symptoms in Gilgamesh, Achilles, Ajax, Odysseus and Shakespeare's Pistol and Henry IV. (In case you're wondering, the first commonly acknowledged description of these symptoms comes from the battle of Marathon, described by Herodotus, in 490 B.C.E.)
All of these examples—all of them—recount challenges specific to the warrior class. But where is the literature that describes how the rest of us experience it? I was grateful when New World Symphony gave me the chance to portray what PTSD might feel like to an everyday person. For some of us, courage doesn't mean taking a hill from the North Vietnamese. It means braving a park on a crowded summer afternoon to order a hot dog. Though I only have one perspective to offer on what PTSD feels like—mine—I hope it might be added to a growing body of literature that portrays this illness in all its different forms—and names it—to help remove the sense of isolation and shame that can come from the disease.
                                                                               — Christopher Wall
* All figures from the National Center for PTSD.
Ted Hearne and Jonathan David Kane
Miami in Movements (2017; world premiere of revised version, NWS commission)
Miami in Movements is a reflection on, and a love song to, contemporary Miami. The symphonic and cinematic work integrates footage from a series of personal interviews we conducted with Miami residents and visitors, as well as recorded audio and video content captured by hundreds of Miamians throughout Miami-Dade County, submitted through an app developed by the MIT Media Lab and composer Tod Machover. The work seeks to honor and capture the rich and complex tapestry of the city and its people.
As Miami exists in "pockets," each its own mini-organism, each a confluence of cultural identities and ever-shifting boundaries, Miami in Movements reflects this geography with discrete movements, each acting in some way as a snapshot of a landscape that can only be grasped in its adjacencies and overlays. The relationship of the orchestra to the community, and specifically of the New World Symphony to the city of Miami at large, is similarly always in flux, and so this piece also aims to reflect the shifting boundaries (musical, political, cultural) that connect, separate and define these entities and the people in them.
                                                                                          — Ted Hearne and Jonathan David Kane
Michael Tilson Thomas, conductor
Michael Tilson Thomas is Co-Founder and Artistic Director of the New World Symphony, America's Orchestral Academy; Music Director of the San Francisco Symphony; and Conductor Laureate of the London Symphony Orchestra. In addition to these posts, he maintains an active presence guest conducting with the major orchestras of Europe and the United States.
Born in Los Angeles, Mr. Tilson Thomas is the third generation of his family to follow an artistic career. His grandparents, Boris and Bessie Thomashefsky, were founding members of the Yiddish Theater in America. His father, Ted Thomas, was a producer in the Mercury Theater Company in New York before moving to Los Angeles where he worked in films and television. His mother, Roberta Thomas, was the head of research for Columbia Pictures.
Mr. Tilson Thomas began his formal studies at the University of Southern California where he studied piano with John Crown and conducting and composition with Ingolf Dahl. At age 19 he was named Music Director of the Young Musicians Foundation Debut Orchestra. He worked with Stravinsky, Boulez, Stockhausen and Copland on premieres of their compositions at Los Angeles' Monday Evening Concerts. During this same period he was the pianist and conductor for Gregor Piatigorsky and Jascha Heifetz.
In 1969, after winning the Koussevitzky Prize at Tanglewood, he was appointed Assistant Conductor of the Boston Symphony Orchestra. That year he also made his New York debut with the Boston Symphony and gained international recognition after replacing Music Director William Steinberg in mid-concert. He was later appointed Principal Guest Conductor of the Boston Symphony Orchestra where he remained until 1974. He was Music Director of the Buffalo Philharmonic from 1971 to 1979 and a Principal Guest Conductor of the Los Angeles Philharmonic from 1981 to 1985. His guest conducting includes appearances with the major orchestras of Europe and the United States.
His recorded repertoire of more than 120 discs includes works by composers such as Bach, Beethoven, Mahler, Prokofiev and Stravinsky as well as his pioneering work with the music of Charles Ives, Carl Ruggles, Steve Reich, John Cage, Ingolf Dahl, Morton Feldman, George Gershwin, John McLaughlin and Elvis Costello. He also recorded the complete orchestral works of Gustav Mahler with the San Francisco Symphony.
Mr. Tilson Thomas' television work includes a series with the London Symphony Orchestra for BBC Television, the television broadcasts of the New York Philharmonic Young People's Concerts from 1971 to 1977 and numerous productions on PBS' Great Performances. Mr. Tilson Thomas and the San Francisco Symphony produced a multi-tiered media project, Keeping Score, which includes a television series, web sites, radio programs and programs in schools.
In 1990 Mr. Tilson Thomas and the New World Symphony were presented in a series of benefit concerts for UNICEF in the United States, featuring Audrey Hepburn as narrator of From the Diary of Anne Frank, composed by Mr. Tilson Thomas and commissioned by UNICEF. This piece has since been translated and performed in many languages worldwide. In August 1995 he led the Pacific Music Festival Orchestra in the premiere of his composition Showa/Shoah, commemorating the 50th anniversary of the bombing of Hiroshima. Thomas Hampson premiered his settings of poetry by Walt Whitman, Renée Fleming premiered his settings of the poetry of Emily Dickinson and the San Francisco Symphony premiered his concerto for contrabassoon entitled Urban Legend. As a Carnegie Hall Perspectives Artist from 2003 to 2005, he had an evening devoted to his own compositions which included Island Music for four marimbas and percussion, Notturno for solo flute and strings and a new setting of poems by Rainer Maria Rilke. Other compositions include Street Song for brass instruments and Agnegram, an overture for orchestra.
Among his many honors and awards, Mr. Tilson Thomas is a Chevalier dans l'ordre des Arts et des Lettres of France, was Musical America's Musician of the Year and Conductor of the Year, Gramophone Magazine's Artist of the Year and has been profiled on CBS's 60 Minutes and ABC's Nightline. He has won 11 Grammy Awards for his recordings. In 2008 he received the Peabody Award for his radio series for SFS Media, The MTT Files. In 2010 President Obama awarded him the National Medal of Arts, the highest award given to artists by the United States Government.
Christopher Wall, playwright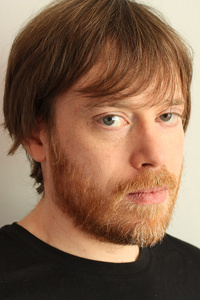 Christopher Wall's play Dreams of the Washer King premiered Off Broadway at the Playwrights Realm (a Backstage Critic's Pick) and was subsequently produced in Los Angeles. Other productions include Couldn't Say at Charter Theatre and Some Other Place at Black Dog, both in Washington, D.C.
Songs from Mr. Wall's chamber musical, The God of In-Between, co-written with Howard Fishman, have been performed at Joe's Pub at the Public in 2015-17. Other new works include The Calamity, developed at Gym at Judson in New York, at Voxfest at Dartmouth and at Northern Stage; and his sci-fi punk musical, Sweet Vapor, a collaboration with the composer Nathan Leigh, which has been workshopped at the Playwrights Realm.
Mr. Wall has been a resident at SPACE on Ryder Farm, a resident at the Vermont Studio Center and was a fellow at the Norman Mailer Center, where he pursued his other love, nonfiction. His essays have appeared in Longform, LA Review of Books, The Missouri Review, Poets & Writers and other magazines. Three of his works have been cited as a Notable Essay of the Year in the Best American Essays anthology. He appeared on the Leonard Lopate Show in 2007, where he was interviewed by Philip Lopate and read an excerpt from his prizewinning essay "The Size of the Room."
Mr. Wall has a bachelor of arts degree from Dartmouth and a master of fine arts degree from New York University, where he teaches. You can read more about his work at www.christopherwall.org.
Kel Haney, director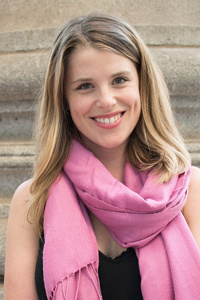 Kel Haney is a New York City-based director who focuses on new work. Also with Christopher Wall: The God of In-between (music by Howard Fishman) and Sweet Vapor (music by Nathan Leigh). Recent credits include: Comfort/Haney's The Elephant in Every Room I Enter (Next Door at New York Theater Workshop, La MaMa); Laura Maria Censabella's Paradise (Luna Stage, Passage Theatre); Chris Cragin-Day's Foster Mom, Deborah Brevoort's My Lord, What a Night and Quiara Alegria Hudes' Water by the Spoonful (Premiere Stages); Sharyn Rothstein's A Good Farmer, Neil LaBute's The Way We Get By (American Theatre Group); Chris Cragin-Day's A Woman, Neil LaBute's What Happens in Vegas and Vickie Ramirez's Glenburn 12WP (59E59); and Gardiner Comfort's You're Not Tough (HERE, Dixon Place).
Ms. Haney has directed/developed new work with Abingdon Theatre Company, The Amoralists, Ars Nova, Atlantic Theater Company, Cherry Lane, Keen Company, Labyrinth, The Lark, Manhattan Theatre Club, Ma-Yi, Naked Angels, New Dramatists, New Georges, Partial Comfort, Playwrights Realm, Rattlestick, Wellfleet Harbor Actors Theater, Westport Country Playhouse and Williamstown. Also: MTC Directing Fellow, Lincoln Center Directors Lab, Mabou Mines Residency, Old Vic/New Voices Exchange and a member of Ensemble Studio Theatre. Ms. Haney also directed the critically acclaimed short films I Am Them and Stay Close. More information at www.kelhaney.com.  

Joel Leffert, actor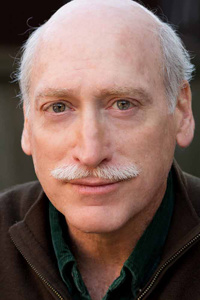 Joel Leffert has worked coast to coast at theatres such as Trinity Rep, Yale Rep, Berkeley Rep, Snowmass Rep, Connecticut Rep, Jewish Rep, Salamander Rep, Florida Stage, Syracuse Stage, Long Island Stage and many other stages, playhouses and institutes in parts ranging from Shylock to Salieri, from Rothko to Richard III. Recent work includes playing Scrooge in A Christmas Carol at Portland Stage and directing Julius Caesar for Hip to Hip's touring Shakespeare troupe in New York City. Broadway credits include the world premiere of Tennessee Williams' Not About Nightingales, directed by Trevor Nunn (also at London's Royal National Theatre) and standing by for Patrick Stewart and Ian McKellen in Waiting for Godot and No Man's Land at the Cort Theatre. He first had the pleasure of working with director Kel Haney at Premiere Stages in New Jersey, playing Albert Einstein in My Lord, What a Night by Deborah Brevoort. Film and TV credits include Deconstructing Harry, Green Lights, Falling Star, Law and Order, Six Degrees, Forever, Mysteries of Laura and Jessica Jones. Mr. Leffert is also an Audie Award-winning  narrator and a veteran stage combat choreographer.
June Ballinger, actor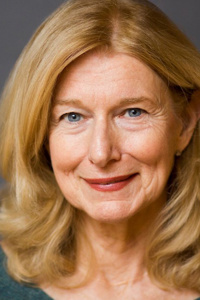 June Ballinger has appeared on Broadway (Pack of Lies with Rose­mary Harris) and numerous off-Broadway theatres in New York committed to new work (The Chelsea Theatre Center under the direction of Robert Kalfin, Ensemble Studio Theatre, Primary Stages, The Working Theatre). Regional experiences include the Ac­tors Theatre of Louisville, The Shake­speare Theatre of New Jersey, New Harmony Theatre, The Great Lakes Theatre Festival and Kennedy Center for the Performing Arts. In addition, June was Artistic Director of New Jersey's Passage Theatre for 22 years where she performed in six productions. 
As a writer Ms. Ballinger has created her solo play Once In…Never Out, inspired by the life of her mother, a Bletchley Park Code breaker in WWII England; along with playwright David Lee White, Trenton Lights, an oral history play celebrating the ethnic diversity of New Jersey's state capital; and Profiles, exploring peoples candid experiences with race and difference.
Ms. Ballinger's film credits include Mrs. Henry in the soon-to-be-released Monster, directed by Anthony Mandler (Get Lifted Films and Tonik Productions). Television includes various daytime soaps; a fuzzy memory cameo on Sat­urday Night Live and Law and Order.
Ms. Ballinger is a mem­ber of New York's Ensemble Studio Theatre, The Actors Center and the National Alliance of Acting Teachers and makes her home in Trenton, New Jersey with her husband.
Ted Hearne, composer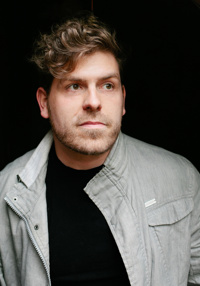 Ted Hearne is a composer, singer and bandleader noted for his "pan-stylistic freedom" (Pitchfork), "wildness of spirit" and "fresh and muscular" music (The New York Times), who "writes with such technical assurance and imaginative scope" (San Francisco Chronicle).
The New York Times included Mr. Hearne's oratorio The Source on its list of the best classical vocal performances of 2014, and (along with The New Yorker and The Nation) the best albums of 2015. Alex Ross wrote in The New Yorker "Hearne's piece holds up as a complex mirror image of an information-saturated, mass-surveillance world and remains staggering in its impact." Pitchfork called The Source "some of the most expressive socially engaged music in recent memory—from any genre." Law of Mosaics, Mr. Hearne's 30-minute piece for string orchestra, was recently performed by the Chicago Symphony and San Francisco Symphony, and the recording of it was named by The New Yorker's Alex Ross as one of the most notable albums of 2014. His newest album, Sound from the Bench, featuring Philadelphia's acclaimed choir The Crossing and released this year on Cantaloupe Music, was praised in The New Yorker: "Hearne has forged a fierce and timely grace."
Mr. Hearne performs with Philip White as the vocal-electronics duo R WE WHO R WE, belongs to the composer collective Sleeping Giant, and recent collaborations have paired him with legendary musician Erykah Badu. An active recording artist, his albums Katrina Ballads, The Source and Outlanders are available on New Amsterdam Records.

Mr. Hearne is the recipient of the Gaudeamus Prize and the New Voices Residency from Boosey & Hawkes. He recently joined the composition faculty at the University of Southern California. Recent and upcoming works include commissions from the San Francisco Symphony, eighth blackbird, A Far Cry, Ensemble Dal Niente, Roomful of Teeth and an evening-length work written in collaboration with poet/performer Saul Williams for the Los Angeles Philharmonic. For more information, visit www.tedhearne.com.
Jonathan David Kane, filmmaker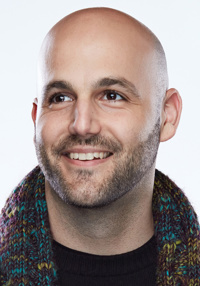 Jonathan David Kane is an artist and filmmaker from Miami. His work as a film director, producer, editor and cinematographer has screened at festivals and museums worldwide, including Toronto International, Sundance, SXSW, Rotterdam, Clermont-Ferrand, Sheffield Doc Fest, the Centre for Contemporary Arts in Glasgow, Contemporary Arts Center New Orleans, the Brooklyn Museum, the Museum of Modern Art in New York and CERN in Geneva. His 2015 documentary film Papa Machete "boasts lush cinematography" (OkayAfrica) and "resembles a graceful dance" (NPR). The film was recently released digitally via National Geographic and on The Atlantic Selects. 
In 2017 Mr. Kane collaborated with visual artist Michele Oka Doner on a four-channel video installation entitled Mysterium Alive, as part of Oka Doner's Mysterium exhibition at the University of Miami's Lowe Art Museum. He also joined forces with filmmaker and choreographer Yara Travieso to produce La Medea—a reimagining of Euripides' legendary Greek tragedy Medea as a Latin disco pop variety show—which premiered at PS122's COIL 2017 in Brooklyn, New York. La Medea was directed, performed, filmed, edited and streamed to audiences in real time. The resulting experimental film went on to screen with live musical accompaniment at the Dance on Camera Festival at Lincoln Center and the 34th Miami Film Festival. 
Mr. Kane has previously worked with the New World Symphony and Michael Tilson Thomas on the creation of several experimental performance films documenting Making the Right Choices: A John Cage Centennial Celebration. He is a winner of the Haskell Wexler Cinematography Award, a Knight Arts Challenge grant recipient, an alumni of the Berlinale Talents program and a co-founder of Miami's Borscht Corporation.
Clyde Scott, projection designer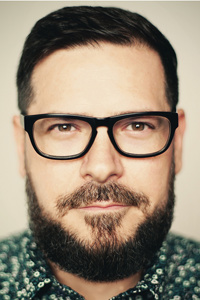 Clyde Scott is a director and projection designer. He has created national commercials, visuals for stadium concert tours, short films and works of video art made to synchronize with live performances of classical music.
In the mid-1990s Mr. Scott founded Electric Sheep, a Miami Beach-based design boutique specializing in motion graphics, where he crafted film and broadcast visuals for clients such as Disney, Shakira, MTV, Sony and Caravan Pictures. In 2001 he joined the staff of the New World Symphony and in the following years worked closely with architect Frank Gehry and Gehry Partners on the unprecedented integration of video and projection technology into the New World Center. Mr. Scott is now the organization's Director of Video Production, leading a seven-member team that works with Michael Tilson Thomas, guest artists and the New World Symphony's Fellows to find innovative ways to merge video and classical music in performance and education.
Since the opening of the New World Center, Mr. Scott has directed more than 80 live multi-camera high-definition simulcasts (WALLCAST® concerts) featuring the New World Symphony together with prominent artists such as Michael Tilson Thomas, Esa-Pekka Salonen, James Conlon, Emanuel Ax, Yefim Bronfman, Christian Tetzlaff and Anne-Sophie Mutter. In addition, he has designed proejctions for the New World Symphony's world premiere of Shaun Naidoo's Sentient Weather, its U.S. premiere of Luc Ferrari's Sexolidad and its performances of George Antheil's A Jazz Symphony, Arnold Schoenberg's Pierrot lunaire, Steve Reich's Violin Phase, Milton Babbitt's All Set and Gavin Bryars' One Last Bar, Then Joe Can Sing. In 2015 NWS launched a website celebrating the music of John Cage and featuring more than 40 videos comprising art pieces, performances and behind-the-scenes explorations that Mr. Scott either directed or co-directed. In recent seasons he has collaborated with choreographer Rosie Herrera and the Rosie Herrera Dance Theatre to create nearly 20 short works of video art for performances of music by Tchaikovsky, Copland, Stravinsky, Ravel, John Adams, Philip Glass, Michael Nyman, Michael Gandolfi, Arturo Márquez, Ted Hearne and others. These pieces—which explore the intersection of dance, movement, the human form and performance visuals—have been featured at Pulse, the New World Symphony's late-night club-style concerts.
Shaun Wright, projection designer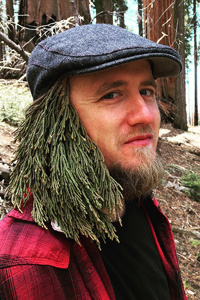 Shaun Wright is a multi-disciplinary artist and the Senior Videographer at the New World Symphony. He holds a bachelor's degree from Florida International University. He has worked on short films, music videos, live theater productions and video art installations. He is also a musician and has recorded a full-length album with his one-man band, Asymmetrical Apples.
Mr. Wright has collaborated with various artists such as Sol Ruíz, Shira Abergel, Christina Peterson and Cristy Wright, and has created and produced original works in various disciplines. His work has been seen at the Adrienne Arsht Center, Miami Light Project, Miami Beach Public Library (in conjunction with Art Basel), Pérez Art Museum Miami and many smaller stages.
Since 2014 Mr. Wright has been part of the New World Symphony's video team and is an integral part of the WALLCAST® concert series. He has created Fellow profile videos, designed video projections for Journey Concerts, NWS's performances exploring a single composer or type of music, and several Pulse events.
Luke Kritzeck, lighting designer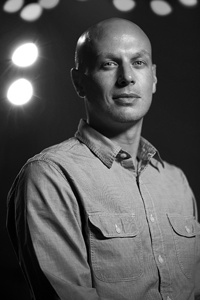 Luke Kritzeck has worked with artists from diverse disciplines and backgrounds in theater, dance, music, circus and opera on stages around the world. Prior to joining the New World Symphony as its Director of Lighting in January 2014, Mr. Kritzeck spent six years working for Cirque du Soleil on its touring production TOTEM and in Macau, China on its resident show ZAiA. His other projects with Cirque du Soleil include serving as the Lighting Director for featured performances including the Venetian Macau Tennis Showdown and the International Indian Film Awards, which was broadcast to more than 350 million viewers. Mr. Kritzeck's design credits include Chautauqua Opera Company, Cincinnati Ballet, Cedar Fair Entertainment, Opera Theatre and Music Festival of Lucca, Lafayette Ballet Theatre and the San Francisco Symphony.
Michael Linville, conductor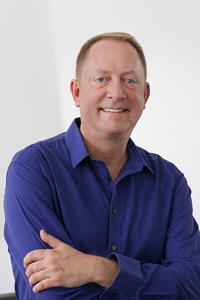 Michael Linville enjoys a varied career as pianist, percussionist, harpist, conductor, educator and arranger. The Dean of Chamber Music and Fellow Development at the New World Symphony, Mr. Linville programs and coaches much of its extensive non-orchestral performance activities. Additionally, he is the conductor and coordinator of the New World Percussion Consort and acts as curator of MUSAIC, the New World Symphony's website of educational videos featuring outstanding artists and educators in classical music.
Mr. Linville first came to the New World Symphony in 1993 as its Piano Fellow. In 1997 he was invited to join the Symphony's administrative staff and has served in several capacities, including Director of Admissions and Dean of Musicians. As a performer, Mr. Linville has appeared with NWS, the symphonies of San Francisco and Honolulu, the Florida Orchestra and the former Florida Philharmonic. Since 1993 he has been a member of the Breckenridge Music Festival in Colorado, performing concerts as pianist, percussionist and conductor during the summer season and in chamber music and educational projects during the winter. In 2016 he was named an Artistic Partner of the Festival, co-curating its chamber music series with violinist Kate Hatmaker.