Events & Tickets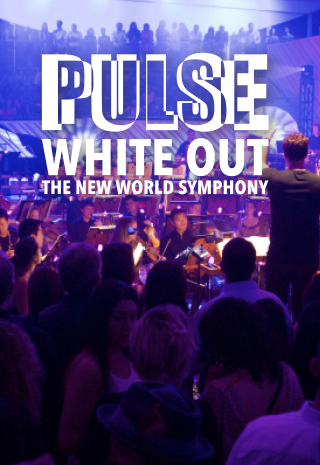 Special Event,Friends of NWS
PULSE:  WHITE OUT THE NEW WORLD SYMPHONY
New World Center
Friday, January 22, 2016 at 9:00 PM
DJ Le Spam returns next month for a special WHITE OUT edition of PULSE: Late Night at the New World Symphony! Back by popular demand, wear all white and embrace the evening's innovative musical experience and aesthetic as the New World Center transforms into a late-night lounge with club-style lighting and video projections. Enjoy the Fellows as they perform works by German masters such as Beethoven, Brahms and Wagner, American visionaries like John Adams and the world premiere of a work for DJ and orchestra by NWS alumnus Sam Hyken!
Tickets no longer available online.
Program
DJ SET 1: FEATURING DJ LE SPAM
Concluding with TK's Progress, an original work by Sam Hyken created in collaboration with DJ Le Spam

ORCHESTRA SET 1: "GERMAN HISTORY"
LUDWIG VAN BEETHOVEN         Symphony No. 5 in C minor, Op. 67 (1808)
(1770-1827)                                        I. Allegro con brio
JOHANN SEBASTIAN BACH       Brandenburg Concerto No. 3 in G major, BWV 1048 (1721)
(1685-1750)                                        III. Allegro
                                                       Andrea Daigle, Maya Cohon, Hye Jin Koh, violin
                                                       Jane Mitchell, Esther Nahm, Amy Pikler, viola
                                                       Ashton Lim, Meredith Bates, Michael Frigo, cello
                                                       Drew Banzhaf, bass; John Wilson, harpsichord
JOHANNES BRAHMS                  Trio in E-flat major for Horn, Violin and Piano, Op. 40 (1865; revised 1891)
(1833-1897)                                     IV. Allegro con brio
                                                       Anthony Delevanis, horn; Foster Wang, violin
                                                       Aya Yamamoto, piano
RICHARD WAGNER                     The Ride of the Valkyries from Die Walküre (1851-56)
(1813-1883)
Arranged by Wouter Hutschenruyter  
KURT WEILL                                 Cannon Song from Little Threepenny Music (1929)
(1900-1950)
PAUL HINDEMITH                        Symphonic Metamorphosis of Themes by Carl Maria von Weber (1943)
(1895-1963)                                      IV. March


DJ SET 2: FEATURING DJ LE SPAM
Together with NWS Fellows Kelly Zimba on flute, Andrew Francois on viola and Christopher Hernacki on trombone; concluding with Electro, an original work by Sam Hyken created in collaboration with DJ Le Spam
ORCHESTRA SET 2: "HEAR NOW"
FEATURING ROSIE HERRERA DANCE THEATRE
JOHN ADAMS                               Short Ride in a Fast Machine (1986)
(b. 1947)                                              
PHILIP GLASS                              String Quartet No. 2, "Company" (1983)
(b. 1937)                                           II.     
                                                       Nathaniel Wolkstein, violin I; Yuping Zhou, violin II
                                                       Andrew Francois, viola; Kevin Kunkel, cello                                                                                                  
ANTHONY PLOG                         Brass Quintet No. 1, "Four Sketches" (1988-90)
(b. 1947)                                          IV. Allegro
                                                      Aaron Norlund, George Goad, trumpet
                                                      Josh Cote, horn; Kelton Koch, trombone
                                                      Jarrett McCourt, tuba
GIOVANNI SOLLIMA                   Millennium Bug for Percussion Ensemble (1999)
(b. 1962)                                          I. Allegro
                                                      Matthew Howard, Stephen Kehner,
                                                      Bradley Loudis, Daniel Morris, percussion
MICHAEL NYMAN                        2nd Region from MGV (Musique à Grande Vitesse) (1993)
(b. 1944)
SAM HYKEN                               Einfluss for Solo Guitar, Congas, DJ and Orchestra (2016; world premiere of NWS commission)
(b. 1981)
                                                     Aaron Lebos, guitar; Papacho Savon, congas; DJ Le Spam

CLOSING SET: FEATURING DJ LE SPAM, AARON LEBOS ON GUITAR AND PAPACHO SAVON ON CONGAS

PROGRAM NOTES FOR ORCHESTRA SETS:
ORCHESTRA SET 1: "GERMAN HISTORY"
LUDWIG VAN BEETHOVEN
Mvt. I from Symphony No. 5 in C minor, Op. 67 (1808) 
The Fifth Symphony comes from the heart of Beethoven's "middle" period, a phase when his encroaching deafness changed his relationship to composing and performing. He blew past the Classical style he had inherited from Haydn and Mozart—a world of flowing melodies and formal balance—and instead embraced heightened emotions and raw, elemental motives that he stitched together into rock-solid structures. The most famous example comes from the Fifth Symphony with its unmistakable calling card: three short repetitions of G dropping to a sustained E-flat. This so-called "Fate" motive (a label that did not originate with Beethoven, but which has stuck nonetheless) fuels the entire first movement, and traces of it return later in the Symphony.

JOHANN SEBASTIAN BACH
Mvt. III from Brandenburg Concerto No. 3 in G major, BWV 1048 (1721) 
At a time when his job in Cöthen was threatened by his patron's recent marriage to a woman uninterested in music, Bach assembled six concerti grossi and sent them off to the Duke of Brandenburg, whom he had met several years earlier while traveling through Berlin. Although the Duke never responded to this unsolicited job application, his name has remained attached to the concertos forever. The usual format for a concerto grosso places a small solo group within a larger accompanying ensemble, but the Brandenburg Concerto No. 3 departs from convention and instead treats all members of the ensemble as soloists, with independent lines for three violins, three violas and three cellos supported by the basso continuo accompaniment. The Concerto closes with a barreling finale in 12/8 meter, its character matching the reeling gigues (i.e., jigs) that conclude most of Bach's dance suites.

JOHANNES BRAHMS
Mvt. IV from Trio in E-flat major for Horn, Violin and Piano, Op. 40 (1865; revised 1891) 
Brahms composed a trio for the unusual combination of horn, violin and piano in the wake of his mother's death in 1865, making use of a cottage owned by Clara Schumann in the Black Forest of southwestern Germany. Whether he was motivated by memories of his youth—when he played a bit of horn, his father's instrument—or the woodland surroundings where he loved walking, Brahms embraced the nostalgic aspect of the horn. Traces of folksongs appear in the upbeat finale, perhaps signaling Brahms' connection to his late mother and to his childhood.

RICHARD WAGNER
The Ride of the Valkyries from Die Walküre (1851-56)
Arranged by Wouter Hutschenruyter
It took Wagner nearly 30 years to create The Ring of the Nibelung, an interconnected set of four operas adapted from Norse and German mythology for which he wrote the words and music. One of the earliest musical fragments, dated July 23, 1851, included the leitmotif (recurring motive) that spawned his most recognizable orchestral episode: The Ride of the Valkyries, from the second opera in the cycle, Die Walküre. The title characters, the Valkyries, are warrior-goddesses who carry the dead off to Valhalla. At the beginning of the opera's third act, Brünnhilde and her Valkyrie sisters gather at the top of a mountain and call to each other amid an intimidating show of orchestral force. There is still power aplenty in this reduced orchestration by Wouter Hutschenruyter; no wonder Wagner invented the covered orchestra pit as a way to give his singers a fighting chance!

KURT WEILL
Cannon Song from Little Threepenny Music (1929) 
Kurt Weill rose to fame during Germany's short-lived Weimar Republic in the 1920s, a time of freewheeling experimentation and disdain for the old, puffed-up ideologies that had wrought such destruction during World War I. Collaborating with the leftist playwrights Bertolt Brecht and Elisabeth Hauptmann in 1928, Weill wrote The Threepenny Opera, a searing social commentary masquerading as populist music theater. Weill assembled some of the highlights into an orchestral suite he titled Little Threepenny Music, including the Cannon Song, a militaristic march set (ironically) in the tempo of the Charleston dance from America.

PAUL HINDEMITH                          
March from Symphonic Metamorphosis of Themes by Carl Maria von Weber (1943) 
Paul Hindemith also made his name during the Weimar Republic and, like Kurt Weill, became a target upon the rise of the Nazis in 1933. Hindemith left for Switzerland and ultimately the United States, where he arrived in 1940. That same year he began a ballet based on music of the German composer Carl Maria von Weber (1786-1826), but ended up parting ways with the production team, instead converting the ballet into an orchestral score that the New York Philharmonic debuted in 1944. The finale of the Symphonic Metamorphosis adapts a noble march from Weber's Opus 60 for two pianos, building to a brassy climax.
ORCHESTRA SET 2: "HEAR NOW" 
JOHN ADAMS
Short Ride in a Fast Machine (1986) 
John Adams first made his mark writing in a minimalist vein indebted to Steve Reich and Philip Glass, but by the mid-1980s his expanding palette, filled with jazzy rhythms and kaleidoscopic orchestral colors, brought him to a new level of success that has never receded since. Short Ride in a Fast Machine arose from an invitation from his friend Michael Tilson Thomas to write a fanfare. Adams explains in a video on his website: "I had recently taken a ride in a very fancy Italian sport car," he recalls. "I had not yet recovered from that rather terrifying experience, and it was somewhat still on my brain when I began to think about what kind of fanfare I would write." Adams describes the piece's steady pulse struck on a woodblock as "a rhythmic gauntlet through which the orchestra has to pass." As he notes with a wry grin, "Part of the fun of Short Ride in a Fast Machine is making these large instruments—the tuba, the double basses, the contrabassoon, the entire brass section—move. They have to boogie through this very resolute and inflexible pulse."

PHILIP GLASS
Mvt. II. from String Quartet No. 2, "Company" (1983) 
Although he prefers the term "music with repetitive structures," Philip Glass is one of the founding fathers of the compositional style most of us call minimalism. The String Quartet No. 2, which began as incidental music for a theatrical production of Samuel Beckett's Company, exhibits Glass' quintessential style with its hypnotic repetitions of short, consonant fragments.

ANTHONY PLOG
Mvt. IV from Brass Quintet No. 1, "Four Sketches" (1988-90) 
Before he became a leading composer of music for brass ensembles, Anthony Plog was himself an orchestral trumpet player. His keen understanding of each brass instrument allows him to create ensemble textures far beyond the classic "oom-pah" sound of amateur brass bands. Driven by a near-perpetual motion, the concluding movement of Four Sketches illustrates that Plog's designation of the piece as "fairly rhythmic" was quite the understatement.

GIOVANNI SOLLIMA
Mvt. I from Millennium Bug for Percussion Ensemble (1999) 
The Italian composer and cellist Giovanni Sollima composed this percussion quartet at a time when the world fretted that a glitch in how computers stored dates could cause widespread chaos when 1999 rolled over into 2000, a phenomenon known as the "Y2K problem" or, as in Sollima's title, Millennium Bug. The pulsing drums and hypnotic marimba figures in the first movement transmit an air of foreboding in a work Sollima described as "a brief reflection of an anxiety that divides equally the real and the virtual, technology and spirituality, an ancient and ancestral apprehension that man feels toward great transitions."

MICHAEL NYMAN
2nd Region from MGV (Musique à Grande Vitesse) (1993) 
Michael Nyman was at the forefront of minimalism in England, and he formed his own ensemble to perform his multi-layered compositions not long after Philip Glass and Steve Reich each did the same in New York. The amplified Michael Nyman Band functioned like a solo group in a concerto grosso for the 1993 premiere of Musique à Grande Vitesse (High-Speed Music), a work commissioned to celebrate the opening of a high-speed rail line from the northern French city of Lille to Paris.

SAM HYKEN
Einfluss for Solo Guitar, Congas, DJ and Orchestra (2016; world premiere of NWS commission) 
Sam Hyken has a rich and diverse musical career that spans the globe. Currently residing in Miami, he is in constant demand as a performer, producer and composer.  Along with Jacomo Bairos, he is Co-Founder and Artistic Director of Nu Deco Ensemble, a new 21st century chamber orchestra in Miami that performs all genres of music and collaborates with artists of all mediums.  As a composer, Mr. Hyken has been commissioned by several symphony orchestras, including the New World Symphony, Kansas City Symphony, Louisiana Philharmonic, Charlotte Symphony and Miami Symphony (where he served as composer-in-residence).  Other ensembles that have performed his work include the San Francisco Symphony, St. Louis Symphony, Dallas Symphony, Detroit Symphony, Toronto Symphony, Jacksonville Symphony, Florida Orchestra, Charleston Symphony, Milwaukee Symphony, Amarillo Symphony, Phoenix Symphony and Orquesta Sinfónica Simón Bolivar of Venezuela.

As a musical arranger and director, Mr. Hyken has worked with various artists, producers and ensembles to adapt and write new music, including Talib Kweli, Dirty Vegas, Tiara Thomas, Rico Love, Leroy Sanchez, Jim Jonsin, Steven A. Clark, the Spam Allstars, Res, jazz artist Carmen Lundy, Jessie Murphy (of the Brazilian Girls), Glen Matlock (of the Sex Pistols) and the eclectic group Project Trio.  Mr. Hyken is currently on faculty at the University of Miami Frost School of Music, where he teaches pop music composition, virtual orchestration and ear training.  As a trumpet player, he has held the position of associate principal trumpet of the Singapore Symphony and was a Fellow of the New World Symphony.  He holds a bachelor's degree from The Juilliard School, a postgraduate diploma with distinction from London's Royal Academy of Music, and a master's degree from the University of Miami. 
Hyken wrote the following about his latest composition, Einfluss: 
Einfluss is a work for Solo Guitar, Solo Congas, DJ and Orchestra.  It was composed in collaboration with Andrew Yeomanson (DJ Le Spam). Einfluss, which is the German word for "influence," demonstrates how inspiration and influence can often come from surprising places. Returning to the theme of the first set of this evening's PULSE event, the work's musical components are influenced by German music. The main motivic idea is based on the subject of Bach's Contrapunctus I (from The Art of the Fugue) and is fully presented in the introduction.  The second section is inspired by elements of the music of the German electronic band Kraftwerk, with Bach's motivic subject present in the melody of the strings, woodwinds and mallets. The third section, which draws influence from contemporary jazz, begins to feature the guitarist whose melodic lines are doubled with the woodwind section.  Although a distinctly contemporary harmonic sound, the bass line progression of this section--a "circle of fourths"--is prevalent in Bach's music. The next section is an electric guitar and conga showpiece, pushing the physical limits of speed on both instruments. The final section draws influence from  the style of 1990s "Miami Booty Bass" music, which itself was influenced by the sounds of German electronic groups such as Kraftwerk. The work climaxes with Bach's subject performed by the electric guitar, soaring over the sounds of "Miami Booty Bass" performed by the orchestra and DJ.
The New World Symphony commissioned Einfluss for PULSE. This performance marks it world premiere. 
-- Copyright © 2016 Aaron Grad 
Aaron Grad is a composer, guitarist and writer based in Seattle. Besides providing program notes for the New World Symphony, he has been the Orpheus Chamber Orchestra's program annotator since 2005 and also contributes notes to the Saint Paul Chamber Orchestra and Seattle Symphony.
Christian Reif, conductor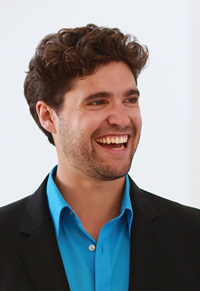 German conductor Christian Reif has just been appointed Resident Conductor with the San Francisco Symphony and Music Director of its internationally acclaimed Youth Orchestra, after making a "powerful symphony debut" with the Symphony in the fall. He is currently the second-year Conducting Fellow at the New World Symphony. This past season he conducted the Tanglewood Music Center Orchestra in several world premieres as part of Tanglewood's 75th anniversary summer and worked as cover conductor for the Los Angeles Philharmonic. In 2014 he served as assistant conductor for Alan Gilbert at the NY PHIL BIENNIAL. Mr. Reif is currently a member of Germany's prestigious Conductor's Forum (Dirigentenforum). He won the 2015 German Operetta Prize, awarded by the German Music Council. 
This season Mr. Reif led the Munich Chamber Opera in performances of Mozart's La finta semplice in Munich's famous Cuvilliés Theater. He has led several orchestras and ensembles both in the U.S. and abroad, including the Juilliard Orchestra, Salzburg Chamber Soloists, Georgian Chamber Orchestra and Israel Chamber Orchestra. His enthusiasm for performing contemporary music has led to many world premieres, among which were Michael Gordon's El Sol Caliente, a city symphony in honor of Miami Beach's centennial, and also concertos for DJ and orchestra, performed at the New World Symphony's nightclub-style PULSE events. 
A dedicated and enthusiastic educator, Mr. Reif has taught piano, coaches instrumentalists and works with singers as a repetiteur. He also worked as a Teaching Fellow in The Juilliard School's Ear Training Department and additionally served as its Department Assistant. He hosted and conducted the New World Symphony's 2014 education concerts, which were also webcast to area schools. 
In 2014 Mr. Reif completed his master of music degree in conducting at The Juilliard School under Alan Gilbert, after studying with Dennis Russell Davies at the Mozarteum Salzburg. For his outstanding achievements at The Juilliard School, Mr. Reif was the recipient of the Charles Schiff Conducting Award. He also holds a scholarship from the German study promotion program of the Cusanuswerk and two Kulturförderpreise awards given to promising artists of the region who promote cultural advancement in their communities.
DJ Le Spam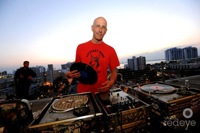 DJ Le Spam, also known as Andrew Yeomanson, was born in Montreal to an English father and Venezuelan mother.  In his youth he moved with his family--to London, Tampa, Bogota, Toronto and finally Miami, which he has called home for the last 12 years.  Mr. Yeomanson's international upbringing certainly contributed to his musical career.  Beneath it all is a talented musician with a love for exploring all types of music and bringing them together in new ways.  He has experienced diverse musical offerings, studied them, and shared them with anyone interested in their history.  His passion for music also led to the evolution of DJ Le Spam.
Mr. Yeomanson began his musical career in 1991 playing with a Haitian political roots group--Lavalas Band--with which he recorded one album.  In 1993 he formed the Spam Allstars and began recording and gigging.  In 1995 he had the opportunity to play guitar with Capitol recording artist Nil Lara and recorded and toured with him for three years.
Upon his return in 1998 Mr. Yeomanson began working with a pirate radio station that broadcast "beach radio" shows.  The programs included half-hour improvised sets by the Spam Allstars using samples and live instruments in the studio.  These performances segued nicely to the release of the Spam Allstars' first CD, Pork Scratchings, in 1999.
The momentum had started, and with a grant from Miami Light Project, the Spam Allstars participated in the Here & Now festival.  There were residencies at Snowhite's hip hop open-mike night faatland, Brandt's Break and weekly webcasts on eyeqradio.com.
By 2000 it was time to release the Spam Allstars' follow-up CD, Pigs in Space.  Simultaneously DJ Le Spam & the Spam Allstars began a residency at Lola Bar, and DJ Le Spam also had a residency at Pop Life.  The audience was growing.  They received a second grant from Miami Light Project for the 2000 Here & Now festival.  DJ Le Spam worked with Brazilian choreographer Giovanni Luquini on the soundtrack for Flagrante Delicto, performed at the Colony Theater.  It was also time to start thinking about expanding to other cities, and the Spam Allstars held a summer residency at Galapagos in Brooklyn.
In 2001 some local promoters approached DJ Le Spam to start a club night in Little Havana.  They launched the party as Fuacata at Hoy Como Ayer on Calle Ocho (8th Street) in the heart of Little Havana.  It became one of the most talked-about club nights in Miami, attracting a diverse crowd of Latins, Anglos, hip hop kids, artists, young and old.  All were brought together by the music and dancing that moved them.
The Spam Allstars have appeared on Good Morning America, Mun2's The Roof, CBS This Morning, NPR's All Things Considered, CBS-4's Making of the Latin Grammys, NBC-6's Trendtrackers, and a variety of regional and international radio programs.
Other accomplishments for the Spam Allstars include developing music for the MIAMI HEAT; its selection as an ASCAP "emerging artist"; the Spam Allstars' Ochimini feature on MTV's Advance Warning Compilation: Volume 5 Miami Edition; its feature in the NALAC/Galan Productions series Visiones: Latino Art & Culture on PBS; DJ Le Spam's feature in Adidas' Bedroom Rockers book; and DJ Le Spam's music for Giovanni Luquini's Performance Troupe's A Poem: the battle between fear and desire.
Over the years the band has welcomed several guests to its stage, including inspirational moments with percussionist Sammy Figueroa, Larry Harlow of Fania Allstars, John Medeski of Medeski Martin and Wood, Clarence Reed (also known as Blowfly), Page McConnell of Phish, the late Wildman Steve, various members of AntiBalas, Pee Wee Ellis of the JB Horns, Daddy Yankee, Jose Conde, Brimstone 127, Mr. Haka, Cabas and many other talented musicians.
Rosie Herrera Dance Theatre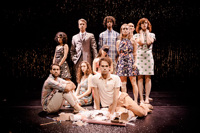 Since its discovery in 2009 by Charles Reinhart after the premiere of Various Stages of Drowning: A Cabaret, Rosie Herrera Dance Theatre (RHDT) has quickly become a beloved fixture in Miami's contemporary arts scene.  With a whirlwind success that has taken RHDT from sold-out performances at the prestigious American Dance Festival (ADF), the Adrienne Arsht Center for the Performing Arts of Miami-Dade County, and, most recently, New York City's Baryshnikov Arts Center, the company is becoming a force to be reckoned with on the national dance scene.
Known for its diverse ensemble consisting of some of Miami' s most brilliant performers and creators ranging in genres from theater, performance art, opera, drag and contemporary ballet, RHDT has had the privilege of performing two ADF-commissioned pieces and premiering them at the festival, as well enjoying unprecedented success in Miami.  Its New York City premiere of Various Stages of Drowning: A Cabaret was said by Kayt MacMaster of BroadwayWorld.com to be "so innovative, searing and disturbing" that it warranted "repeat viewings."  RHDT's recent New York City premiere of Dining Alone was hailed by Deborah Jowitt as "earthy, poetic and beyond dada imaginative."