Events & Tickets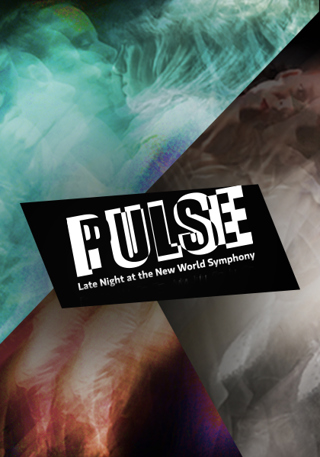 Special Event
PULSE: DANCE MUSIC
New World Center
Friday, March 3 at 9:00 PM
Let's dance!  Join the New World Symphony, DJ Le Spam and the Spam Allstars, and the Rosie Herrera Dance Theatre for Pulse, where the New World Center transforms into a late-night lounge complete with club-style lighting and videos. 
Tickets no longer available online.
Program
DJ SET 1: FEATURING DJ LE SPAM
Concluding with The M.D., an original work by Sam Hyken created in collaboration with DJ Le Spam
ORCHESTRA SET 1:
ANTONÍN DVOŘÁK                        Slavonic Dance in G minor, Op. 46, No. 8 (1878)
(1841-1904)                                        
MASON BATES                                The B-Sides (2009)
(b. 1977)                                               V. Warehouse Medicine
JOHANN SEBASTIAN BACH          Orchestral Suite No. 2 (1738-39)
(1685-1750)                                         VII. Badinerie

                                                           Elizabeth Lu, flute
DMITRI SHOSTAKOVICH                Suite for Variety Orchestra No. 1 (1950)
(1906-1975)                                          VII. Waltz No. 2
GRIGORIAŞ DINICU                         Hora mărţişorului (c. 1910)        
(1889-1949)
                                                           Clare Semes, violin
JOHANN STRUASS, JR.                  Tritsch-Tratsch-Polka (1858)
(1825-1899)
CAMILLE SAINT-SAËNS                  Danse Bacchanale from Samson and Delilah (1877)          
(1835-1921)       
DJ SET 2: FEATURING DJ LE SPAM
Together with selected NWS Fellows Elizabeth Lu on flute, Caroline Gilbert on viola, Ansel Norris on trumpet and Kelton Koch on trombone, and concluding with Electro #2, an original work by Sam Hyken created in collaboration with DJ Le Spam
ORCHESTRA SET 2:
PYOTR ILYICH TCHAIKOVSKY       Trepak (Russian Dance) from The Nutcracker (1892)
(1840-1893)                      
AARON COPLAND                           Hoe-Down from Rodeo (1942)
(1900-1990)                                        
IGOR STRAVINSKY                          Sacrifical Dance from The Rite of Spring (1911-13)
(1882-1971)
MANUEL DE FALLA                         The Miller's Dance from The Three-Cornered Hat (1919)
(1876-1946)       
MAURICE RAVEL                             Boléro (1928)
(1875-1937)                         
SAM HYKEN                                     Danze Moderne for DJ Le Spam, the Spam Allstars and Orchestra (2017;
 (b. 1981)                                           world premiere of NWS commission)

                                                           DJ Le Spam and the Spam Allstars
CLOSING SET: FEATURING DJ LE SPAM AND THE SPAM ALLSTARS
PROGRAM NOTES FOR ORCHESTRA SETS
ORCHESTRA SET 1:
ANTONÍN DVOŘÁK
Slavonic Dance in G minor, Op. 46, No. 8 (1878)
Dvořák was scraping by as a freelancer in Prague when he got his big break: an introduction to a major publisher arranged by Brahms, who had discovered Dvořák when judging a competition. The publisher Simrock commissioned Dvořák's Slavonic Dances, a set of eight miniatures that Dvořák composed in 1878 in two versions, one for piano four-hands and the other for orchestra. Within months of its release, orchestras as far away as London and New York offered performances of the new work, launching the Czech composer into international stardom. The dances take their names and rhythmic patterns from actual folk traditions around Dvořák's native Bohemia, including the energetic Furiant that shifts between units of two beats and three beats, as heard in the Slavonic Dance in G minor.
MASON BATES
Warehouse Medicine from The B-Sides (2009)
The 21st century has brought a new wave of young composers who embrace their polyglot tastes and technological fluency. One standout, Mason Bates, is best known for his orchestral scores that merge the infectious beat of electronica with the sumptuous textures of a symphony orchestra. In many of his works he adds a laptop to the familiar orchestral instrumentation, triggering pre-recorded sounds and percussive beats from a digital sampler. In Warehouse Medicine from The B-Sides, a five-movement suite composed in 2009 for Michael Tilson Thomas and the San Francisco Symphony, the acoustic-electric music pays tribute to the birthplace of techno—an electronic, DJ-driven style of music first heard at dance parties held in the 1980s in Detroit's shuttered warehouses.
JOHANN SEBASTIAN BACH
Badinerie from Orchestral Suite No. 2 (1738-39)
Besides Bach's official duties directing church music and training young choristers in Leipzig, he also took on a side job leading the Collegium Musicum, an ensemble of talented amateurs. For the concerts that occurred most weeks at Zimmerman's Coffeehouse, Bach brought in his earlier instrumental music as well as pieces by other composers. He also wrote new music for the group, including a series of Orchestral Suites that borrowed from an older French tradition of dance suites, updating styles that had been popular since the opulent days of Louis XIV. The Orchestral Suite No. 2, composed around 1739, ends with a movement labeled Badinerie. This uncommon heading does not reference any particular dance, but rather indicates music of a playful, jesting character—a quality emphasized by assigning the melody to a nimble flute soloist. 
DMITRI SHOSTAKOVICH
Waltz No. 2 from Suite for Variety Orchestra No. 1 (1950)
Shostakovich's fruitful relationship with popular music and culture extended all the way back to his side job playing piano for silent films as a teenager. He eventually wrote two suites for jazz orchestra, along with many film scores that drew from the sounds of American jazz and swing bands. The Waltz No. 2 heard here is often mislabeled as being part of the Second Jazz Suite, but it actually comes from the Suite for Variety Orchestra that Shostakovich assembled in 1950 out of various film scores. Fittingly, this dashing waltz found its way back into popular culture when Stanley Kubrick used it in his final film, Eyes Wide Shut.   
GRIGORIAŞ DINICU
Hora mărţişorului (c. 1910)        
The Romanian violinist and composer Grigoriaş Dinicu wrote and performed some of the most exciting violin showpieces in the early 20th century. He studied in his native Bucharest, and for 40 years he directed popular music concerts there. Many of his signature compositions take the form of a Hora, a group folk dance performed in a circle. (The Horas danced at Bar Mitzvahs and Jewish weddings come from the same Eastern European origins.) The main theme of Dinicu's Hora mărţişorului requires the violinist to maintain perpetual motion at an extraordinary speed.
JOHANN STRUASS, JR.
Tritsch-Tratsch-Polka (1858)
Johann Strauss, Jr. grew up surrounded by the dance music of his father's orchestra, which rehearsed in the family's apartment in Vienna. The younger Strauss matured into the "Waltz King," with his own orchestra and a vast catalog of blockbuster hits, some as popular today as they were in their own time. Besides his many waltzes, this quintessential Viennese composer also wrote over 100 polkas, a folk dance that originated in Bohemia (and not Poland, as the name might suggest). He composed the Tritsch-Tratsch-Polka during one of his orchestra's annual visits to Saint Petersburg, Russia.
CAMILLE SAINT-SAËNS
Danse Bacchanale from Samson and Delilah (1877)
When Saint-Saëns first had the thought to set the biblical story of Samson and Delilah to music, his plan was to create an oratorio, rekindling a tradition that had thrived in Handel's time. After more than a decade of labor, Saint-Saëns completed Samson et Dalila as an opera, complete with dance episodes in the grand French tradition. The Danse Bacchanale comes from a scene in which the savage Philistines celebrate their capture of the once-mighty Samson. 

ORCHESTRA SET 2:
PYOTR ILYICH TCHAIKOVSKY
Trepak (Russian Dance) from The Nutcracker (1892)
At a time when other aspiring Russian composers were focused on defining a national sound, Tchaikovsky fashioned a more worldly perspective in his symphonies, operas and ballets. His final ballet, The Nutracker, packed a musical world tour into one sensational scene in the second act. After tastes of Chocolate, Coffee and Tea (representing Spain, Arabia and China), a Russian Dance comes in the form of a Trepak—a dance that originated with the fearsome Cossacks of Russia and Ukraine. The ultimate test of strength in this dance style is the prisiadka, the move that involves kicking out the legs while in a deep squat.
AARON COPLAND
Hoe-Down from Rodeo (1942)
A Brooklyn-born, French-trained son of Russian-Jewish immigrants, Aaron Copland gave voice to America's rural life and landscapes like no classical composer before or since. After El Salón México, a campy orchestral score from 1936 inspired by Copland's first trips south of the border, he followed up with the ballet Billy the Kid from 1938, which incorporated quotations of cowboy songs and Mexican folk tunes. His next ballet, Rodeo, returned to the southwest to depict a Saturday afternoon rodeo and a Saturday night dance, along with all the courtship rituals involved in such a gathering of young people on a rural ranch. As in Billy the Kid, Rodeo incorporated traditional music. The main theme of the rollicking Hoe-Down came from the fiddle tune "Bonaparte's Retreat" as recorded by the audio archivist Alan Lomax in 1937, capturing the rendition of a Kentucky fiddler named William H. Stepp.
IGOR STRAVINSKY
Sacrificial Dance from The Rite of Spring (1911-13)
Stravinsky's third ballet for Serge Diaghilev's Ballets Russes (a company of top Russian dancers and choreographers) incited a riot when it debuted in Paris in 1913. Between Stravinsky's jarring harmonies and rhythms, the ritualistic choreography by Vaslav Nijinsky, and a plot that builds to the pagan sacrifice of a virgin, it's little wonder that audiences were flummoxed by the most infamous ballet premiere in history. The rite culminates in the Sacrificial Dance, in which the virgin dances herself to death.
MANUEL DE FALLA
The Miller's Dance from The Three-Cornered Hat (1919)
After a period in Paris where he circulated with the likes of Debussy and Ravel, the Spanish composer Manuel de Falla returned to his homeland and its rich culture of folk music and dance. An early version of his flamenco-influenced ballet The Three-Cornered Hat caught the attention of Serge Diaghilev, and in 1919 an expanded version debuted during the London season of the Ballet Russes, in a production that featured sets and costumes by Pablo Picasso. The section titled The Miller's Dance takes the form of a farruca (a dramatic flamenco style danced by men), complete with orchestral textures that mimic the percussive strums of a flamenco guitar.
MAURICE RAVEL
Boléro (1928)
Ravel composed Boléro for the Russian dancer Ida Rubinstein, a former member of the famed Ballets Russes who had formed her own company in Paris. His working title was Fandango, which he later changed to Boléro; both are traditional flamenco dances with rhythmic patterns based on triplets. In an interview several years after the premiere, Ravel explained that he had written a piece "consisting wholly of 'orchestral tissue without music'—of one very long, gradual crescendo. There are no contrasts, and practically no invention except the plan and the manner of execution." With its unchanging rhythmic ostinato, much-repeated melody, and harmonies that only stray from C major for several measures near the end, the musical excitement comes from Ravel's single-minded focus on instrumental colors that intensify with each successive repetition.
SAM HYKEN
Danze Moderne for DJ Le Spam, the Spam Allstars and Orchestra (2017; world premiere of NWS commission)
The New World Symphony commissioned this work for Pulse. This performance marks its world premiere.
-- Copyright © 2017 Aaron Grad 
Aaron Grad is a composer, guitarist and writer based in Seattle. Besides providing program notes for the New World Symphony, he has been the Orpheus Chamber Orchestra's program annotator since 2005 and also contributes notes to the Saint Paul Chamber Orchestra and Seattle Symphony.
Dean Whiteside, conductor
Dean Whiteside was born in New York City and trained in Vienna at the University of Music and Performing Arts. He is in his second season as the New World Symphony's Conducting Fellow, where he leads a variety of performances and serves as assistant to Artistic Director Michael Tilson Thomas. Mr. Whiteside is founder and director of the Nashville Sinfonietta, hailed by The Tennessean as "a virtuoso band." He opened the Blair School of Music's 2013-14 season directing a multimedia realization of Haydn's Seven Last Words of Our Savior on the Cross called "innovative" by The Tennessean and "deeply meditative and satisfyingly original" by ArtsNash. 
Mr. Whiteside's European debut came in 2011 after winning the Jorma Panula Blue Danube Masterclass and Competition. As guest conductor he has led the Juilliard Orchestra, Opéra Orchestre National Montpellier, Orlando Philharmonic, Polish Baltic Philharmonic, Rousse State Opera Orchestra, Sibiu Philharmonic, Wiener Kammerorchester and Zagreb Philharmonic, as well as the Vanderbilt Orchestra on a five-city tour of China. He has served as Cover Conductor to MTT and the San Francisco Symphony.
Mr. Whiteside's awards include the 2017 Mahler Conducting Fellowship, Bruno Walter Memorial Foundation Conducting Scholarship, David Effron Conducting Fellowship, Bayreuth Festival Scholarship, David Rabin Performance Prize, and Second Prize and the Zagreb Philharmonic Orchestra Prize at the Sixth International Competition of Young Conductors Lovro von Matačić. He has received fellowships from the Aspen Music Festival, Cabrillo Festival of Contemporary Music, Castleton Festival and Tonhalle Orchestra Zurich.
Mr. Whiteside has worked closely with such conductors as Bertrand de Billy, Fabio Luisi, Lorin Maazel, Jun Märkl, Kurt Masur, Jorma Panula, Leonard Slatkin and Robert Spano. He began his conducting studies with Robin Fountain at Vanderbilt University.
DJ Le Spam and the Spam Allstars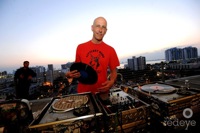 2015 marked the 20th anniversary of the Spam Allstars. What started as DJ gigs with some added instruments and special FX between tours as a guitar player, DJ Le Spam would be the first to say he never anticipated this evolution of the band. The early days included hilarious spoken-word records, mixed with a variety of instruments and the lovely scent of Spam frying live on stage as a special snack to share with his non-vegan guests. Two decades later the band has a core group of musicians that have been performing an average of 150 shows per year, across the U.S. and some very special trips to Europe, Canada and South America. Since 2001 they have held a weekly residency at the legendary Little Havana club Hoy Como Ayer every Thursday, which has attracted attention ranging from Good Morning America to The New York Times, a variety of celebrity appearances and numerous musical special guests. This is where the band has shed the most and forged what many have called a new Miami sound. The band describes it as an "electronic descarga"--a jam session, if you will--because in the beginning it was completely improvisational. As time has passed the songs have evolved, recordings have been captured and the sound took on a different form, a distinct blend of Latin, funk and electronic music. This electronic descarga is a reflection of the musicians and their cultures, training and musical influences. 
The driving force behind the music is the band's founder and leader, Andrew Yeomanson, aka DJ Le Spam. Born in Montreal and raised in Toronto, Bogota, London and Tampa, Mr. Yeomanson has always had a passion for music, history and tinkering. His early love was heavy metal, and, with a British father and Venezuelan mother, he was raised with a variety of cultural exposure that piqued his musical interest. He began playing guitar and collecting vinyl, and his musical tastes grew in different directions. 
The current band lineup includes Tomas Diaz on percussion (Cuba), Jose Elias on guitar (Dominican Republic), AJ Hill on sax (Miami), Mercedes Abal on flute (Cuba), Chad Bernstein on trombone (Chicago) and Ted Zimmerman on trumpet (Houston). These musicians have contributed significantly to the band's sound and attitude.  They each have played in multiple projects over their careers and continue to pursue their individual passions, but week in and week out they are the Spam Allstars. Other musicians that still record with the band and have toured with it in the past include Steve Welsh on sax (New York City), John Speck on trombone (Seattle) and Adam Zimmon on guitar (Los Angeles). 
The Spam Allstars have recorded six albums and released them independently. The first two releases were limited editions and fairly experimental—Pork Scratchings and Pigs in Space.  Their third album, Fuacata Live, was nominated for a Latin Grammy Award. This came as a huge surprise, as it was recorded from a show at Hoy Como Ayer during their weekly residency. The magic was captured, the playing was unique, and people wanted more.  Their fourth CD, Contra Los Robotics Mutantes, was their first studio recording and done so at City of Progress, DJ Le Spam's recording studio. Their fifth CD, electrodomesticos, was also a studio recording and included special guests Page McConnel (Phish), John Medeski (Medeski Martin & Wood), Martin Pena (AntiBalas) and more. The Spam Allstars' recordings have been licensed to a variety of clients, including HBO's Ballers, Volkswagen, Pollo Tropical, Miami Heat, Miami International Film Festival, Nike, NPR shows, Lonely Planet TV and more. 
DJ Le Spam over the years has also developed his recording studio, City of Progress. It started as a way for the Spam Allstars to record their music, but as his equipment is as eclectic as his record collection, it became known as a place where you can still record to tape and on vintage equipment. In 2014 Mr. Yeomanson/City of Progress was awarded a Knights Arts Challenge Grant.  This will allow him to upgrade his equipment and continue to add to his collection of rare vintage gear. The studio has become known as a specialty recording location in South Florida, where people go to record certain sounds that can't be found in your average studio or to restore recordings on tape. 
Today the Spam Allstars continue to perform, record and create music that they love. They are grateful for the many people that have supported their music over the years and are always pleased when they can connect with a new fan. Look for a new album, as well as some exciting performances with a small symphony, in the coming year.
Rosie Herrera Dance Theatre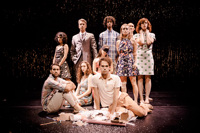 The March 3 Pulse: Dance Music will feature video and live appearances by Rosie Herrera Dance Theatre.
Since its discovery in 2009 by Charles Reinhart after the premiere of Various Stages of Drowning: A Cabaret, Rosie Herrera Dance Theatre (RHDT) has quickly become a beloved fixture in Miami's contemporary arts scene.  With a whirlwind success that has taken RHDT from sold-out performances at the prestigious American Dance Festival (ADF), the Adrienne Arsht Center for the Performing Arts of Miami-Dade County, and, most recently, New York City's Baryshnikov Arts Center, the company is becoming a force to be reckoned with on the national dance scene.
Known for its diverse ensemble consisting of some of Miami' s most brilliant performers and creators ranging in genres from theater, performance art, opera, drag and contemporary ballet, RHDT has had the privilege of performing two ADF-commissioned pieces and premiering them at the festival, as well enjoying unprecedented success in Miami.  Its New York City premiere of Various Stages of Drowning: A Cabaret was said by Kayt MacMaster of BroadwayWorld.com to be "so innovative, searing and disturbing" that it warranted "repeat viewings."  RHDT's recent New York City premiere of Dining Alone was hailed by Deborah Jowitt as "earthy, poetic and beyond dada imaginative."