Events & Tickets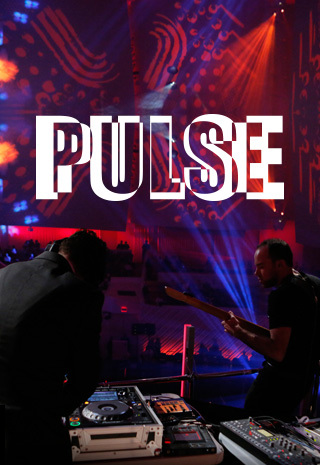 Special Event,Friends of NWS
PULSE: LATE NIGHT AT THE NEW WORLD SYMPHONY
New World Center
Friday, November 13 at 9:00 PM
The New World Center transforms into a late-night lounge—complete with club-style lighting and art videos—during this innovative event, where the only rule is to connect with the music and its performers. Miami's own DJ Le Spam and the Spam Allstars join the Fellows for a night dedicated to jazz-influenced works and contemporary hits, including the world premiere of Sam Hyken's new piece for the Allstars together with the orchestra. Soprano Dru Rutledge returns to perform show-stoppers by Leonard Bernstein and Cole Porter. Led by Conducting Fellow Christian Reif, and closing with a dance-inducing showcase set by DJ Le Spam and the Spam Allstars, this is one late night you won't want to miss. 
Program
DJ SET 1: FEATURING DJ LE SPAM
Concluding with Itis, an original work by Sam Hyken, created in collaboration with DJ Le Spam
ORCHESTRA SET 1: "NEW WORLD JAZZ"
LEONARD BERNSTEIN                    Selections from On the Town (1945)
(1918-1990)                                         The Great Lover
                                                            "I Can Cook, Too"
                                                            Times Square: 1944
                                                          Ms. Rutledge
PETER SCHICKELE                           Dream Dances (1988)
(b. 1935)                                                 II. Jitterbug
                                                          Masha Popova, flute; Kristin Kall, oboe
                                                           Thomas Carpenter, cello
EDWARD KENNEDY                        Black, Brown and Beige (1943)
"DUKE" ELLINGTON                          III. Beige
(1899-1974)                                        
Orchestrated by Maurice Peress
COLE PORTER                                  "Always True To You In My Fashion" from Kiss Me, Kate (1948)
(1891-1964)
Orchestrated by                                  Ms. Rutledge
Robert Russell Bennett                                                          
GEORGE GERSHWIN                      Concerto in F major for Piano and Orchestra (1925)
(1898-1937)                                         III. Allegro agitato
                                                          Ms. Yamamoto


DJ SET 2: FEATURING DJ LE SPAM
Together with NWS Fellows Kelly Zimba on flute, Christopher Hernacki on trombone and Hannah Nicholas on viola; concluding with Orilede, an original work by Sam Hyken, created in collaboration with DJ Le Spam

ORCHESTRA SET 2: "NEW WORLD NOW"
WILLIAM BOLCOM                         Symphony No. 5 (1989)
(b. 1938)                                               IV. Machine
JOHN ADAMS                                  John's Book of Alleged Dances (1994)
(b. 1947)                                              I. Judah to Ocean          
                                                         Jennise Hwang, violin I; George Millsap, violin II
                                                          Jesse Yukimura, viola; Alexa Ciciretti, cello
CHRISTOPHER ROUSE                    Friandises (2005)
(b. 1949)                                               V. Galop
PHIL KLINE                                        The Blue Room and Other Stories (2002)
                                                               IV. Tarantella
SAM HYKEN                                     Ibakan (2015; world premiere of NWS commission)
(b. 1981)
                                                          DJ Le Spam and the Spam Allstars                                                          

CLOSING SET: FEATURING DJ LE SPAM AND THE SPAM ALLSTARS
PROGRAM NOTES FOR ORCHESTRA SETS:
ORCHESTRA SET 1: "NEW WORLD JAZZ"
LEONARD BERNSTEIN
Selections from On the Town (1945)
Leonard Bernstein was just 25 and fresh off his much-heralded debut conducting the New York Philharmonic when his new ballet, Fancy Free, appeared at the Metropolitan Opera House, with choreography by Jerome Robbins. Broadway producers saw the potential for a hit in the scenario of three Navy sailors on shore leave in New York City, and so Bernstein teamed up with his friends Betty Comden and Adolph Green to expand the ballet into the musical they titled On the Town. It ended up running for 462 performances on Broadway, and MGM released a film version in 1949 starring Gene Kelly and Frank Sinatra.
Bernstein extracted several of the show's dance sequences into a set of Three Dance Episodes, including "The Great Lover," a scene in which "Gabey, the romantic sailor in search of the glamorous Miss Turnstiles, falls asleep on the subway and dreams of his prowess in sweeping Miss Turnstiles off her feet."
Bernstein wrote the lyrics himself for "I Can Cook, Too," in which Hildy (a taxi driver) tries to seduce one of the sailors in a song full of delicious double entendres.
Also from the Three Dance Episodes, "Times Square: 1944" offers "a more panoramic sequence in which all the sailors in New York congregate in Times Square for their night of fun." The melody of "New York, New York" makes an appearance here, with its angular intervals rising like skyscrapers.
PETER SCHICKELE
Jitterbug from Dream Dances (1988)
If you are not familiar with the distinguished composer Peter Schickele, you may have heard of his fictional alter ego, P.D.Q. Bach, whose music satirizes Baroque and Classical conventions. The music Schickele writes under his own name is not without humor and lightness, as heard in the Jitterbug from Dream Dances, a trio for flute, oboe and cello organized like a Baroque dance suite. In this movement, a loose shuffle modeled after a 12-bar blues evokes the heyday of swing dancing.
DUKE ELLINGTON
Beige from Black, Brown and Beige (1943)
Orchestrated by Maurice Peress
Pianist, composer and bandleader Edward Kennedy "Duke" Ellington lifted the dance band from a form of nightclub entertainment to a profound vehicle for music and social commentary. For his Carnegie Hall debut in 1943, Ellington introduced a sweeping, 50-minute suite for jazz orchestra entitled Black, Brown and Beige, which he described as a "tone parallel to the history of the American Negro," depicting everything from an African's arrival on a slave ship to the vibrant culture of Harlem between the First and Second World Wars, as rendered in the "Beige" section.
COLE PORTER
"Always True To You In My Fashion" from Kiss Me, Kate (1948)
Cole Porter was one of the leading Broadway and Hollywood songwriters in the first half of the 20th century, and many of his works have entered that timeless repertoire we now call "The Great American Songbook." Porter was one of the few songwriters who wrote his own lyrics as well as music, and he stood out for his witty, daring and often risqué way with words. The song "Always True to You In My Fashion" (from the 1948 Broadway show Kiss Me, Kate) shows off Porter's blend of charm and sass, as the character Lois defends that her faithfulness to her beau does not preclude her from accepting gifts from older men—and giving back what's expected in return.
GEORGE GERSHWIN
Mvt. III from Concerto in F major for Piano and Orchestra (1925)
At 25 years old and already at the top of the songwriting industry, Gershwin made his first real splash in the world of "serious" music with Rhapsody in Blue. Among the spectators at Gershwin's debut performance with Paul Whiteman's dance band was Walter Damrosch, the conductor of the New York Symphony Orchestra, who was so impressed that he immediately invited Gershwin to compose a concerto to perform with the orchestra.
Gershwin worked on his Piano Concerto in F from July to November of 1925, and debuted the score that December. The Concerto's gestation was much more arduous than that of Rhapsody in Blue (which took less than a month to draft), not least because Gershwin endeavored to teach himself the art of orchestration, rather than hiring an arranger as he had for the previous score. The Concerto's finale, in a nod to Classical tradition, is a brisk rondo that plays up the virtuosic gesture of repeated notes on the piano.
ORCHESTRA SET 2: "NEW WORLD NOW"
WILLIAM BOLCOM
Machine from Symphony No. 5 (1989)
William Bolcom is one of the most accomplished American composers alive today. In the 1960s and '70s, when most aspiring composers adopted rigorous atonal techniques, Bolcom went against the current and embraced jazz, ragtime and other vernacular styles. In "Machine," the hard-driving finale of his Symphony No. 5, Bolcom infused diverse sounds from pop and modern jazz into an intricately orchestrated tour de force.  
JOHN ADAMS
Judah to Ocean from John's Book of Alleged Dances (1994)
Composer John Adams first made his name in the early 1980s as a proponent of the minimalist style pioneered by Steve Reich and Philip Glass. Since then, Adams has expanded his musical palette to incorporate rich echoes of Romanticism and mischievous references to jazz and popular music. He composed John's Book of Alleged Dances for the genre-bending Kronos Quartet, pairing the live strings with pre-recorded electronic tracks created with a prepared piano (an invention of another American trailblazer, John Cage). In the movement titled "Judah to Ocean," the electronics provide a shuffling, mechanical groove to support off-kilter stabs and bluesy violin licks.
CHRISTOPHER ROUSE
Galop from Friandises (2005)
Christopher Rouse is a celebrated American composer best known for his orchestral scores, such as the Trombone Concerto that won the Pulitzer Prize in 1993. Composed in 2005 for a joint commission from the New York City Ballet and The Juilliard School, Friandises (French for "Morsels") is Rouse's modern spin on a French dance suite. Rouse wrote that the concluding "Galop" was designed "to end the work with a large dose of razzle-dazzle." The title references a French dance style named for a horse's galloping gait, and the music makes a winking nod to the most famous example of that dance: Offenbach's Infernal Galop, first heard in the operetta Orpheus in the Underworld, and later immortalized in Parisian burlesque halls as the musical accompaniment for the "can-can" dance.
PHIL KLINE
Tarantella from The Blue Room and Other Stories (2002)
Phil Kline is a wide-ranging composer whose work has encompassed everything from a rock band with film director Jim Jarmusch to inclusive performance art that scatters boomboxes around city streets. He has collaborated frequently with the alt-classical string quartet Ethel, for whom he composed Blue Room and Other Stories in 2002. The title is a nod to Victorian-era ghost stories, and the music is similarly mysterious, migrating through a range of churning textures and drawn-out harmonies. This movement brings out the darker side of the tarantella, a manic dance that supposedly arose in Italy as a way to ward off the effects of a tarantula's poisonous bite.
SAM HYKEN
Ibakan (2015; world premiere of NWS commission)
Sam Hyken has a rich and diverse musical career that spans the globe.  Currently residing in Miami, he is in constant demand as a performer, producer and composer.  Along with Jacomo Bairos, he is Co-Founder and Artistic Director of Nu Deco Ensemble, a new 21st century chamber orchestra in Miami that performs all genres of music and collaborates with artists of all mediums.  As a composer, Mr. Hyken has been commissioned by several symphony orchestras, including the New World Symphony, Kansas City Symphony, Louisiana Philharmonic, Charlotte Symphony and Miami Symphony (where he served as composer-in-residence).  Other ensembles who have performed his work include the San Francisco Symphony, St. Louis Symphony, Dallas Symphony, Detroit Symphony, Toronto Symphony, Jacksonville Symphony, Florida Orchestra, Charleston Symphony, Milwaukee Symphony, Amarillo Symphony, Phoenix Symphony and Orquesta Sinfónica Simón Bolivar of Venezuela.

As a musical arranger and director, Mr. Hyken has worked with various artists, producers and ensembles to adapt and write new music, including Talib Kweli, Dirty Vegas, Tiara Thomas, Rico Love, Leroy Sanchez, Jim Jonsin, Steven A. Clark, the Spam Allstars, Res, jazz artist Carmen Lundy, Jessie Murphy (of the Brazilian Girls), Glen Matlock (of the Sex Pistols) and the eclectic group Project Trio.  Mr. Hyken is currently on faculty at the University of Miami Frost School of Music, where he teaches pop music composition, virtual orchestration and ear training.  As a trumpet player, he has held the position of associate principal trumpet of the Singapore Symphony and was a Fellow of the New World Symphony.  He holds a bachelor's degree from The Juilliard School, a postgraduate diploma with distinction from London's Royal Academy of Music, and a master's degree from the University of Miami.
Hyken wrote the following about his latest composition, Ibakan:
Ibakan is a work for symphony orchestra featuring the Spam Allstars, Miami's iconic musical collective.  This ensemble, led by DJ/producer Andrew ("DJ Le Spam") Yeomanson, includes five instrumentalists performing a combination of flute, saxophone, trombone, guitar, percussion and vocals.  
Ibakan—the Yeruba word for "constant"—consists of two distinct sections.  The opening one is a setting of a canto for Obatala, an orisha (or deity) in the Yoruba religion.  The chant is hundreds of years old and has been preserved in drum circles of Haiti, Cuba and Nigeria.  The second section, marked Allegro, has an Afro-Cuban groove.  Its main melody, introduced by solo flute, saxophone and trombone, is based on a motif from the end of the canto.  Each member of the Allstars is featured in an improvised solo, culminating with a percussion breakdown involving both the ensemble and the orchestra.
Just as the tradition of chanting cantos has been a constant of the Yoruba religion, the Spam Allstars have been a constant in Miami's music scene for over 20 years, often performing music representing the city in films and on television.
Ibakan was commissioned by the New World Symphony and composed in collaboration with Andrew Yeomanson.  Tonight's performance marks its world premiere.
-- Copyright © 2015 Aaron Grad
Aaron Grad is a composer, guitarist and writer based in Seattle. Besides providing program notes for the New World Symphony, he has been the Orpheus Chamber Orchestra's program annotator since 2005 and also contributes notes to the Saint Paul Chamber Orchestra and Seattle Symphony.
Christian Reif, conductor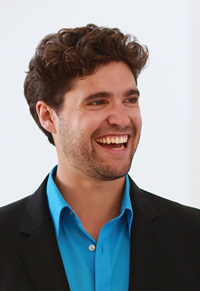 German conductor Christian Reif has just been appointed Resident Conductor with the San Francisco Symphony and Music Director of its internationally acclaimed Youth Orchestra, after making a "powerful symphony debut" with the Symphony in the fall. He is currently the second-year Conducting Fellow at the New World Symphony. This past season he conducted the Tanglewood Music Center Orchestra in several world premieres as part of Tanglewood's 75th anniversary summer and worked as cover conductor for the Los Angeles Philharmonic. In 2014 he served as assistant conductor for Alan Gilbert at the NY PHIL BIENNIAL. Mr. Reif is currently a member of Germany's prestigious Conductor's Forum (Dirigentenforum). He won the 2015 German Operetta Prize, awarded by the German Music Council. 
This season Mr. Reif led the Munich Chamber Opera in performances of Mozart's La finta semplice in Munich's famous Cuvilliés Theater. He has led several orchestras and ensembles both in the U.S. and abroad, including the Juilliard Orchestra, Salzburg Chamber Soloists, Georgian Chamber Orchestra and Israel Chamber Orchestra. His enthusiasm for performing contemporary music has led to many world premieres, among which were Michael Gordon's El Sol Caliente, a city symphony in honor of Miami Beach's centennial, and also concertos for DJ and orchestra, performed at the New World Symphony's nightclub-style PULSE events. 
A dedicated and enthusiastic educator, Mr. Reif has taught piano, coaches instrumentalists and works with singers as a repetiteur. He also worked as a Teaching Fellow in The Juilliard School's Ear Training Department and additionally served as its Department Assistant. He hosted and conducted the New World Symphony's 2014 education concerts, which were also webcast to area schools. 
In 2014 Mr. Reif completed his master of music degree in conducting at The Juilliard School under Alan Gilbert, after studying with Dennis Russell Davies at the Mozarteum Salzburg. For his outstanding achievements at The Juilliard School, Mr. Reif was the recipient of the Charles Schiff Conducting Award. He also holds a scholarship from the German study promotion program of the Cusanuswerk and two Kulturförderpreise awards given to promising artists of the region who promote cultural advancement in their communities.
DJ Le Spam and the Spam Allstars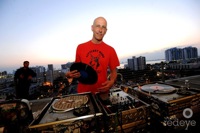 2015 marked the 20th anniversary of the Spam Allstars. What started as DJ gigs with some added instruments and special FX between tours as a guitar player, DJ Le Spam would be the first to say he never anticipated this evolution of the band. The early days included hilarious spoken-word records, mixed with a variety of instruments and the lovely scent of Spam frying live on stage as a special snack to share with his non-vegan guests. Two decades later the band has a core group of musicians that have been performing an average of 150 shows per year, across the U.S. and some very special trips to Europe, Canada and South America. Since 2001 they have held a weekly residency at the legendary Little Havana club Hoy Como Ayer every Thursday, which has attracted attention ranging from Good Morning America to The New York Times, a variety of celebrity appearances and numerous musical special guests. This is where the band has shed the most and forged what many have called a new Miami sound. The band describes it as an "electronic descarga"--a jam session, if you will--because in the beginning it was completely improvisational. As time has passed the songs have evolved, recordings have been captured and the sound took on a different form, a distinct blend of Latin, funk and electronic music. This electronic descarga is a reflection of the musicians and their cultures, training and musical influences. 
The driving force behind the music is the band's founder and leader, Andrew Yeomanson, aka DJ Le Spam. Born in Montreal and raised in Toronto, Bogota, London and Tampa, Mr. Yeomanson has always had a passion for music, history and tinkering. His early love was heavy metal, and, with a British father and Venezuelan mother, he was raised with a variety of cultural exposure that piqued his musical interest. He began playing guitar and collecting vinyl, and his musical tastes grew in different directions. 
The current band lineup includes Tomas Diaz on percussion (Cuba), Jose Elias on guitar (Dominican Republic), AJ Hill on sax (Miami), Mercedes Abal on flute (Cuba), Chad Bernstein on trombone (Chicago) and Ted Zimmerman on trumpet (Houston). These musicians have contributed significantly to the band's sound and attitude.  They each have played in multiple projects over their careers and continue to pursue their individual passions, but week in and week out they are the Spam Allstars. Other musicians that still record with the band and have toured with it in the past include Steve Welsh on sax (New York City), John Speck on trombone (Seattle) and Adam Zimmon on guitar (Los Angeles). 
The Spam Allstars have recorded six albums and released them independently. The first two releases were limited editions and fairly experimental—Pork Scratchings and Pigs in Space.  Their third album, Fuacata Live, was nominated for a Latin Grammy Award. This came as a huge surprise, as it was recorded from a show at Hoy Como Ayer during their weekly residency. The magic was captured, the playing was unique, and people wanted more.  Their fourth CD, Contra Los Robotics Mutantes, was their first studio recording and done so at City of Progress, DJ Le Spam's recording studio. Their fifth CD, electrodomesticos, was also a studio recording and included special guests Page McConnel (Phish), John Medeski (Medeski Martin & Wood), Martin Pena (AntiBalas) and more. The Spam Allstars' recordings have been licensed to a variety of clients, including HBO's Ballers, Volkswagen, Pollo Tropical, Miami Heat, Miami International Film Festival, Nike, NPR shows, Lonely Planet TV and more. 
DJ Le Spam over the years has also developed his recording studio, City of Progress. It started as a way for the Spam Allstars to record their music, but as his equipment is as eclectic as his record collection, it became known as a place where you can still record to tape and on vintage equipment. In 2014 Mr. Yeomanson/City of Progress was awarded a Knights Arts Challenge Grant.  This will allow him to upgrade his equipment and continue to add to his collection of rare vintage gear. The studio has become known as a specialty recording location in South Florida, where people go to record certain sounds that can't be found in your average studio or to restore recordings on tape. 
Today the Spam Allstars continue to perform, record and create music that they love. They are grateful for the many people that have supported their music over the years and are always pleased when they can connect with a new fan. Look for a new album, as well as some exciting performances with a small symphony, in the coming year.
Dru Rutledge, soprano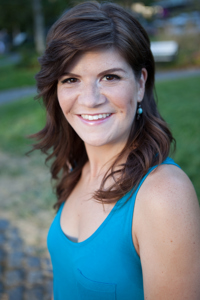 Soprano Dru Rutledge is a Portland-based singer who is in demand across the United States for her "rich-voiced tone" and "vocal fireworks". Her 2014-15 season included her return to the Portland Gay Men's Chorus as The Mother/Mrs. Rosenblat in Andrew Lippa's I am Harvey Milk, as well as her return to Portland Opera as guest soloist for Portland Opera Presents: The Great American Songbook - Unsung Women of the Great American Songbook. Ms. Rutledge also made her debut with Portland's Hungry Opera Machine for Flour, Salt, and Moonbeams: A Gypsy Jazz Opera. 
Recent performances include with Mock's Crest in Portland as Celia in Iolanthe and with the Clackamas Repertory Theater as Julie in Carousel. A sought-after soloist, she has performed with the New World Symphony for Pulse: White Out the New World Symphony, the Oregon Symphony for the Oregon premiere of Distant Worlds, and as soloist for BodyVox's Body Opera Files. 
A frequent performer with Portland Opera, Ms. Rutledge has starred as Papagena and the Queen of the Night in The Magic Flute and the Mother in Hansel and Gretel with Portland Opera To Go, as well as mainstage performances in Lucia di Lammermoor, Falstaff and Turandot. She has appeared with the Wichita Grand Opera as Josephine in H.M.S. Pinafore and Gianetta in The Elixir of Love, as well as Mme. Silverklang in The Impresario with Lyric Opera of Wichita. A frequent performer of operetta, she has recently performed with Mock's Crest as Ida in Die Fledermaus and Gianetta in The Gondoliers. On the concert stage, she has appeared with the New World Symphony, Oregon Symphony, Portland Gay Men's Chorus and Portland Opera for its Big Night gala. 
Equally at home in the musical theater repertory, Ms. Rutledge has performed with the Clackamas Repertory Theater as Laurey in Oklahoma! and Hodel in Fiddler on the Roof. Additional performances include Betty Haynes in the Lakewood Theatre's production of White Christmas, Mrs. Hopkins in My Fair Lady with the Broadway Rose Theater, and in the ensemble of Sweeney Todd with Portland Center Stage. 
A member of AGMA since 2013, Ms. Rutledge received her master's degree in opera performance from Wichita State University and her bachelor's degrees in theater and voice performance from Emporia State University.
Aya Yamamoto, piano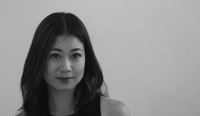 Aya Yamamoto is a third-year Piano Fellow at the New World Symphony. Collaborating with a wide variety of chamber groups and orchestras, and appearing as a soloist, she has performed in venues such as Carnegie Hall, the John F. Kennedy Center for the Performing Arts, the Lincoln Theater in Chicago, the Ideobox Gallery in Wynwood and the Menil Collection in Houston. Some of these concerts included world premieres of works by William Bolcom and Evan Chambers. Her performances cover a range of keyboard instruments spanning centuries, from the harpsichord to the synthesizer, and on occasion a little percussion. 
Ms. Yamamoto enjoys working with new composers, from the initial writing process to beyond the first performance, in the hopes of being an active part of bringing new sounds to more people. Before moving to Miami, she served as the Charlotte M. Rothwell Principal Chair in Rice University's Shepherd School of Music Symphony and Chamber Orchestras under the baton of Larry Rachleff, while pursuing her master's degree in solo performance and chamber music with Brian Connelly. As an undergraduate, she served for three years as the keyboardist for the University of Michigan Symphony and Chamber Orchestras under Kenneth Kiesler, while studying solo performance with Christopher Harding.