Events & Tickets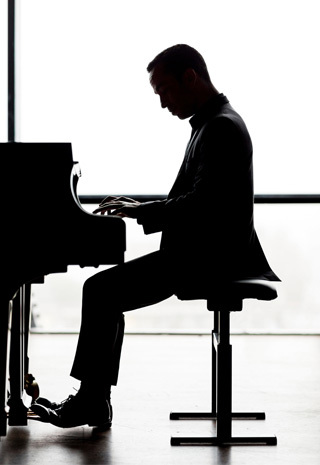 Chamber Music
RUSSIAN GEMS
New World Center
Trade the familiar force of Russian symphonies for the delicate expressions of its chamber music. Russia's golden boy Stravinsky strays from his familiar powerhouses like The Rite of Spring and The Firebird, offering instead transparent, neo-Classical miniatures. Though frequently likened to Shostakovich in style, Alfred Schnittke pays homage to Stravinsky in his haunting string quartet, as Ludwig Thuille's graceful Sextet is a yearning, romantic jewel for piano and winds. Earning him Russia's highly coveted Stalin Prize, Shostakovich's dramatic Quintet pays tribute to his own musical heroes through a hodge-podge of styles and a surprising use of restraint in the playful finale. 
Program
Igor Stravinsky
(1882-1971)
Approx. Duration: 8 minutes

Eight Instrumental Miniatures for 15 Players (1962)

Andantino
Vivace
Lento
Allegretto
Moderato: Alla breve
Tempo di marcia
Larghetto
Tempo di tango
Allison Emerick, Masha Popova, flute
Adéle-Marie Buis, Kristin Kall, oboe
Zach Manzi, Miles Jaques, clarinet
Brenton Foster, Darren Hicks, bassoon
Priscilla Rinehart, horn
Cynthia Burton, Alexander Lee, violin
Esther Nahm, Madeline Sharp, viola
Hilary Glen, Jacob Hanegan, cello
Ludwig Thuille
(1861-1907)
Approx. Duration: 28 minutes

Sextet in B-flat major for Piano and Winds, Op. 6 (1888)

Allegro moderato                                                      
Larghetto
Gavotte: Andante, quasi Allegretto
Finale: Molto vivace
Aya Yamamoto, piano
Masha Popova, flute; Max Blair, oboe
Zach Manzi, clarinet; Sean Maree, bassoon
Priscilla Rinehart, horn
Alfred Schnittke
(1934-1998)
Approx. Duration: 5 minutes

Canon in Memory of Igor Stravinsky for String Quartet (1971)

Maya Cohon, Christen Greer, violin
Andrew Francois, viola
Meredith Bates, cello
Dmitri Shostakovich
(1906-1975)
Approx. Duration: 30 minutes

Quintet in G minor for Piano and Strings, Op. 57 (1940)

Prelude: Lento—Poco più mosso—Lento
Fugue: Adagio
Scherzo: Allegretto
Intermezzo: Lento—Appassionato
Finale: Allegretto
Inon Barnatan, piano
Michael McCarthy, Lauren Densinger, violin
Jesse Yukimura, viola
Ashton Lim, cello
Igor Stravinsky
Eight Instrumental Miniatures for 15 Players (1962)

Approximate duration: 8 minutes
Stravinsky composed Les cinq doigts (The Five Fingers) for his young children in 1921. The eight short movements for piano allowed a novice performer to leave the right hand mostly stationary over a single set of five notes—which still gave Stravinsky ample material to sound like himself, crafting incisive rhythms and fractured melodies representative of his emerging "neoclassical" style. 
Stravinsky resurrected the little piano score in 1962, creating the arrangement he titled Eight Instrumental Miniatures for a 15-member ensemble. The orchestration went beyond mere note distribution, to include what Stravinsky described as "rhythmic rewriting, phrase regrouping, canonic elaboration [and] new modulation." Stravinsky conducted the premiere in Toronto several weeks before his 80th birthday, in what proved to be the last debut he directed himself. 
Additional Resources 
Recording of Eight Instrumental Miniatures on YouTube 
Excerpts of Stravinsky's own recording with the CBC Symphony Orchestra 
History of Stravinsky's American years, including picture of the composer in Hollywood in 1962
Ludwig Thuille
Sextet in B-flat major for Piano and Winds, Op. 6 (1888)

Approximate duration: 28 minutes
The Austrian composer Ludwig Thuille has long been overshadowed by his boyhood chum and pen pal, Richard Strauss. Thuille was orphaned at 11—around the time he first met Strauss, three years his junior—but a musical patron in Innsbruck eventually adopted Thuille and arranged for him to receive a first-rate education. Letters that he received in those years from Strauss attest to their shared affection for the Viennese masters (namely Haydn, Beethoven, Schubert and especially Mozart), as well as a disdain for Wagner. 
In 1879 Thuille enrolled at the Royal Bavarian Music School in Munich, where Richard's father, Franz Strauss, taught horn. For both Thuille and Richard Strauss, the path out of their early musical conservatism was paved by an older friend in Munich, the composer and violinist Alexander Ritter, who sold them on the virtues of Wagner's operas and Liszt's tone poems. Thuille composed an opera that made it as far as New York and became an influential teacher at his alma mater in Munich, but after his death at the age of 45 his music faded into obscurity. 
The one composition by Thuille that has remained relatively popular is the Sextet he completed in 1888 for piano, flute, oboe, clarinet, bassoon and horn. That exact combination of instruments was uncommon at the time, but there were earlier quintets for piano and winds (without flute) by Mozart and Beethoven that served as appealing models. There are also hints of Brahms in the Sextet's Allegro moderato first movement, with its rhythmic pattern of even eighth-notes in the melodies rubbing against a flowing accompaniment of triplets. The horn takes the first melodic phrase of the opening movement, and it holds the spotlight even longer at the start of the noble Larghetto. (Strauss' affection for the horn, passed down from his father, seems to have rubbed off on the close family friend as well.) 
The third movement, a Gavotte, dips into an even older musical wellspring, recalling the dance suites of Bach and other Baroque composers. The high point of this light-stepping interlude is the sparkling section in the middle the strikes up a double-time tempo in the parallel major key. 
In the lively closing movement, music that harks back to the hunt-inspired finales of Haydn and Mozart takes on a modern edge, with dissonances woven into the fabric of the main theme. 
Near the end, mysterious harmonies wander into Wagner-Liszt-Strauss territory to introduce a surprising new color. 
Additional Resources 
PDF score from the IMSLP Petrucci Music Library 
Information on the Sextet from its publisher, Edition Silvertrust 
Information on Thuille's life and his friendship with Strauss from the American Symphony Orchestra
Alfred Schnittke
Canon in Memory of Igor Stravinsky for String Quartet (1971)

Approximate duration: 5 minutes
The Russian composer Alfred Schnittke received his earliest musical training in Vienna, while his father served there as a translator. Shortly after his graduation from the Moscow Conservatory in 1958, he made waves with the oratorio Nagasaki, which received sharp criticism from the government-backed Union of Composers. Like Shostakovich, an early target of the Union, Schnittke proved resilient in the face of such castigation and he managed to sustain a career by scoring state-sponsored films, lecturing and teaching at his alma mater. Through a string of major concert works, he developed a "polystylistic" sound that merged elements of serialism, chance, pastiche, Romanticism, church music, bawdy songs and a host of other components. His music spread to the West through champions such as Gidon Kremer, but just as Gorbachev-era reforms loosened Soviet travel restrictions, Schnittke suffered the first of a series of debilitating strokes. He continued to compose, developing a darker, more introspective style, and moved to Hamburg, where he spent his final eight years. 
When Igor Stravinsky died in 1971, Schnittke was among the many composers who paid tribute in music. The specific impetus for his score was an ambitious undertaking organized by David Drew, the editor of the contemporary music journal Tempo. Using two memorial works composed by Stravinsky himself as models—the Double Canon and Epitaphium—Drew asked the world's leading composers to contribute canons and epitaphs that used the instruments found in those Stravinsky scores (or a subset). Schnittke's Canon in Memoriam Igor Stravinsky for string quartet appeared in a supplement to Tempo alongside works by Luciano Berio, Michael Tippett and others; a second supplement followed with offerings from such luminaries as Aaron Copland, Elliott Carter, Darius Milhaud and Pierre Boulez. (A version of that Boulez work, …explosante-fixe…, appeared on a New World Symphony program last month.) 
The musical technique of canon involves having voices follow upon each other playing the same music, either at the same pitch or separated by a fixed interval; a simple round such as "Row, Row, Row your Boat" is one familiar example. In Schnittke's canon, the spaces between the entrances are compressed to the point that the overall effect is more like an echo chamber than formal counterpoint, giving the music a spectral, fading quality in line with its memorial origins. 
Additional Resources 
Background on the memorial commissions organized by Tempo 
Excerpt from Schnittke's manuscript 
Guide to Schnittke's music from The Guardian
Dmitri Shostakovich
Quintet in G minor for Piano and Strings, Op. 57 (1940)

Approximate duration: 30 minutes
Shostakovich's life was upended in 1936, when the newspaper Pravda—the mouthpiece for the Communist Party of the Soviet Union—published a scathing review titled "Muddle instead of Music," taking issue with Shostakovich's opera Lady Macbeth of the Mtsensk District. After that public shaming, including the warning that his "game of clever ingenuity…may end very badly," Shostakovich proceeded with understandable caution, shelving several major works before composing his Fifth Symphony in a burst of activity in 1937. The premiere of that symphony was an unlikely triumph and it bought Shostakovich a bit of breathing room with the authorities during a period of relative calm before the Nazi invasion in 1941. 
After Shostakovich introduced his String Quartet No. 1 in 1938 with the Leningrad-based Glazunov Quartet, the rival Beethoven Quartet learned the piece and gave the Moscow premiere. That performance launched one of the great collaborations between composer and chamber ensemble: Shostakovich went on to compose a total of 15 string quartets, and the Beethoven Quartet introduced all but the last. Their first joint project was the Piano Quintet in G minor, which Shostakovich composed in 1940 and performed with the group. (Shostakovich's other great chamber work for piano and strings, the Piano Trio No. 2 from 1944, was likewise debuted by the composer along with Beethoven members.) 
The Piano Quintet won the Stalin Prize in 1941—along with a huge financial award of 100,000 rubles for Shostakovich—confirming that the authorities were satisfied with Shostakovich's course correction. In crafting music that was weighty and serious and yet totally transparent and rational, Shostakovich drew particular inspiration from J.S. Bach. The Quintet opens with a linked pair of movements identified as a Prelude and a Fugue, a quintessential Bach construction. (Shostakovich later wrote a set of 24 Preludes and Fugues for solo piano, a modern answer to Bach's The Well-Tempered Clavier.) The Quintet's Prelude delays the entrance of the strings, allowing the piano to establish the linear contours of the themes; the Fugue then reverses the scheme, entrusting the initial counterpoint to the muted quartet. 
After such profound and austere music in the Fugue, the central Scherzo clears the air with the type of rambunctious, dancing humor that Shostakovich mastered early in his career, long before his run-ins with Stalin. 
The Intermezzo fourth movement unfolds as an aria with walking bass, another Bach staple; out of the last dying chord, the piano launches the light and graceful finale, transporting the key center to the optimistic realm of G major. 
Additional Resources 
Blog post on the Piano Quintet 
Recording of the Piano Quintet from 1949, by Shostakovich and the Beethoven Quintet 
Collection of articles and links about Shostakovich
-- Copyright © 2016 Aaron Grad 
Aaron Grad is a composer, guitarist and writer based in Seattle. Besides providing program notes for the New World Symphony, he has been the Orpheus Chamber Orchestra's program annotator since 2005 and also contributes notes to the Saint Paul Chamber Orchestra and Seattle Symphony.
Audio clips by Naxos of America, Inc.
Inon Barnatan, piano
Celebrated for his poetic sensibility, probing intellect and consummate artistry, Israeli pianist Inon Barnatan currently serves as the first Artist-in-Association of the New York Philharmonic. This unprecedented three-season appointment sees him appear as soloist in subscription concerts, take part in regular chamber performances and act as ambassador for the orchestra. In 2015-16 he embarks on his second season with the Philharmonic, playing Mozart with Jaap van Zweden, Beethoven under Music Director Alan Gilbert and Saint-Saëns's Carnival of the Animals on New Year's Eve, besides joining members of the orchestra for Messiaen's Quartet for the End of Time at the Metropolitan Museum of Art. 
Other highlights of Mr. Barnatan's 2015-16 season include his Walt Disney Hall debut with the Los Angeles Philharmonic under Gustavo Dudamel, and a U.S. tour with the San Francisco Symphony and Michael Tilson Thomas that includes dates at the Kennedy Center and Carnegie Hall. Mr. Barnatan also performs in Paris, Brussels, Bonn, Copenhagen, Istanbul, St. Louis and Toronto, as well as at Amsterdam's Concertgebouw, London's Wigmore Hall and Tokyo's Suntory Hall. In the fall, he teamed with frequent recital partner, cellist Alisa Weilerstein, on a new Decca Classics recording of Chopin and Rachmaninoff sonatas. 
During his 2014-15 season Mr. Barnatan returned to the Hollywood Bowl with the Los Angeles Philharmonic, made his debut with the New York Philharmonic, Royal Stockholm Philharmonic, Louisville Orchestra and New Jersey, Ulster, Vancouver and Quebec symphonies, and performed with the Atlanta, Eugene, Milwaukee and National Arts Centre orchestras. He also made his solo recital debuts at the Celebrity Series of Boston and at the Harris Theater in Chicago, as well as at prestigious European festivals such as the Chopin Festival in Warsaw and the Jacobins Festival in Toulouse. He was awarded a 2015 Martin E. Segal Award by Lincoln Center, a distinction that recognizes "young artists of exceptional accomplishment." Mr. Barnatan's full summer festival lineup includes dates at Aspen and the Santa Fe Chamber Music Festival, where he performs Messiaen's From the Canyons to the Stars... with Alan Gilbert and the New York Philharmonic. 
Mr. Barnatan has performed with many of the most esteemed ensembles in the U.S., including the orchestras of Atlanta, Dallas, Cincinnati, Cleveland, Houston and Philadelphia, and he has worked with eminent conductors including Roberto Abbado, Lawrence Foster, James Gaffigan, Alan Gilbert, Jahja Ling, Nicholas McGegan, Matthias Pintscher, David Robertson, Robert Spano, Bramwell Tovey, Juraj Valčuha, Edo de Waart, Pinchas Zukerman and Jaap van Zweden, among others. He has toured twice with the Academy of St. Martin in the Fields as a conductor and soloist, and has performed in New York at Carnegie Hall, the 92nd Street Y and Lincoln Center, as well as at San Francisco's Herbst Theater, Philadelphia's Kimmel Center, Washington, D.C.'s Kennedy Center and Boston's Jordan Hall, among many other important venues. He moved to the United States in 2006, and in 2009 he was awarded the prestigious Avery Fisher Career Grant, an honor reflecting the strong impression he has made on the American music scene in such a short period of time. 
In addition to his U.S. appearances, Mr. Barnatan has appeared as soloist with the Aachen Symphony, the Amsterdam Sinfonietta, Deutsche Symphonie Orchester Berlin, National Arts Centre Orchestra, Orchestre National du Capitole de Toulouse, Netherlands Chamber Orchestra, Orchestre de la Suisse Romande, Shanghai Symphony Orchestra, Jerusalem Symphony Orchestra, Orchestra of New Europe and the Winnipeg Symphony Orchestra. He is a frequent performer at Wigmore Hall and the Concertgebouw, and has appeared in some of Europe's most illustrious venues, including the Louvre in Paris, Berlin's Philharmonie, London's Southbank Centre and Frankfurt's Alte Oper. In 2012 he gave multiple orchestral and recital appearances on a solo tour of South Africa. 
Also a sought-after chamber musician, Mr. Barnatan was a member of the Chamber Music Society of Lincoln Center's CMS Two program from 2006 to 2009 and is still a regular performer on CMS programs at home in New York and on tour. In 2009 he curated a festival of Schubert's late solo piano, vocal and chamber music works for the Society, the first musician other than the Society's artistic directors to be invited to program concerts. "The Schubert Project" program has also been performed at the Concertgebouw, the Festival de México and the Library of Congress. With cellist Alisa Weilerstein, he has given duo recitals at venues including Chicago's Orchestra Hall, Toronto's Royal Conservatory and London's Wigmore Hall. 
Mr. Barnatan's rigorous festival schedule has included a broad range of concerts at the Spoleto Festival U.S.A., the Aspen and La Jolla Music festivals, the Ravinia Festival, the Santa Fe and Seattle Chamber Music Festivals and abroad at the Verbier, Delft, Bergen, Mumbai and Heidelberg festivals. He has played with some of the most notable instrumentalists worldwide. In 2008 he received the Andrew Wolf Memorial Award in Rockport, Maine, awarded every two years to an exceptional pianist for his/her contribution to chamber music. 
Passionate about contemporary music, Mr. Barnatan regularly commissions and performs music by living composers, including works by Thomas Adès, George Benjamin, George Crumb, Avner Dorman, James MacMillan, Kaija Saariaho and others. In the 2014-15 season he premiered new pieces written for him by Matthias Pintscher and Sebastian Currier and commissioned jointly by Wigmore Hall, the Concertgebouw and the Aspen Music Festival. 
Mr. Barnatan's most recent album, celebrating Schubert's late works, was released by Avie in September 2013 and garnered rave reviews from such publications as Gramophone magazine and BBC Music. His 2012 album, Darknesse Visible, debuted in the Top 25 of the Billboard Traditional Classical chart in its first week of release and received universal critical acclaim, being named BBC Music's Instrumentalist CD of the Month and winning a coveted place on The New York Times' Best Classical Music Recordings of 2012 list. Released by Bridge Records in 2006, Mr. Barnatan's debut solo recording of Schubert piano works prompted Gramophone to hail him as "a born Schubertian" and London's Evening Standard to call him "a true poet of the keyboard: refined, searching, unfailingly communicative." Mr. Barnatan's recording of Beethoven and Schubert with violinist Liza Ferschtman was described by All Music Guide as "a magical listening experience." 
Born in Tel Aviv in 1979, Mr. Barnatan started playing the piano at the age of three after his parents discovered he had perfect pitch. He made his orchestral debut at 11. His studies connect him to some of the 20th century's most illustrious pianists and teachers: he studied with Professor Victor Derevianko, who himself studied with the Russian master Heinrich Neuhaus, and in 1997 he moved to London to study at the Royal Academy of Music with Maria Curcio—a student of the legendary Artur Schnabel—and with Christopher Elton. Leon Fleisher has also been an influential teacher and mentor. In 2006 Mr. Barnatan moved to New York City, where he currently resides in a converted warehouse in Harlem.
Musicians of the New World Symphony