Events & Tickets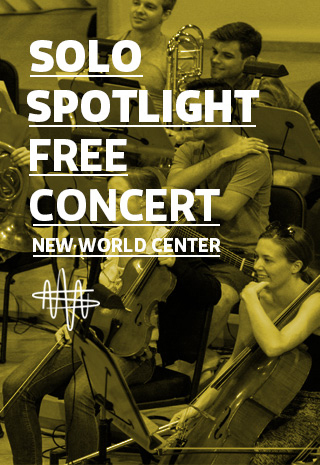 Free
SOLO SPOTLIGHT: A ROAD LESS TRAVELED: NEW AND STOLEN MUSIC FOR TUBA
New World Center, SunTrust Pavilion
Monday, March 6 at 7:00 PM
Free, ticket required
Presented in the intimate SunTrust Pavilion, Solo Spotlights feature one or two Fellows in recital programs they design.
This event will also be live streamed on MUSAIC. Click here to watch live on March 6 at 7:00 PM. Use #MUSAIC on social media. 
Program
MARC MELLITS        Black
PAUL HINDEMITH     Sonata for Tuba and Piano
GUSTAV MAHLER    Songs of a Wayfarer
                                      II. "I went this morning over the field"
                                     IV. "The two blue eyes of my beloved"
      I N T E R M I S S I O N
G. P. TELEMANN     Fantasia in F-sharp minor
MICHAEL DAUGHERTY   Reflections on the Mississippi
 
Jarrett McCourt, tuba
Canadian tubist Jarrett McCourt is a second-year Tuba Fellow at the New World Symphony. He has performed with a number of high-level ensembles, including the Detroit Symphony, Flint Symphony, National Repertory Orchestra, Symphony Orchestra of the Pacific, Windsor Symphony, Motor City Brass Quintet and University of Michigan Symphony Band. He can also be heard on recently released CDs by the University of Western Ontario Wind Ensemble (Apparitions, Albany Records) and the University of Michigan Symphony Band (Reflections, Equilibrium). Additionally, Mr. McCourt has had the privilege of playing under classical conductors such as Leonard Slatkin, Michael Stern, Andrew Litton and Jeffery Kahane, as well as alongside jazz heavyweights such as Terence Blanchard, George Benson and Nicholas Payton.
Mr. McCourt has won or been a finalist in eight competitions over the past three years, including the Leonard Falcone International Tuba and Euphonium Competition and concerto competitions in Ontario, Quebec and Michigan. Most notably, he won the top prize in the brass category of the Orchestre Symphonique de Montreal's prestigious Standard Life Competition in 2014, becoming the first tubist to do so in the competition's 75-year history.
Mr. McCourt earned a bachelor's of music degree in tuba performance with a minor in ethics at the University of Western Ontario in London, Ontario in 2013 and two master's degrees (one in tuba performance and the other in chamber music) at the University of Michigan in 2015. His principal teachers have been Brent Adams, Sasha Johnson, Dennis Nulty and Fritz Kaenzig.
John Wilson, piano
A third-year Piano Fellow at the New World Symphony, John Wilson regularly performs solo, chamber, concerto and orchestral repertoire, and is equally at home on the piano, organ, harpsichord, celeste and synthesizer. In addition to the New World Symphony, he has recently won keyboard auditions for guest orchestral positions with the Milwaukee and San Diego symphonies. Previously he served as Principal Keyboardist for the Reading Symphony, and as répétiteur for Baltimore Lyric Opera. 
Mr. Wilson has recently performed as a soloist with the New World Symphony, Napa Valley Festival Academy Orchestra, New Amsterdam Symphony and Camerata Notturna in New York City. Taking a particular interest in contemporary music, he has performed on the U.S and World Premiere performances of works by Reinbert de Leeuw, Michael Tilson Thomas, HK Gruber, Timo Andres and Bernd Deutsch. Mr. Wilson has performed in recital with violinist Joshua Bell and cellist Johannes Moser, and in ensembles with Daniel Hope and Robert McDuffie. He has also collaborated with David Foster, on synthesizer, and Audra McDonald, on piano. 
While at the New World Symphony, Mr. Wilson has studied with Emanuel Ax, Garrick Ohlsson and Jean-Yves Thibaudet. He is also a graduate of Peabody Conservatory, where he studied with Benjamin Pasternack and Marian Hahn, performed in master classes with Leon Fleisher and Murray Perahia, and was a recipient of the Presser Award and Clara Ascherfield Prize.
Zach Manzi, clarinet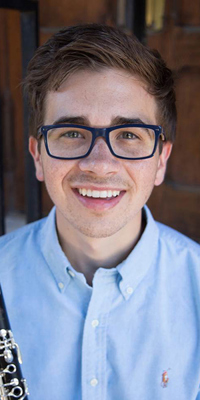 Zach Manzi is a second-year Clarinet Fellow at the New World Symphony. Mr. Manzi has enjoyed many recent performances with The Juilliard Orchestra and Wind Orchestra as well as new music groups AXIOM and the New Juilliard Ensemble in performance venues across New York City. He also participated twice in Juilliard's ChamberFest, a chamber music intensive occurring during winter recess, and gave the finale performance of the 2015 festival in Juilliard's Peter Jay Sharp Theater. A passionate educator, he was one of 20 students to be awarded a Morse Teaching Artist Fellowship, with which he taught music in a New York City public school during the 2014-15 academic year. With two classes of third-graders in Manhattan, he explored the role and relevance of classical music in the 21st-century. As a student at the Aspen Music Festival and School, Mr. Manzi performed with four orchestras and the Aspen Contemporary Ensemble, playing beside his influential teachers, Joaquin Valdepeñas, Burt Hara and Bil Jackson, in the Aspen Festival Orchestra and Chamber Symphony. He also spent a summer studying and performing at the Brevard Music Center Institute. At Vanderbilt University's Blair School of Music, where he spent the first two years of his undergraduate career, Mr. Manzi was awarded the Elliott and Ailsa Newman Prize in 2013, given to the most outstanding woodwind student in the school. As a first-year student, he won the Vanderbilt University Concerto Competition, making his solo orchestral debut with the Vanderbilt Orchestra performing Debussy's Première Rhapsodie. He received his bachelor of music degree from The Juilliard School in 2015, where he studied with Jon Manasse. When away from the clarinet, he enjoys biking, cooking, writing, traveling and discovering new coffee shops.