Events & Tickets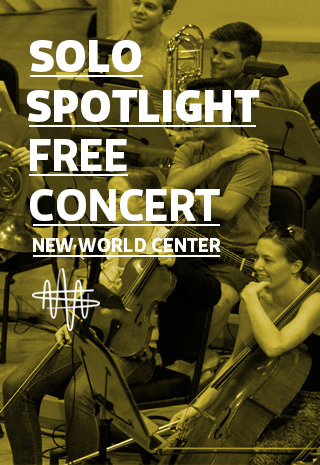 Free
SOLO SPOTLIGHT: INSPIRED FROM SILENCE
New World Center
Monday, November 30 at 7:00 PM
Program
Presented in the intimate SunTrust Pavilion, Solo Spotlights feature one or two Fellows in recital programs they design.
Program
Sonata No. 5 for Cello and Piano, Op. 102, No. 2
Julia Yang, cello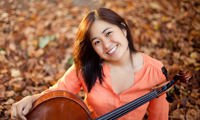 Julia Yang is a multifaceted performer active as soloist, chamber musician and second-year Cello Fellow at the New World Symphony. 
As soloist, Ms. Yang has won numerous competitions including New World Symphony's 2014 and Northwestern University's 2011 concerto competitions, and top prizes for the 2011 Union League of Chicago's Young Artist Competition and the 2011 American Opera Society Competition. Awards have included concerto performances with the New World Symphony, Northwestern Symphony Orchestra and the Central Florida Symphony. As solo recitalist she's performed in venues throughout Boston, Chicago and throughout the U.S., and will be presenting a Solo Spotlight Recital at the New World Center in November 2015. 
As chamber musician, Ms. Yang has collaborated with top artists such as Kim Kashkashian, Lynn Harrell, Joseph Silverstein and Tamas Varga, and is currently undertaking new projects as cellist of the recently formed Zaffre String Quartet. She has spent recent summers at the Taos School of Music, Aspen Music Festival, Music Academy of the West and the BrittenPears Young Artist Program, and performed as guest cellist for the San Juan Chamber MusicFest in Ouray, Colorado in August 2014. She has been invited to the KryzyzowaMusic Festival in Poland for Summer 2016. 
Ms. Yang has performed as principal cellist under conductors such as Michael Tilson Thomas, John Adams, Hugh Wolff and Leonard Slatkin in halls ranging from Boston's Symphony Hall and the New World Center, to the Kennedy Center and Carnegie Hall on tour with the New World Symphony. In 2011 she performed as associate principal cellist of the YouTube Orchestra under Michael Tilson Thomas in Sydney, Australia's iconic Opera House. Some of her greatest inspirations include her teachers: Laurence Lesser from the New England Conservatory and Hans Jorgen Jensen from Northwestern University.
Yannick Rafalimanana, piano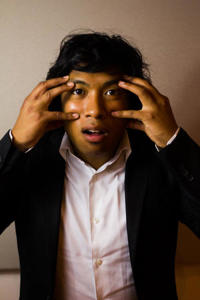 French pianist Yannick Rafalimanana has developed an international concert career performing recitals and chamber music concerts regularly throughout Europe, the United States, South America, Africa and the Middle East. Winning the first prize in the 2012 Tufts/New England Conservatory Soloist Competition, he made his US debut in Symphony Hall in Boston, playing Schumann Concerto with the Boston Pops Orchestra under the baton of Keith Lockhart.
He recently performed in the Konzerthaus in Vienna, the Kennedy Center in Washington, live on Boston's radio station WBGH, in Jordan Hall with the Borromeo String Quartet, in Boston with violists Kim Kashkashian and Tomas Reibl, cellist Narek Hakhnazaryan and in Shelter Island (NY) sharing the stage with violinist Itzhak Perlman. He also made his Brazil recital debut performing at the Mube Museum and his Israel debut performing at the Jerusalem Music Center.

 Mr. Rafalimanana has won numerous awards and prizes in several competitions, including the Borromeo Quartet Guest Artist Award, the Bruxelles J-Musiciens Competition, the Brest Piano Competition, and the International Ravel Academy's Rotary-Lions Competition.

As a soloist, he has performed regularly with the Orchestre CNR de Lille, Orchestre Impromptu, and the Ensemble Parisien. He recently founded and conducted the LFO - a chamber orchestra based out of Boston, involving NEC students, with whom he has also played as a soloist. Mr. Rafalimanana also performs frequently with the Trio La Plata, a group formed in Paris in 2006.

An advocate of new music, he has great experience as a collaborative pianist with orchestras, and it has led him to work under the batons of Peter Eotvos, Jean Deroyer, Thomoty Brock, Zolt Nagy and John Heiss and perform in such venues as La Cite de la Musique and Radio France in Paris, Jordan Hall and Harvard Music Association in Boston and at the "Poisson Rouge" in New York. He also works often with the Ensemble Le Balcon under Maxime Pascal in Paris.

 Mr. Rafalimanana has participated in numerous summer festivals; among them are the Perlman Music Program, the Greatlakes Chamber Music Festival, the Brussels Chamber Music Festival. He has collaborated with some of most well known musicians, such as Itzhak Perlman, Donald Weilerstein, Joseph Kalichstein, Kim Kashkashian, Gary Hoffman, Paul Katz, Roger Tapping, Julian Arp, Frank Stadler,  and Alexei Moshkov.

Born in Lille, France, Mr. Rafalimanana began his musical studies at the Conservatory of Lille under the tutelage of Alain Raes. He later graduated with first prizes in both Piano Performance, and Chamber Music and Collaborative Piano Performance, from the 'Conservatoire National Superieur de Musique et de Danse de Paris'. Among his teachers are Bruno Rigutto, Michael Levinas and Jean-Claude Pennetier. His chamber music and collaborative piano coaches include Francois Salque, Michel Moraguais, David Walter and Jean Koerner. Mr. Rafalimanana graduated from the New England Conservatory with a Graduate Diploma in Piano Performance and a Master of Music in Chamber Music under Vivian Weilerstein.
Ran Kampel, clarinet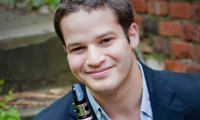 Israeli-born clarinetist Ran Kampel is a third-year Fellow at the New World Symphony. He has been a top prize winner of several international competitions and featured on radio and TV stations in Germany, Israel and the U.S. He appeared as a soloist with the New World Symphony and Colorado College Music Festival Orchestra. Before coming to NWS, he held the position of Interim Principal Clarinet with the Grand Rapids Symphony during the 2013-14 season. 
A versatile chamber musician, Mr. Kampel has collaborated with leading musicians such as Gilbert Kalish, Martin Chalifour, Roger Tapping, Lucy Shelton, Richard Killmer, Frank Morelli, William Purvis and Scott Yoo. During the summers, he has performed at Salzburger Festspiele, Schleswig-Holstein, Tanglewood, Yellow Barn, Lakes Area, Aspen, Norfolk, Colorado College and Sarasota music festivals. 
An advocate of bringing music into the community, Mr. Kampel enjoys presenting concerts that interact with a variety of audiences outside the concert hall. At the New World Center, he performs regularly on the Inside the Music, Solo Spotlight and Musicians' Forum concert series. He is also the co-artistic director of Sunset Chamberfest in Los Angeles. 
A clarinet pedagogue in high demand, Mr. Kampel has led master classes around the world, including at the Interlochen Arts Academy in Michigan, Academia Filarmónica de Medellín (AFMED) in Colombia and Givatyim Music Conservatory in Israel. In addition, he served as a Teaching Artist at low-income public schools in Los Angeles, teaching both clarinet and recorder classes. 
Mr. Kampel holds degrees with high honors from the Eastman School of Music and the University of Southern California Thornton School of Music. His primary teachers were Yehuda Gilad, Jon Manasse, Andrew Brown and Eva Wasserman-Margolis. Outside the concert hall, he enjoys cooking, skiing, hiking, playing tennis and soccer.