Events & Tickets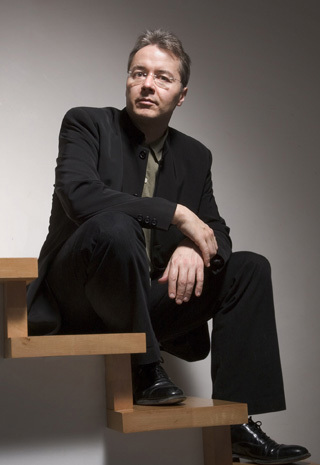 Orchestra Concert
SOUNDS OF THE TIMES: CONCENTRIC PATHS
New World Center
Saturday, March 26 at 7:30 PM
Program
Known for his innovative programming, conductor Stefan Asbury presents a program of musical pioneers and their groundbreaking knockouts. Dive into Helen Grimes' A Cold Spring where you'll find a boisterous duet for clarinets, a singing lullaby-like mini-concerto for horn and much more. No stranger to NWS, Thomas Adès creates a triptych of spheres and cycles which "overlap and clash toward resolution." Its soaring lines sing in the hands of Anthony Marwood, hailed for his "gold tone and surefire musicianship." Expect to hear all of the familiar elements of a large-scale symphony in Michael Tippett's inventive one-movement magnum opus, his "birth to death" work beginning and ending with a single breath. 
Program
Helen Grime
(b. 1981)
Approx. Duration: 10 minutes

Quarter Note = 76
Calmo (dotted quarter = c. 42)
Tumultuous (quarter note = 80)
Thomas Adès
(b. 1971)
Approx. Duration: 20 minutes

Violin Concerto, "Concentric Paths"  (2005)

Michael Tippett
(1905-1998)
Approx. Duration: 34 minutes

Introduction and Exposition
Development 1
Slow Movement
Development 2
Scherzo and Trios
Development 3
Recapitulation
Helen Grime
A Cold Spring (2009)

Approximate duration: 10 minutes
Although she was born in England and now lives there, Helen Grime was raised in her parent's native Scotland, where her mother and two grandparents taught music. Grime went on to study oboe and composition at the Royal College of Music in London, and she also earned a prestigious Leonard Bernstein Fellowship that brought her in 2008 to the Tanglewood Music Center in Massachusetts. She has been commissioned and performed by noted groups on both sides of the Atlantic, including the Aldeburgh Festival (founded in 1948 by Benjamin Britten), where Grime's A Cold Spring debuted in 2009, performed by Oliver Knussen and the Birmingham Contemporary Music Group. 
Cast in three short movements spanning around ten minutes and scored for a miniature orchestra of five winds, four strings and harp, A Cold Spring conveys a sense of intimacy and pristine detail. The dominant voices of the restless first movement are the two clarinets, whose chattering duets in close harmony come and go over a fitful bed of sound grounded by spacious tones in the bass. 
The calm second movement places the horn in the foreground, while other solo voices within the ensemble trace and answer the melodic lines. 
The closing movement, marked "Tumultuous," juxtaposes fluid lines with sharp, percussive stabs. 
In the end, it tiptoes to a hushed conclusion when the harp climbs into its highest range, joined by shivering harmonics in the strings. 
Additional Resources  
Online score for A Cold Spring
Liner notes to Night Songs, Grime's debut CD, including A Cold Spring 
Profile on Grime from publisher Chester Music
Thomas Adès
Violin Concerto, "Concentric Paths" 

(2005)


Approximate duration: 20 minutes

Thomas Adès only dedicated himself to composing at age 19, a year after earning second place in the BBC's Young Musician of the Year competition as a pianist. In his 20s, he rose to the top echelon of contemporary music, causing a stir with the risqué opera Powder Her Face (1995) and becoming the youngest-ever winner of the prestigious Grawemeyer Prize for his orchestral work Asyla (1997). The Berlin Festpiele and Los Angeles Philharmonic co-commissioned the Violin Concerto, which Adès conducted himself at its 2005 premiere in Europe. The Concerto has already become a repertoire staple in its first decade, with three commercial recordings available and numerous performances each season. 

Adès gave the Concerto the subtitle "Concentric Paths," and he explained that all three movements are "circular in design." The fast opening movement, Rings, cascades "with sheets of unstable harmony in different orbits." Ceaseless streams of arpeggios pass between the soloist and orchestra, whirling like a gyroscope in a state of kinetic equilibrium. 

The slow middle movement, Paths, is "built from two large, and very many small, independent cycles, which overlap and clash, sometimes violently, in their motion towards resolution." Brittle, punctuated chords at the beginning establish a recurring framework for this weighty statement, in the manner of a Baroque chaconne. 

Adès characterized the fast finale, Rounds, as "playful, at ease, with stable cycles moving in harmony at different rates." A passage near the end illustrates that form of rhythmic layering, when the soloist offers a slower version of the movement's main theme while the piccolo introduces it at full speed in a higher octave. 

  

Additional Resources 

Online score from publisher Faber Music 

Guide to Adès' music from The Guardian 

Published score, showing cover image, Map of the Earth and Planetary Orbits, from The Celestial Atlas of 1661

 
Michael Tippett
Symphony No. 4 (1977)

Approximate duration: 34 minutes
After a slow start in music, Michael Tippett developed into one of the major British composers of the 20th century. He studied at the Royal College of Music from 1923 to 1928, and then he returned for counterpoint lessons from 1930 to 1932. His first mature works emerged in the mid-1930s, at the same time that he was developing his pacifist stance and coming to terms with his homosexuality. Tippett registered as a conscientious objector during World War II, which resulted in a three-month prison sentence in 1943. His trajectory improved the next year with the belated premiere of his breakthrough oratorio, A Child of Time, and he continued to find success through ambitious and lyrical dramatic works, including the operas The Midsummer Marriage (1955) and King Priam (1962). 
With Tippett's reputation at home well established by the mid-1960s (including knighthood and an honorary doctorate from Cambridge), his career began to spread to the United States. The commission for his Fourth Symphony came from Sir Georg Solti and the Chicago Symphony Orchestra, which gave the premiere performance in 1977 and followed with a recording for Decca Records in 1979. 
Tippett constructed the Symphony No. 4 in one continuous movement, although internal divisions align with the framework of a multi-movement symphony. He saw this Symphony as a "birth-to-death piece," and he acknowledged Sibelius' Seventh Symphony, Strauss' Ein Heldenleben and Elgar's Falstaff as models for his one-movement arc. Tippett also recalled an enduring memory from the 1920s, when he saw a film that showed the development of a rabbit fetus, starting with the division of cells, how one cell "shook and became two and then four and so on." 
The Symphony's most distinctive musical gesture is a breathing sound meant to evoke "an organism coming to life at the start, a gradual expiration at the end and something of the character of a violent storm in the main central climax." In the original score, Tippett assigned that task to a wind machine played by a percussionist, but the effect was too noisy and distracting; having a performer breath into a microphone was also abandoned owing to its unintended "sexual innuendo" and attempts to record the sound at the BBC resulted in a tape Tippett described as "useful, if anonymous." He finally captured the sound he wanted in a Greenwich Village studio, with the help of a rock music producer and new sampling technology. 
Additional Resources 
Official site for Michael Tippett 
Article from The Telegraph about Tippett's reputation relative to his more famous contemporary, Benjamin Britten 
Recollections about Tippett from conductor David Robertson
-- Copyright © 2016 Aaron Grad 
Aaron Grad is a composer, guitarist and writer based in Seattle. Besides providing program notes for the New World Symphony, he has been the Orpheus Chamber Orchestra's program annotator since 2005 and also contributes notes to the Saint Paul Chamber Orchestra and Seattle Symphony.
Audio clips provided by Naxos of America, Inc.
Stefan Asbury, conductor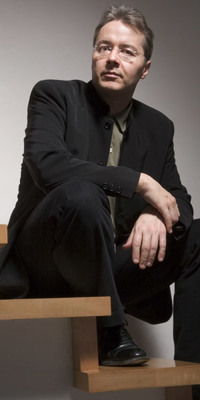 A regular guest with leading orchestras worldwide, Stefan Asbury's 2015-16 season includes a return to Vienna's Musikverein for the world premiere of Bernd Richard Deutsch's Organ Concerto with Radio-Sinfonieorchester Wien, a new production of The Firebird with Copenhagen Phil in collaboration with the Danish Dance Theatre and Republique and Gershwin's Porgy and Bess for the Spoleto Festival U.S.A. He also performs with the SWR Sinfonieorchester Baden-Baden, Seoul Philharmonic Orchestra and Noord Nederlands Orkest (where he takes up the position of Honorary Conductor this season). 
Mr. Asbury has particularly strong relationships with many living composers, including Oliver Knussen, Steve Reich, Wolfgang Rihm, Unsuk Chin and Mark-Anthony Turnage. In the 2014-15 season he conducted the world premiere of Sir Harrison Birtwistle's Piano Concerto with Pierre-Laurent Aimard and Sinfonieorchester des Bayerischen Rundfunks, and also gave the U.S. premiere with Mr. Aimard and the Boston Symphony Orchestra. 
As a recording artist, Mr. Asbury's CD of music by Jonathan Harvey was awarded a Monde de la Musique CHOC award, and his complete cycle of Gerard Grisey's Les Espaces Accoustiques with WDR Sinfonieorchester won a Deutschen Schallplattenkritik award. 
Mr. Asbury frequently collaborates with Gewandhausorchester Leipzig, Royal Concertgebouw Orchestra, WDR Sinfonieorchester, hr-Sinfonieorchester and NDR Sinfonieorchester Hamburg, and regularly appears at festivals such as Munich's Biennale, Salzburger Festspiele, La Biennale di Venezia and Wien Modern. He also works with Ensemble Modern, Klangforum Wien, Musikfabrik and London Sinfonietta. Recent guest engagements incude the London and Tokyo symphonies, Los Angeles Philharmonic, RAI Turin, Dresdner Philharmonie and Orchestra of St Luke's. 
In October 2013 he conducted the world premiere of Michael Jarell's Siegfried Nocturne at the Wagner Geneva Festival. Other recent opera engagements include John Adams' A Flowering Tree for the Perth International Arts Festival, Wolfgang Rihm's Jakob Lenz for the Wiener Festwochen, Britten's Owen Wingrave with Tapiola Sinfonietta and Knussen's Where the Wild Things Are at Tanglewood. He also collaborated with the Mark Morris Dance Group in productions of Prokofiev's Romeo and Juliet and Virgil Thomson's Four Saints in Three Acts, with performances at the Lincoln Center in New York, London's Barbican and the Brooklyn Academy of Music, among other venues. 
Since 1995 Mr. Asbury has served on the faculty of the Tanglewood Music Center and has held the Sana H. Sabbagh Master Teacher Chair on the Conducting Faculty since 2005. In addition to his regular summer teaching he has given masterclasses at the Hochschule der Kunste (Zürich), the Venice and Geneva's conservatories and the Boston Symphony Orchestra's Inside the TMC.
Anthony Marwood, violin
Well established in Europe and Australia as leader/soloist with the Irish Chamber Orchestra, the Academy of St. Martin-in-the-Fields, the Norwegian and Swedish Chamber Orchestras, Camerata Bern and the Australian Chamber Orchestra, Anthony Marwood is quickly developing a singular North American presence, both as a soloist and as a leader who directs from the violin. 
In March 2015 Mr. Marwood was named Principal Artistic Partner of Les Violons du Roy, the celebrated Canadian chamber orchestra, where he has been a frequent guest soloist/leader since 2011 in an eclectic mix of Baroque, Classical and contemporary programs.  The new appointment in Quebec was effective in the fall of 2015 for a term of three seasons. He returns to the St. Louis Symphony for another subscription week as soloist/leader and recently led a split week with the Vancouver Symphony featuring Mozart's Second Violin Concerto, Rameau's Suite from Dardanus and Haydn's Symphony No. 44. 
Thomas Adès wrote his Violin Concerto, "Concentric Paths" for Mr. Marwood, who premiered it in Berlin and at the BBC Proms, as well as first performances in Paris, St. Petersburg and, stateside, with the Boston Symphony and Los Angeles Philharmonic with the composer conducting. They made a much-acclaimed recording of it together in 2010. This season Mr. Marwood solos in the Adès again during a week with the New World Symphony. 
Steven Mackey has also written for Mr. Marwood, who performed Mackey's concerto Beautiful Passing with the St. Louis Symphony and David Robertson, who invited him to Sydney and Vienna for performances of the colorful, expressive work. Mackey wrote Four Iconoclastic Episodes (for violin, electric guitar and orchestra) for Mr. Marwood, and last season Samuel Carl Adams wrote a new concerto for him, which Mr. Marwood premiered with the Berkeley Symphony.  In solo appearances with the BBC Symphony, London Mozart Players, Australian Chamber Orchestra, Tapiola Sinonietta and others. Mr. Marwood has worked with such eminent conductors as Valery Gergiev, Sir Andrew Davis, Douglas Boyd, Yan Pascal Tortelier, Gerard Korsten, Martyn Brabbins and Ilan Volkov. 
Mr.  Marwood tours the U.S., Asia and Europe with his recital partner Alexander Madzar, including their three-part recital series of the complete Brahms violin sonatas at Wigmore Hall, recorded on the Wigmore Hall Live label, which also recently released their recording of Schumann's violin sonatas. With Thomas Adès, Mr. Marwood toured the complete music of Stravinsky for piano and violin, recorded for Hyperion in 2010. Other chamber partners include Martin Fröst, Marc-André Hamelin and Steven Isserlis. His most recent Hyperion recordings include the Schumann and Britten violin concertos with the BBC Scottish Symphony.  
In the summer season Mr. Marwood is a regular guest and teacher at Yellow Barn Music School and Festival and at the Bridgehampton Chamber Music Festival. He is co-founder of the Peasmarsh Chamber Music Festival in East Sussex, England. 
A remarkable highlight of Mr. Marwood's career onstage was his boundary-bursting brilliant portrayal of the title role in Stravinksy's A Soldier's Tale, directed by Lawrence Evans. Touring the U.K., his performance was named one of the cultural highlights of the year by The Daily Telegraph.  
Mr. Marwood was the sole violinist of the Florestan Trio for its 16-year span and Artistic Director and leader of the Irish Chamber Orchestra from 2006 to 2011. The Royal Philharmonic Society named him Instrumentalist of the Year in 2006. Through the generosity of a syndicate of purchasers, he plays a 1736 Carlo Bergonzi violin.
Christian Reif, conductor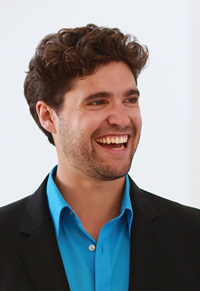 German conductor Christian Reif has just been appointed Resident Conductor with the San Francisco Symphony and Music Director of its internationally acclaimed Youth Orchestra, after making a "powerful symphony debut" with the Symphony in the fall. He is currently the second-year Conducting Fellow at the New World Symphony. This past season he conducted the Tanglewood Music Center Orchestra in several world premieres as part of Tanglewood's 75th anniversary summer and worked as cover conductor for the Los Angeles Philharmonic. In 2014 he served as assistant conductor for Alan Gilbert at the NY PHIL BIENNIAL. Mr. Reif is currently a member of Germany's prestigious Conductor's Forum (Dirigentenforum). He won the 2015 German Operetta Prize, awarded by the German Music Council. 
This season Mr. Reif led the Munich Chamber Opera in performances of Mozart's La finta semplice in Munich's famous Cuvilliés Theater. He has led several orchestras and ensembles both in the U.S. and abroad, including the Juilliard Orchestra, Salzburg Chamber Soloists, Georgian Chamber Orchestra and Israel Chamber Orchestra. His enthusiasm for performing contemporary music has led to many world premieres, among which were Michael Gordon's El Sol Caliente, a city symphony in honor of Miami Beach's centennial, and also concertos for DJ and orchestra, performed at the New World Symphony's nightclub-style PULSE events. 
A dedicated and enthusiastic educator, Mr. Reif has taught piano, coaches instrumentalists and works with singers as a repetiteur. He also worked as a Teaching Fellow in The Juilliard School's Ear Training Department and additionally served as its Department Assistant. He hosted and conducted the New World Symphony's 2014 education concerts, which were also webcast to area schools. 
In 2014 Mr. Reif completed his master of music degree in conducting at The Juilliard School under Alan Gilbert, after studying with Dennis Russell Davies at the Mozarteum Salzburg. For his outstanding achievements at The Juilliard School, Mr. Reif was the recipient of the Charles Schiff Conducting Award. He also holds a scholarship from the German study promotion program of the Cusanuswerk and two Kulturförderpreise awards given to promising artists of the region who promote cultural advancement in their communities.