Events & Tickets
Orchestra Concert
THE FANTASTIC SYMPHONY
Adrienne Arsht Center
Saturday, January 14 at 8:00 PM
Program
Experience the impassioned romance and wondrous opium-fueled dreams of Hector Berlioz's legendary Symphonie fantastique alongside global conducting sensation Roberto Abbado. From its whirlwind waltzes to demonic hallucinations, hear why MTT calls this "unabashed melodrama" an epic "orchestral sonic spectacular." The sun-dappled pastoral setting of Claude Debussy's dreamlike symphonic poem Prelude to the Afternoon of a Faun is a serene start before George Gershwin's exceedingly entertaining Concerto. Master pianist Jean-Yves Thibaudet is at his finest in this perfect stylistic fusion of tradition, jazz and musical theater. One critic wrote that his interpretation "was not just nearly perfect. It was perfect, the best I've experienced in 50 years."
Program
Claude Debussy
(1862-1918)
Approx. Duration: 10 minutes

Prelude to the Afternoon of a Faun (1894)

George Gershwin
(1898-1937)
Approx. Duration: 29 minutes

Concerto in F major for Piano and Orchestra (1925)

Allegro
Adagio—Andante con moto
Allegro agitato
Hector Berlioz
(1803-1869)
Approx. Duration: 49 minutes

Symphonie fantastique, Op. 14 (1830)

Reveries—Passions
A Ball: Waltz
Scene In the Country
March to the Scaffold
Dream of the Witches' Sabbath
Claude Debussy
Prelude to the Afternoon of a Faun (1894)

Approximate duration: 10 minutes
The earliest compositions of Claude Debussy reflected his training at the Paris Conservatory and his fascination with Richard Wagner. Debussy turned on Wagnerism in 1889 just as he encountered a new set of influences that changed the course of his music. At the Universal Exposition held in Paris, Debussy soaked up Asian inspiration, especially Javanese gamelan music. Around the same time, he began circulating with the Symbolist poets, including Stéphane Mallarmé and Paul Verlaine.
In 1890, Mallarmé outlined a theatrical project based on his poem L'après-midi d'un faune (The Afternoon of a Faun), and he invited Debussy to compose the music. The project fell through, but Debussy returned to his preliminary work on the piece to complete an orchestral prelude in 1894. He described the composition as "a very free illustration of Mallarmé's beautiful poem. By no means does it claim to be a synthesis of it. Rather there is a succession of scenes through which pass the desires and dreams of the faun in the heat of the afternoon. Then, tired of pursuing the timorous flight of nymphs and naiads, he succumbs to intoxicating sleep, in which he can finally realize his dreams of possession in universal Nature."
Prelude to the Afternoon of a Faun had a quiet debut in 1894, but its defining moment came in 1912, when Vaslav Nijinsky choreographed a ballet to Debussy's music for the Ballets Russes. Nijinsky danced the role of the faun himself, a performance condemned by a Paris critic for its "vile movements of erotic bestiality and gestures of heavy shamelessness."
The flute solo at the beginning of Debussy's score introduces the faun with a motive that traverses the unsettling interval of a tritone, shimmying up and down in smooth, chromatic slurs.
Whole-tone scales and unresolved harmonies, all bathed in a supple and warm orchestration, reinforce the air of mystery.
Like the poetry of Mallarmé in which the sounds of words are as important as their meanings, Debussy's Prelude to the Afternoon of a Faun luxuriates in its musical gestures, disregarding the old rules of tonal progress and resolution.
Additional Resources
PDF score from the IMSLP Petrucci Music Library
Chronology of shocking dance premieres
Debussy: Between Impressionism and Symbolism
George Gershwin
Concerto in F major for Piano and Orchestra (1925)

Approximate duration: 29 minutes
George Gershwin, already a top songwriter at the age of 25, made his first real splash in the world of "serious" music with Rhapsody in Blue. Among the spectators at Gershwin's debut performance with Paul Whiteman's dance band was Walter Damrosch, the conductor of the New York Symphony Orchestra, who was so impressed that he immediately invited Gershwin to compose a true concerto to perform with the orchestra. Gershwin himself understood that Rhapsody in Blue was insufficient to establish his classical credentials; he wrote: "Many persons had thought that the Rhapsody was only a happy accident. Well, I wanted to show that there was plenty more where that had come from. I made up my mind to do a piece of 'absolute' music. The Rhapsody, as its title implied, was a blues impression. The Concerto would be unrelated to any program." 
Gershwin worked on his Piano Concerto in F from July to November of 1925, and he debuted the score that December. The concerto's gestation was much more arduous than that of Rhapsody in Blue (which took less than a month to draft), not least because Gershwin endeavored to teach himself the art of orchestration, rather than bringing in an arranger as he had for the previous score. 
The Concerto in F successfully masks any discomfort its composer may have had with venturing so deep into territory staked out by the likes of Mozart and Beethoven. The opening tutti section, with its juxtaposition of bombastic timpani and syncopated dance rhythms reminiscent of "The Charleston," establishes the duality that runs throughout the score. 
Offsetting that first orchestral flurry, the piano arrives with a cadenza that teases out a slow and sultry response. 
The middle movement calls out a trumpet to present the lazy melody, colored with characteristic "blue" notes and backed up by a chorus of clarinets. (The instruction for the trumpet to play into a "hat with felt crown" when it returns takes a page from the jazz trumpeter King Oliver, who popularized the sound of a derby hat used as a mute.) 
The piano responds with a sassy theme propelled forward by strummed chords from the strings, as if mimicking a jazz guitar or banjo. 
The brisk rondo finale plays up the virtuosic gesture of repeated notes on the piano. 
Echoes of earlier music bring the work full circle, until a final barrage from the timpani sets up the swelling cadence. 
Additional Resources 
Information on the Piano Concerto from the Gershwin website 
Misunderstanding Gershwin, from The Atlantic
Hector Berlioz
Symphonie fantastique, Op. 14 (1830)

Approximate duration: 49 minutes
Hector Berlioz was an unlikely musical revolutionary who only began dabbling in composition and teaching himself harmony out of a book at the age of 12. His father, a physician, disapproved of these musical pursuits, so the young Berlioz never took lessons or mastered an instrument. At 18 he moved to Paris to study medicine and he waited another five years before finally enrolling at the Paris Conservatory in 1826. Remarkably, it was only four years later that he wrote a work that redefined orchestral music, the Symphonie fantastique.
A pivotal moment in Berlioz' development can be traced to one night in 1827, when he first experienced Shakespeare through a production of Hamlet. In future years, Berlioz would write a number of works on Shakespearean themes, but the immediate impact was more personal: He left the theater smitten with Harriet Smithson, the Irish actress who played Ophelia.
Berlioz' infatuation with Smithson blossomed and then soured by 1830, at which point personal suffering became creative fodder. Expanding from the model of Beethoven's Symphony No. 6, with its "pastoral" plot points, Berlioz concocted a symphony built around a dramatic tale of failed romance. This work's official title was An Episode in the Life of an Artist, with the subtitle of Symphonie fantastique, or "Fantastical Symphony."
The explicit links Berlioz made between symphonic structures and a narrative story marked the birth of a new genre, the program symphony, which would become a cornerstone of the Romantic repertoire. To support this programmatic format, Berlioz stretched symphonic notions of form (using five movements instead of the typical four), thematic unity (one idée fixe appears throughout), and instrumentation (incorporating recent inventions such as valve trumpets and ophicleides, and doubling the harp and timpani).
Berlioz' own program note describes the symphony's narrative in detail. He introduces "a young musician of morbid disposition and powerful imagination"—a plain surrogate for Berlioz—who "poisons himself with opium in an attack of despairing passion." In the ensuing opium dream, "the beloved herself appears to him as a melody, … an obsessive idea that he keeps hearing wherever he goes."
The first movement, titled Reveries—Passions, "recalls the sickness of the soul, the flux of passion, the unaccountable joys and sorrows he experienced before he saw his beloved; then the volcanic love she suddenly inspired in him, his delirious raptures, his jealous fury, his persistent tenderness, his religious consolations." The beloved's idée fixe enters about five minutes into the form, stated by violins and flute, and it sparks a flight of passion.
Next the artist attends A Ball, and Berlioz sets the scene with a flowing waltz.
In Scene in the Country, the artist "broods on his loneliness," contemplating "two shepherds" represented by English horn and oboe.
The ending darkens with the "distant sound of thunder" provided by the timpani, an echo of the storm in Beethoven's "Pastoral" Symphony.
The fantastical nature of the symphony emerges in the March to the Scaffold, in which the artist "dreams that he has killed his beloved, that he is condemned, led to the scaffold and is witnessing his own execution."
At the end, a whiff of the beloved's idée fixe from the clarinet is silenced by the startling crash of the guillotine, followed by mocking peals of major triads.
The macabre final chapter is the Dream of the Witches' Sabbath, featuring "a hideous gathering of shades, sorcerers and monsters of every kind who have come together for [the artist's] funeral." The symphony depicts "strange sounds, groans, [and] outbursts of laughter" with diabolical orchestral effects.
The blaring quotation of the Dies Irae ("Day of Wrath") plainchant from Catholic liturgy adds to the terror of this wild scene.
The Symphonie fantastique was a rare leap forward in music, an achievement that was almost inconceivable coming from a 26-year-old student, working in a country with little symphonic tradition and writing only six years after Beethoven's Ninth Symphony. Berlioz followed with many more masterful orchestral scores, and his treatise on instrumentation is still essential reading for aspiring composers. The late-blooming Berlioz turned out to be a new breed of virtuoso, one whose "instrument" was the massed resources of the symphony orchestra.
Additional Resources
PDF score from the IMSLP Petrucci Music Library
Berlioz' complete description of the symphony's program
Interactive guide to the symphony from Keeping Score, created by Michael Tilson Thomas with the San Francisco Symphony
-- Copyright © 2017 Aaron Grad
Aaron Grad is a composer, guitarist and writer based in Seattle. Besides providing program notes for the New World Symphony, he has been the Orpheus Chamber Orchestra's program annotator since 2005 and also contributes notes to the Saint Paul Chamber Orchestra and Seattle Symphony.
Audio clips provided by Naxos of America, Inc. 
Roberto Abbado, conductor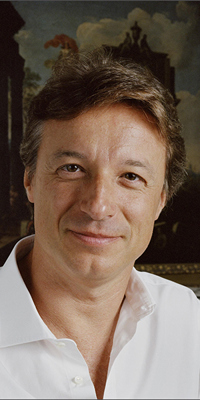 Roberto Abbado, awarded the prestigious Premio Abbiati by the Italian Music Critics Association for his "accomplished interpretative maturity, the extent and the peculiarity of a repertoire where he has offered remarkable results through an intense season," is Musical Director of the Palau de les Arts Reina Sofia in Valencia. He studied orchestral conducting under Franco Ferrara at the Teatro La Fenice in Venice and at the Accademia Nazionale di Santa Cecilia in Rome, where he was invited—the only student in the history of the Academy—to lead the Orchestra di Santa Cecilia. He made his American debut in 1991 in New York conducting the St. Luke's Orchestra. Since then he has returned regularly to the United States to lead the orchestras of Boston, Philadelphia, Chicago, Cleveland, San Francisco, as well as the Los Angeles Philharmonic and Saint Paul Chamber Orchestra—of which he is one of the "Artistic Partners"—working with soloists like Yo-Yo Ma, Midori, Nigel Kennedy, Gil Shaham, Joshua Bell, Hilary Hahn, Vadim Repin, Sarah Chang, Yefim Bronfman, Mitsuko Uchida, Alfred Brendel, Radu Lupu, André Watts, Andras Schiff, Lang-Lang and Katia and Marielle Labèque.
Mr. Abbado was Musical Director of the Münchner Rundfunkorchester from 1991 to 1998, completing seven album recordings with the orchestra. He has worked with many ensembles, including Amsterdam's Concertgebouworkest, Vienna Symphony, Orchestre National de France, Orchestre de Paris, Staatskapelle Dresden, Gewandhausorchester (Leipzig), NDR Sinfonieorchester (Hamburg), Sveriges Radios Symfoniorkester (Stockholm), Israel Philharmonic, Orchestra di Santa Cecilia, Orchestra del Maggio Musicale Fiorentino, Orchestra Sinfonica Nazionale della Rai, Filarmonica della Scala, Orchestra of Teatro Comunale di Bologna, Atlanta Symphony, Cincinnati Symphony, New World Symphony, Minnesota Orchestra, Malaysian Philharmonic and Taipei Symphony.
Mr. Abbado has conducted numerous new opera productions and world premieres, including Fedora and Ernani at the Metropolitan Opera in New York; I Vespri Siciliani at the Wiener Staatsoper; La Gioconda, Lucia di Lammermoor, La Donna del Lago, and the world premiere of Fabio Vacchi's Teneke at La Scala; The Love for Three Oranges, Aida and La Traviata at the Bayerische Staatsoper; Le Comte Ory, Attila, I Lombardi alla Prima Crociata, The Barber of Seville, Henze's Phaedra—at its Italian premiere—and Anna Bolena at the Maggio Musicale Fiorentino; Don Giovanni at the Deutsche Oper Berlin; Simon Boccanegra, and La Clemenza di Tito at the Teatro Regio of Turin; La Donna del Lago at the Opéra Garnier in Paris; Ermione, Zelmira, and Mosè in Egitto at the Rossini Opera Festival; the Italian premiere of Marschner's Der Vampyr at the Teatro Comunale in Bologna.
A passionate interpreter of contemporary music, Mr. Abbado's repertoire includes composers like Luciano Berio, Bruno Maderna, Goffredo Petrassi, Sylvano Bussotti, Niccolò Castiglioni, Azio Corghi, Ivan Fedele, Luca Francesconi, Giorgio Battistelli, Michele dall'Ongaro, Giacomo Manzoni, Salvatore Sciarrino, Fabio Vacchi, Pascal Dusapin, Henri Dutilleux, Olivier Messiaen, Alfred Schnittke, Hans Werner Henze, Helmut Lachenmann, John Adams, Ned Rorem, Christopher Rouse, Steven Stucky and Charles Wuorinen.
Mr. Abbado's recordings include Bellini's I Capuleti e i Montecchi (nominated Best Recording of the Year by BBC Magazine in 1999), Rossini's Tancredi (winner of the Echo Klassik Deutsche Schallplattenpreis in 1997), Don Pasquale with Eva Mei and Renato Bruson, Turandot with Eva Marton, Ben Heppner and Margaret Price. Under Decca he has recorded Verismo Arias with Mirella Freni, L'Amour and Arias for Rubini with Juan Diego Flórez. With Deutsche Grammophon he has issued Bel Canto (Echo Klassik Deutscher Schallplattenpreis 2009) with Elina Garanča, and a DVD of Fedora with Mirella Freni and Placido Domingo from New York's Metropolitan Opera. Mr. Abbado was the first Italian conductor to lead the traditional New Year's Concert at La Fenice in Venice in 2008 (Hardy Classic Video DVD). Three DVDs from the Rossini Opera Festival in Pesaro have also been issued: Ermione, under the label Dynamic; Zelmira with Juan Diego Flórez, Kate Aldrich and Gregory Kunde under Decca; Mosè in Egitto with Sonia Ganassi, Dmitry Korchak, Riccardo Zanellato and Alex Esposito under Opus Arte.
Particularly significant are Mr. Abbado's symphonic tours with the Israel Philharmonic Orchestra (Spain, 2005), the Chamber Orchestra of Europe (Europe, 2006), the Saint Paul Chamber Orchestra (Europe, 2007), the Maggio Musicale Fiorentino (Bucarest Enescu Festival, 2009), the Orchestra Verdi di Milano (Switzerland, 2009), the Orchestre Philharmonique de Monte-Carlo (Russia, 2011), and the Boston Symphony (U.S., 2011).
During recent seasons he has conducted La Gioconda (staged by Pier Luigi Pizzi) and Maometto II at the Teatro dell'Opera di Roma; he has opened two seasons of the Teatro Comunale di Bologna conducting Macbeth (staged by Robert Wilson) and Parsifal (staged by Romeo Castelucci); Così fan Tutte—a new production staged by Davide Livermore at the Teatro Petruzzelli in Bari, La Traviata (staged by Ferzan Özpetek) on a tour to Hong Kong with the Teatro di San Carlo of Naples.
More recently Mr. Abbado was on the podium of the Salzburg Festival for a concert performance of La Favorite, and has conducted Don Pasquale, Samson and Dalila and A Midsummer Night's Dream at the Palau de les Arts in Valencia, Lucia di Lammermoor and Benvenuto Cellini at the Teatro dell'Opera di Roma, Norma at the Teatro Regio in Turin, Macbeth at the Teatro Comunale di Bologna, Rigoletto at New York's Metropolitan Opera, Simon Boccanegra and a concert dedicated to Verdi and Wagner on a tour to Hong Kong with Turin's Teatro Regio, and Norma at the Teatro Real in Madrid.
Jean-Yves Thibaudet, piano
For more than three decades, Jean-Yves Thibaudet has performed worldwide, recorded over 50 albums and built a reputation as one of today's finest pianists. He plays a range of solo, chamber and orchestral repertoire—from Beethoven through Liszt, Tchaikovsky, Grieg and Saint-Saëns; to Ravel, Khachaturian and Gershwin; and contemporary composers Qigang Chen and James MacMillan.
In 2016-17 Mr. Thibaudet is Artist-in-Residence with the Orchestre National de France, Vienna Symphony and Colburn School in Los Angeles. As part of his residency in Paris, he performs Saint-Saëns' Piano Concerto No. 5 with Stéphane Denève and Khachaturian's Concerto for Piano with Semyon Bychkov; he also curates a special performance with selected students for Radio France. The Vienna residency sees a chamber music program with principals from the orchestra, performances of Beethoven's Choral Fantasy under Music Director Philippe Jordan, as well as concerts featuring the Grieg and Gershwin concertos—the latter televised by Austrian broadcaster ORF. At Colburn he enters the third year of a residency—the first of its kind—where his passion for education and fostering young musical talent is invested through individual lessons, masterclasses and performances with students. 
Other season highlights for Mr. Thibaudet include performances of Messiaen's Turangalîla-Symphonie with Gustavo Dudamel and Orquesta Sinfónica Simón Bolívar de Venezuela as part of the season-opening concerts at Carnegie Hall and on tour in Europe. He tours China with the West Australian Symphony Orchestra, opened the Baltimore Symphony season under Music Director Marin Alsop and performs James MacMillan's Concerto for Piano No.3—a piece he premiered in 2011—with the Brussels and Los Angeles Philharmonic orchestras under Stéphane Denève.
Mr. Thibaudet's recording catalogue of more than 50 albums has received two Grammy nominations, Preis der Deutschen Schallplattenkritik, the Diapason d'Or, the Choc du Monde de la Musique, the Edison Prize, as well as Gramophone and Echo awards. This season he releases Bernstein's The Age of Anxiety with the Baltimore Symphony and Marin Alsop, with whom he previously recorded Gershwin (2010), which featured big jazz band orchestrations of Rhapsody in Blue, variations on "I Got Rhythm" and the Concerto in F. In 2016, on the 150th anniversary of Erik Satie's birth, Decca released a box set of Satie's complete solo piano music performed by Mr. Thibaudet, who is one of the foremost interpreters and champions of the composer's works. On his Grammy-nominated recording Saint-Saëns, Piano Concerti Nos. 2 & 5, released in 2007, he is joined by long-standing collaborator Charles Dutoit and Orchestre de la Suisse Romande. Mr. Thibaudet's Aria–Opera Without Words, which was released the same year, features aria transcriptions, some of which are his own. His other recordings include the jazz albums Reflections on Duke: Jean-Yves Thibaudet Plays the Music of Duke Ellington and Conversations with Bill Evans.
Mr. Thibaudet has also had an impact on the world of fashion, film and philanthropy. This season he features Aaron Zigman's soundtrack for Wakefield, a drama by Robin Swicord released in September 2016. He was soloist in Dario Marianelli's award-winning scores for the films Atonement (which won an Oscar for Best Original Music Score) and Pride and Prejudice, and recorded Alexandre Desplat's soundtrack for the 2012 film Extremely Loud & Incredibly Close. He had a cameo in Bruce Beresford's film on Alma Mahler, Bride of the Wind, and his playing is showcased throughout. In 2004 he served as president of the prestigious charity auction Hospices de Beaune. His concert wardrobe is designed by Dame Vivienne Westwood. 
Mr. Thibaudet was born in Lyon, France, where he began his piano studies at age five and made his first public appearance at age seven. At 12 he entered the Paris Conservatory to study with Aldo Ciccolini and Lucette Descaves, a friend and collaborator of Ravel. At age 15 he won the Premier Prix du Conservatoire and, three years later, the Young Concert Artists Auditions in New York City. Among his numerous commendations is the Victoire d'Honneur, a lifetime career achievement award and the highest honor given by France's Victoires de la Musique. In 2010 the Hollywood Bowl honored Mr. Thibaudet for his musical achievements by inducting him into its Hall of Fame. Previously a Chevalier of the Ordre des Arts et des Lettres, Mr. Thibaudet was awarded the title Officier by the French Ministry of Culture in 2012.
Mr. Thibaudet is represented worldwide by HarrisonParrott and records exclusively for Decca Records.