Events & Tickets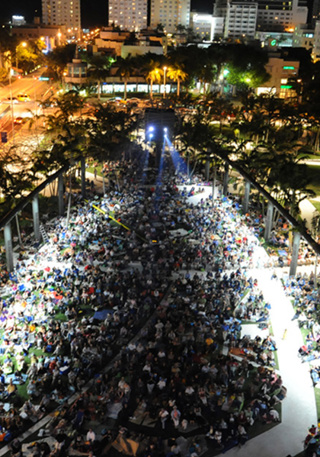 WALLCAST™ Concert
WALLCAST™ CONCERT: A RUSSIAN FEAST
SoundScape Park
Saturday, December 10 at 7:30 PM
Pre-Concert Chat at 6:30 PM
Program
It's all the lavish harmonies, rife emotions and vivid storytelling you can devour in this evening devoted to Russian genius. Hang on for Mikhail Glinka's thrilling Overture to Ruslan and Ludmilla, a firecracker of a start, before Dmitri Shostakovich's heart-rending Violin Concerto. Demanding extraordinary skill and grace, the work's dedicatee likened his part to a "pithy, Shakespearean role"—one played deftly by internationally acclaimed and Grammy Award-winning violinist James Ehnes. End on a sweet note with Sergei Rachmaninoff's exquisite Second Symphony as it surges with haunting beauty and joyful redemption. Toronto Symphony Music Director Peter Oundjian returns for this three-course feast for the senses.
WALLCAST™ concerts are free. No tickets required. Document your WALLCAST™ concert experience using #WALLCAST and #citimiami on social media!

Pre-Concert Chat: Join NWS Fellows for a free Pre-Concert Chat! These half-hour chats begin one hour prior to the performance in the New World Center's SunTrust Pavilion and are accessible only to members of the WALLCAST™ Concert Club and concert ticket holders. 
WALLCAST™ Concert Club, Presented by Citi: Click here to learn about the free WALLCAST™ Concert Club. Join today!
Mobile Program: Text the word "WALLCAST" to 91011 and receive a link to the mobile program.
Restrooms: There are restrooms available at all times located directly in the south east corner of SoundScape Park. Restrooms inside the New World Center will be open to WALLCAST™ Concert Club members after intermission ends until 10 minutes before the end of the performance.
What's a WALLCAST™ concert? Click here to get a taste of the WALLCAST™ concert experience!
Program
Mikhail Glinka
(1804-1857)
Approx. Duration: 5 minutes

Overture to Ruslan and Ludmilla (1842)

Dmitri Shostakovich
(1906-1975)
Approx. Duration: 40 minutes

Concerto No. 1 in A minor for Violin and Orchestra, Op. 77 (1947-53)

Nocturne
Scherzo
Passacaglia
Burlesca
Sergei Rachmaninoff
(1873-1943)
Approx. Duration: 60 minutes

Symphony No. 2 in E minor, Op. 27 (1907)

Largo—Allegro moderato
Allegro molto
Adagio
Allegro vivace
Mikhail Glinka
Overture to 

Ruslan and Ludmilla (1842)


Approximate duration: 5 minutes

Mikhail Glinka was a trailblazer in the development of a Russian style of composition, and his works were the first from his country to earn international acclaim. Born into a noble family, he came to music through the folksongs he picked up from servants on his estate. He learned much from his time among the intelligentsia of Saint Petersburg and during his travels through the country, but he owed even more to the three years he spent in Italy, where he mingled with the likes of Donizetti and Bellini and absorbed the latest in bel canto opera writing. Upon his return to Russia, he made a splash with his first opera, A Life for the Tsar.

 For his operatic follow-up, Glinka adapted Ruslan and Ludmilla, a fantastical story by Alexander Pushkin. (Glinka had hoped to work directly with Pushkin, five years his senior, but alas the poet died in a duel in 1837.) The plot follows Ludmilla, the daughter of the prince of Kiev, who is abducted by monsters doing the bidding of an evil wizard. The knight Ruslan sets off the rescue her, and after many trials and magical interventions he brings her home and they marry.

 The opera's overture begins with festive music that foreshadows the wedding celebration. 

Near the end of the overture, a passage of wandering dissonance hints at the supernatural mischief to come. 

 

Additional Resources 

PDF score from the IMSLP Petrucci Music Library

Guide to Ruslan and Ludmilla from World of Opera

 
Dmitri Shostakovich
Concerto No. 1 in A minor for Violin and Orchestra, Op. 77

(1947-53)


Approximate duration: 40 minutes

In 1948 when the Soviet authorities released a notorious missive railing against "formalism" in music, Dmitri Shostakovich topped the list of censured composers. He had bounced back from a similar public humiliation orchestrated by Stalin in 1936, but this renewed crackdown persisted. Shostakovich lost his faculty position at the Moscow Conservatory, and his main public duties in the following years consisted of keeping up appearances at international conferences and writing film scores and patriotic music. He continued composing in private, stashing major new works—including the First Violin Concerto and the Fourth and Fifth string quartets—for later performances.

Stalin's death in 1953 and the ensuing "thaw" enacted by Nikita Khrushchev allowed Shostakovich to revive the dormant Violin Concerto, which he amended based on suggestions from the soloist, David Oistrakh. The Leningrad Philharmonic Orchestra gave the first performance with Oistrakh on October 29, 1955, and Shostakovich published the score as his Opus 99. Later editions renumbered the Violin Concerto No. 1 as Opus 77, reflecting its original sequencing among Shostakovich's tabled works, but the two opus numbers refer to the same composition. (Shostakovich did write a second violin concerto for Oistrakh in 1967, Opus 129.)

In the Nocturne that begins the First Violin Concerto, introspective orchestral material supports long, expressive phrases from the violin, making for a haunting and decidedly unheroic first statement—a far cry from the robust "Socialist Realism" favored by Stalin and his cronies.

The Scherzo that follows embraces dark humor, tumbling through a series of wry, lilting themes.

Shostakovich's signature motive makes an appearance, derived from his first initial and the German spelling of his last name: D-S-C-H. Those notes correspond in English parlance to D, E-flat, C and B, although the motive appears transposed into various other keys.

The third movement takes the form of a Passacaglia, a technique from the Baroque era in which a recurring theme underlies short, continuous variations. A four-note rhythmic figure, patterned short-short-short-long, introduces another historical note, with its resemblance to the "fate" motive from Beethoven's Fifth Symphony.

Later the orchestral accompaniment thins out until the violin is left alone to end the Passacaglia with a massive cadenza.

The end of the cadenza surges directly into the Burlesca finale and its raucous first theme. Burlesca as a musical genre has nothing to do with the American tradition of "burlesque" and its performers in varying states of undress; rather, it indicates a work of parody and exaggeration.

At the end, the energy ratchets up yet another notch for the Presto conclusion.

 

Additional Resources

Photo of Oistrakh, Shostakovich, and his son, conductor Maxim Shostakovich

Review of The Noise of Time, a recent work of fiction by Julian Barnes centered on Shostakovich and Stalin

Video that displays the solo violin part in conjunction with Hilary Hahn's recording
Sergei Rachmaninoff
Symphony No. 2 in E minor, Op. 27

(1907)


Approximate duration: 60 minutes

After the disastrous premiere of his First Symphony in 1897, Rachmaninoff barely composed for three years. He finally sought help from a psychiatrist in 1900, and through months of hypnotherapy he regained his confidence. Rachmaninoff redeemed himself in 1901 with the highly acclaimed debut of the Second Piano Concerto, but he still hesitated to plunge into another symphony.

Rachmaninoff resigned from his conducting duties at the Bolshoi Theatre in 1906 and moved his family to Dresden for most of the next three years. Away from the political turmoil and distractions of Moscow, Rachmaninoff was able to concentrate fully on his composing, including the massive Second Symphony. He completed the work in 1907, and he conducted the premiere himself the following year in Saint Petersburg. The symphony was a triumph, earning Rachmaninoff the Glinka Prize and leading to performances around the world.

Despite its initial success, the symphony fell victim to conductors who felt that its duration of nearly an hour was excessive. Various cuts were instituted, with some performances trimming nearly half the length, changes that Rachmaninoff begrudgingly endorsed. Only in recent decades has it become common to perform the symphony in its entirety, as new generations have awakened to Rachmaninoff's true talents as a composer.

The very qualities that so rankled the tastemakers of the 20th century now stand out as Rachmaninoff's strengths. His musical language was one of grandeur, intense emotion and unabashed beauty, all inherited from his Romantic forebears—especially Tchaikovsky. The Second Symphony, much like Tchaikovsky's Fifth and Sixth symphonies, makes a quiet entrance into a slow introduction, beginning with a bare theme from the cellos and basses and ending with a plaintive solo line for English horn.

The Allegro moderato body of the movement maintains unity by developing a violin melody related to the introduction's opening theme.

The contrasting thematic material, ushered in by the clarinet, colors the movement with a sentimental glow.

After such a weighty opening movement, the symphony proceeds directly to the invigorating scherzo. The main theme quotes the Dies irae chant from the Requiem mass, a fragment that appears in more than a dozen of Rachmaninoff's works, including the tone poem Isle of the Dead (1909) and the Rhapsody on a Theme of Paganini (1934).

The tuneful Adagio movement later became the basis of a quotation itself, providing the melody for Eric Carmen's 1976 hit "Never Gonna Fall in Love Again."

Following the model of Tchaikovsky's Fourth and Fifth symphonies (and before those, Beethoven's Fifth Symphony), Rachmaninoff's finale leaves aside E minor and instead strikes up triumphant music in E major.

Echoes of earlier movements seal the work's interconnectedness, and one of Rachmaninoff's great lyrical, sweeping melodies provides a passionate capstone for this lush and nostalgic symphony.

 

Additional Resources

PDF score from the IMSLP Petrucci Music Library

Gramophone review comparing major recordings of the symphony

Article describing other instances of the Dies irae chant in Rachmaninoff's music

-- Copyright © 2016 Aaron Grad

Aaron Grad is a composer, guitarist and writer based in Seattle. Besides providing program notes for the New World Symphony, he has been the Orpheus Chamber Orchestra's program annotator since 2005 and also contributes notes to the Saint Paul Chamber Orchestra and Seattle Symphony.

Audio clips provided by Naxos of America, Inc.

 
Peter Oundjian, conductor
A dynamic presence in the conducting world, Toronto-born conductor Peter Oundjian is renowned for his probing musicality, collaborative spirit and engaging personality. His appointment as Music Director of the Toronto Symphony Orchestra (TSO) in 2004 reinvigorated the Orchestra with numerous recordings, tours and acclaimed innovative programming as well as extensive audience growth, thereby significantly strengthening the ensemble's presence in the world. In August 2014 he led the TSO on a tour of Europe, which included a sold-out performance at Amsterdam's Concertgebouw and the first performance of a North American orchestra at Reykjavik's Harpa Hall.
Mr. Oundjian was appointed Music Director of the Royal Scottish National Orchestra (RSNO) in 2012. Under his baton the orchestra has enjoyed several successful tours including one to China, and has continued its relationship with Chandos Records. This season he and the RSNO opened the Edinburgh Festival with the innovative Harmonium Project to great critical and audience acclaim.
Few conductors bring such musicianship and engagement to the world's great podiums—from Berlin, Amsterdam and Tel Aviv, to New York, Chicago and Sydney. Mr. Oundjian has also appeared at some of the great annual gatherings of music and music-lovers: from the BBC Proms and the Prague Spring Festival, to the Edinburgh Festival and The Philadelphia Orchestra's Mozart Festival, where he was Artistic Director from 2003 to 2005.
Mr. Oundjian was Principal Guest Conductor of the Detroit Symphony Orchestra from 2006 to 2010 and Artistic Director of the Caramoor International Music Festival in New York between 1997 and 2007. Since 1981 he has been a visiting professor at the Yale School of Music and was awarded the University's Sanford Medal for distinguished service to music in 2013.
James Ehnes, violin
Known for his virtuosity and probing musicianship, violinist James Ehnes has performed in over 35 countries on five continents, appearing regularly in the world's great concert halls and with many of the most celebrated orchestras and conductors.
In the 2016-17 season Mr. Ehnes continues his cross-Canada recital tour in celebration of his 40th birthday; will perform the complete Bach sonatas and partitas in Stresa, Montreux, Los Angeles, Liverpool and Amsterdam; and joins the City of Birmingham Symphony on a tour of China and the National Arts Centre Orchestra on a tour of Eastern Canada. He also holds artist residencies with the Melbourne Symphony, Royal Liverpool Philharmonic, Orchestre symphonique de Montréal and Scotia Festival; undertakes two tours with the Ehnes Quartet; and leads the winter and summer festivals of the Seattle Chamber Music Society, where he is the Artistic Director.
Mr. Ehnes' new and upcoming CD releases include a disc of works by Debussy, Respighi, Elgar and Sibelius, as well as a recording of Beethoven Sonatas Nos. 6 and 9 with pianist Andrew Armstrong; the Sibelius and Schubert "Death and the Maiden" quartets with the Ehnes Quartet; and the complete works of Beethoven for violin and orchestra with the Royal Liverpool Philharmonic and Andrew Manze. His recordings have been honored with many international awards and prizes, including a Grammy, a Gramophone and 11 JUNO awards.
Mr. Ehnes was born in 1976 in Brandon, Manitoba, Canada. He began violin studies at the age of four, and at age nine became a protégé of the noted Canadian violinist Francis Chaplin. He studied with Sally Thomas at the Meadowmount School of Music, and from 1993 to 1997 at The Juilliard School, winning the Peter Mennin Prize for Outstanding Achievement and Leadership in Music upon his graduation. Mr. Ehnes first gained national recognition in 1987 as winner of the Grand Prize in Strings at the Canadian Music Competition. The following year he won the First Prize in Strings at the Canadian Music Festival, the youngest musician ever to do so. At age 13 he made his major orchestral solo debut with the Orchestre symphonique de Montréal.
Mr. Ehnes has won numerous awards and prizes, including the first-ever Ivan Galamian Memorial Award, the Canada Council for the Arts' Virginia Parker Prize and a 2005 Avery Fisher Career Grant. He has received honorary doctorates from Brandon University and the University of British Columbia, and in 2007 became the youngest person ever elected as a Fellow to the Royal Society of Canada. In 2010 the Governor General of Canada appointed Mr. Ehnes a Member of the Order of Canada, and in 2013 he was named an Honorary Member of the Royal Academy of Music, limited to a select group of 300 living distinguished musicians.
Mr. Ehnes plays the 'Marsick' Stradivarius of 1715. He currently lives in Bradenton, Florida with his family.

Dean Whiteside, conductor
Dean Whiteside was born in New York City and trained in Vienna at the University of Music and Performing Arts. He is in his second season as the New World Symphony's Conducting Fellow, where he leads a variety of performances and serves as assistant to Artistic Director Michael Tilson Thomas. Mr. Whiteside is founder and director of the Nashville Sinfonietta, hailed by The Tennessean as "a virtuoso band." He opened the Blair School of Music's 2013-14 season directing a multimedia realization of Haydn's Seven Last Words of Our Savior on the Cross called "innovative" by The Tennessean and "deeply meditative and satisfyingly original" by ArtsNash. 
Mr. Whiteside's European debut came in 2011 after winning the Jorma Panula Blue Danube Masterclass and Competition. As guest conductor he has led the Juilliard Orchestra, Opéra Orchestre National Montpellier, Orlando Philharmonic, Polish Baltic Philharmonic, Rousse State Opera Orchestra, Sibiu Philharmonic, Wiener Kammerorchester and Zagreb Philharmonic, as well as the Vanderbilt Orchestra on a five-city tour of China. He has served as Cover Conductor to MTT and the San Francisco Symphony.
Mr. Whiteside's awards include the 2017 Mahler Conducting Fellowship, Bruno Walter Memorial Foundation Conducting Scholarship, David Effron Conducting Fellowship, Bayreuth Festival Scholarship, David Rabin Performance Prize, and Second Prize and the Zagreb Philharmonic Orchestra Prize at the Sixth International Competition of Young Conductors Lovro von Matačić. He has received fellowships from the Aspen Music Festival, Cabrillo Festival of Contemporary Music, Castleton Festival and Tonhalle Orchestra Zurich.
Mr. Whiteside has worked closely with such conductors as Bertrand de Billy, Fabio Luisi, Lorin Maazel, Jun Märkl, Kurt Masur, Jorma Panula, Leonard Slatkin and Robert Spano. He began his conducting studies with Robin Fountain at Vanderbilt University.