Events & Tickets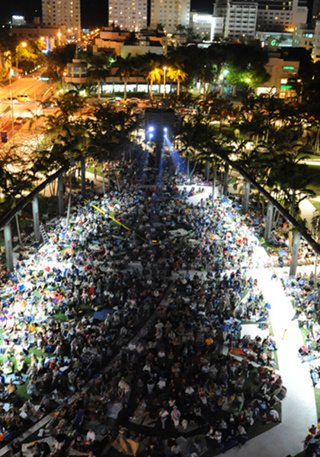 WALLCAST™ Concert
WALLCAST® CONCERT: CONCERTO SHOWCASE
SoundScape Park
Saturday, March 24 at 8:00 PM
Cit Pre-Concert Chat at 7:00 PM
Program
In a popular all-concerto program—a staple of the NWS program—select Fellows take the coveted spotlight as winners of this season's concerto competition, an intense contest where Fellows compete head-to-head armed with their favorite solo work. The concert opens with lush, ultra-Romantic cascades by the harp in Reinhold Glière's dream-like Concerto featuring Chloe Tula. Rewind over 130 years for the classical cheerfulness and regal heralding of Johann Hummel's demanding Trumpet Concerto, performed by Ansel Norris, and the playful bravura of Carl Maria von Weber's Bassoon Concerto captured perfectly by Darren Hicks. Ultra-romantic Samuel Barber's Violin Concerto, once dubbed "unplayable," is the ultimate showstopper by Emerson Millar, as it seamlessly shifts from lush beauty to breakneck brilliance. Join us to celebrate the immeasurable talent and accomplishments of the young musicians who call the New World Symphony home.
Emerson Millar will perform on a violin by Antonio Stradivari, Cremona 1690 on generous loan from Florian Leonhard Fine Violins, London - New York.
WALLCAST® concerts are free. No tickets required. Document your WALLCAST® concert experience using #WALLCAST and #citimiami on social media!
WALLCAST® Concert Club, Presented by Citi: Click here to learn about the free WALLCAST® Concert Club. Join today!
Mobile Program: Text the word "WALLCAST" to 91011 and receive a link to the mobile program.
Citi Pre-Concert Chat: Join NWS Fellows for a free Pre-Concert Chat in SoundScape Park! These half-hour chats begin one hour prior to the performance. 
Restrooms: There are restrooms available at all times located directly in the south-east corner of SoundScape Park. Restrooms inside the New World Center will be open to WALLCAST® Concert Club members after intermission ends until 10 minutes before the end of the performance.
What's a WALLCAST® concert? Click here to get a taste of the WALLCAST® concert experience!
Program
Reinhold Glière
(1875-1956)
Approx. Duration: 25 minutes

Concerto in E-flat major for Harp and Orchestra, Op. 74 (1938)

Allegro moderato
Theme and Variations
Allegro giocoso 
Johann Nepomuk Hummel
(1778-1837)
Approx. Duration: 19 minutes

Concerto in E-flat major for Trumpet and Orchestra, S. 49 (1803)

Allegro con spirito
Andante
Rondo
Carl Maria von Weber
(1786-1826)
Approx. Duration: 17 minutes

Concerto in F major for Bassoon and Orchestra, Op. 75 (1811, revised 1822)

Allegro ma non troppo
Adagio
Rondo: Allegro
Samuel Barber
(1910-1981)
Approx. Duration: 25 minutes

Concerto for Violin and Orchestra, Op. 14 (1939)

Allegro
Andante
Presto in moto perpetuo
Reinhold Glière
Concerto in E-flat major for Harp and Orchestra, Op. 74

(1938)


Approximate duration: 25 minutes

Despite adopting a Gallicized spelling of his last name, the Russian composer Reinhold Glière had no connection to France. His parents were from Saxony and Poland, and he studied for a time in Berlin, but otherwise he never left the Russian Empire or the Soviet Union. Still, the composer best known as a founding father of Soviet ballet wrote his first concerto for a quintessentially French instrument—the harp.

Simple harps date back to the earliest civilizations and show up in musical traditions around the globe. The development that brought the harp into its full power as a concert instrument was the invention of the double-action pedal in 1810, which allowed the harp to play any chromatic note without adding cumbersome extra strings. The inventor, Sébastien Érard, worked mainly in France, and that country continued as the epicenter of the instrument's musical development. Through the early 20th century, most of the significant repertoire that featured harp with an orchestra or ensemble came from France, including Debussy's Sacred and Profane Dances (1904) and Ravel's Introduction and Allegro (1905)—works commissioned by the competing manufacturers Pleyel and Érard—as well as lesser-known works by Saint-Saëns and Pierné, for example.

Glière was 63 and nearing the end of a long career as a theatrical composer and teacher when he wrote his Harp Concerto for Tsenia Erdeli, an influential teacher and the harpist for the Bolshoi Theater. He followed up in future years with concertos for coloratura soprano and horn, and it is through these three works featuring uncommon soloists that he secured a lasting place in the concert hall. And while Glière's musical vocabulary never ranged far from his Romantic roots and 19th-century Russian education, there is something distinctly Soviet about the place of honor he gave to music's less celebrated laborers, especially the concert harp, a soft-spoken immigrant.

Glière's Harp Concerto maintains an artful sensitivity to texture and balance. The solo part compensates for the inherent delicacy of the harp's sound with all manner of rolled chords, arpeggios and octave reinforcements, voiced to keep the harp from fading to its more typical role of harmonic accompanist. The extended cadenza provides ample space for more subtle effects and a gentle orchestral return preserves the angelic spell of quietude. The slow movement, an extended set of variations, introduces a Classical note into this thoroughly Romantic score. The finale's mood of fun and playfulness provides a well-engineered departure from the harp's more familiar terrain of sincerity and innocence.

 
Johann Nepomuk Hummel
Concerto in E-flat major for Trumpet and Orchestra, S. 49 (1803)

Approximate duration: 19 minutes
A child prodigy from a musical family, the seven-year-old Hummel made such an impression on his piano teacher that he was invited to move in with the family. (That teacher was Mozart.) After touring Europe for five dazzling years, the teenage Hummel returned to Vienna, where he found himself locked in a fierce rivalry and on-again-off-again friendship with the only pianist of comparable talent. (Beethoven, of course.) When Hummel needed a steady job in his early 20s, all it took was a word from a supportive older composer to his longtime employer. (That would be Haydn and the fantastically wealthy Esterházy family). This is all to say that Hummel was a musician who earned the respect of his most esteemed colleagues and one who would probably be better known if he hadn't been surrounded by such trailblazers.
One work that does stand out is Hummel's Trumpet Concerto in E-flat major, composed for the New Year's festivities in 1804 at the Esterházy palace. The soloist, Anton Weidinger, had pioneered a trumpet with keys (a forerunner to modern valves), allowing Hummel to develop smooth, lyrical melodies that would have been impossible on earlier instruments. This asset is put to use from the start: After a bugle-like arpeggio heralds the soloist's entrance in typical trumpet fashion, the main theme settles into linear, songlike phrases that are only possible with keys or valves. This cantabile aspect is even stronger in the central Andante, full of expressive trills and turns like you might expect in an operatic aria. An unresolved chord at the end builds anticipation for the lively Rondo finale, which exploits the trumpeter's ability to repeat notes rapidly by interrupting the airflow with the tongue. (Several decades later, the same galloping trumpet rhythm figured prominently in Rossini's famous William Tell Overture.)
Additional Resources
PDF score from the IMSLP Petrucci Music Library
Video of live performance
Information on the recording of the Hummel Concerto that earned the 22-year-old Wynton Marsalis his first Grammy Award
Carl Maria von Weber
Concerto in F major for Bassoon and Orchestra, Op. 75 (1811, revised 1822)

Approximate duration: 17 minutes
Carl Maria von Weber is best known for three operas he composed in the last decade of his life: Der Freischütz, Euryanthe and Oberon. His family was in the theater business, and his lifelong dedication to German-language opera, both as a composer and as a conductor, helped break the stranglehold of Italian opera in northern Europe.
Until the success of Der Freischütz in 1821, instability reigned in Weber's life. He lost a good job in Stuttgart in 1810 over a corruption scandal and some bad debts, and he traveled for three years before he found his next permanent employment in Prague. In 1811 he stopped several times in Munich, where he won over King Maximilian I of Bavaria. Following the successful presentation of his Concertino for Clarinet, the court commissioned Weber to compose two larger clarinet concertos along with a bassoon concerto to feature members of the royal orchestra.
Weber's Bassoon Concerto in F major is a cornerstone of the solo repertoire for bassoon, its reputation only matched by a concerto composed by Mozart. The soloist enters with a melody well-suited to the bassoon's crisp articulation and extremely wide range, while the second main theme, marked dolce ("sweet") and smoothed out with slurred phrases, showcases the instrument's voice-like lyricism. That vocal quality is even more evident in the central Adagio movement, a reminder of Weber's core identity as an opera composer.
The bassoon, for better or worse, has often been treated as the jester of the orchestra. Weber's Rondo finale engages in some classic bassoon buffoonery by employing wide leaps, pecking staccato articulation and sudden contrasts. Still, by the time the soloist has finished whipping through all the movement's virtuosic scale-patterns and arpeggios, it is clear that Weber valued the bassoon for more than just its comic relief.
Additional Resources
PDF score from the IMSLP Petrucci Music Library
Video of live performance
Article by an eminent bassoonist comparing conflicting editions of Weber's Concerto
Samuel Barber
Concerto for Violin and Orchestra, Op. 14 (1939)

Approximate duration: 25 minutes
Samuel Barber graduated from the Curtis Institute in the same class as Iso Briselli, a Russian-born violinist. Briselli's patron and guardian, the soap tycoon Samuel Fels, later commissioned Barber to write the violinist a concerto, providing a $500 advance that allowed Barber to work on the score in Europe, until the outbreak of World War II drove him back to the United States.
After Barber delivered the first two movements, the Concerto ran into its first trouble when Briselli's violin teacher, Albert Meiff, wrote to Fels, "The composition possesses beautiful romantic moods, many somber and quite interesting parts typical of that composer—in any event, very interesting. However, it bears a serious defect: it is not a composition gratifying for a violinist to perform. The technical requirements are very far from the requirements of a modern violinist, and… some of the parts are childish in details."
In light of the feedback he received, Barber made a point of incorporating "brilliant technique" in the finale, which he delivered two months before the planned premiere. A story that has been widely circulated since its publication in a 1954 biography claims that Briselli then rejected the Concerto on the grounds that the finale was unplayable, which Barber countered by setting up a test reading by another violinist, proving its viability.
Briselli did in fact object to the finale, but judging from a letter from Barber to Fels, the dispute appeared to be a matter of taste and not technique; the reasons mentioned include complaints that the finale was "not violinistic" and "rather inconsequential." Barber stood by the "concertino" as he called it in the letter—a title that matched his conception of a work more compact than a grand violin concerto in the 19th-century mold—and Fels and Briselli ultimately relinquished their claim on the exclusive performance rights.
The Violin Concerto's opening movement is indeed lyrical and understated, more an expression of intimate chamber music than virtuosic bluster. The soloist enters with no fanfare at all, launching the soaring first theme right on the downbeat. The other distinctive theme, with its vigorous rhythmic snap, appears only in the orchestra until the soloist finally takes it up in a throbbing coda.
In the central Andante movement, the oboe solo that prefaces the violinist's entrance is perhaps the greatest concerto melody not written for a soloist since Brahms penned a similar oboe solo in the slow movement of his own Violin Concerto. The solo violin waits patiently through the first quarter of the movement, building anticipation for its delicate entrance and moody counter-theme.
The perpetual-motion finale, the source of so much trouble for Barber at the birth of the Concerto, is a dazzling tour de force, not just for its rapid figurations but also for its seamless construction and ceaseless variety in the musical material. An accelerated coda has the white-knuckled intensity of a gymnast's final dismount.
Additional Resources
Online score from publisher G. Schirmer
Video of live performance (Gil Shaham)
Website detailing the true history of the concerto
-- Copyright © 2018 Aaron Grad
Aaron Grad is a composer, guitarist and writer based in Seattle. Besides providing program notes for the New World Symphony, he has been the Orpheus Chamber Orchestra's program annotator since 2005 and also contributes notes to the Saint Paul Chamber Orchestra and Seattle Symphony.