Events & Tickets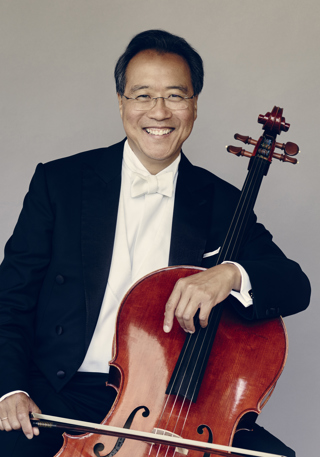 Orchestra Concert
YO-YO MA PLAYS STRAUSS
Adrienne Arsht Center
Saturday, October 28 at 8:00 PM
Program
Yo-Yo Ma—celebrated cellist, cultural ambassador and humanitarian—joins Michael Tilson Thomas and the Fellows for this once-in-a-lifetime performance at the Adrienne Arsht Center. Adventures abound in Richard Strauss' epic tone poem, as Ma and San Francisco Symphony Principal Violist Jonathan Vinocour depict the delusional pursuits of Don Quixote and sidekick Sancho Panza. From battles against windmills and bleating sheep to magical flights and rocking boat rides, Strauss' score brings the dynamic duo's wild exploits to life. Felix Mendelssohn's Fourth Symphony channels his youthful tour of Italy in a series of sunny impressions, while the cheerful, feel-good Overture to Rosamunde is signature Franz Schubert from its theatrical start to its race-to-the-finish finale.
No ticket exchanges permitted into this performance.
Loading Concert Information
Program
Franz Schubert
(1797-1828)
Approx. Duration: 10 minutes

Overture to Rosamunde, D. 797 (1823)

Felix Mendelssohn
(1809-1847)
Approx. Duration: 26 minutes

Symphony No. 4 in A major, Op. 90, "Italian" (1833)

Allegro vivace
Andante con moto
Con moto moderato
Saltarello: Presto
Richard Strauss
(1864-1949)
Approx. Duration: 40 minutes

Don Quixote, Op. 35 (1897)

Introduction
Theme and variations
Finale
Franz Schubert
Overture to 

Rosamunde

, D. 797

(1823)


Approximate duration: 10 minutes

Among the many frustrations in Schubert's tragically short career, none came close to the difficulties he encountered in the world of theater music, with 16 failed operas in as many years. He had a habit of working with subpar librettos written by his friends; some scores he wisely abandoned midway and others he brought to fruition only to see them fizzle. A last-minute invitation in 1823 to compose incidental music for the play Rosamunde might have helped opened doors for Schubert in Vienna's theatrical circle, but the drama by Helmina von Chézy was a flop. The play closed and Schubert's music was lost for decades.

Schubert assembled nearly an hour of music for Rosamunde in a matter of weeks, pulling in some movements from existing works. To begin, he used the overture he had written a year earlier for Alfonso and Estrella, one of his failed operas. When Schubert's editors prepared the Rosamunde selections for publication in 1891, they substituted a different overture, which Schubert had composed in 1820 for The Magic Harp, another short-lived production. It is not clear why the switch was made, or if it had any basis in Schubert's wishes, but regardless the Overture to The Magic Harp has earned its place in the repertoire as a stirring prelude to Rosamunde.

To begin the overture, a slow and menacing phrase prefaces a wistful introduction in C minor.

The body of the overture enters with the bright contrast of C major, the main theme gliding over the light flutter of string tremolo.

A similarly restrained pianissimo presentation gives the contrasting lyrical theme a special luster, with woodwind duets in octaves supported by rustic, droning strings.

 

Additional Resources

PDF score from the IMSLP Petrucci Music Library

Article on the fate of The Magic Harp

 
Felix Mendelssohn
Symphony No. 4 in A major, Op. 90, "Italian"

(1833)


Approximate duration: 26 minutes

At 20, Mendelssohn did what most young men from wealthy families did at the time: He embarked on a "grand tour" through Europe. Whereas Scotland inspired the stormy Hebrides Overture and the "Scottish" Symphony, a visit to sunny Italy sparked a symphony that, according to the composer, was "the jolliest piece I have ever done."

Mendelssohn sketched part of that symphony while in Italy in 1830–31, and he completed the work in 1833, using it to fulfill a prestigious commission from the Philharmonic Society of London, the same group that had commissioned Beethoven's Ninth Symphony. Mendelssohn made substantial revisions to the Symphony's final three movements in 1834, and he intended to revise the first movement, too, but he postponed that task and finally suppressed the Symphony altogether. The work was published posthumously as the Symphony No. 4, although it was actually composed third.

Mendelssohn's bright impressions of Italy are borne out by the bouncing themes and running triplet pulse of the Allegro vivace movement that opens the Symphony.

Still, this is no mere musical "postcard"—just note the finely wrought development section, which shows the work of a composer equally fluent in Bach's formal counterpoint and Beethoven's obsessive manipulation of recurring themes.

The Andante con moto may have been influenced by a religious processional Mendelssohn witnessed in Naples, an image that fits with the movement's walking bass and grave harmonies.

The moderate pace and smooth flow of third movement resemble the minuets native to the symphonies of Mozart and Haydn, as opposed to the more rambunctious scherzos popularized by Beethoven.

In the contrasting trio section, the horns and bassoons indulge in spacious phrases that impart an outdoor quality, until the mood turns momentarily menacing with the interjection of trumpets, timpani and a stern minor key.

For the symphony's whirlwind finale, Mendelssohn borrowed lively rhythmic patterns from two Italian dances. He named the movement after the saltarello, a folk dance from central Italy defined by its fast triplet pulse and its leaping movements. Another dance with a similar rhythmic profile comes from the southern region of Taranto, on the heel of Italy's "boot." Legend holds that this manic tarantella dance could be used to ward off the effects of a poisonous bite from the area's giant spider, the tarantula.  

 

Additional Resources

PDF score from the IMSLP Petrucci Music Library

History of the tarantella dance

Letters Mendelssohn wrote while in Italy and Switzerland

 

 
Richard Strauss
Don Quixote
, Op. 35

(1897)


Approximate duration: 40 minutes

Strauss began his musical life with conservative tastes, taking after his father (the great horn player Franz Strauss) in a preference for the Classical style of Mozart, Haydn and Beethoven. It was only once Strauss left home that his ears opened up to the "music of the future," to quote a phrase associated with his new musical idol, Richard Wagner. In time, Strauss would inherit Wagner's mantle as the king of progressive opera, thanks to works like Salome (1905) and Elektra (1909). But first he followed another new hero, Franz Liszt, into the realm of the symphonic poem, as heard in such works as Don Juan (1889), Till Eulenspiegel's Merry Pranks (1895) and Also sprach Zarathustra (1896). These "tone poems," to use Strauss' preferred term, redefined the orchestral genre and placed the young composer at the forefront of the musical avant-garde.

Strauss continued his tone poem exploration in 1897 with Don Quixote, modeled after the novel of the same name by Miguel de Cervantes. Poking fun at the tradition of picaresque romances, Don Quixote retells episodes in the life of a hapless knight-errant, Don Quixote of La Mancha, and his squire, Sancho Panza.

Strauss crafted his score as a theme and variations, with each variation corresponding to a scene from the book. First there is a whimsical introduction, in which "Don Quixote loses his sanity after reading novels about knights, and decides to become a knight-errant." The musical representation of Don Quixote coming unhinged allowed Strauss to experiment with some truly nutty musical collisions.

Following the introduction, the solo cello presents the theme representing "Don Quixote, knight of the sorrowful countenance."

The lumbering melody that answers, first played by the bass clarinet and tenor tuba, corresponds to Sancho Panza. A solo viola then assumes the role of the trusty sidekick.

Over the course of Don Quixote, we witness battles against windmills (Variation I), sheep (Variation II), and pilgrims (Variation IV). In one "fast and stormy" passage, Don Quixote even fights with monks that he mistakes for magicians (Variation IX), represented by a studious bassoon duet.

We also meet (in Variation VI) the girl Don Quixote believes to be his beloved Dulcinea—actually a streetwalker, whose hips shimmy like a tambourine.

A particularly fanciful variation takes us flying through the air with Don Quixote, accompanied by the whirring of a wind machine (Variation VII).

Finally, after all the humor and foolishness, the sincere finale reveals Don Quixote's deeper humanity as his life fades away.

 

Additional Resources

PDF score from the IMSLP Petrucci Music Library

Complete text and a critical appreciation of Cervantes' novel

Radio program on Strauss' tone poems, hosted by soprano Deborah Voigt and featuring Michael Tilson Thomas

-- Copyright © 2017 Aaron Grad

Aaron Grad is a composer, guitarist and writer based in Seattle. Besides providing program notes for the New World Symphony, he has been the Orpheus Chamber Orchestra's program annotator since 2005 and also contributes notes to the Saint Paul Chamber Orchestra and Seattle Symphony.

Audio clips provided by Naxos of America, Inc. 
Michael Tilson Thomas, conductor
Michael Tilson Thomas is Co-Founder and Artistic Director of the New World Symphony, America's Orchestral Academy; Music Director of the San Francisco Symphony; and Conductor Laureate of the London Symphony Orchestra. In addition to these posts, he maintains an active presence guest conducting with the major orchestras of Europe and the United States.
Born in Los Angeles, Mr. Tilson Thomas is the third generation of his family to follow an artistic career. His grandparents, Boris and Bessie Thomashefsky, were founding members of the Yiddish Theater in America. His father, Ted Thomas, was a producer in the Mercury Theater Company in New York before moving to Los Angeles where he worked in films and television. His mother, Roberta Thomas, was the head of research for Columbia Pictures.
Mr. Tilson Thomas began his formal studies at the University of Southern California where he studied piano with John Crown and conducting and composition with Ingolf Dahl. At age 19 he was named Music Director of the Young Musicians Foundation Debut Orchestra. He worked with Stravinsky, Boulez, Stockhausen and Copland on premieres of their compositions at Los Angeles' Monday Evening Concerts. During this same period he was the pianist and conductor for Gregor Piatigorsky and Jascha Heifetz.
In 1969, after winning the Koussevitzky Prize at Tanglewood, he was appointed Assistant Conductor of the Boston Symphony Orchestra. That year he also made his New York debut with the Boston Symphony and gained international recognition after replacing Music Director William Steinberg in mid-concert. He was later appointed Principal Guest Conductor of the Boston Symphony Orchestra where he remained until 1974. He was Music Director of the Buffalo Philharmonic from 1971 to 1979 and a Principal Guest Conductor of the Los Angeles Philharmonic from 1981 to 1985. His guest conducting includes appearances with the major orchestras of Europe and the United States.
His recorded repertoire of more than 120 discs includes works by composers such as Bach, Beethoven, Mahler, Prokofiev and Stravinsky as well as his pioneering work with the music of Charles Ives, Carl Ruggles, Steve Reich, John Cage, Ingolf Dahl, Morton Feldman, George Gershwin, John McLaughlin and Elvis Costello. He also recorded the complete orchestral works of Gustav Mahler with the San Francisco Symphony.
Mr. Tilson Thomas' television work includes a series with the London Symphony Orchestra for BBC Television, the television broadcasts of the New York Philharmonic Young People's Concerts from 1971 to 1977 and numerous productions on PBS' Great Performances. Mr. Tilson Thomas and the San Francisco Symphony produced a multi-tiered media project, Keeping Score, which includes a television series, web sites, radio programs and programs in schools.
In 1990 Mr. Tilson Thomas and the New World Symphony were presented in a series of benefit concerts for UNICEF in the United States, featuring Audrey Hepburn as narrator of From the Diary of Anne Frank, composed by Mr. Tilson Thomas and commissioned by UNICEF. This piece has since been translated and performed in many languages worldwide. In August 1995 he led the Pacific Music Festival Orchestra in the premiere of his composition Showa/Shoah, commemorating the 50th anniversary of the bombing of Hiroshima. Thomas Hampson premiered his settings of poetry by Walt Whitman, Renée Fleming premiered his settings of the poetry of Emily Dickinson and the San Francisco Symphony premiered his concerto for contrabassoon entitled Urban Legend. As a Carnegie Hall Perspectives Artist from 2003 to 2005, he had an evening devoted to his own compositions which included Island Music for four marimbas and percussion, Notturno for solo flute and strings and a new setting of poems by Rainer Maria Rilke. Other compositions include Street Song for brass instruments and Agnegram, an overture for orchestra.
Among his many honors and awards, Mr. Tilson Thomas is a Chevalier dans l'ordre des Arts et des Lettres of France, was Musical America's Musician of the Year and Conductor of the Year, Gramophone Magazine's Artist of the Year and has been profiled on CBS's 60 Minutes and ABC's Nightline. He has won 11 Grammy Awards for his recordings. In 2008 he received the Peabody Award for his radio series for SFS Media, The MTT Files. In 2010 President Obama awarded him the National Medal of Arts, the highest award given to artists by the United States Government.
Yo-Yo Ma, cello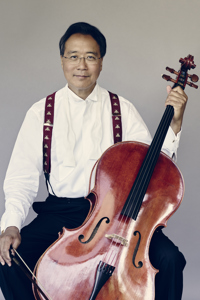 Yo-Yo Ma's multi-faceted career is testament to his continual search for new ways to communicate with audiences, and to his personal desire for artistic growth and renewal. Whether performing new or familiar works from the cello repertoire, coming together with colleagues for chamber music or exploring cultures and musical forms outside the Western classical tradition, Mr. Ma strives to find connections that stimulate the imagination.
One of Mr. Ma's goals is the exploration of music as a means of communication and as a vehicle for the migrations of ideas across a range of cultures throughout the world. Expanding upon this interest, in 1998, Mr. Ma established Silkroad, a nonprofit organization that seeks to create meaningful change at the intersections of the arts, education and business. Under his artistic direction, Silkroad presents performances by the acclaimed Silk Road Ensemble and develops new music, cultural partnerships, education programs and cross-disciplinary collaborations. More than 80 new musical and multimedia works have been commissioned for the Silk Road Ensemble from composers and arrangers around the world. Silkroad's ongoing affiliation with Harvard University has made it possible to develop programs such as the Arts and Passion-Driven Learning Institute for educators and teaching artists, held in collaboration with the Harvard Graduate School of Education, and a new Cultural Entrepreneurship initiative in partnership with Harvard Business School.
As the Chicago Symphony's Judson and Joyce Green Creative Consultant, Mr. Ma is partnering with CSO Music Director Riccardo Muti to provide collaborative musical leadership and guidance on innovative program development for The Negaunee Music Institute of the Chicago Symphony Orchestra, and for Chicago Symphony artistic initiatives. Mr. Ma's work focuses on the transformative power music can have in individuals' lives, and on increasing the number and variety of opportunities audiences have to experience music in their communities.  In March 2016 he was appointed Artistic Advisor at Large to the John F. Kennedy Center for the Performing Arts as part of their expansive initiatives honoring the centenary of JFK's birth and to encourage the idea of creative citizenship.
Mr. Ma is also widely recognized for his strong commitment to educational programs that bring the world into the classroom and the classroom into the world. While touring, he takes time whenever possible to conduct master classes as well as more informal programs for students—musicians and non-musicians alike. He has also reached young audiences through appearances on Arthur, Mister Rogers' Neighborhood and Sesame Street. 
Mr. Ma's discography of over 100 albums (including 18 Grammy Award winners) reflects his wide-ranging interests.  He has made several successful recordings that defy categorization, among them Appalachia Waltz and Appalachian Journey with Mark O'Connor and Edgar Meyer, and two Grammy-winning tributes to the music of Brazil, Obrigado Brazil and Obrigado Brazil – Live in Concert. Mr. Ma's recent recordings include: The Goat Rodeo Sessions, with Edgar Meyer, Chris Thile and Stuart Duncan, which received the 2013 Grammy for Best Folk Album, and Songs from the Arc of Life, with pianist Kathryn Stott. His most recent release, Sing Me Home, recorded with the Silk Road Ensemble, was released in April 2016 as the companion album to documentary film The Music of Strangers. Created by Oscar-winning producer Morgan Neville, the film follows the Ensemble's more than 50 musicians, composers, visual artists and storytellers as they explore the ways art can both preserve traditions and shape cultural evolution. In spring 2017 Mr. Ma will release and tour Bach Trios, recorded with Edgar Meyer and Chris Thile. Mr. Ma remains one of the best-selling recording artists in the classical field. All of his recent albums have quickly entered the Billboard chart of classical best sellers, remaining in the Top 15 for extended periods, often with as many as four titles simultaneously on the list. 
Mr. Ma was born in 1955 to Chinese parents living in Paris. He began to study the cello with his father at age four and soon came with his family to New York, where he spent most of his formative years. Later, his principal teacher was Leonard Rose at The Juilliard School. He has received numerous awards, among them the Avery Fisher Prize (1978), the National Medal of Arts (2001) and the Presidential Medal of Freedom (2010). In 2011 Mr. Ma was recognized as a Kennedy Center Honoree. He serves as a UN Messenger of Peace. He has performed for eight American presidents, most recently at the invitation of President Obama on the occasion of the 56th Inaugural Ceremony. 
Mr. Ma and his wife have two children. He plays two instruments, a 1733 Montagnana cello from Venice and the 1712 Davidoff Stradivarius. 
For additional information, see: www.yo-yoma.com, www.silkroadproject.org and www.opus3artists.com.
Jonathan Vinocour, viola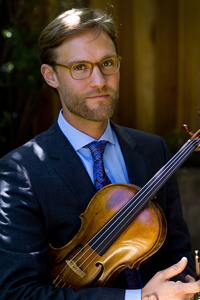 Jonathan Vinocour joined the San Francisco Symphony as Principal Viola in 2009, having previously served as Principal Viola of the Saint Louis Symphony and Guest Principal Viola of the Leipzig Gewandhaus Orchestra. A native of Rochester, he graduated from Princeton University with a degree in chemistry. He completed his master's degree at the New England Conservatory, where he studied with Kim Kashkashian.
With the San Francisco Symphony, Mr. Vinocour has appeared as soloist in Britten's Double Concerto and Mozart's Sinfonia concertante (both with Concertmaster Alexander Barantschik), Berlioz' Harold in Italy and Morton Feldman's Rothko Chapel. He has also performed as a soloist with the Saint Louis Symphony. His first solo album, featuring works of Britten and Shostakovich, was recorded with the support of the Holland America Music Society. Mr. Vinocour was also a featured recitalist at the 2012 International Viola Congress, and he performs frequently in recital throughout the Bay Area.
Mr. Vinocour has been a regular participant at the Marlboro Music Festival and has toured extensively with Musicians from Marlboro. He enjoys a busy chamber music schedule during summer seasons, participating in many festivals such as Seattle Chamber Music, Aspen Music Festival, Bay Chamber Concerts, Music in the Vineyards and the Bridgehampton Chamber Music Festival, among others. He has been a guest of the Da Camera Society of Los Angeles, Boston Chamber Music Society, International Sejong Soloists, and is a frequent guest artist with the Saint Lawrence String Quartet. He is a founding member of ECCO (East Coast Chamber Orchestra), based in New York.
A dedicated and increasingly active pedagogue, Mr. Vinocour has presented master classes at conservatories around the country and abroad. He is a regular coach at the New World Symphony, has been on the faculty of the Aspen Music Festival and School, and is currently on faculty at the San Francisco Conservatory of Music. He plays a 1784 Lorenzo Storioni viola, on loan from the San Francisco Symphony.