Events & Tickets
WALLCAST® Concerts and Park Events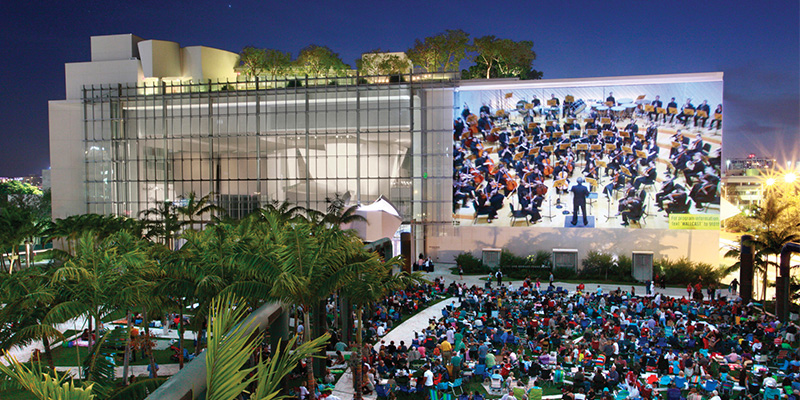 NWS WALLCAST® Concerts, Presented by Citi
®
New World Symphony WALLCAST® concerts, Presented by Citi®, allow you to experience select events throughout the season at SoundScape Park through a striking use of visual and audio technology on the soaring, 7,000-square-foot projection wall of the New World Center. 
Bring a blanket, share a picnic dinner and enjoy the sights and sounds of the New World Symphony with friends and family! 
Each WALLCAST® concert is free to the public and does not require a ticket. 
The 2017-18 WALLCAST® Concert Series  
Saturday, July 21 at 8:30 PM
NYO2 and Gil Shaham
* Encore WALLCAST® concerts do not include pre-concert chats or New World Center restroom access. There are public restrooms in SoundScape Park. 

Pre-Concert Chats
There will be a Citi Pre-Concert Chat for each of the WALLCAST® concerts, presented by Citi, and other select concerts. These will take place one hour before each concert in SoundScape Park and are free to the public. Space is limited and seating is first-come, first served. Fellows will speak briefly about themselves, the concert program and answer audience questions. These 30-minute interactions are the perfect way to meet the musicians and learn more about the concert you are about to hear. Pre-concert chats will not be available for the Encore WALLCAST® concert performances. 
WALLCAST® Concert Club, Presented by Citi
®
Sign up for the free WALLCAST® concert club to receive notifications and reminders about upcoming WALLCAST® concerts and events in SoundScape Park, special offers and discounted tickets to events at the New World Center. You can sign up online today or at the next WALLCAST® concert. 
At every WALLCAST® concert, be sure to check in at the NWS table outside the Box Office to receive a free gift! 
Click here to join the WALLCAST® Concert Club.
New World Symphony WALLCAST® Concerts and the WALLCAST® Concert Club are presented by Citi®. 
Citi® Cinema Series at SoundScape
The FREE Citi Cinema Series at SoundScape is held at SoundScape Park at the New World Center. Movies begin at 8:00 PM, RAIN OR SHINE unless otherwise noted. Text MBFILM to 91011 for weekly reminders and updates. PLEASE NOTE: The SoundScape Cinema Series is curated and presented by the City of Miami Beach. Titles subject to change.
O'Cinema is proud to partner with the City of Miami Beach Cultural Affairs Program in presenting the 2017-2018 Citi Cinema Series at SoundScape. It's been our distinct pleasure to curate this year's selection of films to showcase a wide-breadth of contemporary and classic cinema. This year's selection brings together an eclectic mix of recent independent films, beloved pop culture favorites, and timeless classics. Our choices are representational of the diverse people that make our community and in honor of some of our most beloved local events but most importantly- they're wonderful films that we can enjoy together as a community. At O Cinema we believe in the power of films to change communities and change lives. Here's one evening each week where we can forget our differences, embrace our commonalities and rejoice in the magic of the movies underneath the gorgeous Miami Beach sky. Join us!
-Kareem Tabsch, O'Cinema