Events & Tickets
WALLCAST™ Concerts and Park Events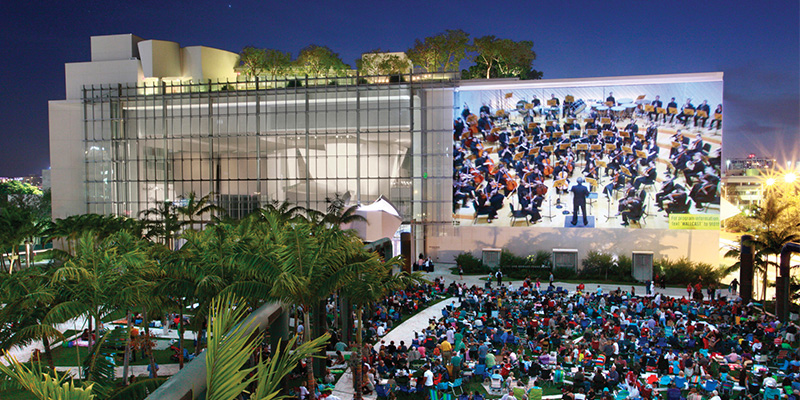 NWS WALLCAST™ Concerts, Presented by Citi
®
New World Symphony WALLCAST™ concerts, Presented by Citi®, allow you to experience select events throughout the season at SoundScape Park through a striking use of visual and audio technology on the soaring, 7,000-square-foot projection wall of the New World Center. 
Bring a blanket, share a picnic dinner and enjoy the sights and sounds of the New World Symphony with friends and family! 
Each WALLCAST™ concert is free to the public and does not require a ticket. 
The 2015-16 WALLCAST™ Concert Series 
Saturday, October 10 at 7:30 PM
Season Opener with MTT: The Russian Musical Soul
Saturday, November 7 at 7:30 PM
Water Music
Saturday, December 12 at 7:30 PM
Music of Vienna
Saturday, December 19 at 7:30 PM
The Sounds of the Season, presented by the City of Miami Beach
Saturday, January 30 at 7:30 PM
Zarathustra
Saturday, February 20 at 7:30 PM
Concerto Showcase
Friday, April 1 at 8:00 PM
Side-by-Side Concert
Saturday, April 9 at 8:00 PM
Symphonic Dances
Saturday, April 23 at 8:00 PM
The Mahler Legacy: The Song of the Earth
Saturday, May 7 at 8:00 Pm
Season Finale with MTT: Berlioz and Sibelius 
Pre-Concert Chats
There will be a pre-concert chat in the SunTrust Pavilion for each of the WALLCAST™ concerts, presented by Citi®, this season. These will take place one hour before each WALLCAST™ concert and will be available to all ticketholders and WALLCAST™ concert attendees. Space is limited, so attendance will be on a first-come, first-served basis.
WALLCAST™ Concert Club, Presented by Citi
®
Sign up for the free WALLCAST™ concert club to receive notifications and reminders about upcoming WALLCAST™ concerts and events in SoundScape Park, special offers and discounted tickets to events at the New World Center. You can sign up online today or at the next WALLCAST™ concert. 
At every WALLCAST™ concert, be sure to check in at the NWS table outside the Box Office to receive a free gift! 
New World Symphony WALLCAST™ Concerts and the WALLCAST™ Concert Club are presented by Citi®. 
SoundScape Cinema Series, Presented by Citi®
The FREE SoundScape Cinema Series is held at SoundScape Park at the New World Center. Movies begin at 8:00 PM, RAIN OR SHINE unless otherwise noted. Text MBFILM to 91011 for weekly reminders and updates. 
PLEASE NOTE: The SoundScape Cinema Series is curated and presented by the City of Miami Beach. Titles subject to change. 
October
7             The Dark Knight Rises (2012) Directed by Christopher Nolan; with Christian Bale and Anne Hathaway
14           Cast Away (2000) Directed by Robert Zemeckis; with Tom Hanks
21           Back to the Future Part II (1989) Directed by Robert Zemeckis; with Michael J. Fox and Christopher Lloyd
28           The Phantom of the Opera (2004) Directed by Joel Schumacher; with Gerard Butler and Emmy Rossum
November
4             Furious Seven (2015) Directed by James Wan; with Vin Diesel, Paul Walker and Dwayne Johnson
11           Catch Me If You Can (2002) Directed by Steven Spielberg; with Leonardo DiCaprio,
               Tom Hanks and Christopher Walken
18           Avengers: Age of Ultron (2015) Directed by Joss Whedon; with Robert Downey Jr.,
               Chris Evans and Mark Ruffalo
25           Charlie and the Chocolate Factory (2005) Directed by Tim Burton; with Johnny Depp
December
2             Art Basel Miami Beach Video Art
9             Woman in Gold (2015) Directed by Simon Curtis; with Helen Mirren and Ryan Reynolds
16           Jurassic World (2015) Directed by Colin Trevorrow; with Chris Pratt and Bryce Dallas Howard
23           Minions (2015) Directed by Kyle Balda and Pierre Coffin; with Sandra Bullock, Jon Hamm and Michael Keaton
30           The Simpsons Movie (2007) Directed by David Silverman; with Dan Castellaneta,
               Julie Kavner and Nancy Cartwright
January
6             The Hobbit: Battle of the Five Armies (2014) Directed by Peter Jackson; with Ian McKellen,
               Martin Freeman, and Richard Armitage
13           The Queen (2006) Directed by Stephen Frears; with Helen Mirren and Michael Sheen
20           The Boy Friend (1971) Directed by Ken Russell; with Twiggy, Christopher Gable and Tommy Tune
27           Fantastic Four (2015) Directed by Josh Trank; with Miles Teller and Kate Mara
February
3             Selma (2014) Directed by Ava DuVernay; with David Oyelowo and Carmen Ejogo
10           Mr. and Mrs. Smith (2005) Directed by Doug Liman; with Brad Pitt and Angelina Jolie
17           Terminator Genisys (2015) Directed by Alan Taylor; with Arnold Schwarzenegger
24           Mars Attacks! (1996) Directed by Tim Burton; with Jack Nicholson, Pierce Brosnan, Glenn Close,
               Annette Bening , Danny DeVito, and Sarah Jessica Parker
March
2             Hunger Games: Mockingjay Part 2 (2015) Directed by Francis Lawrence; with Jennifer Lawrence,
               Josh Hutcherson and Liam Hemsworth
9             Rent (2005) Directed by Chris Columbus; with Taye Diggs and Rosario Dawson
16           Austin Powers in Goldmember (2002) Directed by Jay Roach; with Mike Myers,
               Beyonce Knowles and Seth Green
23           Pirates of the Caribbean: On Stranger Tides (2011) Directed by Rob Marshall; with Johnny Depp,
               Penelope Cruz and Ian McShane
30           Mission Impossible: Rogue Nation (2015) Directed by Christopher McQuarrie; with Tom Cruise,
               Jeremy Renner and Simon Pegg
April
6             Niagara (1953) Directed by Henry Hathaway; with Marilyn Monroe and Joseph Cotton
13           San Andreas (2015) Directed by Brad Peyton; with Dwayne Johnson and Carla Gugino
20           The Day After Tomorrow (2004) Directed by Roland Emmerich; with Dennis Quaid,
               Jake Gyllenhaal and Emmy Rossum
27           What Lies Beneath (2000) Directed by Robert Zemeckis; with Harrison Ford and Michelle Pfeiffer
May
4             Ant-Man (2015) Directed by Peyton Reed; with Paul Rudd and Michael Douglas
11           Little Fockers (2010) Directed by Paul Weitz; with Ben Stiller, Robert DeNiro,
               Dustin Hoffman and Barbra Streisand
18           Forrest Gump (1994) Directed by Robert Zemeckis; with Tom Hanks and Robin Wright
25           Independence Day (1996) Directed by Roland Emmerich; with Will Smith, Bill Pullman and Jeff Goldblum