Events & Tickets
WALLCAST™ Concerts and Park Events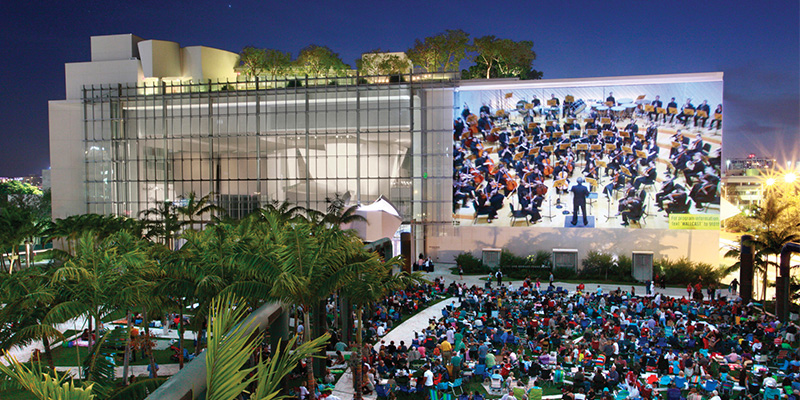 NWS WALLCAST™ Concerts, Presented by Citi
®
New World Symphony WALLCAST™ concerts, Presented by Citi®, allow you to experience select events throughout the season at SoundScape Park through a striking use of visual and audio technology on the soaring, 7,000-square-foot projection wall of the New World Center. 
Bring a blanket, share a picnic dinner and enjoy the sights and sounds of the New World Symphony with friends and family! 
Each WALLCAST™ concert is free to the public and does not require a ticket. 
The 2016-17 WALLCAST™ Concert Series 
Saturday, October 15 at 7:30 PM
Season Opener with MTT and Emanuel Ax
Saturday, November 12 at 7:30 PM
Baroque to Classical

Saturday, December 10 at 7:30 PM
A Russian Feast
Saturday, December 17 at 7:30 PM
Sounds of the Season, Presented by Miami Beach
Saturday, January 21 at 7:30 PM
The Mahler Legacy: 5
Saturday, February 4 at 7:30 PM
The Great: Schubert's Ninth
Saturday, February 18 at 7:30 PM
Concerto Showcase
Saturday, March 25 at 8:00 PM
Symphonic Giants
Saturday, April 8 at 8:00 PM
Daphnis and Chloe
Saturday, April 22 at 8:00 PM
Side-by-Side Concert

Saturday, May 6
Season Finale with MTT: Beethoven's Eroica

Pre-Concert Chats
There will be a pre-concert chat in the SunTrust Pavilion for each of the WALLCAST™ concerts, presented by Citi®, this season. These will take place one hour before each WALLCAST™ concert and will be available to all ticketholders and WALLCAST™ concert attendees. Space is limited, so attendance will be on a first-come, first-served basis.
WALLCAST™ Concert Club, Presented by Citi
®
Sign up for the free WALLCAST™ concert club to receive notifications and reminders about upcoming WALLCAST™ concerts and events in SoundScape Park, special offers and discounted tickets to events at the New World Center. You can sign up online today or at the next WALLCAST™ concert. 
At every WALLCAST™ concert, be sure to check in at the NWS table outside the Box Office to receive a free gift! 
Click here to join the WALLCAST™ Concert Club.
New World Symphony WALLCAST™ Concerts and the WALLCAST™ Concert Club are presented by Citi®. 
SoundScape Cinema Series, Presented by Citi®
The FREE SoundScape Cinema Series is held at SoundScape Park at the New World Center. Movies begin at 8:00 PM, RAIN OR SHINE unless otherwise noted. Text MBFILM to 91011 for weekly reminders and updates. PLEASE NOTE: The SoundScape Cinema Series is curated and presented by the City of Miami Beach. Titles subject to change.
October
October 5: Brooklyn (2015)  - CANCELLED DUE TO WEATHER        
October 12: Genius (2016)          
October 19: Tim Burton's Corpse Bride (2005)     
October 26: Little Shop of Horrors (1986)   
          
November
November 2: Swing Vote (2008)
November 9: American Graffiti (1973)
November 16: Finding Dory (2016)          
November 23: The Angry Birds Movie (2016)
November 24: Rent (2005)
November 30: ART BASEL

December
December 7: Seven Years in Tibet (1997)
December 14: Star Wars: The Force Awakens (2015)
December 21: The Theory of Everything (2014)  
December 28: The Jungle Book (2016)  
  
January
January 4: Rudy (1993)  
January 11: The Great Gatsby (2013)       
January 18: Ballet 422 (2014)      
January 25: Fried Green Tomatoes (1990)  
           
February
February 1: Napoleon Dynamite (2004)  
February 8: Best in Show (2000)
February 15: The Perfect Storm (2000)   
February 22: Julia and Julia (2009)       
    
March
March 1: Everest (2015)
March 8: Free Willy (1993)          
March 15: The Walk (2015)
March 22: Out of Africa (1985)   
March 29: Midnight Special (2016)         
 
April – "Fire" in Collaboration with Tigertail
April 5: In the Heat of the Night (1967)
April 12: Great Balls of Fire (1989)
April 19: Catch a Fire (2006)        
April 26: Reign of Fire (2002)     
 
May
May 3: The First Monday in May (2016) 
May 10: Mother's Day (2016)     
May 17: A Raisin in the Sun (1961)           
May 24: Zootopia (2016)              
May 31: Life of Pi (2012)