New World Center
Thierry's at NWC
Welcome to Thierry's at the New World Center, serving delicious fare before concerts and during intermission from the Frank Gehry-designed glass-and-titanium lit bar located on the first level of the Atrium.
Thierry's Catering and Event Design has emerged as a leader in creating a five star culinary and total event experience. Owner and celebrated chef Thierry Isambert is inspired by his European roots, treating every dish as an innovative masterpiece. He endlessly travels in search of new recipe discoveries and original ideas, and often combines traditional French cooking techniques with a blend of Mediterranean, Caribbean and Pacific influences.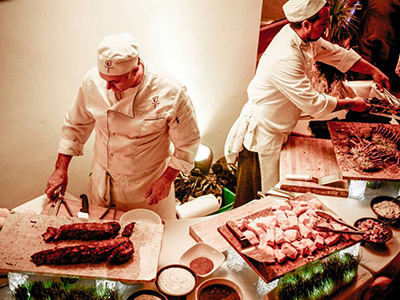 Thierry Isambert
Since he formed his company in 1989, Thierry's status quickly rose from entrepreneur to celebrity chef-caterer. In 2009 his country awarded him the prestigious "Merit de Agricole" from the Ministry of France for his dignified representation of the organization. He was honored for his undying passion in culinary excellence, business integrity and his community involvement in many charitable and philanthropic ventures.
Thierry has an incredible following by people who share the same expectations of culinary excellence. There is a remarkable consistency in quality, taste and creative presentation of his dishes. His talents and reputation extends through his impeccable service and professional staff.