Letter from NWS Leadership
DEAR NEW WORLD SYMPHONY FAMILY,
We're delighted to share highlights of NWS's 2016-17 season, our 29th, and reflect on accomplishments made possible thanks to your support.
Over 80,000 people, from Fellows to audience members to tourists, enjoyed and benefited from our programs this season. We continue to pioneer new concert formats, fostering new and more diverse audiences for classical music. WALLCAST® concerts in particular are creating a sense of place and community within South Florida. We extended the impact this year by adding an Encore WALLCAST® concert series that allowed audiences to enjoy a second viewing of a favorite recorded performance.
Our Fellows are taking the lead, exemplified by Clarinet Fellow Zach Manzi. He planned and executed an innovative concert experience, which invited audience members to engage with music in creative ways. This season also marked the first year of The Independent Musician, a new entrepreneurial training course for Fellows in partnership with Northwestern University's Kellogg School of Management.
With your continuing support of our community engagement programs, our reach into area schools has grown significantly, enabling our Fellows to pay it forward by mentoring middle- and high-school student musicians who otherwise would not have access to such high-level training. We are having a global impact, as evidenced by partnerships like the one we have established with Iberacademy in Medellín, Colombia, and a new initiative that enabled three talented high-school musicians from São Paolo to travel to Miami for a week of coaching, performance and cultural exchange.
This season, we also made an organizational commitment to diversity, inclusion and equity within our fellowship, Board, staff, audiences and programs. To inform our work we held a convening of musicians, funders and administrators, which resulted in the creation of a Bridge Plan, a blueprint for developing the careers of musicians of color. The plan has been presented at several national conferences. It has become a primary point of reference for diversity work in American orchestras.
Perhaps most exciting, New World Symphony has now launched the careers of more than 1,050 musicians who are leaders in classical music around the globe. On behalf of our Board of Trustees, our Fellows and our staff, please accept our sincere gratitude for the crucial role you play in making all of this possible. As we now begin our milestone 30th Anniversary Season, we hope to continue to count on you as partners and investors.
With gratitude,
NWS's Mission, Vision and Statement of Purpose
Board of Trustees & Staff
Click here for a list of NWS's Board of Trustees and Staff.
Fellows
• Fellows who won jobs in the 2016-17 season
Highlight - Mark Niehaus
Visiting Faculty

Testimonials
Performance Activities
Over the course of the 35-week academic season, NWS presented some 65 concerts. Here are photos from this season's programming.
Guest Artists and Composers
The NWS fellowship program includes frequent interactions with the world's leading conductors, soloists and composers. NWS Fellows rehearsed and performed with the following artists, among others, during the 2016-17 season.
---
"Singing with the New World Symphony is always thrilling for me. This ensemble offers a truly unique training opportunity for young musicians, encouraging a kind of artistic growth that is a rare luxury today. Michael Tilson Thomas has a singular gift for teaching and inspiring these hand-picked, crème de la crème young players, who benefit so much from this hothouse of musical cultivation. I was especially struck by the extraordinary dedication of these artists and their direct connection with the community. On my visit in October, they were engaged with a range of outreach activities, even voter registration drives. This sets a great example for keeping their art a vibrant part of our culture, and they will carry this experience with them throughout their careers."
— Renée Fleming, soprano
"have always enjoyed my time working with the New World Symphony, and last season's concert was no exception. We played a very difficult program, and the Fellows came incredibly well prepared and with a willingness to do everything asked of them. I very much look forward to my next visit with these great musicians!"
— Osmo Vänskä, Music Director, Minnesota Orchestra
New Work
MTT hosted the annual New Work event on April 29, bringing four world premieres to the New World Center, including his own stage production of Niccolò Castiglioni's Inverno In-ver. Viola Fellow Caroline Gilbert performed John Supko's broken on the wheel of night for solo viola and electronics. In JOAN or The Light Came in the Name of the Voices, poet Roger Reeves appeared alongside six Fellows—who performed both as actors and as musicians—to explore the politics of black motherhood in America. Conducting Fellow Dean Whiteside led Oscar Bettison's orchestral version of Lights in Ashes, for orchestra and tape. The evening culminated with MTT's vibrant stage production of Inverno In-ver. As he explained, "the piece is in 11 short movements, which in a way are like scenes in a movie and they all refer in some way to winter. We created an installation around this piece in which there is music, video, projections, dancers and performance art by the musicians." The works by Mr. Supko and Mr. Reeves were New World Symphony commissions, supported in part by a donation from Mr. Douglas S. Cramer and Mr. Hubert S. Bush. This program was sponsored in part by Komply, Inc.
Save the date for the 2018 New Work event on February 3!
NWS by the Numbers
ENCORE WALLCAST® CONCERT SERIES
Play it again, New World! In early 2017 NWS launched a new WALLCAST® concert experience: the Encore WALLCAST® Concert Series, Presented by Citi. The series featured four previous WALLCAST® concert programs, giving audiences the opportunity to enjoy the WALLCAST® concert experience while catching past programs they missed, reliving their favorite programs anew, or enjoying NWS programs outside its curricular season. The series took place on evenings when the Fellows were not performing, allowing them the opportunity to witness the broadcast alongside audience members in SoundScape Park. During the Encore series, guests were welcomed inside the New World Center's atrium to learn more about the academy and our fellowship program and purchase food and beverages from Thierry's. Read more...
NWS BY THE NUMBERS
IN THE 2016-17 SEASON
Open House at the New World Center
For the first time since the New World Center opened in 2011, NWS hosted a community-wide Open House, welcoming over 800 guests throughout the campus. Encouraged to "come and play," visitors witnessed the full scope of our world-class venue through backstage tours, live performances, tours of the video production booth, interactive lighting and audio demonstrations, scavenger hunts, photo booths, instrument demonstrations and more. An additional 200 guests joined for the special WALLCAST® concert demonstration in SoundScape Park. NWS staff and volunteers shared NWS's story with guests and welcomed them to experience the mission in action, offering information on NWS's curriculum, performances, event tickets, Friends of NWS and volunteer opportunities.
The Pulitzer Centennial Celebration
On Sunday, November 20 at 2:00 PM, the New World Symphony celebrated the Pulitzer Centennial with a chamber music concert commemorating a century of the Pulitzer Prize, "100 Years of Excellence in Journalism and the Arts."  Click here to read more!  

Diversity, Equity and Inclusion
Global Audition Training
Alongside NWS, other GAT program partners are the Shanghai Conservatory of Music, Cleveland Institute of Music, The Royal Danish Academy of Music and Royal College of Music.
The New Face of MUSAIC
This season NWS launched the redesign of MUSAIC, its online community of classical musicians and curated video library. The new platform features a catalog of more than 800 videos starring over 200 artists, as well as livestreamed events and master classes, digital discussions and curated content by leading musicians. Learn more...
Project 305
On January 31, NWS, Knight Foundation and the MIT Media Lab launched Project 305—collecting Miamians' audio and video files from their daily lives for a crowd-sourced symphony and video that premiered October 21 as part of NWS's 30th Anniversary Season.
Over the 107 days of submissions, NWS worked with community partners across the county, and hosted workshops for local students. Once the submission period passed, composer Ted Hearne and filmmaker Jonathan David Kane began culling over 1,150 files to create a final work that shows life in Miami through the lens of its people.
Highlight - Katie Wyatt
The Independent Musician
This season saw the launch of a series of seminars and workshops designed to equip Fellows with music business, collaboration, innovation and leadership skills taught by experts from the field. These sessions, covering topics from introductions to business and contract negotiations to project development, provided Fellows career skills needed to be contributing members of their ensembles, active in their communities and to give them an understanding of what is required if they should want to start their own ventures.

The course was co-designed by teams at NWS, led by Executive Vice President and Provost John Kieser and Board member Carolina Piña, and at Northwestern University's Kellogg School of Management, led by faculty member Gregg Latterman. Their unique curriculum frequently welcomed NWS alumni to lead discussions.

"The mission of the New World Symphony is to prepare Fellows for 'leadership roles in orchestras and ensembles,'" says Kieser. "Part of being a leader includes being able to act and think independently in this rapidly evolving world. The Independent Musician is designed to provide the knowledge and skills through hands-on experiences that will enable our Fellows to excel as leaders in their ensembles, orchestra and communities."

"There has never been a better time than now to become an entrepreneur. Thanks to the growth of the Internet and the power of technology and global connectivity, a great product or idea can come from anywhere, anyone, at any time," says Latterman. "The New World Symphony is a home for Fellows to incubate. Through this course, we helped them approach classical music with an innovative and entrepreneurial mindset beyond how well they play their instrument, reaching outside the box to provide them an edge to pursue the career of their dreams."
Testimonial - Rebekah Heller
NWS and Hitachi
capabilities allowing for more theatrical presentations inside NWS's performance hall, and for sharper, more-detailed clarity to the WALLCAST® concert experience. The acquisition and installation was the first step in a multi-phase and multiyear process that will result in an end-to-end 4K experience for videos on MUSAIC (NWS's music education website), WALLCAST® concerts in SoundScape Park and other content that is part of NWS's digital presence. Read more...
Business Development
The Business Development team generates over $1,000,000 annually in support of the NWS fellowship program while strengthening patron, client and community relationships through third-party use of the New World Center. Guests at private and public third-party events can learn of NWS's innovative work through enrichment experiences illustrating the technologically-sophisticated research and development that occurs in the New World Center. These interactions educate new audiences, fortify current relationships and form the basis for long lasting and mutually rewarding new relationships. Business Development boasts over 40% annual return business through event planners giving high marks to the facility and professionalism of NWS's event planning and production teams, and to Thierry Isambert Culinary and Event Design staff for their expertise, efficiency and professionalism.
BRAZIL FOUNDATION GALA

The Brazil Foundation honored Howard Herring at its annual gala in January 2017. Mr. Herring accepted the award on behalf of NWS's donors and Development and Community Engagement teams, who worked together to bring three Brazilian students to Miami to participate in NWS's Side-by-Side Concert. Read more...
NWS is a Leader in the Field
Throughout the season NWS's leadership traveled across the globe to share how NWS is pushing the boundaries of artistic expression and evolving the art form for the good of the field. Below are several of this season's highlight events.
Highlight - Miguel Perrotti
Community Engagement
Community Engagement is critical to NWS's overall mission to prepare highly-gifted graduates of music programs for leadership roles as educators, communicators, performers and role models. The program's array of offerings acts as dual learning experiences for the Fellows and members of the community, and provides engaging opportunities to learn about and experience music. In the 2016-17 season, NWS Fellows spent over 5,100 hours interacting with, teaching and coaching students, teachers, families, adults and seniors within the South Florida community and beyond.
ADULT EDUCATION
SIDE-BY-SIDE CONCERT AND CONCERTO COMPETITION
This season's Side-by-Side Concert Orchestra, led by MTT, was comprised of 48 students from 31 schools and organizations. Due to the growing demand for live auditions, NWS continued its use of video prescreening. Applicants had access to Fellow-created audition videos and had the opportunity to audition alongside NWS Fellows as an NWS Connect event. Fellow adjudicators selected 40 students from Florida who were joined by 5 students from the Iberacademy in Medellín, Colombia and 3 students from São Paolo, Brazil for the concert. The concert was featured as a WALLCAST® concert, webcast on MUSAIC and, for the first time, shown on Facebook Live. Total reach of the webcast was in excess of 516,000. 

THE BRAZIL INITIATIVE
MUSICLAB
TOWN HALL MASTER CLASS
Leading up to the Town Hall Master Class, students from the Atlanta Talent Development Program and Nashville Symphony Accelerando Program participated in three Internet2 coachings each with NWS Fellows. Those same Fellows later traveled to either Atlanta or Nashville to provide in-person master classes, rehearsals with the student ensembles, and host round table conversations about pursuing music as a career and what it's like to be a musician.
"As I advance my musical career, Mr. Tilson Thomas inspired me in a very profound way. His comments and tips will guide and motivate me, and continue to inspire confidence. I thank him for investing in me."
— Alisha Zamore, Atlanta Talent Development Program
Our Global Reach
The New World Symphony now has over 1,050* alumni making a difference in orchestras, ensembles and educational institutions in 26 countries around the world.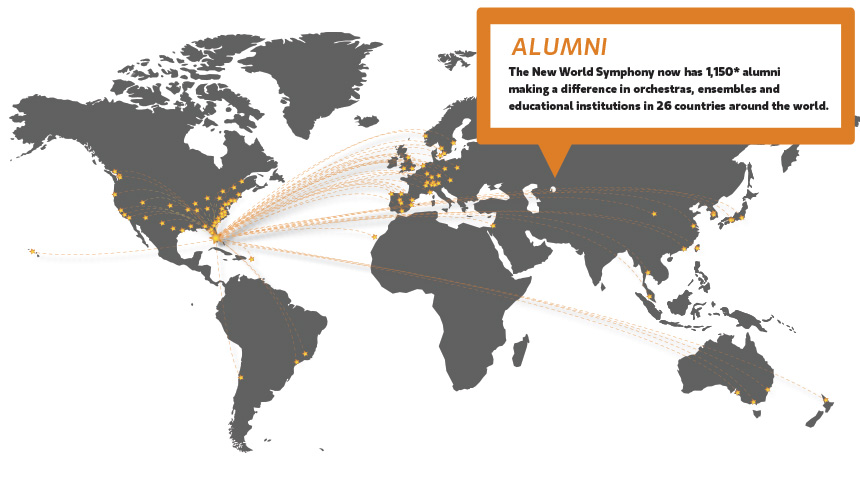 We Salute our Alumni in Uniform
Alumni Profiles
Treasurer's Report
Each fiscal year brings its own unique challenges and opportunities and the year ending June 30, 2017 (FY17) was no different. While NWS's operating budget grew by 3.3% over the previous year to $16.4 million, core fundraising remained flat for most of the year before ending at a high point due to receipt of a significant bequest. It is interesting to note that this donor made the bequest based on the strength of NWS's programming and prior to the transition from the Lincoln Theatre to the New World Center. Revenues from third-party use of the New World Center increased by 7.5% and the annual gala generated the highest gross and net income for NWS since the grand opening gala for New World Center in 2011.
On a number of key metrics, FY17 produced continued and significant progress on long-term financial goals. After weathering flat to negative results in 2015 and 2016, NWS's endowment returned 10% for the fiscal year; the endowment is 14% higher than five years ago in absolute terms while providing over $21 million in support of operating and capital budgets over the same period. The operating budget grew 8% in five years and the annual fund is 17% higher. Total funds raised in FY17—which, in addition to what was raised during the year for the core operating budget, includes funded bequests, restricted gifts, new endowment gifts and pledges, the future portion of new multi-year gifts, and in-kind donations—has risen by 29% over the last five years. Over this period NWS has raised an annual average of 30% over and above the annual fund to support long-term stability. The importance of bequests, multi-year pledges, and endowment growth cannot be overstated. A milestone was achieved at the end of FY17 when NWS's Reserve Fund reached a long-sought target of $5.5 million, providing meaningful contingency support for unanticipated expenses.
 Summarized annual consolidated results from NWS's audited financial statements for the last five years are presented with this report. In addition to the core operating budget, these figures include pledges and gifts received for future fiscal years, capital improvements and the endowment; investment gains and/or losses; and depreciation and other non-operating income and expenses. For more information, please request a copy of NWS's audited financial statements or visit our website at www.nws.edu/ financials.
On behalf of the Board of Trustees, the administrative staff and most especially the Fellows, I thank all of NWS's donors, patrons and other supporters for their deep generosity and commitment to this unique and vibrant institution as we collaborate to ensure the future of classical music.
FINANCIAL PROGRESS: FIVE YEARS MAKES A DIFFERENCE
---
FINANCIAL HIGHLIGHTS
Sustainability Statement
SUSTAINABILITY STATEMENT
NWS SEEKS A STRONGER FINANCIAL PLATFORM TO SUPPORT EXPERIMENTATION
We Thank our Donors
We are pleased to recognize the following donations made between July 1, 2016 and June 30, 2017.
Volunteers
THE HEART OF NWS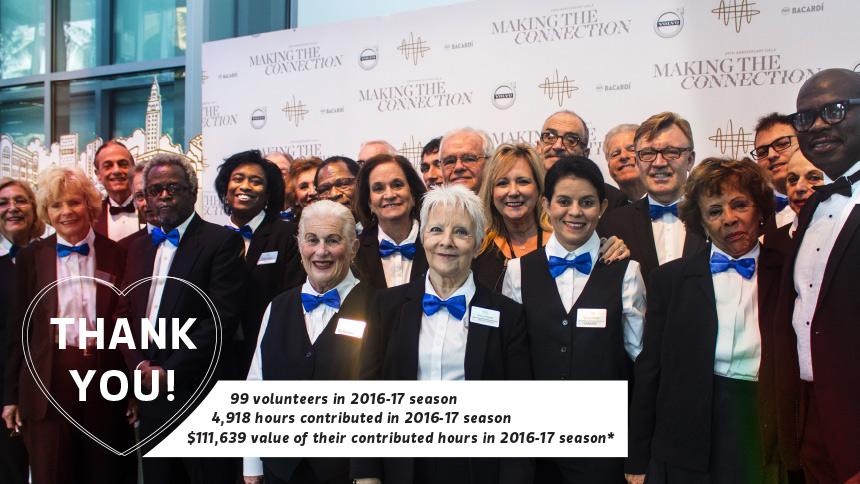 Gala: Making the Connection
NEW WORLD SYMPHONY GALA: MAKING THE CONNECTION
NWS celebrated its 29-year commitment to community engagement for its annual gala, Making the Connection. The event highlighted three of NWS's community engagement programs and four alumni who have made community work a priority in their careers. It also featured a performance with NWS's visionary Co-Founder and Artistic Director Michael Tilson Thomas with a special appearance by six-time Tony Award-winner and recent National Medal of Arts honoree, Audra McDonald. Over 440 guests, led by Gala Chairs Stephen and Sabine Bittel, paid tribute to NWS's mission to provide meaningful cultural programs to the South Florida community and beyond, while preparing young musicians for careers in the world of classical music. Sponsored by Volvo, Bacardi and Total Wine and More, the evening raised over $1.7 million.
Save the date for the 30th Anniversary Gala on February 10, 2018!
Corporate Partnerships
In 2016-17 NWS significantly increased its collaborations with corporate partners, who in turn enjoyed unprecedented access and exposure to the New World Symphony's Fellows and audiences.

NWS reaffirms its shared commitment to enriching communities through music, art and culture with these valuable partners.
Friends of New World Symphony
2016-17 BOARD
Chad Turner, President
JD Henao, Vice President
Carolina Piña, Special Projects Leader
Dana Hagendorf, Marketing & Communications Chair
Maya Ibars, Events Chair
Keith Kohler, Treasurer & Sponsorship Chair
Jessica Wade-Pfeffer, Secretary & Membership Relations Chair
Liza Gallardo Walton, Vice Chair, Marketing & Communications
Giselle Real d'Arbelles, Vice Chair, Events
Jennifer Weinberg, Vice Chair, Sponsorships
Click here to see Executive Committee & National Council 
Sponsors
---
---
---
Citi with Arc Design is a registered service mark of Citigroup Inc.
The New World Symphony is a 501(c)(3) organization (Federal Tax #59-2809056). NWS is registered with the Florida Department of Agriculture and Consumer Services (Registration #CH503). A copy of the official registration and financial information may be obtained from the division of consumer services by calling toll-free (800-435-7352) with the state. Registration does not imply endorsement, approval, or recommendation by the state.