Community Engagement
Rehearsal Observations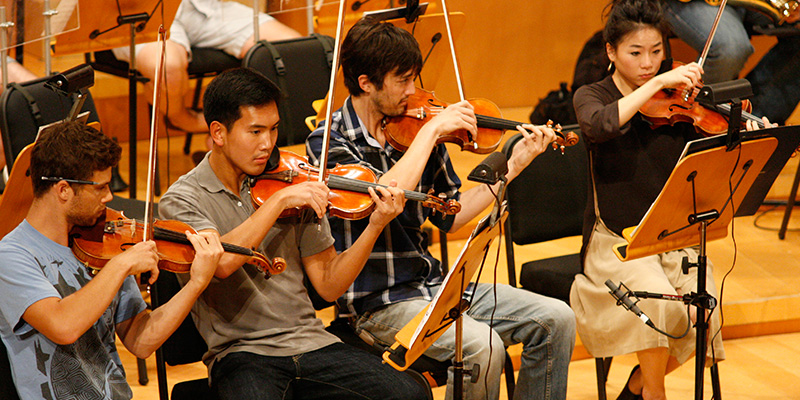 Rehearsal Observations offer the unique opportunity of viewing the inner workings of a symphony orchestra for grades 5 and up. During the visits, students and community groups will witness a working rehearsal with internationally renowned conductors and soloists. The observation requires that groups remain in the performance hall for approximately 75 minutes. Prior to the rehearsal, groups will meet with Fellows of the New World Symphony to learn more about works to be rehearsed and answer questions relating to their specific orchestral instrument. 
Deadline for Reservation: Reservation forms must be received at least one month in advance of desired Rehearsal Observation date. September reservations must be received at least two weeks in advance.

List of Available Dates:
Registration for Rehearsal Observations between September 2018 - December 2018 are currently open.
Thursday, November 15: Beethoven's Seventh
Thursday, November 29: Brahms and Britten
Friday, November 30: Brahms and Britten
Friday, December 14: Sounds of the Season
Thursday, January 10: Pinchas Zukerman Plays Bruch
Friday, January 11: Pinchas Zukerman Plays Bruch
Thursday, January 24: Concerto Showcase
Friday, January 25: Concerto Showcase
Friday, February 22: MTT and Christian Tetzlaff: From Bach to Ligeti
Thursday, March 7: Mendelssohn and Schumann
Friday, March 8: Mendelssohn and Schumann
Thursday, March 14: Hélène Grimaud and Mahler
Thursday, April 18: Carnegie Hall Preview: MTT's Playthings
Friday, April 26: Season Finale: MTT and Yuja Wang