Events & Tickets
Accessibility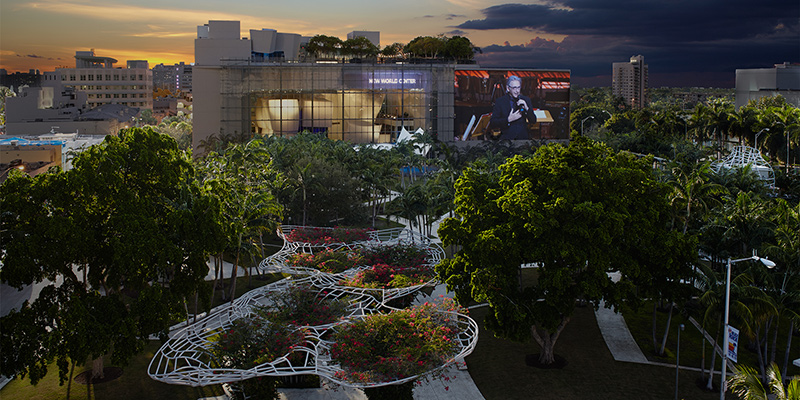 Photo: Photography by Depuhl
The New World Symphony believes music is a powerful, joyful part of life. As such, it strives to ensure that all performances can be accessible to everyone. 
For additional information on any of the below services, please call the Box Office at 305.673.3331 or email access@nws.edu.
Any concerns or comments regarding accessibility services and accommodations should be emailed to access@nws.edu. 
Thank you, and we look forward to your joining us.
   Parking
Located adjacent to our building, the Pennsylvania Avenue Garage is owned and operated by the City of Miami Beach. There is a bridge connecting the third floor of the parking garage to our building. This entrance is only available on performance days and opens one hour before the performance start time.
Please note: The City of Miami Beach offers free parking for valid disabled permits (hang tags) for all city-owned on-street meters, surface lots and garages. For more information, please click here. 
   Wheelchair Access
All entrances and performance spaces are wheelchair and motorized-scooter accessible. The rooftop garden (when open) can be accessed via the guest elevators.
Guests with wheelchairs can transfer to their seats or remain in their wheelchairs. Guests who cannot or do not wish to transfer from their wheelchairs to a fixed seat should request wheelchair-accessible locations when ordering tickets. Some wheelchair accessible locations require a fixed seat to be removed, so advance notice is required. Wheelchair accessible seats can be reserved at the Box Office, by phone, in person and online.
Some seats are available with removable armrests to enable easier access. Please contact the Box Office for further information.
A courtesy wheelchair is available for guest use within the building. This is available free of charge and advance notice is recommended. Since we cannot provide assistance with the wheelchair, we strongly recommend that guests with wheelchairs bring a companion to assist them.
   Assistive Listening Devices
An assistive listening device (ALD) amplifies and clarifies sounds by cutting down or eliminating ambient noise. Both of our performances spaces are equipped with a RF assistive listening system. Assistive listening devices are available for all performances. Devices can be picked up from the box office in the first floor atrium. There is no charge for the device but a driver's license is required as a deposit.
Neck loopsets are also available for users of hearing aids with t-coils.
      Other Services
Other services are available upon request with advance notice. Ideally two weeks of notice is required, although we will make our best efforts to try and accommodate any requests.
All requests should be made by calling the Box Office on 305.673.3331 or by emailing access@nws.edu.
   Restroom Access
All restrooms have a wheelchair accessible stall. In addition, gender-neutral, family restrooms are also available on the first and second floors. These restrooms can also accommodate a care provider.     
The Sensory-Friendly Environment is for audience members with Sensory Processing Disorders (SPD) and Autism Spectrum Disorders (ASD). This is an area for the entire family, designed to be welcoming, safe and comfortable, where they can watch a live audio and video feed of a concert.
Entry to this area is free for ticketholders and is only available on specific dates. Please click here for further information.
   Service Animals
NWS welcomes service animals in accordance with the ADA (Americans with Disability Act). We regret that comfort animals will not be allowed in the building.
All films in SoundScape Park will be screened with English subtitles and captions, where available. The SoundScape Cinema Series is presented by the City of Miami Beach. Any requests for any other accommodations should call 305.604.2489 and select 1 for English or 2 for Spanish, then option 6; TTY users may call via 711 (Florida Relay Service).