Events & Tickets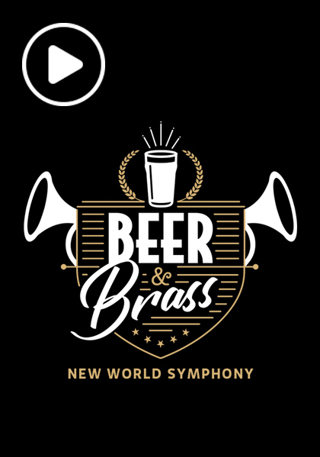 Online Event
Beer and Brass
Online Event
Friday, April 16, 2021 at 7:30 PM ET
Program
Sponsored by:


Explore the notes of taste and sound in this adventurous virtual event hosted by NWS Brass Fellows. From the comfort of your own home, enjoy a recital of brass quintet works paired with different beers by Veza Sur, Wynwood's Latin Craft Brewery and Bar. Performance includes world premiere of an NWS commission by Giancarlo D'addona Castro that is inspired by a craft brew. For local audiences, ticket includes performance stream, selection of beers and a souvenir pint glass (limited quantities). The performance will be followed by a live Q&A session with the performers.
Beer and Brass is an NWS BLUE project. Fellow-driven projects are sponsored in part by the Maxine and Stuart Frankel Foundation.
Ticketholders must be at least 21 years old and present a valid ID at time of beer pick-up.
Ticket Information
Stream the Concert + Beer Package: $25
South Florida audiences may purchase the concert + beer package before 12:00 Eastern on Friday, April 16. Ticketholders must pick up their beer and swag bag from Veza Sur (55 NW 25th Street, Miami, FL 33127). Available pick-up times are Tuesday, April 13 through Friday, April 16 from 11:00 AM to 3:00 PM. Ticketholders must be at least 21 years old and present a valid ID at time of beer pick-up. Name on ID must match name on order, or one left in the comments during the check-out process.
Stream the Concert Only: $15
This ticket will provide you with a streaming link for the concert only.
NWS thanks its 2020-21 donors.
Program
Henry Purcell
(1659-1695)
Arranged by W.F. Mills

Intrada
Dido's Lament
Tuba Tune from "The Cebell"
Trumpet Tune
BEER PAIRING: SPANGLISH LATIN LAGER
Inspired by our Latin roots, crisp and refreshing, perfect for a hot Miami day.
BEER PAIRING: MANGOLANDIA
Did you ever wake up from the sound of ripe mangos falling on your roof? This bright and sessionable Blonde Ale is Miami Summer in a glass.
Lauren Bernofsky
(b. 1967)

Fanfare
Melancholy Waltz
Totentanz
Dance of the Marionettes
BEER PAIRING: SOUTH COAST IPA
Love hop aroma, but not that lingering bitterness? This full bodied Miami IPA is for you! This beer has the brilliantly fresh nose of an IPA and is balanced by a full malt backbone. Yo quiero una ya!
Wolfgang Amadeus Mozart
(1756-1791)
Arranged by Fen Watkin

Ave verum corpus (Hale, true body), K. 618
BEER PAIRING: LA YUMA AMBER LAGER
Very easy drinking, with a malty finish. You won't want just one!
Giancarlo Castro D'addona
(b. 1980)

Festival Quintet (world premiere of NWS commission)

BEER PAIRING: LULO SOUR
A refreshing sour that surprises with a boost of fruity aromas. It starts fruity-sweet and then turns into a slightly tart and sour finish staying true to Lulo: a Colombian original.
Charlie Rosmarin, drumset