Events & Tickets
Free
Side-by-Side Concert
New World Center
Saturday, April 23, 2022 at 8:00 PM
Program
HOW TO WATCH ON APR 23:
FACEBOOK LIVE    NEW WORLD SYMPHONY   

The Side-by-Side Concert is an extraordinary opportunity for young instrumentalists (grades 7-12) to perform alongside the New World Symphony Fellows. The students share the New World Center's stage and develop musical relationships with the Fellows as they rehearse and perform music of the highest caliber. 
Program
Camargo Guarnieri
(1907-1993)

Three Dances for Orchestra (1941)

Aaron Copland
(1900-1990)

Concerto in A minor for Piano and Orchestra, Op. 16 (1868)

I. Allegro molto moderato
Ludwig van Beethoven
(1770-1827)

Symphony No. 5 in C minor, Op. 67 (1804-08)

Allegro con brio
Andante con moto
Scherzo: Allegro
Allegro
At the New World Center—home of the New World Symphony (NWS), the health and safety of staff, Fellows, visitors and vendors are of paramount importance. NWS continues to closely monitor the latest developments regarding COVID-19 and is committed to following recommendations from health authorities and to proactively implement measures to help maintain a safe workplace. 
Due to significantly reduced COVID-19 community transmission rates, the New World Symphony has made the following updates to its safety protocols:  
As of March 21, 2022, masks are no longer required at the New World Center. NWS encourages guests to continue to wear masks as an added precaution. Guests are also no longer required to provide a negative COVID-19 test or proof of vaccination for entry to the New World Center.  
These protocols are for all New World Symphony events at the New World Center. Third-party clients may choose to implement other protocols. Please check each event page for more information. By attending events at the New World Center, you voluntarily accept responsibility for all risks related to exposure to COVID-19. 
Mei-Ann Chen, conductor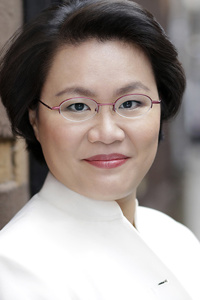 Innovation, imagination, passion and dynamism are the hallmarks of Taiwanese-American conductor Mei-Ann Chen. Music Director of the MacArthur Award-winning Chicago Sinfonietta since 2011, Ms. Chen is Austria's Recreation Grosses Orchester Graz Chief Conductor, a post she was named to in fall 2021 after two seasons as the orchestra's first-ever Principal Guest Conductor (making her the first female Asian conductor to hold this position with an Austrian orchestra). Ms. Chen also has served as Artistic Director & Conductor for the National Taiwan Symphony Orchestra Summer Festival 2016 - 2021 and as the first-ever Artistic Partner of Houston's ROCO (River Oaks Chamber Orchestra).  A sought-after guest conductor acclaimed for infusing orchestras with energy, enthusiasm, high-level music-making and galvanizing audiences and communities alike, Ms. Chen is known as a compelling communicator. She has appeared with distinguished orchestras throughout the Americas, Europe, Taiwan, the United Kingdom and Scandinavia, and continues to expand her relationships with orchestras worldwide (over 110 orchestras to date). Recent highlights include debuts with the New York Philharmonic, Austria's Tonkünstler in Vienna's Musikverein and engagements with Finland's Helsinki Philahrmonic, Ireland's Ulster Orchestra, Sweden's Norrlandsosper, Norwegian Radio Orchestra and Taiwan Philharmonic. Ms. Chen also served on the jury for the prestigious Malko Competition in 2021. Honors and awards include being named one of Musical America's 2015 Top 30 Influencers; 2012 Helen M. Thompson Award from the League of American Orchestras; winner, 2007 Taki Concordia Fellowship founded by Marin Alsop; 2005 First Prize Winner of the Malko Competition (first woman to win in the history of the competition) and ASCAP awards for innovative programming.
Lilli Theisen, piano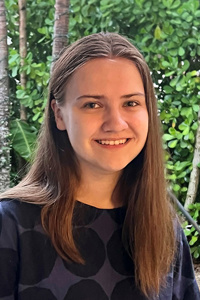 Lilli Theisen is an eleventh-grade student at Dreyfoos School of the Arts, majoring in piano. She started studying piano at the age of six at the Conservatory of Turku, Finland. Since 2017 she has studied with Dr. Irena Kofman and currently studies with Dr. Luca Cubisino at the Frost Advanced Piano Program at the University of Miami. She has also received guidance from internationally acclaimed concert pianists Mackenzie Melemed and Paavali Jumppanen. 
Ms. Theisen has taken part in several master classes both in the U.S. and Europe. She has successfully participated in local and international piano competitions, most recently placing first in both the Side-by-Side Concerto Competition at the New World Symphony and the Greater Miami Youth Symphony Concerto Competition in 2022. She was also a prizewinner in the Frost International Young Artist Competition (2021) and the International Northern Lights Piano Festival (2021). 
Ms. Theisen is actively involved with local organizations including the Finlandia Foundation Florida Chapter, performing at annual events with both solo music and ensembles. After high school, she would like to continue her music studies in either the U.S. or Europe. 
Chad Goodman, conductor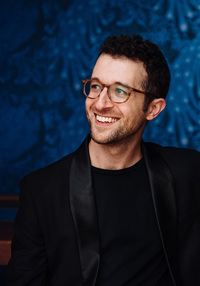 With a flair for inventive programming and a bold presence on stage and in the community, Chad Goodman has been praised for "bringing innovation to classical music" (Forbes).
As the Conducting Fellow of the New World Symphony, Mr. Goodman conducts on subscription, education, family and holiday programs. His program, "SPARK: How Composers Find Inspiration," blended captivating light design and videography with engaging audience participation to explore how a composition is created and brought to life by an orchestra.
Since 2018 Mr. Goodman has served as an Assistant Conductor to the San Francisco Symphony, assisting Esa-Pekka Salonen, Manfred Honeck, Daniel Harding, Pablo Heras-Casado, Simone Young and James Gaffigan among others.
Mr. Goodman's 2022-23 Season will include debut appearances with the Elgin Symphony, Baton Rouge Symphony, Greensboro Symphony and San Francisco Chamber Orchestra.
As Founder and Artistic Director of Elevate Ensemble, Mr. Goodman's ambitious vision for concert programming resulted in the pairing of music from Bay Area composers with underappreciated gems of the 20th and 21st centuries. Under his leadership, Elevate Ensemble established a Composer-in-Residence program and commissioned fifteen works from Bay Area composers. Elevate collaborated with photographers, videographers, poets and culinary artists, bringing new music and vibrant multi-genre experiences to unique venues such as yoga studios, historic Victorian homes and art studio warehouses.
Mr. Goodman has previously served as Conducting Fellow of Festival Napa Valley, Music Director of the Contra Costa Chamber Orchestra, Conducting Fellow of the Atlantic Music Festival, and a rehearsal and cover conductor for the San Francisco Ballet.
In addition to his performing career, he teaches young musicians the business and entrepreneurial skills needed to successfully navigate the world as a working musician in his workshop "You Earned a Music Degree. Now What?"
Mr. Goodman holds a bachelor of music degree from the Eastman School of Music and a master of music degree from San Francisco State University. His mentors include Michael Tilson Thomas, Alasdair Neale, Cyrus Ginwala and Martin Seggelke.
2022 Side-by-Side Musicians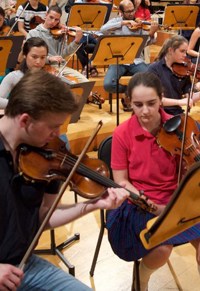 Violin
Robert Aguila
Ian Barnett
Angelo Chen
Raveena Cherry
Isabel Diaz, concertmaster
Gabriel Figueroa
Ava Gunter
Mia Hakkarainen
Dante Jordan
Amanda Marcy
Saiya Mittal
Melissa Percilla
Odelette Redila
Leonardo Rincon
Richard Tijerino
David Xiao
Trinity Williamson
Andrew Zhu
Viola
Sofia Arcila
Jeffrey Bai
Julianna Bramble
Branden Cabrera
Alondra Damian-Noyola
Robert Fornos
Alexandra Perez
Joshua Roman
Cello
Sihwan Cheng
* Jonathan Entenza
Sophia Figueroa
Javier Hernandez
Silvia Elena Hernandez
Sara Robbins
Brian Rubio
Adam Vuong
Curtis Wu
Bass
Brandon Garcia
Kevin Porter
Flute
Alliese Bonner
Olivia Campo
Kara Ravaschieri
Oboe
Ellen Dahlstrom
David Feijoo
Clarinet
Jose Aguilar
Diego Florez-Saavedra
Lucas Netto
Bassoon
Raisa Carrillo
Brian Fadel
Horn
Guilherme Cooper
Arturo Dekle
Nathan Goldin
Nicholas Valencia
Trumpet
Benjamin Black
Gabriel Johnson
Trombone
Aaron Abbey
Timpani
Samuel Schwartz
Percussion
Daniel Aloni
Phillip Margolis

* 2022 Side-by-Side Concerto Runner-Up and 2020 Concerto Competition Winner