Events & Tickets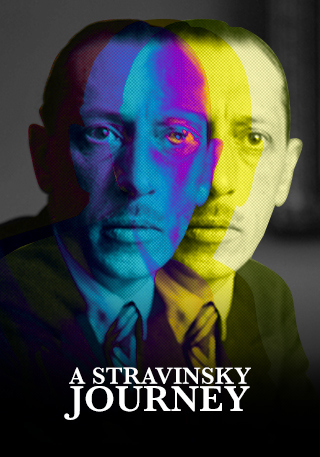 Special Event
A STRAVINSKY JOURNEY
New World Center
Saturday, January 25 at 7:30 PM
Program
Michael Tilson Thomas celebrates one of the greatest composers of the 20th century, his mentor Igor Stravinsky. Step right up for the carnivalesque Petrushka as it delves into
a tale of puppets, ballerinas and more with Stravinsky's signature flair and jaunting rhythms. After settling in Los Angeles, Stravinsky adopted the Hollywood sound of his new home in his Symphony in Three Movements. He wrote his final orchestral work, Variations, for friend and author Aldous Huxley.
Tickets no longer available online.
Program
Igor Stravinsky
(1882-1971)
Approx. Duration: 5 minutes

Variations: Aldous Huxley in Memoriam (1963-64)

Igor Stravinsky
(1882-1971)
Approx. Duration: 20 minutes

Symphony in Three Movements (1942-45)

Allegro
Andante – Interlude
Con moto
Igor Stravinsky
(1882-1971)
Approx. Duration: 34 minutes

Petrushka (1910-11; 1947 version)

The Shrovetide Fair
Petrushka's Room
The Moor's Room
The Shrovetide Fair (Toward Evening)
Igor Stravinsky
Variations: Aldous Huxley in Memoriam (1963-64)

Approximate duration: 5 minutes
Nearly 60 years separated the first orchestral music by Igor Stravinsky, written while he was a student of Rimsky-Korsakov in Imperial Russia, and his last orchestral score, completed in his Hollywood home while movies like The Sound of Music filmed nearby. Reaching so many highpoints during those dizzying decades of change, it would have been understandable if Stravinsky had gotten stuck—as the colorful Russian folklorist who wrote The Firebird in 1910, or the sharp-elbowed modernist responsible for The Rite of Spring in 1913, or the suave neoclassicist who evolved from the whimsical ballet Pulcinella in 1920 to the thoroughly Mozartean opera The Rake's Progress that debuted in 1951.
In the wake of that operatic triumph, during Stravinsky's first return visit to Europe since before World War II, the elder statesman made a horrifying realization: Young composers had lost interest in him. You could call it a bruised ego, or an artist's need for growth, but either way it spurred Stravinsky to reinvent himself yet again, embracing the serial (i.e. 12-tone) techniques that had grown out of the works of Schoenberg. In 1963 he was building a set of orchestral variations around those serial principles when he learned of the death of his good friend Aldous Huxley, the British author of Brave New World who had also decamped to Southern California. Huxley died on the day of Kennedy's assassination, and that other great loss led Stravinsky to pause his Variations to write a tribute to the fallen president. When he returned to his work-in-progress, he added the subtitle Aldous Huxley in Memoriam as a tribute, even if it did not reshape his original plan for the music.
Like most everything Stravinsky had written since World War I, the musical textures of the Variations are as dry and combustible as kindling, changing directions capriciously and advancing arguments through strings of short, fragmented gestures. Even though this wasn't born as ballet music, Stravinsky's longtime collaborator George Balanchine recognized the dancing qualities that were always latent in this composer's orchestral works, leading him to use it as the score for Variations, choreographed in 1966 for The New York City Ballet.
Igor Stravinsky
Symphony in Three Movements (1942-45)

Approximate duration: 20 minutes
The ravages of World War II and complications in international copyright law separated Stravinsky, newly settled in Los Angeles, from his old-world income sources. This was a period when he wrote incongruous works of "popular" music, including a polka for the elephants of the Barnum & Bailey Circus. Like so many other expatriate composers in California, he also considered scoring films, but none of those projects came to fruition. Stravinsky claimed that portions of his Symphony in Three Movements began as sketches for film music, but over the course of three years the work grew into a stark and powerful orchestral work, approaching a level of turbulence not heard in Stravinsky's music since The Rite of Spring 30 years earlier.
Stravinsky actually had The Rite of Spring back on his desk in 1943 to undertake a revision of the climactic Sacrificial Dance, an excerpt that makes heavy use of the same minor-third interval that also dominates the opening movement of the Symphony in Three Movements. The fractured rhythms and transparent layers resemble Stravinsky's other neoclassical works from that time, including the Symphony in C, but this wartime work strips out the sunny triads and breezy melodies that might otherwise lighten the mood or create some ironic distance.
After the piano takes a leading role in the first movement, the harp rises to the foreground for the Andante middle movement. This more placid music had its origins in an abandoned film score meant to underscore an apparition of the Virgin Mary.
Beginning without a pause, the third movement opens with a grotesque march that Stravinsky acknowledged as "a musical reaction to the newsreels and documentaries that I had seen of goose-stepping soldiers." The piano and harp both return for prominent solos, helping to initiate a fugue and a final arrival that marks Stravinsky's "exuberance in the Allied triumph."
Igor Stravinsky
Petrushka (1910-11; 1947 version)

Approximate duration: 34 minutes
After the smash success of The Firebird in 1910, Stravinsky proposed creating another over-the-top score for the Ballets Russes, this one based on prehistoric pagan sacrifice, an idea that would soon become The Rite of Spring. But first, as he later recorded in his autobiography, "I wanted to refresh myself by composing an orchestral piece in which the piano would play the most important part." The music he conceived brought to mind "a distinct picture of a puppet, suddenly endowed with life, exasperating the patience of the orchestra with diabolical cascades of arpeggi."
When Serge Diaghilev, the impresario behind the Ballets Russes, visited Stravinsky in Switzerland, he heard those first sketches and, as Stravinsky remembered it, "He was so much pleased with it that he would not leave it alone and began persuading me to develop the theme of the puppet's sufferings and make it into a whole ballet." Together they shaped a plot: "The fair, with its crowd, its booths, the little traditional theater, the character of the magician, with all his tricks; and the coming to life of the dolls—Petrushka, his rival and the dancer—and their love tragedy, which ends with Petrushka's death."
Petrushka debuted in Paris on 1911, and its intoxicating synthesis of music, sets, costumes and choreography (with the legendary Vaslav Nijinsky dancing the title role) exemplified everything that made the Ballet Russes a modern sensation. The version of Petrushka heard here features a slightly reduced orchestration that Stravinsky prepared in 1947, which had the practical effect of renewing his copyrights and royalties after his immigration to the United States.
The outer scenes of Petrushka transpire in the fairgrounds, while the two central episodes occur in the cells of Petrushka and the Moor, rivals for the affection of the Ballerina—three puppets magically animated and imbued with human emotions. In the final scene, the Moor kills Petrushka, and the ballet ends with the ghost of Petrushka taunting the magician who created him.
A signature sound in the ballet is the superimposition of two clashing triads, their root notes separated by the pungent interval of an augmented fourth. This ambiguous "Petrushka" chord appears near the beginning of the second tableau: Listen for the rising triads from two clarinets, starting a few measures after the barrage from a military drum. The bitonal sound mirrors the predicament of Petrushka, who exists in two different worlds (human and puppet) and belongs in neither.
                                                                                                                                                                -- © 2020 Aaron Grad
Aaron Grad is a composer, guitarist and writer based in Seattle. Besides providing program notes for the New World Symphony, he has been the Orpheus Chamber Orchestra's program annotator since 2005 and also contributes notes to the Saint Paul Chamber Orchestra and Seattle Symphony.
Michael Tilson Thomas, conductor
Michael Tilson Thomas is Co-Founder and Artistic Director of the New World Symphony, America's Orchestral Academy; Music Director of the San Francisco Symphony; and Conductor Laureate of the London Symphony Orchestra. In addition to these posts, he maintains an active presence guest conducting with the major orchestras of Europe and the United States.
Born in Los Angeles, Mr. Tilson Thomas is the third generation of his family to follow an artistic career. His grandparents, Boris and Bessie Thomashefsky, were founding members of the Yiddish Theater in America. His father, Ted Thomas, was a producer in the Mercury Theater Company in New York before moving to Los Angeles where he worked in films and television. His mother, Roberta Thomas, was the head of research for Columbia Pictures.
Mr. Tilson Thomas began his formal studies at the University of Southern California where he studied piano with John Crown and conducting and composition with Ingolf Dahl. At age 19 he was named Music Director of the Young Musicians Foundation Debut Orchestra. He worked with Stravinsky, Boulez, Stockhausen and Copland on premieres of their compositions at Los Angeles' Monday Evening Concerts. During this same period he was the pianist and conductor for Gregor Piatigorsky and Jascha Heifetz.
In 1969, after winning the Koussevitzky Prize at Tanglewood, he was appointed Assistant Conductor of the Boston Symphony Orchestra. That year he also made his New York debut with the Boston Symphony and gained international recognition after replacing Music Director William Steinberg in mid-concert. He was later appointed Principal Guest Conductor of the Boston Symphony Orchestra where he remained until 1974. He was Music Director of the Buffalo Philharmonic from 1971 to 1979 and a Principal Guest Conductor of the Los Angeles Philharmonic from 1981 to 1985. His guest conducting includes appearances with the major orchestras of Europe and the United States.
His recorded repertoire of more than 120 discs includes works by composers such as Bach, Beethoven, Mahler, Prokofiev and Stravinsky as well as his pioneering work with the music of Charles Ives, Carl Ruggles, Steve Reich, John Cage, Ingolf Dahl, Morton Feldman, George Gershwin, John McLaughlin and Elvis Costello. He also recorded the complete orchestral works of Gustav Mahler with the San Francisco Symphony.
Mr. Tilson Thomas' television work includes a series with the London Symphony Orchestra for BBC Television, the television broadcasts of the New York Philharmonic Young People's Concerts from 1971 to 1977 and numerous productions on PBS' Great Performances. Mr. Tilson Thomas and the San Francisco Symphony produced a multi-tiered media project, Keeping Score, which includes a television series, web sites, radio programs and programs in schools.
In 1990 Mr. Tilson Thomas and the New World Symphony were presented in a series of benefit concerts for UNICEF in the United States, featuring Audrey Hepburn as narrator of From the Diary of Anne Frank, composed by Mr. Tilson Thomas and commissioned by UNICEF. This piece has since been translated and performed in many languages worldwide. In August 1995 he led the Pacific Music Festival Orchestra in the premiere of his composition Showa/Shoah, commemorating the 50th anniversary of the bombing of Hiroshima. Thomas Hampson premiered his settings of poetry by Walt Whitman, Renée Fleming premiered his settings of the poetry of Emily Dickinson and the San Francisco Symphony premiered his concerto for contrabassoon entitled Urban Legend. As a Carnegie Hall Perspectives Artist from 2003 to 2005, he had an evening devoted to his own compositions which included Island Music for four marimbas and percussion, Notturno for solo flute and strings and a new setting of poems by Rainer Maria Rilke. Other compositions include Street Song for brass instruments and Agnegram, an overture for orchestra.
Among his many honors and awards, Mr. Tilson Thomas is a Chevalier dans l'ordre des Arts et des Lettres of France, was Musical America's Musician of the Year and Conductor of the Year, Gramophone Magazine's Artist of the Year and has been profiled on CBS's 60 Minutes and ABC's Nightline. He has won 11 Grammy Awards for his recordings. In 2008 he received the Peabody Award for his radio series for SFS Media, The MTT Files. In 2010 President Obama awarded him the National Medal of Arts, the highest award given to artists by the United States Government.