Events & Tickets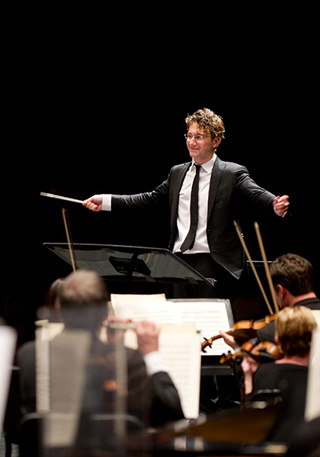 Orchestra Concert,Special Event
AN AMERICAN MUSICAL JOURNEY
New World Center
Saturday, October 29 at 7:30 PM
New World Symphony alumnus and Music Director of the Louisville Orchestra, Teddy Abrams returns to lead An American Musical Journey, an evening-long exploration of America's musical history. The three-part program will consider American folk music and its influence on classical composers, with works by Aaron Copland, Charles Ives and performances of Bluegrass music; the jazz tradition with performances of spirituals, a Scott Joplin piano rag, Louis Prima's New Orleans-style jazz, a standard by Herbie Hancock, and Prelude Fugue and Riffs—Leonard Bernstein's take on jazz for the concert hall; and rock, pop and techno-influenced music by Mason Bates, John Adams and Steve Reich. 
Join select NWS Fellows at 6:30 PM for a special Pre-Concert Chat about the evening's program. For ticketholders only.
Journey Concerts are flowing explorations of a composer or type of music, which also showcase the versatility of the New World Center's performance hall. Using both its main stage and multiple smaller stages, they are continuous performances that transition from one stage to the next, enveloping the audience in the music. Journey Concerts are approximately three hours in length.
Program
PART I: AMERICAN FOLK
AARON COPLAND                          Buckaroo Holiday from Rodeo (1942)
(1900-1990)
EDGAR MEYER                                Concert Duo for Violin and Bass (1999)
(b. 1960)                                              I.
                                                            Ludek Wojtkowski, violin; Drew Banzhaf, bass
ALTON DELMORE                           "Mississippi Shore"
RABON DELMORE
(1908-1964)/(1916-1952)
ANONYMOUS                                  "The Blackest Crow"
ANONYMOUS                                  "Salt River"
ANONYMOUS                                  "Duck River"
                                                            Brittany Haas, fiddler/vocalist and Nathaniel Wolkstein, fiddler
                                                          Hannah Nicholas, viola; Jordan Tice, guitar/vocalist        
CHARLES IVES                                  Three Places in New England (1911-13)
(1874-1954)                                         II. Putnam's Camp, Redding, Connecticut
                                                              III. The Housatonic at Stockbridge
                                             I N T E R M I S S I O N
PART II: AMERICAN JAZZ
ANONYMOUS                                  "Witness"
                                                            Catherine Russell, vocalist; Aya Yamamoto, piano
SCOTT JOPLIN                                  Swipsey Cakewalk (1900)
ARTHUR MARSHALL
(1868-1917)/(1881-1968)              John Wilson, piano
LOUIS PRIMA                                   "Sing, Sing, Sing" (1936)
(1910-1978)
Arranged by Teddy Abrams
ANTHONY NEWLEY and                "Feelin' Good" (1964)
LESLIE BRICUSSE
(1931-1999)/(b. 1931)                   Catherine Russell, vocalist
Arranged by Teddy Abrams
HERBIE HANCOCK                          "Cantaloupe Island" (1964)
(b. 1940)
                                                            Ansel Norris, trumpet; Kelton Koch, trombone
                                                            Teddy Abrmas, piano; Daniel Morris, drumset
                                                            Kevin Gobetz, bass
LEONARD BERNSTEIN                   Prelude, Fugue and Riffs (1949)
(1918-1990)
                                                            Zach Manzi, clarinet                                                    
                                             I N T E R M I S S I O N
PART III: AMERICAN ROCK/POP/TECHNO
JOHN ADAMS                                  Lollapalooza (1995)
(b. 1947)                                              
STEVE REICH                                    New York Counterpoint (1984)
(b. 1936)
                                                            Teddy Abrams, Ran Kampel
                                                            Zach Manzi, Daniel Parrette, clarinet
MASON BATES                                Warehouse Medicine from The B-Sides (2009)
(b. 1977)
TEDDY ABRAMS                              Overture in Sonata Form (2014)
(b. 1987)
AN AMERICAN MUSIC JOURNEY
Selecting a representative cross-section of American music is as impossible as identifying one typical American population or painting one composite American landscape. This is a land where, apart from Native traditions, no music has been here longer than a few hundred years, and new sounds are constantly arriving and swirling together. Even the symphony orchestra, the primary vehicle for this journey through American music, is an Old World vessel retooled for a changing musical arsenal. In this program we will explore three traditions that have profoundly influenced American composers—folk, jazz and rock—and yet even these distinctive strands are hardly separate. Ultimately, the only given within American music is its diversity, emerging from a melting pot that makes ever more sense in a global, post-stylistic world.
PART I: AMERICAN FOLK
Once Aaron Copland, the American son of Russian-Jewish immigrants, graduated from high school in Brooklyn, any future steps in his composition studies leaned toward Europe. Sure, there were distinguished American composers active in higher education, like George Chadwick at the New England Conservatory or Horatio Parker at Yale, but the truth was that those Americans had trained in Europe—and their music sounded like it. After studying privately for several years with another American educated in Europe, Rubin Goldmark, Copland left for Paris in 1921 to learn firsthand.
For the next three years, Copland studied with Nadia Boulanger, the legendary French teacher who helped composers figure out how to be themselves. (She went on to teach such diverse musicians as the American minimalist Philip Glass and the Argentinian master of "new tango" Ástor Piazzolla.) Copland came home in 1924 under the sway of the spiky neoclassical style that was then sweeping Paris, but in time he found his way to an authentically American sound palette. The shift began with El Salón México, a campy orchestral score from 1936 inspired by Copland's first trips south of the border. For the ballet Billy the Kid from 1938, Copland wove quotations of cowboy songs and Mexican folk tunes into a wide, spacious landscape.
Copland's embrace of Americana peaked during World War II, when he created such works as Fanfare for the Common Man, Lincoln Portrait and the ballets Rodeo (1942) and Appalachian Spring (1944). The selection known as Buckaroo Holiday from Rodeo depicts the buckaroos (slang for cowboys) gathering for a Saturday rodeo and dance, in which we can hear the trotting of their bucking broncos, along with some quotations from American folk music. One example, "Sis Joe," was actually a railroad work song that the musicologists John and Alan Lomax recorded in 1935 in a Mississippi prison, as sung by a man listed only as "Bowlegs." The other folk song Copland used, "If He'd Be a Buckaroo," came from a recording Alan Lomax made of a man from Idaho singing and playing guitar. Copland's rendition, with a solo trombone accompanied by guitar-like figures from bassoon and strings, captures the same lazy twang.
As effective as it was when Copland interacted with American folk music, he was still coming from an outsider's perspective, harvesting samples from scholarly recordings and printed sheet music. The same cannot be said for Edgar Meyer, the composer from Tennessee who was fluent enough in authentic Bluegrass styles to win a fiddle competition as a young man—playing on his bass. In the first movement from his Concert Duo for Violin and Bass, which he composed in 1999 and recorded with violinist Joshua Bell on the album Short Trip Home, Meyer incorporated the slurs, slides and double-stops that allow his virtuosic chamber music to sound completely natural next to other tracks played with bluegrass heavy-hitters Sam Bush and Mike Marshall. 
The irony in exploring American folk music is that these styles traveled intact from other places not so very long ago. In the American south, settlers from the British Isles brought violins and their traditions of dancing to fiddle tunes; meanwhile slaves recreated an African stringed instrument that evolved into the banjo. Add some guitar (originally from Spain) and the breakneck rhythms of ragtime (another African-American development) and the ingredients blend into the collective style of playing and improvising known as Bluegrass, named after a widespread species of grass that was, coincidentally, also transplanted by European settlers.
The country duo of Alton and Rabon Delmore, performing and recording as The Delmore Brothers, helped popularize the warm, old-timey sound of singing in close harmony over the steady strum of an acoustic guitar played with a flat pick. They co-wrote "Mississippi Shore" and recorded it in 1947. Other songs have much older pedigrees, like "The Blackest Crow," an Appalachian ballad that uses a tune traced back to 18th-century England. The anonymous tune "Salt River" probably takes its name from a river in Kentucky; another tune from the oral tradition, "Duck River," is named for a scenic waterway in Tennessee.
A generation before Copland, one serious American composer found a way to shuck off all that European baggage—but like the proverbial tree falling in the forest, there was nobody there to hear it. Charles Ives first got a taste for church hymns and patriotic tunes growing up in Connecticut, where his father was a bandmaster. Ives studied at Yale and found a job as a church organist, but in 1902, just as his music was veering away from established norms, he chose the professional path of an insurance man. He made a fortune and became an industry leader, and still he kept up his composing in his spare time, creating and continually revising iconoclastic manuscripts that would not be heard for decades.
Some of the material included in Three Places in New England may have originated as early as 1903. Ives developed the work as a set of three movements, each based on a particular location, and he completed a version for full orchestra in 1914. The score languished for 15 years, by which point Ives had come to the attention of Henry Cowell, a younger American composer sympathetic to Ives' maverick tendencies. Cowell persuaded the conductor Nicolas Slonimsky, head of the Boston Chamber Orchestra, to program something by the unknown "amateur" composer from Danbury, Connecticut. Slonimsky conducted the first public performance in 1931, at a concert in New York's Town Hall financed by Ives himself.
The second movement, titled Putnam's Camp, Redding, Connecticut, pays tribute to the site of a Revolutionary War encampment set up by General Israel Putnam, and it showcases Ives' penchant for collage-like quotations from well-known tunes, including "Yankee Doodle" and "The Star-Spangled Banner." Ives recycled much of this music from an earlier composition titled Country Band March, an image that recalls those bands Ives' father used to parade around the town.
The third movement, The Housatonic at Stockbridge, was inspired by a walk Ives took with his wife, Harmony, on their honeymoon in the Berkshires in 1908. One musical ingredient he borrowed was a 19th-century American hymn tune—"Dorrnance" by Isaac Woodbury—but perhaps the deeper influence over this meditative movement was the philosophy of the Transcendentalists whom Ives so admired, those American trailblazers who taught how self-reliance and communing with nature could be a spiritual practice.

PART II: AMERICAN JAZZ
The most important developments in American music cannot be separated from their terrible origins. Before rock and roll, before rhythm and blues, before jazz, before ragtime, before minstrel songs, slaves preserved what they could of traditions descended from Africa by embedding them within the cultural expressions that were allowed them. After forced conversions to Christianity, for example, church singing became a vehicle for collective expression and coded communication in the form of spirituals.  The anonymous spiritual heard here, "Witness," is a classic example of Bible lessons on faith and strength being rendered in the imploring, repeated tropes of the pentatonic mode.
Another remnant of slavery was a spirited, high-stepping dance known as the cakewalk, which might have come in part from black dancers imitating the formal steps of white, ex-European dance styles like the minuet. The cakewalk eventually crossed over into popular culture, reaching its peak around the turn of the 20th century in everything from Broadway shows to sheet music published for amateurs to play at home. It was for the latter purposes that Scott Joplin and Arthur Marshall, two African-American composers based in St. Louis, Missouri, co-wrote the Swipesy Cakewalk in 1900. Marshall wrote most of the music, but after the runaway success of Joplin's Maple Leaf Rag from 1899, his name got top billing. The one section he wrote (listen for a melody that sounds a lot like his next big hit, The Entertainer) stands out for its syncopated rhythms, carving the smooth dance strides of the cakewalk into the off-kilter "ragged time" or "ragtime" performance style.
In New Orleans, where there was already a long tradition of music played by bands made up of brass, woodwinds and drums (including the "second line" music within funeral processions), black bandleaders like Buddy Bolden and Louis Armstrong brought the jagged rhythms and improvisatory flair of ragtime onto the bandstand, and what we know as jazz was born. White musicians soon gravitated to the same practices and capitalized on their greater market access, as was the case with Louis Prima, an Italian-American from New Orleans whose work as a singer, bandleader and composer tracked popular trends decade after decade, from swing band maestro in the 1930s to Las Vegas crooner in the 1960s. He wrote and recorded "Sing, Sing, Sing" in 1936, but it was the instrumental recording made the next year by clarinetist Benny Goodman and his band that most people know as the ultimate anthem of the swing years.
A related stream of American music that came out of the deep south is one best defined not by any one sound but by a feeling: the blues. For a style that encompasses everything from the solo slide guitarists of the Mississippi delta to the blaring electric bands of Chicago, the telltale signs of the blues are the aching tension of certain "blue notes" in a scale (particularly the flattened third, fifth and seventh tones) and a general attitude of world-weariness. The British songwriting team of Anthony Newley and Leslie Bricusse nailed that sound and sentiment in a show tune from 1964 titled "Feelin' Good", which makes plain in its minor-key angst that the "freedom" of a "new dawn" and "new life" are hard-earned. The American jazz singer Nina Simone made the definitive recording of the song in 1965.
Jazz in its many forms was America's popular music for decades, but a rift began to open up when popular tastes turned to rock and roll, a process that was irreversible after The Beatles descended on the United States in 1964. That was the same year that Herbie Hancock, the young pianist who had recently joined the Miles Davis Quintet, released his own album that included the track "Cantaloupe Island." This song, with its modal chord changes and wide-open spaces for improvisation, is exploratory and unscripted, a direction that would only go further as jazz left the pop charts and dance halls and became its own form of art music that demanded and deserved careful listening. And yet at the same time, the song's groove—played with straight eighth-notes instead of the swing rhythms that had long defined jazz—is undeniably fresh and funky, an early sign that jazz could borrow as much from contemporary pop music as it had from show tunes for the previous 50 years.
The fascination with classical-jazz hybrids is almost as old as jazz itself. Early experiments included Milhaud's The Creation of the World in 1923 and Gershwin's Rhapsody in Blue in 1924. Jazz composers like Benny Goodman and Duke Ellington began developing longer and more complex compositions, and both presented landmark concerts at Carnegie Hall (in 1938 and 1943, respectively), proving that a jazz big band could rival a symphony orchestra as a vehicle for large-scale instrumental music. When Leonard Bernstein tried his hand at composing for jazz band in 1949, he had already proven that his talents ranged from crafting a symphony to writing a hit Broadway show. He was not an improvising jazz musician himself, but he wrote Prelude, Fugue and Riffs to feature the clarinetist Woody Herman and his band. That group dissolved before it could play Bernstein's score, so the premiere had to wait until a television broadcast in 1955 with Benny Goodman.
The scoring reflects a typical big band from the swing era: five trumpets, four trombones, five saxophones and a rhythm section of piano, bass and drums. The prelude, featuring the brass, is a kaleidoscopic mash-up that channels Baroque fanfares à la Gabrieli, Stravinsky's fragmented neoclassicism and torchy licks straight out of a burlesque hall. Next the saxophones dive directly into their loose approximation of a fugue, borrowing motives from the prelude and whipping them into a contrapuntal frenzy. The piano takes over the rapid "oom-pah" pulse established by the saxophones, and the solo clarinet enters with the first of the riffs from the work's closing section. The phrases circulate through the ensemble in deft exchanges that manage, through precise notation, to convey the spontaneity and looseness of a top-flight dance band.

PART III: AMERICAN ROCK/POP/TECHNO
Rock music and its infinite subgenres have dominated American pop charts since the 1960s, and all the while its seductive beats and electrified tones have been filtering into the language of American composers. Rock grew out of the electrified blues played by African-American guitarists including Muddy Waters, Chuck Berry and Bo Diddley; some of the transformation into rock and roll occurred stateside (i.e. Bill Haley and Elvis Presley), but real rock attitude was born in England through bands like The Rolling Stones and The Yardbirds (and of course The Beatles), which brought their take on American rhythm and blues music back to the United States during the "British Invasion" of the 1960s.
For a baby boomer such as John Adams, such music was a familiar part of the cultural landscape, but it was not always acceptable for elite composers to acknowledge it in any way. Radical young musicians challenged that taboo and others in the 1960s, and a new style dubbed "minimalism" emerged, with its grooving ensembles and psychedelic patterns disrupting the orthodoxy of rigorous serial composition. Adams left the East Coast and embraced an austere minimalist style in his early works, but over time his sound has expanded into something more lush and inclusive. There is still plenty of minimalism's churning repetition and cyclical layering present in his splashy orchestral showpiece Lollapalooza, composed in 1995 as a birthday present for the conductor Simon Rattle. The entire score is an onomatopoeic play on the sound of the word "lollapalooza," which Adams defined as "something large, outlandish, oversized, not unduly refined. H.L. Mencken suggests it may have originally meant a knockout punch in a boxing match."
Steve Reich was one of those pioneers who paved the way for Adams and future generations. While living in San Francisco and driving a taxi to support himself, Reich created his first breakthrough works by experimenting with looping on a tape recorder. He eventually returned to his native New York, where he formed his own large group and developed the techniques of canon, counterpoint and pulsing that fueled such landmark compositions as Music for 18 Musicians from 1976. New York Counterpoint, from 1985, was part of a series that brought together Reich's early interest in tape recording and phasing operations with the breadth of his music for large ensemble. Written after Vermont Counterpoint (for flute) and before Electric Counterpoint (for guitar), New York Counterpoint followed the same principle in which a live solo instrumentalist would perform over pre-recorded layers. When Richard Stoltzman gave the first performance in New York in 1986, he was accompanied by ten tracks of his own recordings on clarinet and bass clarinet. (The work can also be played with more live clarinetists, as in this performance.) The homogeneity of the sound, especially in the initial pulsing section, creates a strange paradox in which the many human tones combine into something that almost sounds electronic, like an effect from a synthesizer. Compared to the smooth consonance typical of Reich's music, the fast third movement is quite cheeky and jazzy, the swinging licks well suited to the clarinet with its long jazz history.
The 21st century has brought a new wave of young composers who embrace their polyglot tastes and technological fluency. One standout, Mason Bates, is best known for his orchestral scores that merge the infectious beat of electronica with the sumptuous textures of a symphony orchestra. In many of his works he adds a laptop to the familiar orchestral instrumentation, triggering pre-recorded sounds and percussive beats from a digital sampler. In Warehouse Medicine from The B-Sides, a five-movement suite composed in 2009 for Michael Tilson Thomas and the San Francisco Symphony, the acoustic-electric music pays tribute to the birthplace of techno—an electronic, DJ-driven style of music first heard at dance parties held in the 1980s in Detroit's shuttered warehouses.
Tonight's conductor, former New World Symphony Conducting Fellow Teddy Abrams, like his mentor Michael Tilson Thomas, is a multiple threat as a conductor, pianist and composer. They also share a tradition (one that goes back to Leonard Bernstein before them) of daring to compose music that is fun and irreverent, putting the great collective resources of the orchestra to use in unexpected ways. There is no false advertising in Abrams' Overture in Sonata Form from 2014, which does in fact utilize the formal structure that has been well defined since Haydn's time, but listeners are more likely to notice the funky drumming, bluesy licks, and Latin jazz patterns than the deft modulations between key centers. 
This journey through the American musical landscape has been a tangled and non-linear story, one that offers insight into some of our darkest chapters while also showcasing the optimism of a young and ambitious society. American composers have really only had one good century to make sense of their musical rootstock, with amazing results to date; the next century is sure to bring an even brighter future for homegrown music, in and out of the concert hall. 
Additional Resources 
Online score for Copland's Rodeo (as marked by Leonard Bernstein)
Information on John and Alan Lomax, the great collectors of American folk music
Live performance of Edgar Meyer's Concert Duo featuring NWS Bass Fellow Timothy Dilenschneider
PDF score for Ives' Three Places in New England
Detailed program note on Three Places in New England, including Ives' own introductory comments
History of jazz and its origins in New Orleans
The current issue of Prelude, Fugue & Riffs – the title of the newsletter produced by Leonard Bernstein's estate
Program note and video interview about Lollapalooza on John Adams' website
Program note and technical information about The B-Sides on Mason Bates' website
PBS web video about Teddy Abrams' work in the city of Louisville
-- Copyright © 2016 Aaron Grad 
Aaron Grad is a composer, guitarist and writer based in Seattle. Besides providing program notes for the New World Symphony, he has been the Orpheus Chamber Orchestra's program annotator since 2005 and also contributes notes to the Saint Paul Chamber Orchestra and Seattle Symphony.