Events & Tickets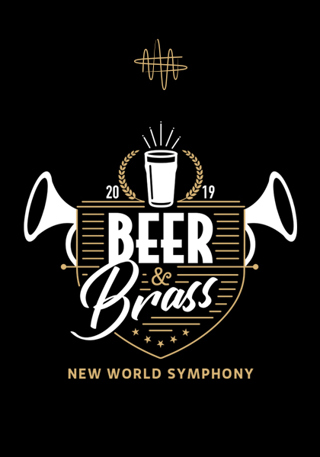 Special Event
BEER AND BRASS
New World Center, SunTrust Pavilion
Wednesday, April 17 at 7:30 PM
Program
Sponsored by:

Explore the notes of taste and sound in this adventurous evening hosted by five NWS Brass Fellows. Beer and Brass will feature a recital of brass quintet works by Shostakovich, NWS's own Michael Tilson Thomas and original works by two of the performers. This set of fanfares and jazzy beats will be paired with five different beers by Veza Sur, Wynwood's Latin Craft Brewery and Bar. Ticket includes a souvenir pint glass. 
Ticketholders must be at least 21 years old and present a valid ID at the door.   
About the Project
Beer and Brass is a 
NWS BLUE Project
. These projects are made possible with support from the Maxine and Stuart Frankel Foundation and the American Orchestras' Futures Fund, a program of the League of American Orchestras made possible by funding from the Ann & Gordon Getty Foundation.
Tickets no longer available online.
Program
New World Fanfare (2018; world premiere of NWS commission)

Michael Praetorius
(1571-1621)
Arranged by Karl Kramer

Dances from Terpsichore (1612)

Ballet des Coqs
Ballet
Courante
La Bourée
BEER PAIRING: ARROZ CON MANGO
What happens when you brew with rice flakes, mango, ginger and habanero? Our Cuban friends would call that un Arroz con Mango. Try this aromatic Strong Ale with a warming aftertaste.
Dmitri Shostakovich
(1906-1975)
Arranged by Johannes C. Schott

Waltzer
Polka
Foxtrot (Blues)
BEER PAIRING: NO RESERVATIONS MIAMI IPA
Love hop aroma, but not that lingering bitterness? This full bodied Miami IPA is for you! This beer has the brilliantly fresh nose of an IPA and is balanced by a full malt backbone. Yo quiero una ya!
Steven Franklin
(b. 1995)

Three Romances for Brass Quintet (2017)

Elegy
Intermezzo
Finale
BEER PAIRING: LA YUMA DARK LAGER
Munich meets the Caribbean: A satisfying, yet refreshing Lager with just the right amount of color and malt flavor. Keeps you coming back for more…
Allegro
Allegro vivace
Andante
Allegro
BEER PAIRING: TRIGO IPA
For IPA lovers: a hoppy and bitter IPA with a prominent aroma from Nugget, Citra and Galaxy hops. We added some wheat for extra mouthfeel and complexity.
Michael Tilson Thomas
(b. 1944)

BEER PAIRING: PER'LA COFFEE PORTER
Our traditional porter, cold-infused with a custom blend of medium and dark roasted Brazilian coffee. Its rich and smooth roast flavor will have you ditching your afternoon cafecito.