Events & Tickets
Orchestra Concert
BEETHOVEN AND BARBER
New World Center
Friday, January 12 at 7:30 PM
Program
Robert Spano, celebrated Music Director of the Atlanta Symphony, and world-renowned pianist Yefim Bronfman join forces for an unforgettable evening at the New World Center. Ludwig van Beethoven shed the cheery brightness of his first two piano concertos to embrace the moody minor-key emotionalism in his third. Hailed as "a marvel of digital dexterity and jaw-dropping bravura" by the Chicago Tribune, Bronfman shines in Beethoven's masterpiece. Samuel Barber's First Symphony packs a punch, compressing the power of four movements into one. This dramatic gem by a beloved American composer is alive with energy and soaring lyricism.
Program
Samuel Barber
(1910-1981)
Approx. Duration: 20 minutes

Symphony No. 1, Op. 9 (1935-36)

Ludwig van Beethoven
(1770-1827)
Approx. Duration: 34 minutes

Concerto No. 3 in C minor for Piano and Orchestra, Op. 37 (1800-03)

Allegro con brio
Largo
Rondo: Allegro
Samuel Barber
Symphony No. 1, Op. 9 (1935-36)

Approximate duration: 20 minutes
A prodigious composer and pianist, Samuel Barber enrolled in the founding class at Philadelphia's Curtis Institute of Music at the age of 14. He went on to win the American Academy's Rome Prize, which bankrolled his Italian residency from 1935 to 1937. During that time Barber composed his First Symphony, a breakout work that received performances in Rome, Cleveland, New York and Salzburg within a year. The conductor Arturo Toscanini was among those who heard the Symphony in Salzburg, and he assured Barber's rise to national prominence when he featured the Adagio for Strings on an NBC radio broadcast in 1938.
Barber employed an unusually compact form for his First Symphony. Two centuries earlier, it was common for a sinfonia (as Italian opera overtures were labeled) to consist of three linked sections. In time, and with the addition of a minuet, this structure grew into the familiar four-movement symphony. Twelve years before Barber, Jean Sibelius crafted his Seventh Symphony in one continuous movement, a model that may have informed the younger composer's approach.
Barber's First Symphony begins with a customary exposition, which establishes its themes and tonal centers. The first main theme, proclaimed over a drone in an expressive fortissimo by most of the strings and various woodwinds, imparts a powerful, ritualistic attitude.
For the contrasting theme, set over another droning figure, the initial sonority of the English horn doubled by the violas creates a mystical, Eastern-oriented tone color.
Instead of proceeding through the expected development and recapitulation, the two main themes inform episodes that take the place of a Symphony's middle movements. First a running theme in the strings (a faster cousin of the work's opening melody) initiates a nimble scherzo.
Then a section marked Andante tranquillo (At a walking pace, tranquil) brings an oboe solo that elaborates the lyrical theme introduced earlier by its alto sibling, the English horn.
The Symphony's final section reunites the themes in a passacaglia, a Baroque form with a recurring ground bass, a pattern first heard in the cellos and basses.
Additional Resources
Online score from publisher G. Schirmer
A more technical program note on the Symphony by Barber
Recorded interview with composer Gian-Carlo Menotti, Barber's life partner and the dedicatee of the First Symphony
Ludwig van Beethoven
Concerto No. 3 in C minor for Piano and Orchestra, Op. 37 (1800-03)

Approximate duration: 34 minutes
When Beethoven left his hometown of Bonn for Vienna at the age of 21, his patron, Count Ferdinand von Waldstein, sent him this blessing: "May you receive Mozart's spirit from the hands of Haydn." Mozart had died a year earlier, but his spirit still pervaded Vienna, especially for Beethoven, who entered the freelance scene as a keyboard virtuoso, just like Mozart had a decade earlier. When Beethoven began composing piano concertos to feature his own talents, he naturally modeled his style after Mozart, whose 27 examples set the standard for generations to come.
Beethoven wrote the bulk of the Third Piano Concerto in 1800, in time for a major debut concert in Vienna (in the very same venue where Mozart used to present new concertos), but he chose to play an earlier concerto instead. After a few more years of tinkering, Beethoven unveiled the new Concerto on an 1803 program that also included the premieres of his Second Symphony and the oratorio Christ on the Mount of Olives, as well as a reprise performance of the First Symphony. 
The Concerto's opening measures have a balanced, Classical flavor, with a definitive statement from the strings countered by a questioning response from the winds. 
The first three notes, forming a rising C-minor triad, plainly imitate the figure that begins Mozart's own C minor Piano Concerto, K. 491. This ascending triad, along with the timpani-like alteration at the end of the phrase, inspires countless new permutations, especially in the free-roaming development section.  
When the central Largo enters, its first E major chord could hardly be more alien, or more luminous. The piano issues its intimate melody alone, in a whispering pianissimo dynamic and in a totally foreign key, as if it has left the Concerto and entered its own fantasy. 
This quality of wonderment spills over into the orchestral material as well. A particularly striking exchange occurs when the flute and bassoon trade childlike melodies over a simple plucked background, while the piano issues gusts of sound blurred by the sustain pedal. 
The finale returns to the home key with a theme that lands heavily on an unresolved A-flat—the very same pitch that, respelled as G-sharp, gave the slow movement its defining characteristic of E-major. (It is essentially a musical pun, exploiting a pitch that means one thing in the context of C minor and something very different in the context of E major). 
Later in the movement, some harmonic sleight-of-hand transforms A-flat back into G-sharp once more, and the key of E returns briefly to put a radiant new sheen on the movement's central theme. 
Additional Resources
PDF score from the IMSLP Petrucci Music Library
Audio guide to the concerto from BBC Radio 3
Foreword (in German, English and French) to the critical edition published by G. Henle Verlag
-- Copyright © 2018 Aaron Grad
Aaron Grad is a composer, guitarist and writer based in Seattle. Besides providing program notes for the New World Symphony, he has been the Orpheus Chamber Orchestra's program annotator since 2005 and also contributes notes to the Saint Paul Chamber Orchestra and Seattle Symphony. 
Robert Spano, conductor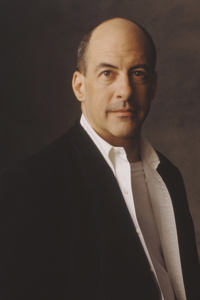 Robert Spano—conductor, pianist, composer and teacher—is known worldwide for the intensity of his artistry and distinctive communicative abilities, creating a sense of inclusion and warmth among musicians and audiences that is unique among American orchestras. After 20 seasons as Music Director, he will continue his association with the Atlanta Symphony Orchestra as Music Director Laureate. An avid mentor to rising artists, he is responsible for nurturing the careers of numerous celebrated composers, conductors and performers. As Music Director of the Aspen Music Festival and School since 2011, he oversees the programming of more than 300 events and educational programs for 630 students and young performers. Principal Guest Conductor of the Fort Worth Symphony Orchestra since 2019, Mr. Spano became Music Director Designate on April 1, 2021, and begins an initial three-year term as Music Director in August 2022. He will be the 10th Music Director in the orchestra's history, which was founded in 1912.           
For the 2021-22 season, Mr. Spano will continue with the Atlanta Symphony Orchestra (ASO), sharing the role of artistic advisor with Principal Guest Conductor Donald Runnicles, extending their unique 20-year musical partnership. To celebrate the return to live performances, Mr. Spano will launch the new season on September 9, 10 and 11, 2021, with an Opening Night program of Beethoven's iconic Fifth Symphony and "Emperor" Concerto with Avery Fisher Prize winner Garrick Ohlsson as soloist.         
In addition to his leadership of the ASO, Mr. Spano recently returned to his early love of composing. His most recent work is a song cycle on Rilke's Sonnets to Orpheus that he wrote for mezzo-soprano Kelley O'Connor. In 2016 he premiered his Sonata: Four Elements for piano at the Aspen Music Festival, and a song cycle, Hölderlin-Lieder, for soprano Jessica Rivera. Those works were recorded on the ASO Media label and praised by Oberon's Grove: "On this latest release, from ASO, we experience Spano as both an imaginative and evocative composer - with a special gift for writing for the voice - and a poetic pianist."            
The Atlanta School of Composers reflects Mr. Spano's commitment to American contemporary music. He has led ASO performances at Carnegie Hall, Lincoln Center and the Ravinia, Ojai and Savannah music festivals. Guest engagements have included the Cleveland, Philadelphia and Minnesota orchestras; New York and Los Angeles philharmonics; and the San Francisco, Boston, Chicago, Dallas, Houston, New World, San Diego, Oregon, Utah and Kansas City symphonies. Internationally, Mr. Spano has led the Orchestra Filarmonica della Scala, BBC Symphony, Amsterdam's Royal Concertgebouw Orchestra, Orquestra Sinfonica Brasileira, Orquestra Sinfonica Estado Sao Paulo, Wroclaw Philharmonic, the Melbourne and Sydney symphonies in Australia and the Saito Kinen Orchestra in Japan. His opera performances include Covent Garden, Welsh National Opera, Lyric Opera of Chicago, Houston Grand Opera, and the 2005 and 2009 Seattle Opera productions of Wagner's Ring cycles.   
With a discography of critically acclaimed recordings for Telarc, Deutsche Grammophon and ASO Media, Mr. Spano has garnered four Grammy Awards and eight nominations with the Atlanta Symphony. He is on faculty at Oberlin Conservatory and has received honorary doctorates from Bowling Green State University, Curtis Institute of Music, Emory University and Oberlin. Mr. Spano is one of two classical musicians inducted into the Georgia Music Hall of Fame and makes his home in Atlanta and Fort Worth.
Yefim Bronfman, piano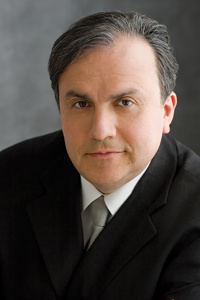 Internationally recognized as one of today's most acclaimed and admired pianists, Yefim Bronfman stands among a handful of artists regularly sought by festivals, orchestras, conductors and recital series. His commanding technique, power and exceptional lyrical gifts are consistently acknowledged by the press and audiences alike. 
In recognition of a relationship of more than 30 years, Mr. Bronfman joined the Israel Philharmonic conducted by Zubin Mehta for concerts during the orchestra's U.S. tour in the fall including Carnegie Hall, followed by concerts in Munich, London and Vienna with the Bayerischer Rundfunk Orchestra and Mariss Jansons, another frequent partnership and collaborator. In addition to returns to the orchestras of New York, Cleveland, Los Angeles, Philadelphia, Pittsburgh, Washington, Indianapolis and Toronto, he will tour with the Vienna Philharmonic and Andrés Orozco-Estrada in a special program celebrating his 60th birthday in the spring. In Europe he can also be heard in Berlin with the Philharmonic as well as in recital; Italy, France, Belgium, Germany and London also in recital; and on tour with the Leipzig Gewandhaus Orchestra conducted by Andris Nelsons. A tour in Asia with the London Symphony and Gianandrea Noseda brings the season to a close in June. 
Mr. Bronfman works regularly with an illustrious group of conductors, including Daniel Barenboim, Herbert Blomstedt, Semyon Bychkov, Riccardo Chailly, Christoph von Dohnányi, Gustavo Dudamel, Charles Dutoit, Daniele Gatti, Valery Gergiev, Alan Gilbert, Mariss Jansons, Vladimir Jurowski, Zubin Mehta, Riccardo Muti, Andris Nelsons, Yannick Nézet-Séguin, Sir Simon Rattle, Esa-Pekka Salonen, Franz Welser-Möst and David Zinman. Summer engagements have regularly taken him to the major festivals of Europe and the U.S. Always keen to explore chamber music repertoire, his partners have included Pinchas Zukerman, Martha Argerich, Magdalena Kožená, Anne-Sophie Mutter, Emmanuel Pahud and many others. 
Mr. Bronfman has also given numerous solo recitals in the leading halls of North America, Europe and the Far East, including acclaimed debuts at Carnegie Hall in 1989 and Avery Fisher Hall in 1993. In 1991 he gave a series of joint recitals with Isaac Stern in Russia, marking Mr. Bronfman's first public performances there since his emigration to Israel at age 15. That same year he was awarded the prestigious Avery Fisher Prize, one of the highest honors given to American instrumentalists. In 2010 he was honored as the recipient of the Jean Gimbel Lane prize in piano performance from Northwestern University. 
Widely praised for his solo, chamber and orchestral recordings, Mr. Bronfman has been nominated for six Grammy Awards, winning in 1997 with Esa-Pekka Salonen and the Los Angeles Philharmonic for their recording of the three Bartók Piano Concertos. His prolific catalog of recordings includes works for two pianos by Rachmaninoff and Brahms with Emanuel Ax, the complete Prokofiev concertos with the Israel Philharmonic and Zubin Mehta, a Schubert/Mozart disc with the Zukerman Chamber Players and the soundtrack to Disney's Fantasia 2000. His most recent CD releases include the 2014 Grammy-nominated recording of Magnus Lindberg's Piano Concerto No. 2 commissioned for him and performed by the New York Philharmonic with Alan Gilbert on the Da Capo label; Tchaikovsky's Piano Concerto No. 1 with Mariss Jansons and the Bayerischer Rundfunk; a recital disc, Perspectives, complementing Mr. Bronfman's designation as a Carnegie Hall 'Perspectives' artist for the 2007-08 season; and recordings of all the Beethoven piano concertos as well as the Triple Concerto together with violinist Gil Shaham, cellist Truls Mørk, and the Tönhalle Orchestra Zürich under David Zinman for the Arte Nova/BMG label. 
Now available on DVD are Mr. Bronfman's performances of Liszt's Second Piano Concerto with Franz Welser-Möst and the Vienna Philharmonic from Schoenbrunn, 2010 on Deutsche Grammophon; Beethoven's Fifth Piano Concerto with Andris Nelsons and the Royal Concertgebouw Orchestra from the 2011 Lucerne Festival; Rachmaninoff's Third Concerto with the Berlin Philharmonic and Sir Simon Rattle on the EuroArts label and both Brahms Concertos with Franz Welser-Möst and The Cleveland Orchestra (2015). 
Born in Tashkent in the Soviet Union, Mr. Bronfman immigrated to Israel with his family in 1973, where he studied with pianist Arie Vardi, head of the Rubin Academy of Music at Tel Aviv University. In the United States, he studied at The Juilliard School, Marlboro School of Music and Curtis Institute of Music, under Rudolf Firkusny, Leon Fleisher and Rudolf Serkin. He is a 2015 recipient of an honorary doctorate from the Manhattan School of Music. 
Mr. Bronfman became an American citizen in July 1989.
Dean Whiteside, conductor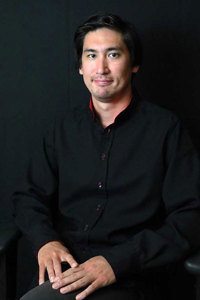 Dean Whiteside was born in New York City and trained in Vienna at the University of Music and Performing Arts. He is a former New World Symphony Conducting Fellow. Mr. Whiteside is founder and director of the Nashville Sinfonietta, hailed by The Tennessean as "a virtuoso band." He opened the Blair School of Music's 2013-14 season directing a multimedia realization of Haydn's Seven Last Words of Our Savior on the Cross called "innovative" by The Tennessean and "deeply meditative and satisfyingly original" by ArtsNash. 
Mr. Whiteside's European debut came in 2011 after winning the Jorma Panula Blue Danube Masterclass and Competition. He has conducted orchestras such as the Boston Symphony, Danish National Symphony, Jacksonville Symphony, Juilliard Orchestra, Opéra Orchestre National Montpellier, Orlando Philharmonic, Polish Baltic Philharmonic, Sibiu Philharmonic, Tonhalle Orchestra Zurich, Tokyo Philharmonic, Wiener Kammerorchester and Zagreb Philharmonic, as well as the Vanderbilt Orchestra on a five-city tour of China. He has served as Cover Conductor to the Dallas Symphony and San Francisco Symphony.
Mr. Whiteside is the winner of the American Prize in Conducting and received second prize and the Zagreb Philharmonic Orchestra Award at the Sixth International Competition of Young Conductors Lovro von Matačić. Other awards include the 2017 Mahler Conducting Fellowship, Bruno Walter Memorial Foundation Conducting Scholarship, Croatian Composers' Society Award, David Effron Conducting Fellowship, Bayreuth Festival Scholarship and David Rabin Performance Prize. He has received fellowships from the Aspen Music Festival, Atlantic Music Festival, Cabrillo Festival of Contemporary Music and Castleton Festival.
Mr. Whiteside has worked closely with such conductors as Bertrand de Billy, Fabio Luisi, Lorin Maazel, Jun Märkl, Kurt Masur, Jorma Panula, Leonard Slatkin and Robert Spano. He began his conducting studies with Robin Fountain at Vanderbilt University.