Events & Tickets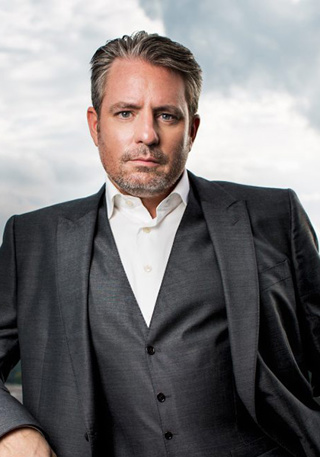 Orchestra Concert
BEETHOVEN'S SEVENTH
New World Center, Michael Tilson Thomas Performance Hall
Friday, November 16 at 7:30 PM
Saturday, November 17 at 7:30 PM
Program
Come be spellbound by musical storytelling led by famed international conductor Roberto Abbado. Experience Beethoven's dramatic Seventh Symphony in person as it transforms sorrow into joy. Forever a classical music favorite, it has found fame in pop culture from Seinfeld to The King's Speech. Ralph Vaughan Williams drew upon his studies with Maurice Ravel in setting A.E. Housman's lovelorn poems, sung here by acclaimed American lyric tenor Matthew Polenzani, who stops in Miami for these two evenings amidst a season of engagements at the Lyric Opera of Chicago, Teatro Massimo di Palermo, two roles at The Metropolitan Opera and one at the San Francisco Opera, where the San Francisco Chronicle hails as "a wonderfully fresh and robust voice, with clarion top notes and a gift for sweet phrasing." Maurice Maeterlinck's Pelléas and Mélisande cast a spell on many composers, and Gabriel Faure's masterpiece is so poignant it was played at his own funeral.
COMPOSE YOUR OWN SUBSCRIPTION PACKAGE!
Choose this plus two more concerts to customize your own subscription. It's the ultimate flexibility with all the subscriber benefits, including free exchanges when plans change! Click or call the NWS Box Office at 305.673.3331 to create your own series today.
Program
Gabriel Fauré
(1845-1924)
Approx. Duration: 19 minutes

Suite from Pelléas et Mélisande, Op. 80 (1898)

Prélude
Fileuse
Sicilienne
The Death of Mélisande
Ralph Vaughan Williams
(1872-1958)
Approx. Duration: 21 minutes

On Wenlock Edge for Tenor and Orchestra (1908-09; arranged 1923)

"On Wenlock Edge"
"From far, from eve and morning"
"Is my team ploughing?"
"Oh, when I was in love with you"
"Bredon Hill"
"Clun"
Ludwig van Beethoven
(1770-1827)
Approx. Duration: 36 minutes

Symphony No. 7 in A major, Op. 92 (1811-12)

Poco sostenuto – Vivace
Allegretto
Presto – Assai meno presto
Allegro con brio
Gabriel Fauré
Suite from Pelléas et Mélisande, Op. 80 (1898)

Approximate duration: 19 minutes
In his early 50s, Gabriel Fauré finally began to enjoy the recognition at home in France and abroad that had eluded him during his long decades working in obscurity as an organist, choirmaster and piano teacher. He began to teach composition at the Paris Conservatory, and he cultivated patrons in places like London, where he was introduced to a distinguished actress, Mrs. Patrick Campbell. Despite the very tight deadline, Fauré accepted Campbell's invitation to compose incidental music for an upcoming production: the first English staging of Pelléas et Mélisande by Maurice Maeterlinck.
From the moment it premiered in Paris in 1893, Pelléas et Mélisande became an icon of the Symbolist movement, which sought to use the surface level of words and their phonetic sounds to expose deeper, seemingly inexpressible layers of truth and feeling. Debussy, a Symbolist acolyte, began that same year to convert the play into an opera, although it took until 1902 for his version to reach the stage. And Debussy was in fact Campbell's first choice for the incidental music, but he declined, leading to Fauré's late involvement. (The list of great composers who engaged with Pelléas et Mélisande continued to expand, with Schoenberg creating a symphonic poem in 1903 and Sibelius producing another suite of incidental music in 1905.)
Using orchestrations prepared by his student Charles Koechlin, Fauré conducted the musical numbers that contributed to a well-received London production. He went on to re-orchestrate several selections for a slightly larger orchestra to create the Suite from Pelléas et Mélisande, initially heard in a three-movement version in 1901, and later expanded to the four-movement version played here.
The suite's Prélude originally served as the play's overture, setting the mood with a theme that matches the dreamy, fairytale atmosphere of the drama.
Near the end, calls from a hunting horn place the scene in the woods, where the king's grandson is soon to discover the beautiful Mélisande.
The title of the second section, Fileuse, is French for "spinner," and it corresponds to a scene in which Mélisande works at a spinning wheel. Slurred triplets from muted violins approximate the wheel's swift revolutions.
The third excerpt is a Sicilienne, one of the dance styles that flourished in the French court in the time of Louis XIV. Fauré actually recycled this music from an abandoned suite for the 17th-century play Le bourgeois gentilhomme.
The closing movement, originally the prelude to the play's final act, foreshadows the death of Mélisande. The dirge-like music serves as a haunting echo of the Sicilienne, starting with the flutes playing in their lowest range and the clarinets contributing anguished, chromatic harmonies.
Ralph Vaughan Williams
On Wenlock Edge for Tenor and Orchestra (1908-09; arranged 1923)

Approximate duration: 21 minutes
In the 16th and 17th centuries, England produced some of the world's finest composers, including Thomas Tallis (c. 1505-1585), John Dowland (1563-1626) and Henry Purcell (1659-1695). After Purcell, foreigners like Handel and Haydn dominated the local scene, and it took another 200 years for the next wave of major British composers to emerge. The dry spell finally broke around the turn of the 20th century, led by Edward Elgar, Gustav Holst and Ralph Vaughan Williams.
Vaughan Williams understood that a thriving English music could not just mimic continental styles—even though he sought out Bruch in Germany and Ravel in France to study their crafts thoroughly. The seeds of Vaughan Williams' distinctly British voice came, as he wrote in 1912, from the sounds of everyday life all around him, "for instance, the lilt of the chorus at a music hall joining in a popular song, the children dancing to a barrel organ, the rousing fervour of a Salvation Army hymn, St. Paul's and a great choir singing in one of its festivals, the Welshmen striking up one of their own hymns whenever they win a goal at the international football match, the cries of the street pedlars, the factory girls singing their sentimental songs."
On Wenlock Edge, a song cycle on poems by the English poet A. E. Housman (1859-1936), stands as one of the first and finest examples of Vaughan Williams's mature voice. He completed the score shortly after his consultations with Ravel, and the fluttering string parts and modal harmonies point to that modern French influence. (This orchestral arrangement from 1923 expands the original scoring of tenor, piano and string quartet). Still this work has an authentically British voice steeped in folksong, perfectly suited to the pastoral charms of the poems originally published in Housman's enormously popular collection from 1896, A Shropshire Lad. Instrumental tone painting embeds the listener within the vivid outdoor scenes, from the brisk gusts in the opening title song to the sweetly pealing bells in Bredon Hill.
Ludwig van Beethoven
Symphony No. 7 in A major, Op. 92 (1811-12)

Approximate duration: 36 minutes
In 1811 the ailing Beethoven took his doctor's advice and summered in the Bohemian spa town of Teplitz. The trip succeeded in refreshing Beethoven's health and spirits, and soon he started on a new symphony, his first in three years. With the Napoleonic Wars disrupting concert life in Vienna, the Seventh Symphony did not reach the public until the end of 1813, at a benefit concert for wounded soldiers.
The Symphony begins with an introduction, the structure favored by Haydn in his late symphonies. Typically this would be a slow introduction, but Beethoven's Poco sostenuto tempo has an unusual forward drive, its momentum reinforced by rising scales.
The introduction is also of an unprecedented length, lasting nearly four minutes before a single pitch repeats obsessively until it spills over into the Vivace continuation, set in a rollicking triple meter infused with the snap of dotted rhythms.
The second movement again defies the expectation of slow music, appearing as a nimble Allegretto in A minor. It explores a distinctive rhythmic stamp (long, short-short, long, long), advancing a simple theme while expanding the scoring from lower strings to the full orchestra.
A contrasting major-key variation intervenes twice, but variants of the opening figure return each time as the heartbeat of the music, even when it is reduced to a skeletal final statement.
The third movement is a scherzo in all but name, Beethoven's supercharged answer to Haydn's minuets. It features cheeky rhythmic play and sudden dynamic contrasts, as would be expected from a palate-cleansing third movement.
More surprising is the strangely earnest Trio section, with winds intoning a hymn-like chorale over droning violins.
Instead of the typical three-part structure in which the Trio appears once as a central departure, here it sounds twice and even echoes one last time in the movement's coda.
The finale ushers in more foot-stomping rhythmic drive, pounding hard on the accented off-beats.
It is no wonder that Richard Wagner called this symphony "the apotheosis of the dance"—each movement is a celebration of relentless, infectious rhythms.

-- Copyright © 2018 Aaron Grad
Aaron Grad is a composer, guitarist and writer based in Seattle. Besides providing program notes for the New World Symphony, he has been the Orpheus Chamber Orchestra's program annotator since 2005 and also contributes notes to the Saint Paul Chamber Orchestra and Seattle Symphony.
Roberto Abbado, conductor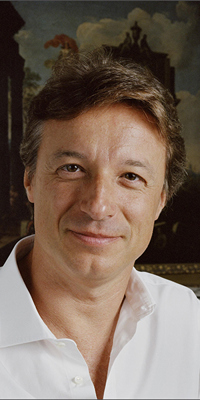 Roberto Abbado, awarded the prestigious Premio Abbiati by the Italian Music Critics Association for his "accomplished interpretative maturity, the extent and the peculiarity of a repertoire where he has offered remarkable results through an intense season," is Musical Director of the Palau de les Arts Reina Sofia in Valencia. He studied orchestral conducting under Franco Ferrara at the Teatro La Fenice in Venice and at the Accademia Nazionale di Santa Cecilia in Rome, where he was invited—the only student in the history of the Academy—to lead the Orchestra di Santa Cecilia. He made his American debut in 1991 in New York conducting the St. Luke's Orchestra. Since then he has returned regularly to the United States to lead the orchestras of Boston, Philadelphia, Chicago, Cleveland, San Francisco, as well as the Los Angeles Philharmonic and Saint Paul Chamber Orchestra—of which he is one of the "Artistic Partners"—working with soloists like Yo-Yo Ma, Midori, Nigel Kennedy, Gil Shaham, Joshua Bell, Hilary Hahn, Vadim Repin, Sarah Chang, Yefim Bronfman, Mitsuko Uchida, Alfred Brendel, Radu Lupu, André Watts, Andras Schiff, Lang-Lang and Katia and Marielle Labèque.
Mr. Abbado was Musical Director of the Münchner Rundfunkorchester from 1991 to 1998, completing seven album recordings with the orchestra. He has worked with many ensembles, including Amsterdam's Concertgebouworkest, Vienna Symphony, Orchestre National de France, Orchestre de Paris, Staatskapelle Dresden, Gewandhausorchester (Leipzig), NDR Sinfonieorchester (Hamburg), Sveriges Radios Symfoniorkester (Stockholm), Israel Philharmonic, Orchestra di Santa Cecilia, Orchestra del Maggio Musicale Fiorentino, Orchestra Sinfonica Nazionale della Rai, Filarmonica della Scala, Orchestra of Teatro Comunale di Bologna, Atlanta Symphony, Cincinnati Symphony, New World Symphony, Minnesota Orchestra, Malaysian Philharmonic and Taipei Symphony.
Mr. Abbado has conducted numerous new opera productions and world premieres, including Fedora and Ernani at the Metropolitan Opera in New York; I Vespri Siciliani at the Wiener Staatsoper; La Gioconda, Lucia di Lammermoor, La Donna del Lago, and the world premiere of Fabio Vacchi's Teneke at La Scala; The Love for Three Oranges, Aida and La Traviata at the Bayerische Staatsoper; Le Comte Ory, Attila, I Lombardi alla Prima Crociata, The Barber of Seville, Henze's Phaedra—at its Italian premiere—and Anna Bolena at the Maggio Musicale Fiorentino; Don Giovanni at the Deutsche Oper Berlin; Simon Boccanegra, and La Clemenza di Tito at the Teatro Regio of Turin; La Donna del Lago at the Opéra Garnier in Paris; Ermione, Zelmira, and Mosè in Egitto at the Rossini Opera Festival; the Italian premiere of Marschner's Der Vampyr at the Teatro Comunale in Bologna.
A passionate interpreter of contemporary music, Mr. Abbado's repertoire includes composers like Luciano Berio, Bruno Maderna, Goffredo Petrassi, Sylvano Bussotti, Niccolò Castiglioni, Azio Corghi, Ivan Fedele, Luca Francesconi, Giorgio Battistelli, Michele dall'Ongaro, Giacomo Manzoni, Salvatore Sciarrino, Fabio Vacchi, Pascal Dusapin, Henri Dutilleux, Olivier Messiaen, Alfred Schnittke, Hans Werner Henze, Helmut Lachenmann, John Adams, Ned Rorem, Christopher Rouse, Steven Stucky and Charles Wuorinen.
Mr. Abbado's recordings include Bellini's I Capuleti e i Montecchi (nominated Best Recording of the Year by BBC Magazine in 1999), Rossini's Tancredi (winner of the Echo Klassik Deutsche Schallplattenpreis in 1997), Don Pasquale with Eva Mei and Renato Bruson, Turandot with Eva Marton, Ben Heppner and Margaret Price. Under Decca he has recorded Verismo Arias with Mirella Freni, L'Amour and Arias for Rubini with Juan Diego Flórez. With Deutsche Grammophon he has issued Bel Canto (Echo Klassik Deutscher Schallplattenpreis 2009) with Elina Garanča, and a DVD of Fedora with Mirella Freni and Placido Domingo from New York's Metropolitan Opera. Mr. Abbado was the first Italian conductor to lead the traditional New Year's Concert at La Fenice in Venice in 2008 (Hardy Classic Video DVD). Three DVDs from the Rossini Opera Festival in Pesaro have also been issued: Ermione, under the label Dynamic; Zelmira with Juan Diego Flórez, Kate Aldrich and Gregory Kunde under Decca; Mosè in Egitto with Sonia Ganassi, Dmitry Korchak, Riccardo Zanellato and Alex Esposito under Opus Arte.
Particularly significant are Mr. Abbado's symphonic tours with the Israel Philharmonic Orchestra (Spain, 2005), the Chamber Orchestra of Europe (Europe, 2006), the Saint Paul Chamber Orchestra (Europe, 2007), the Maggio Musicale Fiorentino (Bucarest Enescu Festival, 2009), the Orchestra Verdi di Milano (Switzerland, 2009), the Orchestre Philharmonique de Monte-Carlo (Russia, 2011), and the Boston Symphony (U.S., 2011).
During recent seasons he has conducted La Gioconda (staged by Pier Luigi Pizzi) and Maometto II at the Teatro dell'Opera di Roma; he has opened two seasons of the Teatro Comunale di Bologna conducting Macbeth (staged by Robert Wilson) and Parsifal (staged by Romeo Castelucci); Così fan Tutte—a new production staged by Davide Livermore at the Teatro Petruzzelli in Bari, La Traviata (staged by Ferzan Özpetek) on a tour to Hong Kong with the Teatro di San Carlo of Naples.
More recently Mr. Abbado was on the podium of the Salzburg Festival for a concert performance of La Favorite, and has conducted Don Pasquale, Samson and Dalila and A Midsummer Night's Dream at the Palau de les Arts in Valencia, Lucia di Lammermoor and Benvenuto Cellini at the Teatro dell'Opera di Roma, Norma at the Teatro Regio in Turin, Macbeth at the Teatro Comunale di Bologna, Rigoletto at New York's Metropolitan Opera, Simon Boccanegra and a concert dedicated to Verdi and Wagner on a tour to Hong Kong with Turin's Teatro Regio, and Norma at the Teatro Real in Madrid.
Matthew Polenzani, tenor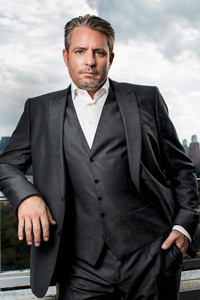 American tenor Matthew Polenzani is one of the most gifted and distinguished lyric tenors of his generation. His elegant musicianship, innate sense of style, dramatic commitment and timeless artistry have established his continued presence at leading operatic, concert and recital venues worldwide.
The 2018-19 season includes a return to Lyric Opera of Chicago in his signature title role of Mozart's Idomeneo, previously praised by The New York Times for his "poignant, gripping performance." He will sing Rodolfo in La bohème at the Teatro Massimo di Palermo. Mr. Polenzani then travels to New York City for his role debut as Vaudémont in Tchaikovsky's Iolanta, as well as the title role of Mozart's La clemenza di Tito at The Metropolitan Opera. Following both engagements, he travels to the San Francisco Opera for his role debut as Don José in Carmen.
Mr. Polenzani's concert appearances this season include a performance of Verdi's Requiem with the Orchestre Métropolitain (Montreal), a recital at Carnegie Hall with his longtime colleague, pianist Julius Drake, and "An Evening with Matthew Polenzani" concert gala for Palm Beach Opera.
In his triumphant 2017-18 season, Mr. Polenzani returned to Lyric Opera of Chicago in two of his signature roles—the Duke of Mantua in Rigoletto and Nadir in Bizet's The Pearl Fishers.  His reprisal of Nemorino in Donizetti's The Elixir of Love at The Metropolitan Opera was praised by The New York Times for his "pliant strength and clarion tone" and was broadcast on PBS and The Met: Live in HD.
Mr. Polenzani's career highlights from recent Metropolitan Opera seasons include the premieres of Bartlett Sher's production of The Elixir of Love and Sir David McVicar's production of Donizetti's Maria Stuarda (issued on DVD by Erato); Willy Decker's production of La traviata, Julie Taymor's staging of The Magic Flute (DVD available from The Metropolitan Opera), and revivals of The Tales of Hoffmann, Rigoletto, Don Pasquale (Deutsche Grammophon DVD release), Don Giovanni, Roméo et Juliette, The Barber of Seville, Così fan tutte, Falstaff, Die Meistersinger von Nürnberg (DVD available from Deutsche Grammophon), and L'Italiana in Algeri. To date, he has starred in more than 300 performances at The Met.
Following Mr. Polenzani's debut as Gérald in Delibes's Lakmé with Opéra National de Bordeaux in France in 1998, he has appeared with major European companies including the Teatro Comunale in Florence, Aix-en-Provence Festival, Opernhaus Zurich, Paris Opera, Bavarian State Opera, Vienna State Opera, Teatro San Carlo, Teatro dell'Opera di Roma, Covent Garden, Frankfurt Opera, Deutsche Oper Berlin, La Scala and Salzburg Festival.
Mr. Polenzani is constantly in demand for concert engagements with the world's most influential conductors, including James Conlon, Sir Colin Davis, Louis Langrée, Jesús López-Cobos, Riccardo Muti, Sir Simon Rattle, Wolfgang Sawallisch, Leonard Slatkin, Michael Tilson Thomas, Franz Welser-Möst and David Zinman. He frequently performs with premiere ensembles in the United States and Europe, including the Berlin Philharmonic, Boston Symphony, Chicago Symphony, Cleveland Orchestra, Los Angeles Philharmonic, New York Philharmonic, San Francisco Symphony, Minnesota Orchestra and Munich Philharmonic.
Mr. Polenzani was the recipient of the 2004 Richard Tucker Award, The Metropolitan Opera's 2008 Beverly Sills Artist Award and a 2017 Opera News Award. An avid golfer, he makes his home in suburban New York with his wife, mezzo-soprano Rosa Maria Pascarella, and their three sons.
Dean Whiteside, conductor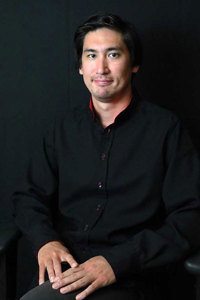 Dean Whiteside was born in New York City and trained in Vienna at the University of Music and Performing Arts. He is a former New World Symphony Conducting Fellow. Mr. Whiteside is founder and director of the Nashville Sinfonietta, hailed by The Tennessean as "a virtuoso band." He opened the Blair School of Music's 2013-14 season directing a multimedia realization of Haydn's Seven Last Words of Our Savior on the Cross called "innovative" by The Tennessean and "deeply meditative and satisfyingly original" by ArtsNash. 
Mr. Whiteside's European debut came in 2011 after winning the Jorma Panula Blue Danube Masterclass and Competition. He has conducted orchestras such as the Boston Symphony, Danish National Symphony, Jacksonville Symphony, Juilliard Orchestra, Opéra Orchestre National Montpellier, Orlando Philharmonic, Polish Baltic Philharmonic, Sibiu Philharmonic, Tonhalle Orchestra Zurich, Tokyo Philharmonic, Wiener Kammerorchester and Zagreb Philharmonic, as well as the Vanderbilt Orchestra on a five-city tour of China. He has served as Cover Conductor to the Dallas Symphony and San Francisco Symphony.
Mr. Whiteside is the winner of the American Prize in Conducting and received second prize and the Zagreb Philharmonic Orchestra Award at the Sixth International Competition of Young Conductors Lovro von Matačić. Other awards include the 2017 Mahler Conducting Fellowship, Bruno Walter Memorial Foundation Conducting Scholarship, Croatian Composers' Society Award, David Effron Conducting Fellowship, Bayreuth Festival Scholarship and David Rabin Performance Prize. He has received fellowships from the Aspen Music Festival, Atlantic Music Festival, Cabrillo Festival of Contemporary Music and Castleton Festival.
Mr. Whiteside has worked closely with such conductors as Bertrand de Billy, Fabio Luisi, Lorin Maazel, Jun Märkl, Kurt Masur, Jorma Panula, Leonard Slatkin and Robert Spano. He began his conducting studies with Robin Fountain at Vanderbilt University.