Events & Tickets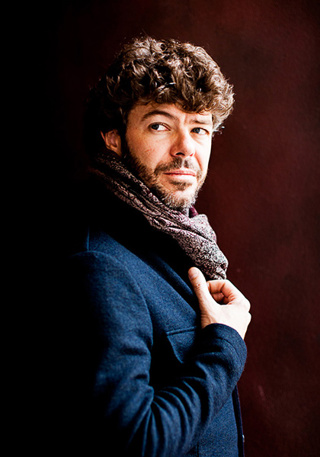 Orchestra Concert
BRAHMS THE ROMANTIC
New World Center
Friday, February 23 at 7:30 PM
Program
Pablo Heras-Casado, whom The New York Times hails as "the thinking person's idea of a hotshot young conductor," returns to the New World Symphony for an evening of luxurious orchestral gems. Johannes Brahms, the ultimate romantic who once felt paralyzed by Beethoven's shadow, found immediate success in his Third Symphony, a rich panorama of endless beauty. György Ligeti's energetic Romanian Concerto channels "the spirit of the village bands" with distant alphorn calls, tantalizing violin solos and a raucous finale. The soaring lushness of Franz Liszt's famous tone poem Les préludes is pure indulgence. Themes of love, destiny, war and the countryside bloom as he muses "what is our life but a series of preludes to that unknown song?"
Tickets no longer available online.
Program
György Ligeti
(1923-2006)
Approx. Duration: 13 minutes

Andantino
Allegro vivace
Adagio ma non troppo
Molto vivace
Franz Liszt
(1811-1886)
Approx. Duration: 16 minutes

Les préludes, S. 97 (1850-55)

Johannes Brahms
(1833-1897)
Approx. Duration: 33 minutes

Symphony No. 3 in F major, Op. 90 (1883)

Allegro con brio
Andante
Poco allegretto
Allegro
György Ligeti
Romanian Concerto (1951)

Approximate duration: 13 minutes
György Ligeti's early compositions drew inspiration from the two titans of modern Hungarian music, Bartók and Kodály, in their explorations of folk materials. When Ligeti composed his Romanian Concerto in 1951, it followed a period of research at the Folklore Institute in Bucharest, where he mined the collection of wax cylinders and records for authentic source material. He also made his own trips into Romanian villages, where he came to know "the common harmonious twists and turns of Romanian peasant music," as he recounted in 2000.
Ligeti might have thought that his stylized renditions of authentic folksongs would be innocuous enough, but during that period of especially tight control of the arts in Hungary, the Romanian Concerto was banned after its first rehearsal. As Ligeti recalled, "The piece turned out to be 'politically incorrect' as a result of some forbidden dissonances… For today's listeners, it is hardly comprehensible that such mild tonal jokes were declared as dangerous to the state." The work was not performed publicly until 1971.
The Romanian Concerto begins with a slow and smooth Andantino movement. The music tends to settle on open-fifth intervals, a stark and raw sound that stays closer to the authentic folk tradition than sanitized triads.
The fast and lively second movement comes out of a tradition of Romanian folk dancing. The passages for solo instruments emphasize the "concerto for orchestra" construct, another element borrowed from Bartók.
In the third movement, Ligeti tapped into his early childhood memories of the alpine horn by calling for the orchestral horns to play only natural harmonics instead of using valves.
The fast finale returns to dancelike elements, but it also builds up swirling layers of fine-grained counterpoint and other experimental sounds, hinting at Ligeti's future on the opposite side of the Iron Curtain.
Additional Resources
Description (in English) and Ligeti's program note (in German) from publisher Schott
Transcript of a 1983 interview with Ligeti, including descriptions of Romania and Hungary
Review of the first recording of the Romanian Concerto, released in 2002
Franz Liszt
Les préludes, S. 97 (1850-55)

Approximate duration: 16 minutes
Franz Liszt, the greatest virtuoso performer of his generation, retired from the concert stage at the age of 35 to focus on conducting, teaching and above all composing. One of his great innovations as a composer, and one that has had a particularly lasting impact, was the development of the symphonic poem: a single-movement composition expressing a story or concept in purely orchestral terms. Previous orchestral composers had incorporated programmatic elements of storytelling, such as Beethoven in the "Pastoral" Symphony No. 6 or Berlioz in the Symphonie fantastique, but they also maintained the recognizable and abstract logic of symphonic structure. Liszt's approach, in his 13 symphonic poems, was to let the extramusical source material shape the form and the development of themes.
The composition that eventually took shape as Liszt's third symphonic poem, Les préludes, had its roots as the overture to an earlier choral cycle, The Four Elements. In a bit of reverse engineering, the title—a reference to a French poem by Alphonse de Lamartine—was appended after Liszt reworked the music into a standalone composition. The first published score included a paraphrase of Lamartine's poem and its major themes of love, fate and struggle:
What else is our life but a series of preludes to that unknown Hymn, the first and solemn note of which is intoned by Death? Love is the glowing dawn of all existence; but what is the fate where the first delights of happiness are not interrupted by some storm, the mortal blast of which dissipates its fine illusions, the fatal lightning of which consumes its altar; and where is the cruelly wounded soul which, on issuing from one of these tempests, does not endeavor to rest his recollection in the calm serenity of life in the fields? Nevertheless, man hardly gives himself up for long to the enjoyment of the beneficent stillness, which at first he has shared in Nature's bosom, and when 'the trumpet sounds the alarm,' he hastens, to the dangerous post, whatever the war may be, which calls him to its ranks, in order at last to recover in the combat full consciousness of himself and entire possession of his energy.
Les préludes begins with a slow introduction that emphasizes a three-note motive heard in the first three bowed notes from the strings and again when the flutes enter.
Tense elaborations of this recurring idea build to a brassy, majestic arrival derived from the same theme.
Yet another variant of the three-note motive blooms into a sweet melody that must surely represent love.
The same pattern, when reframed a faster new tempo, leads into the stormy and conflicted body of the work.
In the end, the familiar motive returns as a triumphant battle cry, augmented by a militaristic percussion arsenal of snare drum, bass drum and cymbals.
Additional Resources
PDF score from the IMSLP Petrucci Music Library
Entire French text of Lamartine's poem
Background on Les préludes and Liszt's symphonic poems from Yale University Library
Johannes Brahms
Symphony No. 3 in F major, Op. 90 (1883)

Approximate duration: 33 minutes
In 1870 Brahms claimed, "I shall never write a symphony! You can't have any idea what it's like always to hear such a giant marching behind you!" The giant in question was Beethoven, and his legacy haunted Brahms, especially in the genres of symphonies and string quartets. Brahms was 40 by the time he released a quartet, and 43 before his First Symphony reached the public. After that tipping point, orchestral music poured out of Brahms' pen, with three more symphonies, three concertos and two overtures coming in the decade that followed.
Brahms composed most of the Third Symphony during his summer vacation in a German spa town in 1883. Within this example of abstract, "pure" music, there are two outside influences that have fascinated musicologists for generations. One is the suggestion that Brahms derived his wide-leaping main theme from alpine yodeling, drawing on his happy memories of other vacations in the Austrian Alps.
Even before that theme begins, three initial chords present the other coded reference, embedded in the top notes that rise from F to A-flat to F again, an octave higher.
Brahms left no definitive comment, but the supposition is that these notes stand in for the initial letters of the German phrase "Frei aber froh" (Free but happy), a riff by Brahms-the-bachelor on the old tagline of his friend Joseph Joachim, the violinist who declared himself "Frei aber einsam" (Free but lonely). In the home key of F major, the A-flat is out of place, shifting the harmony to F minor instead—perhaps adding a question mark to the claim of "Free but happy"? This conflict of major and minor runs throughout the opening movement, as does the three-note motive, which crops up in a variety of contexts and transpositions.
The Andante leaves behind the mixed messages of the opening movement, clearing the air with sweet woodwind chorales and warm echoes from the lower strings.
Still the "Free but happy" motive lingers, as in the last rising answer from the violas before the oboes introduce a new theme.
Rather than a lively scherzo, the Symphony's third movement takes the form of a pensive intermezzo marked Poco allegretto. The rising and falling themes, phrased like questions and answers, continue this Symphony's sense of internal debate.
The contrasting trio section once again toys with the thin margin that separates the minor and major expressions of a chord.
Defying the usual conventions, this F-major Symphony begins its finale in the stark landscape of F minor.
The F – A-flat – F motive returns to settle the matter, with the horns leading the way toward humble woodwind chorales (recalling the second movement) and a drawn-out cadence that traces the "Free but happy" intervals one last time.
Additional Resources
PDF score from the IMSLP Petrucci Music Library
Horn excerpt and recording comparison for a passage featuring the "Free but happy" motive
Review comparing major recordings of the Third Symphony
-- Copyright © 2018 Aaron Grad
Aaron Grad is a composer, guitarist and writer based in Seattle. Besides providing program notes for the New World Symphony, he has been the Orpheus Chamber Orchestra's program annotator since 2005 and also contributes notes to the Saint Paul Chamber Orchestra and Seattle Symphony.
Pablo Heras-Casado, conductor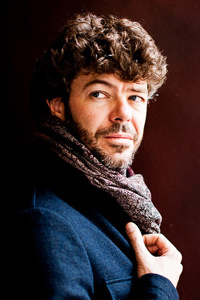 Musical America's 2014 Conductor of the Year, Pablo Heras-Casado enjoys an unusually varied career encompassing the great symphonic and operatic repertoire, historically informed performance and cutting-edge contemporary scores. Principal Conductor of the Orchestra of St. Luke's in New York since the 2012-13 season, he was also appointed Principal Guest Conductor of Teatro Real, Madrid in 2014.  
Mr. Heras-Casado is a regular guest with the Chicago and San Francisco symphonies, Los Angeles Philharmonic, Staatskapelle Berlin, Münchner Philharmoniker, Symphonieorchester des Bayerischen Rundfunks, Mariinsky Orchestra and Metropolitan Opera. In 2015-16, he also returns to the Philharmonia Orchestra, London Symphony Orchestra, Orchestra dell'Accademia Nazionale di Santa Cecilia and Rotterdam Philharmonic Orchestra. He makes his debuts with The Philadelphia Orchestra, Israel Philharmonic Orchestra and Wiener Symphoniker; continues his collaborations with Ensemble Intercontemporain, Freiburger Barockorchester and the Balthasar Neumann Chor & Ensemble; and appears at the Mozarteum Salzburg, where he is invited annually for Mozartwoche. The season's opera projects include Rigoletto at The Metropolitan Opera and I due Foscari at Teatro Real. 
In previous seasons Mr. Heras-Casado has conducted the Berliner Philharmoniker, Gewandhausorchester Leipzig, Royal Concertgebouw Orchestra, Tonhalle-Orchester Zürich, New York Philharmonic, Boston Symphony Orchestra, The Cleveland Orchestra and Mahler Chamber Orchestra. He has also appeared at Festspielhaus Baden-Baden, Salzburger Festspiele and Festival d'Aix-en-Provence and regularly returns to the Lucerne Festival. 
Mr. Heras-Casado records for harmonia mundi, as well as Deutsche Grammophon's Archiv Produktion, where he is an "Archiv Ambassador." He has received numerous prizes for his recordings, including three ECHO Klassik awards, Preis der deutschen Schallplattenkritik, two Diapason d'Or and a Latin Grammy. Recent releases on harmonia mundi include Schumann's Violin and Piano Concertos with Isabelle Faust and Alexander Melnikov, Schubert's Symphonies Nos. 3 and 4 with Freiburger Barockorchester and Mendelssohn's Symphony No. 2 with Symphonieorchester des Bayerischen Rundfunks. For Archiv he has recorded a disc of the works by Jacob, Hieronymus and Michael Praetorius, and an album celebrating the legendary castrato singer and maestro Farinelli. He also appears on a Sony release of Verdi's baritone arias with Plácido Domingo and a Deutsche Grammophon DVD of Donizetti's The Elixir of Love from Festspielhaus Baden-Baden. 
Mr. Heras-Casado holds the Medalla de Honor of the Rodriguez Acosta Foundation. In February 2012 he was awarded the Golden Medal of Merit by the Council of Granada, his hometown, of which he is also an Honorary Ambassador. In June 2014 he joined Spanish charity Ayuda en Acción supporting the eradication of poverty and injustice in the world.