Events & Tickets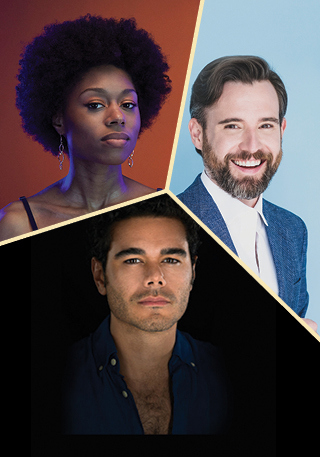 Orchestra Concert
Carmina Burana
Adrienne Arsht Center
Saturday, January 14, 2023 at 8:00 PM
Program
Carmina Burana. Even if the name doesn't ring a bell, you've probably heard Carmina Burana in Superbowl ads and big budget movies. Its iconic melodies make for a life affirming concert experience that should be on every music lover's bucket list. 
For one night only, New World Symphony joins forces with Seraphic Fire to take on one of the most powerful pieces of classical music ever written. In this feast of the senses, hundreds of voices from across South Florida bring to life Carmina Burana's epic meditation on fate and fortune.   
Not to be outdone, rising star Isata Kanneh-Mason gives a "high-voltage" performance of her musical heroine Clara Schuman's Piano Concerto (Classical CRB). Named by The New York Times as "Music's Unsung Renaissance Woman," Schumann herself was a prodigious pianist and premiered her own virtuosic Concerto when she was just 16. 
Program
Ralph Vaughan Williams
(1872-1958)
Approx. Duration: 14 minutes

Clara Schumann
(1819-1896 )
Approx. Duration: 23 minutes

Concerto in A minor for Piano and Orchestra, Op. 7 (c. 1833-35)

Allegro maestoso 
Romanze 
Finale 

Carl Orff
(1895-1982)
Approx. Duration: 60 minutes

Fortune, Empress of the World 
In Spring
In the Meadow
In the Tavern 
Court of Love 
Blancheflour and Helena 
Fortune, Empress of the World 

Rebecca Myers, soprano
Brad Diamond, tenor
Elliot Madore, baritone
Seraphic Fire
Choruses: Chamber Singers of MDC Kendall, Florida International University,
Civic Chorale of Greater Miami, University of Miami Frost Singers,
Florida Memorial University Ambassador Chorale, Florida Singing Sons 
Ralph Vaughan Williams
Serenade to Music

(1938)

Approximate duration: 14 minutes
Anniversary years often direct attention to composers who persist in being otherwise underexposed. Concerts and airwaves have recently shone brighter-than-usual spotlight on Ralph (pronounced "rāfe") Vaughan Williams, born 150 years ago this past October, reminding us of the breadth and depth of his output. His Fantasia on a Theme by Thomas Tallis, Fantasia on Greensleeves and The Lark Ascending are repertoire mainstays, to be sure, but a reacquaintance with his symphonies and choral works has rendered his general neglect unfathomable.
His Serenade to Music was an occasional piece written to mark the golden anniversary of Sir Henry Wood's first appearance as a conductor, a celebration held at the Royal Albert Hall in London on October 5, 1938. Wood was one of the leading English conductors of his day, particularly renowned as the conductor of the Queen's Hall Orchestra. He was the first music director to accept women into a major British orchestra, which he did in 1913.
"I should love to write—to have the honor of writing—a piece in your praise if I can manage it," the composer wrote to Wood. "Is there a poet you can suggest who could write me some words appropriate for the occasion?" On reflection, it seemed that appropriate words had already been penned—by William Shakespeare, in Act V of The Merchant of Venice, when lovers Lorenzo and Jessica sit beneath the night-time sky: "How sweet the moonlight sleeps upon this bank!"
The gala celebration included orchestral musicians and choristers from leading ensembles, as well as notable soloists. Vaughan Williams therefore had the luxury of plotting a piece for 16 vocal soloists. It was an eminent bunch performing at the premiere, including such still-remembered names as Isobel Baillie, Eva Turner, Astra Desmond, Heddle Nash and Roy Henderson. "The work is all silver and moonlight," wrote the composer's biographer Michael Kennedy of this exquisite piece. The instruments (beginning with horns, harp and strings) set the "atmosphere of calm and peace into which the voices enter as mellifluously as in any music there is."
Clara Schumann
Concerto in A minor for Piano and Orchestra, Op. 7

(c. 1833-35)

Approximate duration: 23 minutes
When Clara Wieck composed her Piano Concerto, she was on the path to becoming one of the superlative pianists of her generation. The daughter of the distinguished piano teacher Friedrich Wieck, she made her concert debut at the Leipzig Gewandhaus in 1828, at the age of nine, and published her first works—a set of polonaises—three years later. By 1832 she was thinking about writing a piano concerto, discussing her plan with one of her father's pupils who had lived in the family home for the past two years, a certain Robert Schumann. Love did not complicate their friendship until 1835; Robert recorded in his diary that they exchanged their first kiss on November 25, and that many more followed. They would end up marrying in September 1840, on the day before her 21st birthday, over her father's strenuous objections.
Clara abandoned composition after 1856, the year Robert died insane in the asylum where he had been confined for two-and-a-half years. The only piece she composed after that was a negligeable march she wrote in 1888 for the wedding anniversary of friends, devoting herself instead to concertizing. Her opus numbers reached only to 23.
Clara worked on her Concerto from January through November 1833, at which point she handed it over to Robert to work on the orchestration, which he finished by February. At that point, the work was a single-movement Conzertsatz, which she performed in May and September 1834 in Leipzig and that November in Magdeburg. She soon decided to expand the piece into a full-scale concerto. What she had already written became the finale. She then completed the first movement in June 1834 and the second in 1835, reporting its completion to Robert that September, adding that she had begun the orchestration as well. On November 9, 1835, she played the premiere at the Leipzig Gewandhaus, to considerable acclaim. The concert had a youthful aura. She was 16 years old and the conductor, Felix Mendelssohn, was only 25.
Among the many things to admire in this work, pride of place may go to the Romanze movement, where a cello joins in an extended, rapturous obbligato. Curiously, cello solos in the slow movements of piano concertos were "a thing" in the 19th century. They had figured in a then-new concerto by Norbert Burgmuller and would resurface in piano concertos by Johannes Brahms (his Second)... and by Robert Schumann.
Carl Orff
Carmina Burana

(1935-36)

Approximate duration: 60 minutes
Following the successful premiere of Carmina Burana in 1937, Carl Orff informed his publisher: "Everything I have written to date, and which you have, unfortunately, printed, can be destroyed. With Carmina Burana, my collected works begin." And there they practically end, too, at least when viewed through the prism of the active concert repertoire. One may very occasionally encounter his Catulli Carmina (1941-43) or, still more infrequently, his Trionfo di Afrodite (1949-51), both of which are somewhat in the Carmina Burana vein, though Catulli Carmina is more libidinous and Trionfo di Afrodite more ascetic; in fact, Orff harnessed those three works together for optional presentation as a trilogy. Then, too, the educational pieces he wrote for his Orff-Schulwerk collections remain in use, though they have little currency as concert pieces. But when all is said and done, Orff's position in posterity is that of a one-work wonder. Still, that one work is among the most popular concert compositions of its century, thanks to its dramatic effect and the uncomplicated, easily grasped nature of its musical vocabulary. Orff observed of its musical flavor: "A special feature of the style of the Carmina Burana music is a static construction. In its strophic structure there is no development. A musical formulation once found… remains the same in all its repetitions. Its repeatability and effect depend on the terseness of the statement."
"Fortune smiled on me," wrote Orff, "when she put into my hands a Wurzburg secondhand-books catalogue, in which I found a title that exercised on me an attraction of magical force: Carmina Burana / Latin and German songs and poems of a 13th-century manuscript from Benediktbeuern, edited by J.A. Schmeller." It was an 1847 edition of an illustrated manuscript once housed in a Benedictine abbey in the Bavarian Alps, and it contained some 300 anonymous poems, mostly in Latin or Middle High German, many celebrating epicurean delights—love, drinking, gambling and so on. "On opening it I immediately found, on the front page, the long-famous picture of 'Fortune with her Wheel' and under it the lines: O Fortuna / velut luna / statu variabilis…"
Orff and poet Michel Hofmann arranged 24 of the poems into a libretto organized into three principal parts, to which they added the standalone section "Blancheflour and Helena" plus the pulsating single movement "Fortune, Empress of the World"—immensely famous today—to serve as prologue and epilogue.
– © James M. Keller
James M. Keller is the longtime Program Annotator of the San Francisco Symphony and was formerly Program Annotator of the New York Philharmonic and a staff writer-editor at The New Yorker. The author of Chamber Music: A Listener's Guide (Oxford University Press), he is writing a sequel volume about piano music for the
Ralph Vaughan Williams
(1872-1958)


Clara Wieck Schumann
(1819-1896 )


Concierto en La menor para Piano y Orquesta, Op. 7 (c. 1833-35)
Allegro maestoso 
Romanze 
Finale 

Fortuna, Emperatriz del Mundo
La Primavera
Sobre el prado
En la taberna
La Corte de Amor
Blancaflor y Helena
Fortuna, Emperatriz del Mundo
Rebecca Myers, soprano
Brad Diamond, tenor
Elliot Madore, barítono
Seraphic Fire
Coros: Chamber Singers of MDC Kendall, Florida International University,
Civic Chorale of Greater Miami, University of Miami Frost Singers,
Florida Memorial University Ambassador Chorale, Florida Singing Sons 
Ralph Vaughan Williams
Serenade to Music
 

(1938)


Duración aproximada: 14 minutos

Los aniversarios importantes a menudo dirigen la atención a compositores que persisten en permanecer subexpuestos. Los conciertos y las emisoras de radio últimamente han destacado más de lo habitual la música de Ralph (se pronuncia "rāfe") Vaughan Williams, nacido hace 150 años el pasado octubre, recordándonos la amplitud y profundidad de su obra. Su Fantasía sobre un Tema de Thomas Tallis, Fantasía sobre Hojas Verdes y La alondra ascendente son pilares del repertorio sin dudas, pero un reencuentro con sus sinfonías y obras corales han hecho que su abandono general sea insondable.

Su Serenata a la Música fue una pieza ocasional escrita para conmemorar el aniversario de oro del debut de Sir Henry Wood como director de orquesta, una celebración que tuvo lugar en el Royal Albert Hall de Londres el 5 de Octubre de 1938. Wood fue uno de los directores de orquesta ingleses más importantes de su época, particularmente reconocido como el director de la Queen Hall Orchestra. Fue también el primer director musical en aceptar mujeres en una gran orquesta británica, lo cual hizo en 1913.

"Me encantaría escribir -tener el placer de escribir- una pieza en su honor, si fuera posible", el compositor le escribió a Wood. "Podría sugerirme un poeta que escribiera unos versos apropiados para la ocasión?" Pensándolo bien, parecía que William Shakespeare ya había escrito las palabras perfectas en el quinto acto de El Mercader de Venecia, cuando los amantes Lorenzo y Jessica se sientan bajo el cielo nocturno: "!Qué dulce es la luz de la luna que duerme sobre esta orilla!"

La gala contó con la participación de músicos orquestales y coristas de conjuntos destacados, así como importantes solistas. Por lo tanto, Vaughan Williams se dio el lujo de escribir una pieza para 16 cantantes. Fue un grupo eminente el que actuó en el estreno, incluidos nombres aún recordados como Isobel Baillie, Eva Turner, Astra Desmond, Heddle Nash y Roy Henderson. "La obra es toda plata y luz de luna", escribió el biógrafo del compositor, Michael Kennedy, sobre esta exquisita pieza. Los instrumentos (empezando por las trompas, el arpa y las cuerdas) configuran el "ambiente de calma y paz en el que las voces entran tan melifluamente como en cualquier música que existe".
Clara Wieck Schumann
Concierto en La menor para Piano y Orquesta, Op. 7
 

(c. 1833-35)


Duración aproximada: 23 minutos

Cuando Clara Wieck compuso su Concierto para Piano, estaba en camino a convertirse en una de las pianistas más excepcionales de su generación. Hija del distinguido profesor de piano Friedrich Wieck, Clara hizo su debut en el Gewandhaus de Leipzig en 1828, a la edad de 9 años, y publicó sus primeras obras – un conjunto de polonesas –  tres años después. En 1832, estaba pensando en escribir un concierto para piano y comentó su plan con uno de los discípulos de su padre que había vivido en la casa de la familia durante los últimos dos años, un tal Robert Schumann. El amor no complicó su amistad hasta 1835; Robert escribió en su diario que habían intercambiado su primer beso el 25 de noviembre, y que siguieron muchos más. Terminarían casándose en septiembre de 1840, el día antes de su cumpleaños 21, a pesar de las enérgicas objeciones de su padre.

Clara abandonó la composición después de 1856, el año en que Robert murió demente en un manicomio donde había estado confinado por dos años y medio. La única pieza que compuso después de eso fue una insignificante marcha que escribió en 1888 para el aniversario de bodas de unos amigos, dedicándose entonces a dar conciertos. Su número de opus llegó solo a 23.

Clara trabajó en su Concierto desde enero hasta noviembre de 1833, momento en que se lo entregó a Robert para que hiciera la orquestación, la cual terminó en febrero. Para ese momento, la obra era un Conzertsatz de un solo movimiento, la cual interpretó en mayo y septiembre de 1834 en Leipzig y luego en noviembre en Magdeburg.

Pronto decidió expandir la pieza a un concierto a gran escala. Lo que ya había escrito se convirtió en el finale. Luego completó el primer movimiento en junio de 1834 y el segundo en 1835, informando a Robert de su conclusión ese septiembre, añadiendo que había comenzado la orquestación también. El 9 de noviembre de 1835, interpretó el estreno en el Gewandhaus de Leipzig, con gran éxito. El concierto tenía un aura juvenil. Ella tenía 16 años y el director de orquesta, Félix Mendelssohn tenía solo 25.

Entre las muchas cosas para admirar en esta obra, el lugar de honor debe ir a la Romanza, donde un violonchelo se une en un obbligato extenso y entusiasta. Curiosamente, los solos de chelo en los movimientos lentos de los conciertos para piano estaban "de moda" en el siglo XIX. Ya habían figurado en un nuevo concierto de Norbert Burgmuller y resurgirían en los conciertos para piano de Johannes Brahms (su segundo) … y de Robert Schumann.
Carl Orff
Carmina Burana
 

(1935-36)


Duración aproximada: 60 minutos

Tras el exitoso estreno de Carmina Burana en 1937, Carl Orff informó a su editor: "Todo lo que he escrito hasta la fecha, y que, desafortunadamente, usted ha impreso, puede ser destruido. Con Carmina Burana, comienzan mis obras completas." Y allí terminan prácticamente, al menos visto a través del prisma del repertorio activo de concierto. Uno puede encontrar ocasionalmente su Catulli Carmina (1941-43) o, aún menos frecuentemente, su Trionfo di Afrodita (1949-51), ambas en el mismo estilo de Carmina Burana, aunque Catulli Carmina es más libidinosa y Trionfo di Afrodita más ascética; de hecho, Orff aprovechó esas tres obras juntas para que fueran presentadas opcionalmente como una trilogía. Luego, también, las piezas educacionales que escribió para su colección Orff-Schulwerk continúan en uso, aunque tienen poca vigencia como piezas de concierto. Pero al final, la posición de Orff en la posteridad es la de una obra maravillosa. Aun así, esa única obra está entre las composiciones más populares de su siglo, gracias a su efecto dramático y la naturaleza sencilla y sin complicaciones de su vocabulario musical. Orff observó de su sabor musical: "Una característica especial del estilo de Carmina Burana es su construcción estática. En su estructura estrófica no hay desarrollo. Una fórmula musical que una vez descubierta…permanece igual en todas sus repeticiones. Su repetibilidad y efecto dependen de la brevedad de la declaración."

 "La fortuna me sonrió", escribió Orff, " cuando puso en mis manos un catálogo de libros usados de Wurzburg, en el cual encontré un título que ejerció sobre mí una atracción de una fuerza mágica: Carmina Burana/ Canciones y poemas en alemán y latín de un manuscrito del siglo XIII de Benediktbeuern, editado por J. A. Schmeller. Era una edición de 1847 de un manuscrito ilustrado que alguna vez estuvo alojado en una abadía benedictina en los Alpes bávaros, y contenía unos 300 poemas anónimos, la mayoría en latín o alto alemán medio, muchos de los cuales celebraban las delicias epicúreas: el amor, la bebida, el juego, etc. " Al abrirlo encontré inmediatamente, en la primera página, la famosa imagen de 'Fortuna con su rueda' y debajo de ella las líneas: O Fortuna / velut luna / statu variabilis…"

Orff y el poeta Michel Hofmann arreglaron 24 de los poemas en un libreto organizado en tres partes principales, a las que añadieron la sección independiente "Blancaflor y Helena", más el pulsante movimiento único "Fortune, Empress of the World", inmensamente famoso hoy en día, que sirve de prólogo y epílogo.

– © James M. Keller

James M. Keller ha sido escritor de programas de la Sinfónica de San Francisco por largo tiempo y anteriormente realizó el mismo trabajo para la Filarmónica de Nueva York, donde también fue miembro y editor del staff de redacción de la revista The New Yorker. El autor del libro: Chamber Music: A Listener's Guide (Música de Cámara: Guía para un oyente) publicado por la Editorial Oxford University Press, actualmente está escribiendo un segundo volumen sobre música para piano para la misma editorial.

Translated by Maria Paulina García
Patrick Dupré Quigley, conductor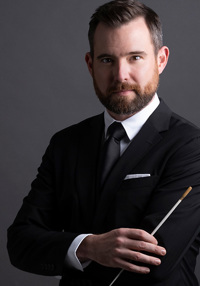 Conductor Patrick Dupré Quigley is at the vanguard of a new generation of young Baroque- and Classical-era specialists: completely at ease at the helm of the modern symphony orchestra while still able to create the passionate, distinctive stylings of the Baroque and Classical sound. The founder and artistic director of Seraphic Fire and the Firebird Chamber Orchestra, he has also received rave reviews of his work with the music of contemporary American composers. In addition, Mr. Quigley is the author of a recurring column on artistic entrepreneurship for American Public Media. 
A popular artist with audiences and critics alike, the Miami Herald has described Mr. Quigley as: "A musician with a constellation of qualities rarely found in a single conductor: an enthusiastic and  audience-friendly personal style, a scholar's instinct for rooting out obscure but worthy music, a scrupulous and historically informed approach to works that span a wide range of musical periods, an ability to bring out the best in his talented platoon . . . and a showman's canny sense of how to appeal to audiences."
Under Mr. Quigley's direction, Seraphic Fire has released 14 recordings on the Seraphic Fire Media label (founded by Mr. Quigley), with an additional recording forthcoming in 2016.  Mr. Quigley was nominated for two 2012 Grammy Awards. He was the only conductor in the world to be nominated for two separate projects that year, and Seraphic Fire was the only choir in North and South America to receive a nomination. Mr. Quigley's last three releases have debuted in the top 10 of the Billboard Magazine classical charts.  His recording Reincarnations, featuring 20th- and 21st-century American vocal masterpieces, was hailed by Gramophone as "extraordinary."
The 2015-16 season sees guest engagements with the New World Symphony in a program of Reich, Ligeti and Monteverdi; covering The Cleveland Orchestra's performances of Handel's Messiah and touring performances in New York, Philadelphia and Washington, D.C. of Mozart's Requiem, Brahms' A German Requiem, and Charpentier's Te Deum with Seraphic Fire and the Sebastians Period Orchestra.  
Mr. Quigley's past guest conducting appearances include Handel's Messiah at Carnegie Hall, as well as programs with the New World Symphony, San Francisco Symphony's Community of Music Makers Series, four separate appearances with the San Antonio Symphony, Louisiana Philharmonic, Mobile Symphony and Naples Philharmonic. 
Mr. Quigley is the recipient of the 2004 Robert Shaw Conducting Fellowship, given annually by the National Endowment for the Arts and Chorus America to one conductor between the ages of 25 and 40 who demonstrates the potential for a significant professional career. At 26 he was the youngest person to receive this award.  Most recently, he was awarded Chorus America's Louis Botto Award for Innovative Action and Entrepreneurial Zeal, recognizing his artistic and institution-building achievements with Seraphic Fire. 
Mr. Quigley received his master of music degree in conducting from the Yale School of Music and his undergraduate degree in musicology from the University of Notre Dame. He is a graduate of the Indiana University Center on Philanthropy's Fundraising School.
Isata Kanneh-Mason, piano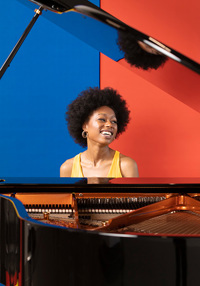 Isata Kanneh-Mason is the recipient of the 2021 Leonard Bernstein Award, a 2020 Opus Klassik award for best young artist and, as a member of the Kanneh-Mason family, the 2021 best classical artist at the Global Awards.
Ms. Kanneh-Mason's debut album on Decca Classics, Romance – the Piano Music of Clara Schumann, drew popular and critical acclaim, entering the U.K. classical charts at No. 1 when it was released in 2019 and leading Gramophone magazine to extol the recording as "one of the most charming and engaging debuts" and Classic FM to praise her as "a player of considerable talent". This was followed in July 2021 by Summertime, featuring Barber's Piano Sonata and a world premiere recording of Samuel Coleridge-Taylor's Impromptu in B minor.  Her most recent release, Muse with brother, Sheku features the Rachmaninoff and Barber sonatas for cello and piano.
Since graduation from London's Royal Academy of Music, Ms. Kanneh-Mason has embarked on a successful and increasingly busy concert career as a solo artist, with concerto appearances, solo recitals and chamber concerts throughout the U.K. and abroad.  During the U.K.'s Covid-19 lockdown in spring 2020, she and her siblings performed livestreamed events from their family home in Nottingham, which garnered over one million views. She recently made her Wigmore Hall and Queen Elizabeth Hall, London solo piano debuts.  In the 2021-22 season, she continued as Young Artist in Residence with the Royal Liverpool Philharmonic Orchestra.
Highlights of Ms. Kanneh-Mason's recent seasons include the Royal Philharmonic at the Edinburgh Festival, Schleswig-Holstein Musik Festival, Tonhalle Orchestra Zürich, Dallas Symphony, Baltimore Symphony, Los Angeles Philharmonic orchestras, and recital tours of North America, both piano solo and with brother, Sheku.
Ms. Kanneh-Mason is currently one of the European Concert Hall Organization's Rising Stars, performing recitals at many of the continent's most illustrious concert venues throughout the 2021-22 season.
Ms. Kanneh-Mason completed her undergraduate degree at the Academy as an Elton John scholar, and performed with Sir Elton in 2013 in Los Angeles. She is grateful for support from the Nottingham Soroptimist Trust, Mr. and Mrs. John Bryden, Frank White and Awards for Young Musicians. She is currently continuing her studies at the Hochschule für Musik Hanns Eisler Berlin with Kirill Gerstein.
Seraphic Fire, vocal ensemble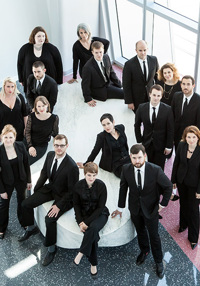 Now in its 14th season performing throughout the South Florida region and on national tours, Seraphic Fire is regarded as one of the preeminent choral/orchestral chamber ensembles in the United States. Led by Founder and Artistic Director Patrick Dupré Quigley, Seraphic Fire brings top ensemble singers and instrumentalists from around the country to perform repertoire ranging from Gregorian chant and baroque masterpieces, to Mahler and newly commissioned works by this country's leading composers. Two of the ensemble's recordings, Brahms: Ein Deutsches Requiem and A Seraphic Fire Christmas, were nominated for 2012 Grammy Awards, making Seraphic Fire the only choral ensemble in North or South America to be nominated that year and the only classical ensemble in the world to be nominated for two separate projects. 
At the start of its 2015-16 season, Seraphic Fire brought its "crystalline artistry" (Gramophone Magazine) into the national spotlight with tours in New York, Philadelphia, Washington D.C. and Naples. The organization also continues a partnership with the New York-based instrumental ensemble, The Sebastians, which brings its Baroque and classical genre expertise, as well as its immaculate execution, to make Seraphic Fire performances even more dynamic, cohesive and impressive. 
Seraphic Fire's artistic accomplishments have translated to chart-topping album sales. The ensemble's September 2014 release, Reincarnations: A Century of American Choral Music, soared to No. 4 on the iTunes Classical Chart and reached No. 6 on the Billboard Traditional Classical Chart. The ensemble's Grammy Award-nominated recording of Brahms: Ein Deutsches Requiem debuted at No. 7 on the Billboard Traditional Classical Chart. In the summer of 2010 Seraphic Fire's recording of Monteverdi's Vespers of the Blessed Virgin (1610) reached the No.1 position on the iTunes Classical Chart, and its 2010 Christmas album, of which NPR's Morning Edition proclaims "the singing is just fabulous; this group has a really excellent blend," broke into the top ten on the iTunes Classical Chart on the day of its release. 
Seraphic Fire has a partnership with Naxos of America for the distribution of Seraphic Fire Media.
Rebecca Myers, soprano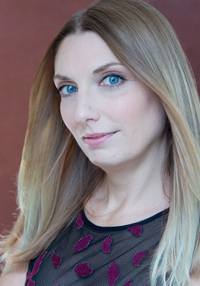 Soprano Rebecca Myers is a soloist, vocal chamber singer, collaborator, recording artist and creator in high demand. Indulging and specializing in vocal repertoire spanning from the Medieval to scores written especially for her, she has gained a reputation for her "timbral clarity and flawless pitch," "nimble coloratura" and "vulnerability and grace."  
Ever ready to tackle a wide range of repertoire, Ms. Myers' 2022-23 season includes an exciting lineup of performances across the country. Notable engagements include her New World Symphony debut as soprano soloist in Carmina Burana; performances with Apollo's Fire Baroque Orchestra in Monteverdi's Vespers of 1610 as soloist; performances of obscure polyphony with New York City-based ensemble; TENET Vocal Artists; a chamber version of Handel's Messiah with Ensemble Altera; participation in the two-week long Enlightenment Festival featuring music of J.S. Bach with Seraphic Fire; a return to the central coast of California for the annual CalPoly Bach Festival; work with the newly formed Bach Vocal Arts at the annual Bach Festival Society in Winter Park, Florida; and performances with Lorelei Ensemble and the Boston Ballet. 
Ms. Myers has been a core member of the Crossing—the country's premiere chamber choir dedicated entirely to new music—for over a decade. Her work with the Crossing has included countless world premieres, over 15 commercial recordings, one Grammy Award (best choral performance 2018) and seven Grammy Award nominations. In 2023 the Crossing will appear with The Philadelphia Orchestra in a world premiere by John Luther Adams, and will present "Farming," a collaboration with Pulitzer Prize finalist Ted Hearne that will take place at King Oaks Farm in Bucks County, PA.  
Ms. Myers is the co-artistic director, founding member and singer in the genre-bending, cutting-edge vocal ensemble, Variant 6. Her creative work with Variant 6 strives to blur the lines between audience and performer. The ensemble seeks to change perceptions of what a vocal ensemble can be by presenting virtuosic and obscure works from all eras of history in new and surprising ways. Next season, Variant 6 will present a program with renowned violinist Min Young-Kim that includes fragments of Bach's Chorales paired with his famous Chaconne for violin, alongside a work for vocal ensemble and electric guitar. Variant 6 is also thrilled to be collaborating with fellow Philadelphia ensemble Filament Baroque in a program of oft-overlooked French Baroque Music, some of which is from the recently discovered Ursuline Manuscript from an abbey in Louisiana.  
Ms. Myers has appeared on over 25 acclaimed commercial recordings with The Crossing, Variant 6, Seraphic Fire, Lyric Fest and Lorelei Ensemble. 
Brad Diamond, tenor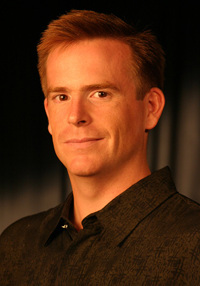 Brad Diamond is a talented tenor known for his musicianship and style. Dr. Diamond has performed Messiah with the Roanoke Music College, Buffalo Philharmonic, Jacksonville Symphony, Richmond Symphony, Oratorio Society of New York, Nashville Symphony, Tulsa Philharmonic and Princeton Pro Musica. For three years he was a featured artist in "An Evening of Gilbert and Sullivan," which performed with symphony orchestras in Cedar Rapids, Buffalo, Lakeside, Richmond and St. Louis, among others. On the operatic stage he has performed the role of Almaviva in The Barber of Seville with Lyric Opera Cleveland, Opera Pacific and a recording for Public Television Broadcast with the Florentine Opera Company of Milwaukee. He has performed the role of Ralph Rackstraw in HMS Pinafore with the Dayton opera and Prince Ramiro in Rossini's La Cenerentola with the Indianapolis and Nashville opera companies. A return engagement with the Florentine Opera featured Dr. Diamond in the role of Tonio in La Fille du Regiment by Donizetti.
A specialist in oratorio repertoire, Dr. Diamond has performed the Evangelist in J.S. Bach's St. John Passion with the Winter Park Bach Festival and Trinity Church at Wall Street. He has also performed the Evangelist in Bach's St. Mathew Passion with the Richmond Symphony, Trinity Church at Wall Street and Winter Park Bach Festival. Recent engagements include J.S. Bach's St. Mathew Passion, Handel's Messiah and Xerxes with the Richmond Symphony; Haydn's Paukenmesse with the Charleston Symphony; J.S. Bach's Magnificat with the Nashville Chamber Orchestra; Orff's Carmina Burana with the Fort Wayne Philharmonic, Spokane Symphony and Greenville Symphony; and Benjamin Britten's War Requiem with the Bangor Symphony. Dr. Diamond's performance repertoire includes works by Cavalli, Monteverdi, J.S. Bach, Handel, Haydn, Mozart, Beethoven, Schubert, Rossini, Berlioz, Orff, Bartók, Janáček and Britten with symphony orchestras across the United States and Canada.
Dr. Diamond completed his bachelors of music degree from Westminster Choir College in Princeton, New Jersey in 1991. He received his master's and doctorate degrees from the University of Cincinnati's College-Conservatory of Music between 1993 and 2004. While attending Westminster, Dr. Diamond sang as a soloist under the baton of the late Leonard Bernstein. Dr. Diamond travels as a guest recitalist and presents his lecture "Singing With Purpose" at universities across the United States and Canada.
Elliot Madore, baritone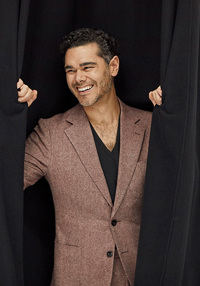 Hailed by The New York Times for his "robust singing" and Opera News for his "exquisite vocal beauty," Grammy Award winning Canadian baritone Elliot Madore has established himself as an international artist in demand at the leading opera houses and orchestras of the world. The 2021–22 season included his house debut in the world premiere of Giorgio Battistelli's new opera Julius Caesar with Teatro dell'Opera di Roma, directed by Robert Carsen and conducted by Daniele Gatti. Mr. Madore also made his role debut as Dr. Falke in Die Fledermaus with the Sieji Ozawa Music Academy in Japan. Orchestral work included Carmina Burana with Santa Cruz Symphony, conducted by music director Daniel Stewart. Mr. Madore also joined the Cincinnati College-Conservatory of Music faculty in a newly created position as a performing Associate Professor of Voice.
Mr. Madore's highlights at the Metropolitan Opera include performances of Roméo et Juliette, Figaro in The Barber of Seville, Lysander in Jeremy Sam's Baroque pasticcio The Enchanted Island and Novice's Friend in Billy Budd. Mr. Madore made his European operatic debut at the Glyndebourne Festival singing Ramiro in L'heure espagnole and Le chat and L'horloge comtoise in a new production of L'enfant et les sortilèges, and returned to the company later to sing the title role in Don Giovanni. Orchestral highlights include his debut with the Berlin Philharmonic as Ramiro in L'heure espagnole and Le chat and L'horloge comtoise in of L'enfant et les sortilèges, Bernstein's Songfest with the Tanglewood Festival, Carmina Burana with the Baltimore Symphony conducted by Marin Alsop and with the Houston Symphony conducted by Andrés Orozco-Estrada.
Mr. Madore was part of the Grammy Award recording from the Saito Kinen Festival as Ramiro in L'heure espagnole and Le chat and L'horloge comtoise in L'enfant et les sortilèges, conducted by Seiji Ozawa.
Honors and awards include being named a winner of the Metropolitan Opera National Council Auditions, recipient of the 2010 George London Award from the George London Foundation, winner of the Palm Beach Vocal Competition and recipient of the ARIAS Emerging Young Artist Award from Opera Canada. A graduate of the Curtis Institute of Music, Mr. Madore currently resides duly in Toronto, Canada and Zürich, Switzerland.
South Florida Choruses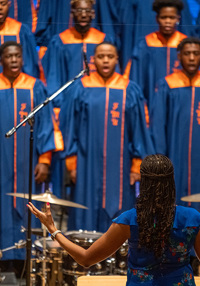 SERAPHIC FIRE
Patrick Dupré Quigley, artistic director
Soprano
Rebecca Myers
Chelsea Helm
Nola Richardson
Laura Choi Stuart
Robyn Lamp
Alto
Amanda Crider
Sandy Sharis
Kim Leeds
Clara Presser
Tenor
Brad Diamond
Patrick Kilbride
James Reese
Blake Beckemeyer
Bass
Steven Eddy
Eric Alatorre
Jonathan Woody
John Buffett
CHAMBER SINGERS OF MDC KENDALL
Misty Bermudez, director
Soprano
Gabriela Melon
Breana Velez
Amalia Rosales Sacasas
Vanessa Gonzalez Casado
Kayla Cardona
Alain Alejandro Diaz
Sheneil Lewin
Janet Rebollar
Emily Boling
Alto
Amanda Garcia
Isabella Carvallo
Claudia Rubio
Diana Rubio
Valentina Aragon
Maria Valentina Millan
Daniusca Perez-Villanueva
Andrea Petrash
Tenor
Luke Zaiser
Kevin Borges
Fabian Mehrgut
Johan Borges Carabano
Joel Perez-Hernandez
Carlos Perez
Bass
Gian Gavidia
Anthony Valle
Michael Del Valle
Daniel Soto Perez
Ryan Melendez
Tadeo (Jose) Pineda
FLORIDA INTERNATIONAL UNIVERSITY
Dr. Erynn M. Millard, director
SOPRANO
Catherin Meza
Kathryn Suner
ALTO
Carolina Escamilla
Emily Moser
TENOR
Sebastian Espejo
Shane Saechia
BASS
Johnathan Arce
Marcelo Santa Cruz
CIVIC CHORALE OF GREATER MIAMI
Misty Bermudez, artistic director
Soprano
Jenna Davalos
Daliner Peralta
Wendy Gunther
Alto
Eunice Boye
Valerie Saad
Mia Ramirez
Andrea Leon-Moreno
Tenor
Sam Gonzalez
Preston Stone
Timothy Malik
Bass
Karl Gunther
Alvaro Bermudez
Alexander Ruiseco
Joseph Talleda
Zach Eisengrein
UNIVERSITY OF MIAMI FROST SINGERS
Dr. Amanda Quist, director
Scott AuCoin, rehearsal assistant
Sam Scheibe, ensemble assistant
Soprano
Julia Izquierdo
Hannah Penzner
Isabelle Bepler
Alto
Jamie Bunce
Valentina Pelaez
Zaryah Gourgel
Tenor
Alessandro Fanan
Scott AuCoin
Eric McKenzie
Bass
Cees Postema
Sam Scheibe
David Caldarella
FLORIDA MEMORIAL UNIVERSITY AMBASSADOR CHORALE (pictured)
Dr. Argarita N. Johnson-Palavicini, director
Soprano
Keymah White
Eden Munroe
Taleah Munroe
Alto
Laurencia Storr
Bass
Cephas Pinder
Nathaniel Noel
FLORIDA SINGING SONS
Daniel Bates, artistic director
Malcolm Rogers, associate artistic director
Antonio Aristizabal
Tristan Cary
Carter Crouch
Jamen Ellis
Aaron Escobar
Khaled Escobar
Anthony Fasano
Hasan Jackasal
Quentin Kemp
A. B.  Martinez
Kiefer Moore
Maxence Panotin
Samuel Prieto-Bueno
Ryan Porcile
Kornel Racz
Gavin Reynolds
NEW WORLD SYMPHONY STAFF
Soprano
Maureen O'Brien
Alto
Heather Osowiecki
Bass
Kewan Smith