Events & Tickets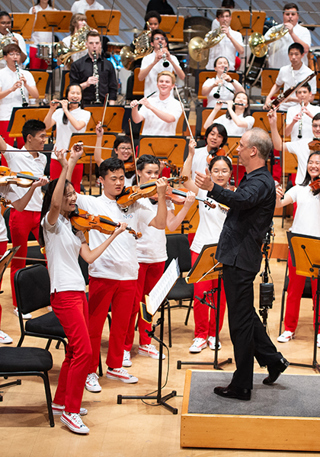 Special Event
CARNEGIE HALL'S NYO2
New World Center
Carnegie Hall's NYO2 makes its anticipated return to New World Center alongside Grammy Award-winning pianist Gabriela Montero and NWS Fellows and alumni for an exclusive one-night-only event—the orchestra's only public performance before its finale at Carnegie Hall on July 30. 
Under the baton of conductor Carlos Miguel Prieto, the ensemble zips from Spanish music to Russian ballet music, performing selections from Falla's The Three-Cornered Hat and Stravinsky's Pétrouchka. Pianist Gabriela Montero joins the ensemble as special guest to perform her own Piano Concerto No. 1, "Latin." 
NYO2's 2018 season and six-day residency in Miami marked the start of a new partnership between New World Symphony and Carnegie Hall, which has current and former NWS Fellows mentoring and performing side-by-side with participating NYO2 students from across the country, including many from South Florida.   
Comprising a "remarkable array of talent" (The New York Times), NYO2 is an orchestral training program for talented young players ages 14–17 with a focus on recruiting musicians from communities underrepresented in classical music. 
Click here for more information on NYO2.
NYO2 is a program of Carnegie Hall's Weill Music Institute.
Loading Concert Information
Program
Manuel de Falla
(1876-1946)

Selections from The Three-Cornered Hat (1919)

Gabriela Montero
(b. 1970)

Concerto No. 1 for Piano and Orchestra, "Latin"
Igor Stravinsky
(1882-1971)

Pétrouchka (1947 version)

Carlos Miguel Prieto, conductor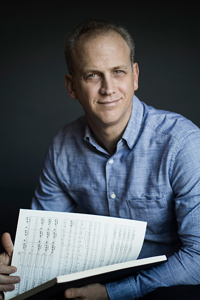 Carlos Miguel Prieto was born into a musical family of Spanish and French descent in Mexico City. His charismatic conducting, characterised by its dynamism and the expressivity of his interpretations, has led to major engagements and popular acclaim throughout North America and in Europe. Prieto is in great demand as a guest conductor with many of the top North American orchestra including Cleveland, Dallas, Toronto and Houston Symphony orchestras and has enjoyed a particularly close and successful relationship with the Chicago Symphony Orchestra.
Prieto is recognised as a highly influential cultural leader as well as being the leading Mexican conductor of his generation and has been the Music Director of the Orquesta Sinfónica Nacional de México, the country's most important orchestra, since 2007. The following year he was appointed Music Director of the Orquesta Sinfónica de Minería, a hand-picked orchestra which performs a two month long series of summer programmes in Mexico City.
2016 - 2017 marked Prieto's eleventh season as Music Director of the Louisiana Philharmonic Orchestra (LPO), where he has led the cultural renewal of New Orleans following Hurricane Katrina and oversaw the triumphant return of the orchestra to its home, the Orpheum Theater. The string of international soloists, such as violinists Joshua Bell and Augustin Hadelich and cellist Yo-Yo Ma, who now appear with the LPO are testament to his inspirational leadership of the orchestra.
Prieto's 2017-18 season includes engagements throughout Europe, North and South America and New Zealand and includes his debuts with the London Philharmonic Orchestra and the Los Angeles New Music Group. He returns to the NDR Elbphilharmonie, Royal Liverpool Philharmonic, Bournemouth Symphony Orchestra, Strasbourg Philharmonic and the Auckland Philharmonia. Further ahead Prieto will return to the Hallé, Frankfurt Radio Symphony and the Royal Scottish National Symphony Orchestra alongside his regular appearances in Spain conducting orchestras such as the RTVE Symphony Orchestra, Bilbao Orkestra Sinfonikoa, Orquesta de Valencia and Orquesta del Principado de Asturias.
In 2016-17 Prieto made his London conducting debut at the Barbican Centre with the National Youth Orchestra of Great Britain winning several 5 star reviews. He also led a very successful nine-concert tour of Germany and Austria with the Orquesta Sinfónica Nacional de México performing at venues including the Wiener Musikverein, Großes Festspielhaus Salzburg, Kölner Philharmonie and Alte Oper Frankfurt. In June 17 he stepped in for a cancellation making his debut with the Minnesota Orchestra.
Since 2002, alongside Gustavo Dudamel, Prieto has conducted the Youth Orchestra of the Americas, which draws young musicians from the entire American continent. A staunch proponent of music education, Prieto served as Principal Conductor of the YOA from its inception until 2011 when he was appointed Music Director. In early 2010 he conducted the YOA alongside Valery Gergiev on the occasion of the 40th anniversary of the World Economic Forum at Carnegie Hall.
A naturally inquisitive musician of broad and varied interests, Prieto is renowned for championing Latin American music and has conducted over 100 world premieres of works by Mexican and American composers, many of which were commissioned by him.
Prieto has an extensive discography that covers labels including Naxos and Sony. Recent recordings include works by Bruch, Beethoven and Mendelssohn, with violinist Philippe Quint and the Orquesta Sinfónica de Minería on Avanticlassic, and Korngold's Violin Concerto on Naxos, which received two Grammy nominations. In spring 2013, Prieto released a 12-DVD set of live recordings of the complete Symphonies of Gustav Mahler as part of the Orquesta Sinfónica de Minería 35th Anniversary season. Future releases include recordings with Boris Giltburg for Naxos and Ning Feng for Channel Classics.
Also an accomplished violinist, Carlos Miguel Prieto has performed as soloist with the Orquesta Sinfónica Nacional de México, and has participated in the music festivals of Aspen, Tanglewood, Interlochen, San Miguel Allende and Cervantino. Continuing a family tradition that reaches back four generations, he also has been a member of the Cuarteto Prieto, with which he has performed in the most important halls of Mexico, United States, and throughout Europe.
A graduate of Princeton and Harvard universities, Carlos Miguel Prieto studied conducting with Jorge Mester, Enrique Diemecke, Charles Bruck and Michael Jinbo.
Gabriela Montero, piano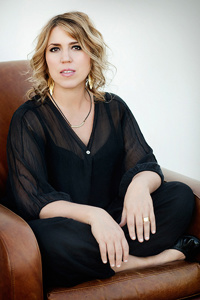 Gabriela Montero's visionary interpretations and unique improvisational gifts have garnered her critical acclaim and a devoted following on the world stage. Anthony Tommasini remarked in The New York Times that her "playing had everything: crackling rhythmic brio, subtle shadings, steely power…soulful lyricism…unsentimental expressivity."
A graduate and Fellow of the Royal Academy of Music in London, Ms. Montero has performed with many of the world's leading orchestras to date, including the Royal Liverpool, Rotterdam and Oslo philharmonic orchestras; Gewandhausorchester Leipzig, NDR Sinfonieorchester Hamburg, Zürcher Kammerorchester, Academy of St Martin in the Fields and Australian Chamber Orchestra; the Pittsburgh, Houston, Toronto, City of Birmingham, Barcelona, Lucerne and Sydney symphony orchestras; The Cleveland Orchestra, National Arts Centre Orchestra of Canada and orchestra of the Komische Oper Berlin.
Ms. Montero is an award-winning and bestselling recording artist. Her most recent album, released in 2015 on the Orchid Classics label, features Rachmaninov's Piano Concerto No. 2 and her first orchestral composition, Ex Patria, and won Ms. Montero her first Latin Grammy Award for Best Classical Album (Mejor Álbum de Música Clásica). Previous recordings include Bach and Beyond, which held the top spot on the Billboard Classical Charts for several months and garnered her two Echo Klassik Awards: the 2006 Keyboard Instrumentalist of the Year and 2007 Award for Classical without Borders. In 2008 she also received a Grammy Award nomination for her album Baroque, and in 2010 released Solatino, a recording inspired by her Venezuelan homeland and devoted to works by Latin American composers.
Ms. Montero made her formal debut as a composer with Ex Patria, a tone poem designed to illustrate and protest Venezuela's descent into lawlessness, corruption and violence. The piece was premiered in 2011 by the Academy of St Martin in the Fields. Her first full-length composition, Piano Concerto No. 1, "Latin", was first performed at the Leipzig Gewandhaus with the MDR Sinfonieorchester and conductor Kristjan Järvi. She gave subsequent performances of the work at the Klavier-Festival Ruhr and on tour with the Orquesta Sinfónica Nacional de Mexico and Carlos Miguel Prieto.
A committed advocate for human rights, whose voice regularly reaches beyond the concert hall, Ms. Montero was named an Honorary Consul by Amnesty International in 2015, and recognized with Outstanding Work in the Field of Human Rights by the Human Rights Foundation for her ongoing commitment to human rights advocacy in Venezuela. She was invited to participate in the 2013 Women of the World Festival at London's Southbank Centre and has spoken and performed twice at the World Economic Forum in Davos. She was also awarded the 2012 Rockefeller Award for her contribution to the arts and was a featured performer at Barack Obama's 2008 Presidential Inauguration.
Born in Venezuela, Ms. Montero gave her first public performance at the age of five. At age eight she made her concerto debut in her hometown of Caracas, which led to a scholarship from the government to study privately in the U.S. and then at the Royal Academy of Music London with Hamish Milne. She currently resides in Barcelona with her husband and two daughters.
2019 NYO2 Members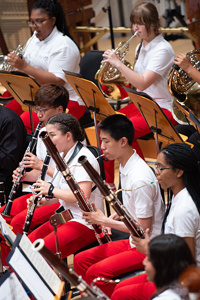 Violin
Rachel Lee Alers Mercado, Manatí, PR
Colin Aponte, Blue Hill, ME
* Ashni Budge, La Verne, CA
Matthew Chang, Los Angeles, CA
Karishma Chapalamadugu, Valrico, FL
Melody Gawon Choi, San Jose, CA
Aidan Daniels, Frankfort, IL
◊ Isabela Diaz, Miami, FL
Nicholas Garcia-Hettinger, San Antonio, TX
◊ Ashley Gomez, Miami, FL
Karalyn Melissa Harper, Pinson, AL
Elizabeth Jerstad, Sioux Falls, SD
* Edward Jung, San Jose, CA
* Bryan Kim, Blacksburg, VA
Grace Seoeun Kim, Closter, NJ
Eliana Lee, Bedford Corners, NY
* Payton Jin-Hyun Lee, Duncan, SC
* Yudai Leonzon, Honolulu, HI
Semaj Murphy, Philadelphia, PA
Caleb T. Reed, Philadelphia, PA
* Matthew Sakiyama, Millbrae, CA
* Tyler Tan, Cheshire, CT
Jaylin Vinson, Oklahoma City, OK
Stephanie Yoshida, Honolulu, HI

Viola
* Lawrence Chai, Mount Sinai, NY
Sung-Me Nichole Lee, Paoli, PA
Nia McQuarters, Portland, OR
Ansley Moe, Spartanburg, SC
Jeremiah Moultrie, Charleston, SC
* Tristin Saito, Henderson, NV
Marco Santistevan, Rio Grande City, TX
Haile Onikura-Southward, Brooklyn, NY
Cindy Xu, San Jose, CA
Hailey Xu, Greer, SC
Cello
Alex Aranzabal, Londonderry, NH
Gloria Cai, Ellicott City, MD
* Aaron Chen, Arden, NC
Elena Chen, Cupertino, CA
* ◊ Anthony De Peña, Miami, FL
Andrew Do, Irvine, CA
Josephine Kim, San Diego, CA
Aiden Krogh, Grand Forks, ND
Bass
Matin Kealaokahinano Boulos, Palolo, HI
* Thomas Green, Medford, OR
Arwyn Ivey, Tarpon Springs, FL
Eli Pace, Dublin, OH
* Jamie Park, Beachwood, OH
Cirrus Rowland-Seymour, Cleveland, OH
Flute
Sasha Hitachi-Kizziah, Chattanooga, TN
Minsoo Kwon, Seattle, WA
John Robert Santiago, Los Angeles, CA
Oboe
* Thomas Juhasz, Carlisle, MA
Coleton G. Morgan, Hartville, WY
Helen Skilbred, Upland, CA
Clarinet
Kah'lin Jordan, Birmingham, AL
Joanna Lin, Fargo, ND
Cole Turkel, Los Angeles, CA

Bassoon
Makayla Bowen-Longino, Beltsville, MD
William Ramos, Palm Harbor, FL
Nathan Shepherd, Lanesville, IN
Horn
Yui Ginther, Austin, TX
Erin Harrigan, Trumansburg, NY
* Adolfo Pena, Brownsville, TX
Keneil Soni, Albertson, NY
Sara Vollenweider, Metairie, LA

Trumpet
Amber Bowen-Longino, Beltsville, MD
Gage Ellis, Longview, TX
Evelyn Hartman, Petoskey, MI
* Joseph Yu, San Francisco, CA

Trombone
Eli Canales, San Antonio, TX
Jonathan Salcedo, Phoenix, AZ
Bass Trombone
Rafael Noriega, Chicago, IL
Tuba
Jimmy Curto, Wilton, CT
Timpani and Percussion
* Sean C. Edwards, Chicago, IL
* Avi Gotskind, Chicago, IL
Bridget Hemesath, Chicago, IL
* Caleb York, Tucson, AZ
Harp
Jadelyn Ding, State College, PA
* Leila Hudson, Yorktown Heights, NY
Keyboard
Karina Wugang, McLean, VA

* Prior NYO2 member
◊ Member of NWS's 2019 Side-by-Side Ensemble
NWS Fellows and Alumni – 2019 NYO2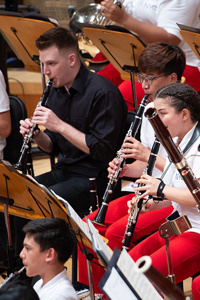 Violin
Sophia Bernitz
Alex Gonzalez
Scott Jackson
Christopher Robinson
Viola
Dan Fellows
Kip Riecken
Cello
Drew Comstock
Blake-Anthony Johnson
Bass
Kathryn Bradley
Levi Jones
Bassoon
Francisco Joubert Bernard
Trumpet
Aaron Ney
Percussion
Jacob Nissly, Principal Percussion, San Francisco Symphony
Kevin Ritenauer