Events & Tickets
Chamber Music
Chamber Music: Cello Fantasy
New World Center
This concert is part of the Chamber Music Series. NWS Fellows and acclaimed guest artists collaborate at these intimate concerts, performing a wide range of repertoire for small ensembles. Subscriptions for this 6-concert series are $72. Click here to explore the full subscription! 
COMPOSE YOUR OWN SUBSCRIPTION PACKAGE! 
Choose this plus two more concerts to customize your own subscription. It's the ultimate flexibility with all the subscriber benefits, including free exchanges when plans change! Call the NWS Box Office at 305.673.3331 to create your own series today. 
SUBSCRIBERS ENJOY THE BEST OF NWS! 
As an NWS Subscriber, you receive amazing benefits to enjoy throughout the season, including the best seats for the lowest prices and access to our incredibly talented Fellows. Click here to learn more! 
Tickets on Sale 9/24/2021
Program
Robert Schumann
(1810-1856)
Approx. Duration: 12 minutes

Fantasiestücke for Cello and Piano, Op. 73 (1849 )

Zart und mit Ausdruck (Tender and with expression) 
Lebhaft, leicht (Lively, light) 
Rasch und mit Feuer (Quick and with fire)  
Julius Eastman
(1940-1990 )
Approx. Duration: 20 minutes

The Holy Presence of Joan d'Arc for 10 Cellos  (1981 )

Jean Sibelius
(1865-1957 )
Approx. Duration: 4 minutes

Petite Suite for Brass Septet  (1891 )

Jean Sibelius
(1865-1957 )
Approx. Duration: 5 minutes

Tiera for Brass Septet and Percussion  (1898 )

Hannah Kendall
(b. 1984 )
Approx. Duration: 9 minutes

Vera for Clarinet and Strings  (2008)

Jacques Ibert
(1890-1962 )
Approx. Duration: 13 minutes

Concerto for Cello and Wind Instruments  (1925 )

Pastorale: Allant 
Romance: Souple 
Gigue: Anime 
Chad Goodman, conductor 
Oliver Herbert, cello 
Oliver Herbert, Cello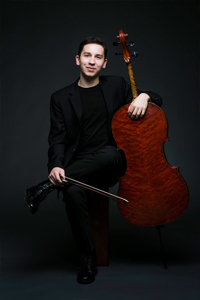 Cellist Oliver Herbert, from San Francisco, is quickly building a reputation as an artist with a distinct voice and individual style—"From his opening notes it was immediately apparent that Herbert has a very vocal approach to his playing and regardless of the technical demands he makes his cello sing". Performing a wide range of repertoire, Oliver's recent solo and recital appearances include debuts with the San Francisco Symphony, Chicago Symphony Orchestra, Warsaw Philharmonic, Dame Myra Hess Concert Series, Union College Concert Series, and the San Francisco Symphony Soundbox, among others.
Oliver has worked with renowned conductors such as Michael Tilson Thomas, Juanjo Mena, and Yannick Nézet-Séguin. As a chamber musician, Oliver has performed with some of the leading musicians of our time including Shmuel Ashkenasi, Franklin Cohen, Pamela Frank, Miriam Fried, Nobuko Imai, and Meng-Chieh Liu. He frequently collaborates with pianist Xiaohui Yang, and together they have played recital tours in both the United States and Greece.
Oliver is frequently invited to participate in music festivals including the Caramoor Festival, ChamberFest Cleveland, Krzyżowa Music, Music in the Vineyards, Open Chamber Music at IMS Prussia Cove, the Ravinia Festival Steans Music Institute, and the Verbier Festival Academy. In addition to being a fellow at the Ravinia Festival, Oliver was also invited to perform on a tour with renowned violinist Miriam Fried, the festival's director. At the 2017 Verbier Festival, Oliver was awarded the Prix Jean-Nicolas Firmenich. He has also appeared on NPR's From the Top.
Oliver's competition awards include a top prize and special prize in the XI Witold Lutoslawski International Cello Competition in 2018, first prize and Pablo Casals prize in the 2015 Irving M. Klein International String Competition, and a top prize in the 2015 Stulberg International String Competition.
Oliver is a graduate of the Curtis Institute of Music where he studied with Carter Brey and Peter Wiley. Before starting his studies at Curtis, Oliver was a student of Clive Greensmith at the Colburn School. He currently plays on a 1769 Guadagnini cello that belonged to the great Italian cellist Antonio Janigro, on generous loan from the Janigro family.
Chad Goodman, conductor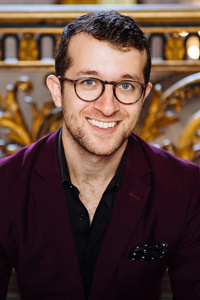 Chad Goodman serves as the Conducting Fellow of the New World Symphony and as an Assistant Conductor to the San Francisco Symphony. With a flair for inventive programming and a bold presence on stage and in the community, he has been praised for "bringing innovation to classical music" (Forbes). 
Mr. Goodman designs and presents programs which reimagine how orchestras connect with their audiences. His 2019 education program, "SPARK: How Composers Find Inspiration," blended captivating light design and videography with engaging audience participation to explore how a composition is created and brought to life by an orchestra. In his first season as Conducting Fellow at NWS, he conducted on nearly a dozen programs and worked closely with Artistic Director Michael Tilson Thomas, sharing the podium with him on three programs.
Since 2018, Mr. Goodman has served as an Assistant Conductor to the San Francisco Symphony, assisting Esa-Pekka Salonen, Manfred Honeck, Daniel Harding, Pablo Heras-Casado, Simone Young and James Gaffigan, among others.
As Founder and Artistic Director of Elevate Ensemble, Mr. Goodman's ambitious vision for concert programming resulted in the pairing of music from Bay Area composers with underappreciated gems of the 20th and 21st centuries. Under his leadership, Elevate Ensemble established a Composer-in-Residence program and commissioned 15 works from Bay Area composers.
Elevate collaborated with photographers, videographers, poets and culinary artists, bringing new music and vibrant multi-genre experiences to unique venues such as yoga studios, historic Victorian homes and art studio warehouses.
Mr. Goodman has previously served as Music Director of the Contra Costa Chamber Orchestra and Assistant Conductor of the Peninsula Symphony. He has been a conducting fellow for the Atlantic Music Festival, a rehearsal and cover conductor for the San Francisco Ballet, and has collaborated with composer Mason Bates on his electronica-classical music project, Mercury Soul.
In addition to his performing career, Mr. Goodman has discussed the future of live performance as a panelist at Meyer Sound Laboratories and taught young musicians the business and entrepreneurial skills needed to successfully navigate the world as a working musician in his workshop "You Just Earned a Music Degree. Now What?"
Mr. Goodman holds a bachelor of music degree from the Eastman School of Music and a master of music degree from San Francisco State University. His mentors include Michael Tilson Thomas, Alasdair Neale, Cyrus Ginwala and Martin Seggelke.
Musicians of the New World Symphony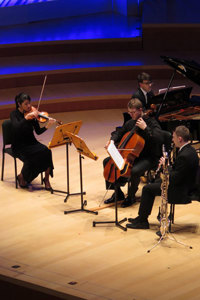 A laboratory for the way music is taught, presented and experienced, the New World Symphony consists of 77 young musicians who are granted fellowships lasting up to three years. The fellowship program offers in-depth exposure to traditional and modern repertoire, professional development training and personalized experiences working with leading guest conductors, soloists and visiting faculty. 
NWS Fellows take advantage of the innovative performance facilities and state-of-the art practice and ensemble rooms of the Frank Gehry-designed New World Center, the campus of the New World Symphony and home of the Knight New Media Center.
In the hopes of joining NWS, more than 1,150 recent music school and conservatory graduates compete for available fellowships each year. The Fellows are selected for this highly competitive, prestigious opportunity based on their musical achievement and promise, as well as their passion for the future of classical music.