Events & Tickets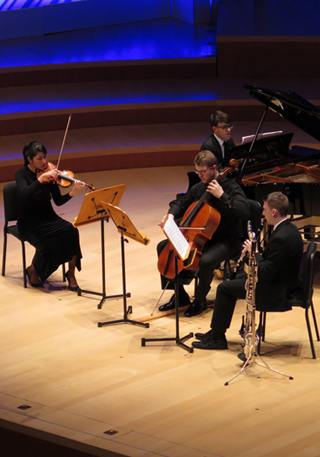 Chamber Music
CHAMBER MUSIC MASTERS
New World Center
Sunday, January 20 at 2:00 PM
Program
From symphonic greats come miniature masterworks in this concert of musical gems. Robert Schumann puts his ultra-Romantic sensibilities on full display in his beloved Piano Quintet, one of the first works to ever pair piano with a string quartet. Strings, winds and brass playfully toss melodies back and forth in Paul Hindemith's Baroque-inspired Octet. Franz Joseph Haydn is known as both Father of the Symphony AND the String Quartet. Part of his last and most renowned set, the D major Quartet is full of surprising harmonic turns and inventive thematic variations.
COMPOSE YOUR OWN SUBSCRIPTION PACKAGE!
Choose this plus two more concerts to customize your own subscription. It's the ultimate flexibility with all the subscriber benefits, including free exchanges when plans change! Click or call the NWS Box Office at 305.673.3331 to create your own series today.
Tickets no longer available online.
Program
Franz Joseph Haydn
(1732-1809)
Approx. Duration: 20 minutes

Quartet in D major for Strings, Op. 76, No. 5, Hob. III:79 (1796-97)

Allegretto – Allegro
Largo – Cantabile e mesto
Minuetto – Allegro
Finale: Presto
Tara Lynn Ramsey, violin I
Sergio Carleo, violin II
Stephanie Block, viola
Alexa Ciciretti, cello
Paul Hindemith
(1895-1963)
Approx. Duration: 28 minutes

Broadly – Moderately fast
Variations: Moderately moving
Slowly
Very lively
Fugue and Three Old-Fashioned Dances (Waltz, Polka & Galop)  
Jesse McCandless, clarinet
Francisco Joubert Bernard, bassoon
Dominic Brancazio, horn
Katherine Kobylarz, violin
Xiaohan Sun, Sam Pedersen, viola
Nicholas Mariscal, cello
Andrea Beyer, bass
Robert Schumann
(1810-1856)
Approx. Duration: 30 minutes

Quintet in E-flat major for Piano and Strings, Op. 44 (1842)

Allegro brilliante
In modo d'una Marcia: Un poco largamente
Scherzo: Molto vivace
Allegro ma non troppo
Thomas Steigerwald, piano
Yefim Romanov, violin I
Dillon Welch, violin II
Erica Gailing, viola
Alan Ohkubo, cello
Franz Joseph Haydn
Quartet in D major for Strings, Op. 76, No. 5, Hob. III:79 (1796-97)

Approximate duration: 20 minutes
Haydn was one of the first composers to write for a chamber ensemble of two violins, viola and cello, and his efforts helped establish the string quartet as a chamber music mainstay. He produced his first 10 quartets in the 1760s, with some predating his hiring in 1761 by the wealthy Esterházy family. Thirty years later Haydn was the most famous composer in the world, and his business model had morphed from satisfying one demanding patron with private entertainment to juggling a variety of international commissions and publishing deals. He usually released quartets in sets of six and his last complete set, from 1797, started as a commission from a Hungarian patron, Count Joseph Erdödy. Haydn agreed to give the count two years of exclusive use of the quartets, but as soon as that period was up the enterprising (and not entirely scrupulous) composer sold the scores to competing publishing firms in London and Vienna, which both released editions in 1799, printed as Opus 76.
In the wake of two visits to London, where his grand new symphonies were such hits, Haydn's quartets became bolder and more experimental than ever. The String Quartet in D major (Op. 76, No. 5) tests a less-is-more approach, starting with a first movement that elaborates one modest theme in a relaxed tempo. Instead of a typical sonata-allegro form with opposing key centers, this streamlined plan simply moves the recognizable theme to a minor key and then back to the original major, ending with one last variant energized by a quicker tempo and contrapuntal volleys.
The de-emphasized first movement places the focus on this Quartet's gorgeous Largo, which Haydn marked "Cantabile e mesto" (singing and sad). Again the entire movement essentially uses one theme, always recognizable by the leaps at the beginning that spell a triad, whether major or minor.
After the slow movement's distant key setting of F-sharp major, the Menuetto returns to the familiar terrain of D major. It starts with a rising, four-note figure that spells out exactly the same triadic leaps as in the preceding movement, confirming this Quartet's interconnection and elevating Haydn's thematic efficiency to a new level. (His young rival Beethoven was certainly taking notes.) The Finale's main theme has a quality of rustic folk-fiddling coursing over pulsing drones, demonstrating yet another way to make so much happen with just a few notes.
Paul Hindemith
Octet (1957-58)

Approximate duration: 28 minutes
During his breakout years in the 1920s, Paul Hindemith was at the forefront of a new German movement to replace Romantic sentimentalism with objectivity and incisive clarity. Later, Nazi propagandists branded him a "standard-bearer of musical decay" and banned his compositions, and so Hindemith left his homeland in 1938, spending most of the 1940s in the United States (where he taught at Yale) and ultimately settling in Switzerland.
In 1957, when Hindemith retired from a teaching post at the University of Zürich to devote more energy to conducting and composing, he began an Octet for the Berlin Philharmonic's chamber music association, using an instrumentation that added a second viola part to the beloved Septet by Beethoven. Playing viola had been a large part of Hindemith's early career, and he came out of retirement as a performer to take part in the 1958 premiere.
The Octet, Hindemith's final work of chamber music, recalls the seven Kammermusik scores he produced in the 1920s, a diverse collection that has been likened to Bach's Brandenburg Concertos. The slow but intense introduction dwells on a recurring rhythmic figure of three short pickups leading to a strong beat, a gesture that stirs memories of Beethoven's Fifth Symphony. The "Moderately Fast" body of the movement strikes up an angular unison figure that leads into crisp, contrapuntal elaborations, including a fugue built up from the lower strings.
The short second movement, devised as a theme and variations, serves as one of two intermezzos in the symmetrical plan of the Octet. The horn offers a mournful opening melody in the slow third movement, while a cascading string accompaniment, built from dotted rhythms, imparts a Baroque quality. The fourth movement bookends this heavy-hearted music with a jaunty tune cloaked in thick harmonies and fractured layers.
The finale, labeled "Fugue and Three Old-Fashioned Dances," explicitly links the Octet to the past. Before the Fugue splits into separate voices, it announces its subject in a jagged unison statement that mirrors the first movement. After the climax of the Fugue, a Waltz enters furtively, only articulating the typical three-beat pulse once the cello starts plucking the downbeats. The next dance, a Polka, sneaks into its two-beat pattern at the point where the violas lead an oddly harmonized new tune. The tempo notches up suddenly for the Galop, an energetic forerunner of the "Can-can" dance. The first viola seems to wander off in into its own world in a flush of perpetual motion, until there is nothing left to do but close the proceedings with three conclusive chords.
Robert Schumann
Quintet in E-flat major for Piano and Strings, Op. 44 (1842)

Approximate duration: 30 minutes
Schumann needed only six days to sketch out his Piano Quintet in the fall of 1842 amid a burst of chamber music activity. The work showcased the virtuosic piano playing of his wife, Clara, who gave the first public performance in January of 1843, and to whom Schumann dedicated the score. Clara had planned to participate in a private reading a month earlier, but when she fell ill that day the Schumanns prevailed upon their friend and fellow Leipzig resident Felix Mendelssohn, who sight-read the imposing piano part.
Schumann's work for piano and string quartet was not the first to feature that instrumentation, but it established an influential new template. There were earlier quintets that functioned as piano concertos with stripped-down accompaniment; there were also quintets intended for home performances by amateurs, with nowhere near the complexity of Schumann's part-writing. The challenge of Schumann's model—and, ultimately, its strength—sprang from the independence of the string quartet and the piano, each fully capable of carrying a musical discourse without the other. In the wake of Schumann, composers built the piano quintet into a chamber music powerhouse, from Brahms and Dvořák in the 19th century to Bartók and Shostakovich in the 20th.
From the start of the first movement, Schumann's Piano Quintet is chamber music writ large, designed to reach every corner of the Leipzig Gewandhaus and other major concert halls where Clara performed. The central gesture of four half-notes outlining wide intervals harks back to Bach's leaping fugue themes, a style that Schumann was just starting to study intently. (He was, after all, in the city where Bach made his name, in the company of Bach's greatest champion, Mendelssohn.) Offsetting the muscular first theme, the lyrical second theme starts with the cello jumping down and then gliding back up, its tender entreaties mirrored in an inverted form by the viola.
The second movement, "In the mode of a march," again reflects Schumann's fascination with music of the past; the stately dotted rhythms are remnants of 17th- and 18th-century styles, and the plodding pulse recalls the funeral march from Beethoven's "Eroica" Symphony.
The Scherzo makes a game out of rising and falling scales, interspersed with two opposing trio sections. The pairs of falling intervals in the first trio reinterpret the bold upward leaps of the first movement, while the minor-key second trio detours into shocking chromatic escapades.
The robust finale draws much of its rhythmic energy from a pattern that starts and ends phrases mid-measure instead of aligning accents with the downbeats, not unlike a gavotte dance from the Baroque era. Fugal passages offer further evidence that Schumann had one eye on the past throughout this forward-leaning work.

-- Copyright © 2019 Aaron Grad
Aaron Grad is a composer, guitarist and writer based in Seattle. Besides providing program notes for the New World Symphony, he has been the Orpheus Chamber Orchestra's program annotator since 2005 and also contributes notes to the Saint Paul Chamber Orchestra and Seattle Symphony.
Musicians of the New World Symphony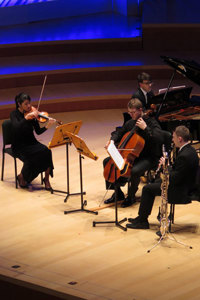 A laboratory for the way music is taught, presented and experienced, the New World Symphony consists of 87 young musicians who are granted fellowships lasting up to three years. The fellowship program offers in-depth exposure to traditional and modern repertoire, professional development training and personalized experiences working with leading guest conductors, soloists and visiting faculty. 
NWS Fellows take advantage of the innovative performance facilities and state-of-the art practice and ensemble rooms of the Frank Gehry-designed New World Center, the campus of the New World Symphony and home of the Knight New Media Center.
In the hopes of joining NWS, more than 1,500 recent music school and conservatory graduates compete for about 35 available fellowships each year. The Fellows are selected for this highly competitive, prestigious opportunity based on their musical achievement and promise, as well as their passion for the future of classical music.