Events & Tickets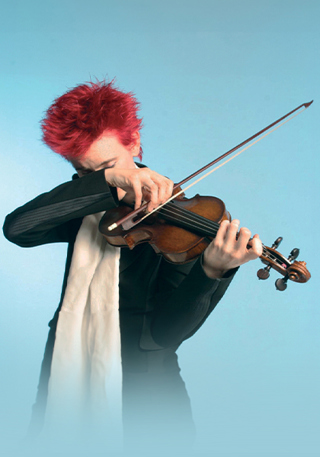 Chamber Music
Chamber Music: Nosky and Uncharted Baroque
New World Center, Michael Tilson Thomas Performance Hall, The John S. and James L. Knight Foundation Stage
Sunday, December 17, 2023 at 2:00 PM
Program
Ring in the holidays with an effervescent chamber music concert. Hailed as "a fearsomely powerful musician" by The Toronto Star, Aisslinn Nosky—concertmaster of the Grammy Award-winning Handel and Haydn Society—joins NWS Fellows in exploring works ranging from 1625 to 2017. Get a worldwide view of music from the 17th century through composers from Italy, Bohemia, Germany and France. NWS Conducting Fellow Molly Turner leads Michael Oesterle's Kammerkonzert, while regal trumpets take center stage in Georg Philipp Telemann's Concerto.
----
Reserve your seats today and enjoy unbeatable savings by subscribing to New World Symphony's Chamber Music series. Starting at just $10 a concert, our 2023-24 series features works for small ensembles by Wolfgang Amadeus Mozart, Claude Debussy, J.S. Bach, Wynton Marsalis and Hildegard von Bingen.
This concert can also be added to any Compose Your Own (CYO) subscription series. Pick three or more performances you'd like to attend and receive all the perks and savings of being a New World Symphony subscriber.
Loading Concert Information
Program
Johann David Heinichen
(1683-1729)
Approx. Duration: 9 minutes

Concerto in F major, S. 233
Minha Kim, Emily Bieker, flute
Henry Bond, Xin He, horn
Dario Castello
(1602-1631)
Approx. Duration: 9 minutes

Sonata concertante in Stil Modern, Book 1, No. 4 (1629)

Aisslinn Nosky, violin
Chase Waterbury, trombone
David Olson, cello
Noah Sonderling, harpsichord
Georg Philipp Telemann
(1681-1767)
Approx. Duration: 11 minutes

Concerto in D major for Three Trumpets, TWV 54: D3
Intrada
Allegro
Largo
Vivace
Morgen Low, Kenneth Chauby, Alan Tolbert, trumpet
Jan Dismas Zelenka
(1679-1745)
Approx. Duration: 15 minutes

Concerto in G major à 8, ZWV 186 (1723)

Tanavi Prabhu, oboe
Maggie O'Leary, bassoon
Diego Diaz, violin
Hana Cohon, cello
Élisabeth Jacquet de la Guerre
(1665-1729)
Approx. Duration: 9 minutes

Trio Sonata No. 3 in D major (c. 1695)

Aisslinn Nosky, violin
Kamila Dotta, cello
Noah Sonderling, harpsichord
Michael Oesterle
(b. 1968)
Approx. Duration: 17 minutes

Molly Turner, conductor
Aisslinn Nosky, violin
Karol Szymanowski
(1882-1937)
Approx. Duration: 20 minutes

Quartet No. 2 for Strings, Op. 56 (1927)

Moderato dolce e tranquillo
Vivace, scherzando
Lento
Johann David Heinichen
Concerto in F major, S. 233

Approximate duration: 9 minutes
After earning a degree in law from the University of Leipzig and establishing a successful legal career, Johann David Heinichen moved to Venice to study Italian opera. By 1712 he was a music instructor for Prince Leopold of Anhalt-Köthen, and within four years he was appointed Kapellmeister (music director) to the Dresden court, one of the most important musical establishments in Europe. Many of Heinichen's 250 works were unfortunately destroyed during World War II, but those that survive demonstrate his unique interest in combining unusual instrumental timbres. This is true of the Concerto on today's program, which includes solo flutes and solo horns, instruments that composers of the time rarely featured together in a concerto. The first movement has prominent horn solos reminiscent of hunting calls, which alternate with cheerful flute solos and a ritornello (repeated musical passage) from the strings. The pastoral second movement conveys musical images of the tranquil countryside and is followed by an exuberant finale that demonstrates the horns' technical prowess. Horns in the Baroque period did not have valves, so all pitch changes were controlled completely by the performer's embouchure (position of the mouth).
Dario Castello
Sonata concertante in Stil Modern, Book 1, No. 4 (1629)

Approximate duration: 9 minutes
Dario Castello was an early 17th-century composer and instrumentalist who directed a wind ensemble and worked at San Marco in Venice. The sonata, which means "to sound," was a newly emerging genre intended to explore the range, timbre and technical capacities of wind, string and keyboard instruments. Italian sonatas from this time are composed of many contrasting sections that flow into one another. Some of the sections are freer and more improvisatory, while others contain stricter imitative counterpoint (a dialogue between the voices that follows a precise set of rules). This creates a distinct sense of "sprezzatura" (studied carelessness), and Italian Baroque sonatas are meant to sound as though the performers are brilliantly and effortlessly inventing each new musical idea on the spot.
Georg Philipp Telemann
Concerto in D major for Three Trumpets, TWV 54: D3

Approximate duration: 11 minutes
With a catalog of more than 3000 surviving works, Georg Philipp Telemann remains one of the most prolific composers of Western classical music. He was highly respected by his colleagues and one of the most famous composers of his time. Indeed, when the city of Leipzig needed a new music director in 1723, the search committee unanimously chose Telemann. He turned down the job, however, and the city ultimately had to hire their third-choice candidate, Johann Sebastian Bach. Throughout his career, Telemann was committed to sharing his music with the general public. He intentionally cultivated opportunities for large audiences to hear works that had originally been commissioned for exclusive court ceremonies. Additionally, he published the first German music periodical, which gave amateur musicians and students easier access to printed music at home. His Concerto for three trumpets opens with a grand first movement reminiscent of a stately procession. Telemann demonstrates his contrapuntal abilities in the second movement with a tightly constructed fugue, an imitative dialogue based on an opening musical subject that adheres to strict rules. Soaring melodies and lyricism are on full display in the third movement, and the Concerto concludes with an exuberant celebration.
Jan Dismas Zelenka
Concerto in G major à 8, ZWV 186 (1723)

Approximate duration: 15 minutes
A native of Lounovice, a village south-east of Prague, Jan Dismas Zelenka eventually relocated to Dresden to work as a bass player in the prestigious Hofkapelle (court chapel). He eventually earned the title of Kapellmeister (music director) in Dresden and composed a substantial number of sacred works. In 1723 Zelenka was commissioned to write a new melodrama to celebrate the coronation of Charles VI and Elizabeth Christine as the new monarchs of Bohemia. He returned to Prague to conduct the work's premiere, and while there, he also composed the Concerto on today's program. The oboe and bassoon have particularly prominent roles in this piece, demonstrating technical virtuosity in the fast movements and expressive lyricism in the slow movement.
Élisabeth Jacquet de la Guerre
Trio Sonata No. 3 in D major (c. 1695)

Approximate duration: 9 minutes
When she was a young girl, Élisabeth Jacquet de La Guerre's musical skills were so impressive to Louis XIV that he arranged for her continued education and granted her a royal privilege to publish her compositions. During her impressive career, she was a sought-after harpsichordist, the host of important Parisian salons, and the first French woman composer to have an opera performed at the Paris Opera. French women writing music at the turn of the 18th century often published their pieces anonymously or under their husbands' names, but Jacquet de La Guerre's patronage from the King allowed her to publish her music with her own name. Her trio sonatas are emblematic of the genre, featuring lush harmonies, rich dissonance and an intimate conversation between the three musical lines. Each movement presents a different emotional quality, with lively fast movements and a particularly poignant aria affetuoso.
Michael Oesterle
Kammerkonzert (2017)

Approximate duration: 17 minutes
Michael Oesterle is a German-Canadian composer whose works have been performed throughout North America and Europe. He describes his 2017 Kammerkonzert for piano and violin with 13 wind instruments as "a rhapsodic skirmish between the violin and piano who throughout the piece try to outshine one another, and to shamelessly round up the members of the wind band to their respective aesthetic camp." Often the violin and English horn are matched, as are the trombone and the piano. After building into a frenzy, the winds decide they have had enough and depart, leaving the pianist and violinist alone to sulk.
Karol Szymanowski
Quartet No. 2 for Strings, Op. 56 (1927)

Approximate duration: 20 minutes
Across his distinguished career, Polish composer and pianist Karol Szymanowski was awarded numerous prestigious national honors. In addition to composing, he also directed the State Conservatory in Warsaw, founded the Young Polish Composers' Publishing Company and wrote a novel. A scholar of Polish Highlander folk music, Szymanowski incorporated many of the rhythmic, melodic and harmonic elements of the Highlanders' music into his later compositions, including his Second String Quartet. The piece was written in Paris in 1927, where Szymanowski spent several months each year exchanging in cross-cultural dialogues. The first movement opens with a hauntingly beautiful melody accompanied by a pulsating rhythmic ostinato (repeated pattern). Intense dissonance and pizzicato (plucked strings) are driving features in the second movement, and the final movement begins quietly before intensifying to a dramatic conclusion.
– © 2023 Paula Maust
Dr. Paula Maust is an Assistant Professor of Music Theory at the Peabody Institute of the Johns Hopkins University. She is the creator of Expanding the Music Theory Canon, an online collection of music theory examples by historical women and/or people of color. A book based on the website is forthcoming from SUNY Press in December 2023. Paula is also an editor for Grove Music Online's women, gender and sexuality revision project. As a harpsichordist and organist, she co-directs Musica Spira, a Baroque chamber ensemble dedicated to telling the stories of early modern women musicians and performs extensively in the Washington, D.C. area.
Aisslinn Nosky, violin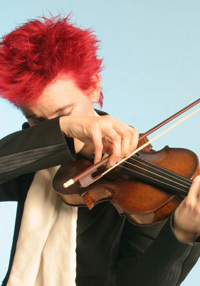 Violinist Aisslinn Nosky captivates audiences around the world with her innovative interpretations and impeccable technique. Her fierce passion for early music and skill as a soloist, director, and conductor has generated robust appreciation by press and audiences alike. Hailed as "superb" by The New York Times and "a fearsomely powerful musician" by The Toronto Star, widespread demand for Nosky continues to grow.
In 2011 Nosky was appointed Concertmaster of the Handel and Haydn Society of Boston. She is also Concertmaster of  Bach Akademie Charlotte and has been Guest Artist-in-Residence with the Manitoba Chamber Orchestra since 2018. She has also collaborated with the Orchestra of the Age of Enlightenment, New Zealand Symphony Orchestra, Holland Baroque and Charlotte Symphony. She was a dedicated member of Tafelmusik Baroque Orchestra from 2005 to 2016 and served as Principal Guest Conductor of the Niagara Symphony from 2016 to 2019.
Nosky is a founding member of the Eybler Quartet, who explore repertoire from the early quartet literature on period instruments. Their most recent recording features Beethoven's Op. 18 string quartets and was released in 2018 (CORO). Gramophone Magazine mused, "they make no bones about treating Beethoven as a radical. ...This set might delight you or it might infuriate you: either way, I suspect, Beethoven would have been more than happy." With the Eybler Quartet, Nosky serves on the faculty of EQ: Evolution of the String Quartet at the Banff Centre for Arts and Creativity. EQ is an intensive summer course for emerging artists which celebrates the lineage of the string quartet, both as a historical genre and as a freshly invigorated practice in the 21st century.
Born in Canada, Nosky began playing violin at age three and made her solo debut with the CBC Vancouver Orchestra at age eight. 
Molly Turner, conductor
Molly Turner is a Chinese-born conductor and composer. Recently, she has conducted the Orchestre de Paris, Gstaad Festival Orchestra, Theater Orchester Biel Solothurn, Juilliard Orchestra, Dallas Opera Orchestra, Primrose International Viola Competition, Colburn Orchestra and Eastern Festival Orchestra. Highlights of the 2022-23 season included a debut with San Francisco Symphony's SoundBox Series, a Concert Scolaire with Orchestre de Paris, conducting the premiere of her own new orchestra work with the Tacoma Youth Symphony, Colburn Chamber Music Society with David Rejano and Cosi! Men Are Like That with opera company White Snake Projects. She has served as assistant conductor for the Berliner Philharmoniker, Orchestre de Paris, San Francisco Symphony, Utah Symphony, San Diego Symphony, National Polish Radio Symphony, Juilliard Orchestra and Colburn Orchestra. In 2019 she was the youngest conductor invited for residency at the Dallas Opera's Hart Institute for Women Conductors. She has assisted Esa-Pekka Salonen, David Robertson, Stéphane Denève, Yaniv Dinur, Rafael Payare, Nicholas McGegan and Jeffrey Milarsky.
Ms. Turner is a devoted advocate for contemporary and modern music. She has collaborated with many living composers including Paul Novak, Max Vinetz, Lauren Vandervelden, Corey Chang, Sujin Kang, Webster Gadbois and Sofia Ouyang and has a strong affinity for the music of Stravinsky, Bartók and Lutosławski. She is a member of the Colburn Contemporary Ensemble and has conducted works by Lou Harrison, Timo Andres and Nina Young with them. As part of Juilliard's ChoreoComp, Ms. Turner premiered four different dance pieces created by current student composers and choreographers and at Rice, she conducted and composed for Hear&Now: New Music.
 Pursuing projects outside of the traditional concert hall is a core part of Ms. Turner's artistic identity. In 2021 she performed an open improvisation set on violin alongside Pablo O'Connell, Kebra-Seyoun Charles and Ryan Jung in an Alice Tully Hall window performance. While she was a Teaching Artist Fellow at Juilliard, she was involved in creating an improvisatory work that used K-8 student "found sound" recordings as source material. From 2017-19 was the artistic director for New Art / New Music at the Moody Center for the Arts. There she worked with composers and visual artists to curate a concert of new works that were site-specific to current exhibitions at the Moody Center. In 2017 she played viola in a multimedia performance art project alongside Angelbet Metoyer creating art live, Saul Williams reciting poetry and other musicians openly improvising.  In 2015 she co-wrote a graphic score with Sarah Grace-Graves for sculptor Katie Grinnan's Astrology Orchestra written for the Turrell Skypsace.
In her own music, Ms. Turner is interested in the balance between strictly dictated elements and more aleatoric notation. Her relationship to the standard repertoire is often integrated in subtle ways beneath the foreground of the music. A violinist and violist herself, she finds string instruments endlessly fascinating. Improvisation is a core part of her writing process and she often starts her work as voice memos or graphic scores. In 2018 her string quartet, The Shapes of Stories, was read by the Arditti Quartet. Her work has been heard in Benaroya Hall, Duncan Recital Hall, the Moody Center for the Arts and has been privately recorded.  
She completed her master's degree in orchestral conducting at The Juilliard School studying with David Robertson and received a bachelor in music composition cum laude from Rice University. She recently was pursuing an artist diploma at the Colburn Conservatory of Music in Los Angeles, where she studied under the guidance of Esa-Pekka Salonen in the Negaunee Conducting Program as a Salonen Fellow. She has studied composition with Kurt Stallmann, Arthur Gottschalk, Karim Al-Zand and Richard Lavenda. She has attended the Gstaad Festival Conducting Academy where she worked with Johannes Schlaefli, Jaap van Zweden and Baldur Brönnimann and the Eastern Music Festival, where she worked with Gerard Schwarz. In her free time, she enjoys biking, playing Ultimate Frisbee and reading.
Musicians of the New World Symphony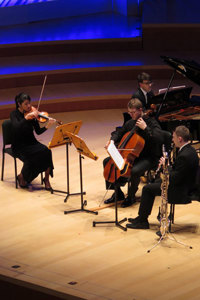 A laboratory for the way music is taught, presented and experienced, the New World Symphony consists of 87 young musicians who are granted fellowships lasting up to three years. The fellowship program offers in-depth exposure to traditional and modern repertoire, professional development training and personalized experiences working with leading guest conductors, soloists and visiting faculty. 
NWS Fellows take advantage of the innovative performance facilities and state-of-the art practice and ensemble rooms of the Frank Gehry-designed New World Center, the campus of the New World Symphony and home of the Knight New Media Center.
In the hopes of joining NWS, nearly 1,000 recent music school and conservatory graduates compete for available fellowships each year. The Fellows are selected for this highly competitive, prestigious opportunity based on their musical achievement and promise, as well as their passion for the future of classical music.