Events & Tickets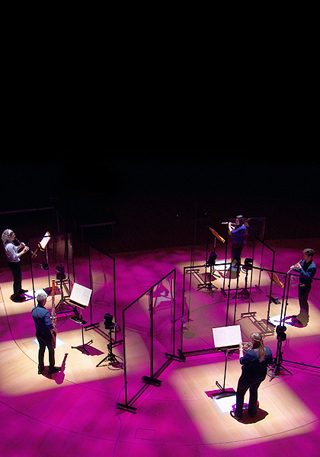 Chamber Music
Chamber Music: Schubert Octet
New World Center
Sunday, May 1, 2022 at 2:00 PM
Program
The final chamber music concert of the season has the New World Symphony Fellows' talent and exuberance on full display. Franz Schubert's Octet is inspired by Beethoven, and full of artistry and character that play out like a symphony. Grammy Award-winner and University of Miami professor Lansing McLoskey describes his "Three Bs" of music not as Bach, Beethoven and Brahms, but Beatles, Bauhaus and Black Flag.
Program
Lansing McLoskey
(b. 1964)
Approx. Duration: 13 minutes

Specific Gravity: 2.72 for Flute, Clarinet, Saxophone, Violin, Cello and Percussion (2012)

Hardness: 7.5-8 
November Graveyard 
Victor Huls, conductor   
Leah Stevens, flute; Jesse McCandless, clarinet
Benjamin Morris, alto saxophone; Michael Linville, percussion
Sophia Bernitz, violin; Isabel Kwon, cello
Franz Schubert
(1797-1828)
Approx. Duration: 60 minutes

Octet in F major, D. 803 (1824)

Adagio – Allegro  
Andante un poco mosso 
Scherzo: Allegro vivace – Trio  
Andante 
Menuetto: Allegretto – Trio  
Andante molto – Allegro – Andante molto – Allegro molto
Julianna Darby, clarinet; Gabriel Beavers, bassoon
Scott Leger, horn
Margeaux Maloney, violin I; Yankı Karataş, violin II
Stephanie Block, viola; Emily Yoshimoto, cello
Daniel Carlson, bass
Lansing McLoskey
Specific Gravity

: 2.72

 

for Flute, Clarinet, Saxophone, Violin, Cello and Percussion

(2012)

Approximate duration: 13 minutes
Lansing McLoskey began his musical career as a punk rock guitarist in San Francisco, and his bio makes clear that the "three B's" that guided him were not the classical triumvirate of Bach, Beethoven and Brahms, but rather The Beatles, Bauhaus and Black Flag (the latter two being British and American bands with punk roots). His musical studies eventually brought him to Harvard University, and his compositions have traveled far and wide, including a choral work, Zealot Canticles, that earned the 2019 Grammy Award for Best Choral Performance. He is also a composition professor at the University of Miami's Frost School of Music, where, as he writes on his faculty page, his teaching might "reference Steve Reich, Machaut, William Schuman, Claude Vivier, Miles Davis, Radiohead, Jimi Hendrix and The Ramones… in the same lesson."
McLoskey composed Specific Gravity: 2.72 in 2012 for the 20th anniversary of the newEar Ensemble, a contemporary music powerhouse in Kansas City. Riffing on the idea of the gem associated with 20th anniversaries, the emerald, McLoskey chose as his title the term used to describe an object's density relative to water. He took another property of emeralds as a jumping off point for the first movement, Hardness 7.5-8 (their rating on the Mohs Hardness Scale, with diamonds being 10), and that sense of impenetrability comes through in the brittle figurations that gradually reconcile with the long lines played against them. The mournful and fluttery second movement, November Graveyard, shares its title with a poem by Sylvia Plath, which includes a mention of the same gem's tone: "dour grass / Guards the hard-hearted emerald of its grassiness."
Franz Schubert
Octet in F major, D. 803

(1824)

Approximate duration: 60 minutes
In his tragically short life, Franz Schubert never achieved anything close to the public platform he deserved. If he had, perhaps we would today be enjoying Schubert operas (his greatest unfulfilled ambition), or more symphonies (none of which were performed publicly in his lifetime). Instead, Schubert created most of his music for his private circle of friends and patrons. Such was the case in 1824, when Count Ferdinand Troyer, an amateur clarinetist, commissioned a large work of chamber music. Troyer asked for something in the vein of Beethoven's wildly popular Septet for clarinet, horn, bassoon, violin, viola, cello and bass. Besides the self-evident charms of that Septet, there was also a personal connection to Beethoven; Troyer worked for the Archduke Rudolph, Beethoven's former student and lifelong friend.
Schubert obliged with the Octet (D. 803), which added a second violin to Beethoven's ensemble while keeping the same configuration of six movements. The hour-long score took Schubert only about a month to compose, and apparently his work habits were unflappable in that period. As one friend related to a mutual acquaintance in a letter, "Schubert has now long been at work on an octet, with the greatest enthusiasm. If you go and see him during the day he says 'Hello. How are you?' and carries on working, whereupon you leave."
Schubert finished the Octet on March 1, 1824, and in April it received a public performance in Vienna. Besides Troyer on clarinet, the ensemble included the distinguished violinist Ignaz Schuppanzigh, who had led the premiere of Beethoven's Septet 24 years earlier. Even after a positive newspaper review for that high-profile premiere, no publisher took up the Octet, and it did not appear in print until Schubert had been dead for a quarter-century.
Just like Beethoven's Septet, the Octet sets the stage with a slow introduction. The fast body of the first movement makes the most of the large ensemble's range and power, coming close to the scope of a symphony. The slow second movement features the clarinet in the initial statement of a gorgeous melody, which soon becomes a duet with the first violin. The swaying and pulsing accompaniments from the second violin and viola resemble the textures Schubert mastered in the piano accompaniments for his songs.
A shorter work would typically have a scherzo or a minuet to clear the air, but the Octet follows the lead of Beethoven's Septet and includes both, with their placement swapped. (This structure aligns with the tradition of Mozart's Serenades and their diverse and colorful movements.) Schubert played up the humor in his Allegro vivace movement that serves as a scherzo, using sudden harmonic shifts and abrupt dynamic changes to keep the music unpredictable.
The fourth movement is a well-mannered set of variations, with the tune lifted from one of Schubert's earlier opera failures. Again, the clarinet and first violin are placed most often in the foreground, which surely satisfied the work's clarinetist-patron. Other variations featuring horn and cello spread the attention out to the ensemble's deeper voices. As a bookend to the earlier scherzo, a regal minuet in a slower Allegretto tempo provides another refreshing diversion.
At the start of the finale, the rumbling tremolo and wandering harmonies of the slow introduction hint at a much darker world under the cheerful façade of the previous 50 minutes, something closer to the wrenching "Death and the Maiden" String Quartet that Schubert composed in the weeks after the Octet. The tension vanishes with the arrival of the Allegro section, providing a suitably grand and boisterous conclusion to this ambitious work of chamber music writ large.
-- © 2022 Aaron Grad
Aaron Grad is a composer, guitarist and writer based in Seattle. Besides providing program notes for the New World Symphony, he has been the Orpheus Chamber Orchestra's program annotator since 2005 and also contributes notes to the Saint Paul Chamber Orchestra and Seattle Symphony.
Musicians of the New World Symphony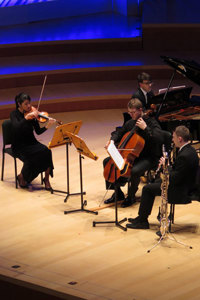 A laboratory for the way music is taught, presented and experienced, the New World Symphony consists of 87 young musicians who are granted fellowships lasting up to three years. The fellowship program offers in-depth exposure to traditional and modern repertoire, professional development training and personalized experiences working with leading guest conductors, soloists and visiting faculty. 
NWS Fellows take advantage of the innovative performance facilities and state-of-the art practice and ensemble rooms of the Frank Gehry-designed New World Center, the campus of the New World Symphony and home of the Knight New Media Center.
In the hopes of joining NWS, nearly 1,000 recent music school and conservatory graduates compete for available fellowships each year. The Fellows are selected for this highly competitive, prestigious opportunity based on their musical achievement and promise, as well as their passion for the future of classical music.