Events & Tickets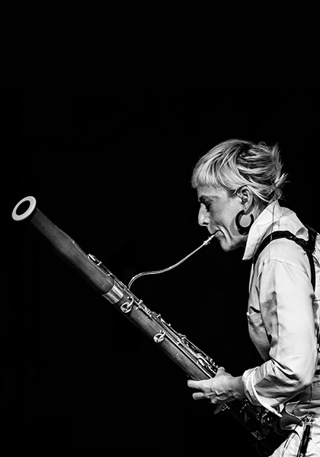 Chamber Music
Chamber Music: Then and Now
New World Center, Michael Tilson Thomas Performance Hall
The International Contemporary Ensemble amplifies creators whose work propels and challenges how music is made and experienced. Its Artistic Director Emeritus, NWS alumna Rebekah Heller, embraces this mission as she returns to share works by today's visionaries and yesterday's trailblazers. From Hannah Kendall's scenes of World War I to Ruth Crawford Seeger's playful Suite, the pieces explore myriad emotions and techniques. Johannes Brahms' Piano Quintet is often called the crown of his chamber music.
Program
Ruth Crawford Seeger
(1901-1953)
Approx. Duration: 10 minutes

Suite for Wind Quintet (1952)

Allegretto
Lento rubato
Allegro possible
Leah Stevens, flute
Tanavi Prabhu, oboe
Jesse McCandless, clarinet
Rebekah Heller, bassoon
Spencer Bay, horn
Fernanda Navarro
Approx. Duration: 8 minutes

Parthenogenesis for Clarinet, Trombone, Cello and Piano (2012)

Angelo Quail, clarinet/bass clarinet
Noah Roper, bass trombone
Thomas Steigerwald, piano
Vivian Chang, cello
Grażyna Bacewicz
(1909-1969)
Approx. Duration: 10 minutes

Quartet for Four Violins (1949)

Allegretto
Andante tranquillo
Molto allegro
James Zabawa-Martinez, Zhengdong Liang,
Minglun Liu, Sophia Bernitz, violin
Hannah Kendall
(b. 1984)
Approx. Duration: 5 minutes

Verdala for Chamber Ensemble (2018)

Rebekah Heller, conductor
Leah Stevens, flute/piccolo; Mark Debski, oboe
Julianna Darby, clarinet/bass clarinet; Bee Ungar, bassoon
Eli Pandolfi, horn; Gianluca Farina, trumpet
Guangwei Fan, trombone
Joe Desotelle, percussion; Phoebe Powell, harp
Jiyoung Lee, violin I; Hosanna Carella, violin II
Bradley Parrimore, viola; James Churchill, cello I
Victor Huls, cello II; Levi Jones, bass
Johannes Brahms
(1833-1897)
Approx. Duration: 37 minutes

Quintet in F minor for Piano and Strings, Op. 34 (1862-64)

Allegro non troppo
Andante, un poco adagio
Scherzo: Allegro
Finale: Poco sostenuto – Allegro non troppo
Wesley Ducote, piano
Michael Turkell, violin I; Natalie Lee, violin II
Marlea Simpson, viola; Chava Appiah, cello
Michael Linville is the New World Symphony's Dean of Chamber Music and Fellow Development.
Ruth Crawford Seeger
Suite for Wind Quintet (1952)

Approximate duration: 10 minutes
In her 20s, Ruth Crawford Seeger was a talented pianist and budding composer in Chicago, known for her piano scores and settings of poetry by her friend Carl Sandburg, and championed by the avant-garde composer Henry Cowell. It was Cowell who introduced her to Charles Seeger, who started as her composition teacher and became her husband in 1932 after he left his family for her. As the mother to their four children (and the stepmother to Charles' sons from his first marriage, including Pete, who would become a leader in the American folk music revival), Seeger put her family role ahead of her composing, and produced barely any music in the 1930s and -40s, although she made important contributions all through that time to the preservation work of Alan and John Lomax, transcribing their legendary field recordings and arranging them for printed folksong collections that crystallized the American folk repertoire.
Determined to reignite her composing career once her children were more independent, Seeger wrote the Suite for Wind Quintet in 1952 for a competition that she ended up winning. Instead of a fresh start, the Suite sadly turned out to be her last composition. The next year, she was diagnosed with intestinal cancer and died at the age of 52.
The Suite for Wind Quintet demonstrates the personal approach to modernism that Seeger cultivated in her life before marriage, and which she was clearly ready to keep advancing forward. She was interested in creating cycles of notes and serial procedures, but instead of the 12-tone orthodoxy of Schoenberg and company, she created her own compelling patterns of notes and rhythms. The angular leaps and funky rhythms of the repeating ostinato in the Suite's first movement establish a tonal color that holds its character even as the materials compress and distort. Related procedures in the slow middle movement and very fast finale create a composite effect of music that is austere and unpredictable, and yet attractive on its surface and utterly unpretentious.
Fernanda Navarro
Parthenogenesis for Clarinet, Trombone, Cello and Piano (2012)

Approximate duration: 8 minutes
Fernanda Aoki Navarro grew up in Brazil, where, as she wrote, "it took me a while to fully understand why people would call me and categorize me as 'Mestiça.' As time passed, I understood not only the semantics of the term, but also its social implications: I wasn't considered Brazilian enough nor Japanese enough, even though I was born and raised in Brazil. The Japanese have a similar term, 'hafu,' adapted from English: half. This idea of being 'half,' too Brazilian for the Asians and too Asian for the Brazilians, permeated my perception of belonging: neither from here, nor from there."
Her studies took her from native São Paolo to California for master's and doctorate programs at UC Santa Cruz and UC San Diego, and then to Harvard University, where she was a fellow at the Radcliffe Institute for Advanced Study. She joined the faculty of Arizona State University in 2020 and continues to balance her teaching with a busy composing career pursuing her interests "in sound, in the idiosyncratic relationship between the corporeality of the performers and the physicality of their instruments, in the exploration between music and language, in collaborative processes, and in the transformational power that experimental music can exert on issues related to feminism and social otherness."
Navarro composed Parthenogenesis in 2012 for the April in Santa Cruz Contemporary Music Festival, where it was performed by the Gnarwhallaby Quartet consisting of clarinet, trombone, cello and piano. "In this piece I wanted to work with the idea of non-development," Navarro wrote in a program note. "I thought about materials that didn't need any fertilization (hence the title), which contained in their first occurrence all their characteristics already developed, avoiding the 'evolution' of traditional developmental procedures. Even though the materials weren't generated for purposes of development or variation, I tried to determine different levels of relationship between them, searching for coherence on other terms. The corporality involved in the realization of the sound structures—the physical movement necessary for the performer to play certain sounds—was my guiding element in dealing with the composition in the form's microsphere."
Grażyna Bacewicz
Quartet for Four Violins (1949)

Approximate duration: 10 minutes
Grażyna Bacewicz, one of the most influential Polish musicians in the 20th century, is finally getting her due in American concert halls. Like many of the American greats from her generation, she studied composition in Paris with the legendary Nadia Boulanger. Bacewicz was also a top-tier concert violinist who led the Polish Radio Orchestra for a time, not to mention an accomplished pianist known for interpreting her own works, a writer of novels and short stories and, in later years, an educator.
Bacewicz's own instrument figured prominently in her output as a composer, including two dozen works for violin and piano, seven string quartets in the usual configuration and this atypical quartet for four violins. Crafting a musical language steeped in the harmonies and textures of the 18th century, her take on the modern trend of "neoclassical" music was unusually muscular and forward leaning, as heard in this effervescent quartet full of surprise turns and alluring harmonies.
Hannah Kendall
Verdala for Chamber Ensemble (2018)

Approximate duration: 5 minutes
Hannah Kendall, born in London into a family from the South American nation of Guyana, now lives in New York while she completes her doctorate at Columbia University. Her most recent premiere was Tuxedo: Plaid x Plaid, commissioned by the Orpheus Chamber Orchestra, and her music has been performed by many of the world's leading ensembles. She composed Verdala for the BBC Proms in 2018, at a time when the United Kingdom was grappling with its racist and colonial legacy in a series of events known as the "Windrush Scandal," named after the ship that decades earlier had carried many of the Caribbean families to England that were in the process of being deported.
Ms. Kendall provided the following program note:
The Verdala was one of the ships that brought the British West Indian Regiment from the Caribbean to Europe to fight in World War I. Already knowing that I wanted this piece to highlight the BWIR's involvement in the war, and thinking about titles around the time that the 2018 "Windrush Scandal" surfaced, it seemed fitting to name it so, as a reminder that there have been many ships long-prior to Windrush interweaved throughout British and British-Caribbean history.
I have been particularly drawn to the writings of Caribbean/Guyanese poet and political activist Martin Carter for many years, who expressed his feelings of the British-Caribbean experience, and military presence through powerful and poignant imagery in his texts. Lines from his "O Human Guide" inspired the musical material for Verdala:
"In the burnt earth of these years...So near so near the rampart spiked with pain... The guilty heaven promising a star...Each day I ride a wild black horse of terror..."
Intricate interweaving woodwind lines feature throughout, often punctuated by strong raw chords in the strings, recurring chimes in the harp, and initial beating from the claves. Highly direct rhythmic activity dominates following the opening section, which foreshadows this, except when biting "jabs" give way to a softer, quieter chorale in the low woodwinds and brass, before building up again, becoming more unsettled, and culminating wildly and piercingly.
Johannes Brahms
Quintet in F minor for Piano and Strings, Op. 34 (1862-64)

Approximate duration: 37 minutes
Brahms spent most of his 20s in the orbit of the Schumann family, and he struggled to live up to Robert Schumann's prediction that, "When once [Brahms] lowers his magic wand over the massed resources of chorus and orchestra, we shall have in store for us wonderful insights into the secret of the spiritual world." Brahms did go on to compose legendary symphonies, but the first didn't emerge until his early 40s. Instead, he made his first great strides in the genre of chamber music (a style that might have faded into oblivion without the efforts of Schumann and his circle), starting with a series of seven magnificent scores composed between 1860 and 1865.
One work that nearly eluded Brahms was the Piano Quintet in F minor. He first wrote it in 1862 as a string quintet with two cellos, but his good friend and go-to violinist Joseph Joachim protested that strings alone could not do the music justice. Brahms then converted the work into the sonata for two pianos, which he performed in Vienna in 1864. This time his other closest musical confidante, pianist Clara Schumann, questioned the scoring, and Brahms revised it yet again to create a quintet for piano and strings, a format pioneered by Clara's late husband Robert. Brahms destroyed his early string quintet version, but he allowed the two-piano version to be printed as Opus 34b.
The Piano Quintet has all the signatures of Brahms' mature style: ceaseless thematic development, propulsive cross-rhythms, phrases that arc over bar-lines and fervent themes with a tinge of Roma (i.e. "Gypsy") flair. The epic first movement unfurls its primary melody in naked octaves, holding back its full power until the second appearance. The contrasting theme provides no respite from the stormy material, striking up the distant key of C-sharp minor instead of the expected major key.
The slow movement is a marvel of understatement, featuring a hypnotic, fragmented theme oriented around rising intervals, prodded along gently by an accompaniment that leans on the off-beats.
The running joke of the scherzo is a schism between two alternating pulses, one rolling past with barreling triplets, the other adopting the martial pomp and snapping attack of dotted rhythms in a march tempo. The movement ends with an aggressive and unstable flourish, yearning for a resolution that comes with the start of the finale in the home key. The first delicate exchange mirrors the bare start of the first movement, and the tragic introduction builds anticipation for the body of the movement, which finally arrives with a new melody of folk-like simplicity. The last phrases devolve into a battle of displaced accents, and the Quintet ends with the musicians still embroiled in rhythmic conflict.
-- © 2022 Aaron Grad
Aaron Grad is a composer, guitarist and writer based in Seattle. Besides providing program notes for the New World Symphony, he has been the Orpheus Chamber Orchestra's program annotator since 2005 and also contributes notes to the Saint Paul Chamber Orchestra and Seattle Symphony.
FOR YOUR SAFETY 
As of September 18, 2021, these are the guidelines that all guests at New World Symphony concerts must follow. These guidelines will apply to all members of your party before they are allowed to enter the New World Center and to any users of the tickets purchased by you.  Click here for additional information.
COVID REQUIREMENTS: 
We request that all guests are fully vaccinated against COVID-19 (at least two weeks after final dose) and provide proof of vaccination; i.e. original vaccination card, copy of vaccination card, or picture of vaccination card. Name on vaccination card must match name on ID. 

In lieu of proof of vaccination, we require proof of a negative COVID-19 diagnostic test result within 72-hours (including for unvaccinated children under 12 years of age). Name on test result must match name on ID. Results from self-test kits and test-at-home kits will not be accepted.




Masks are required inside New World Center at all times, regardless of vaccination status. 
DAY OF EVENT 
Please arrive early for check-in process. 

Please bring your ID and proof of vaccination or negative test result. As noted above, the full name on your ID must match the name on your vaccination card or COVID test result. 

Please remember to bring a mask. 
By attending our events, you voluntarily accept responsibility for all risks related to exposure to COVID-19.
Rebekah Heller, bassoon
Rebekah Heller is an artist whose work aims to expand the sonic possibilities of her instrument and the field at large. Called "an impressive solo bassoonist" by The New Yorker, she made her solo debut with the New York Philharmonic in 2018. She has two critically acclaimed solo albums of music written for and with her, and has been featured on dozens of celebrated collaborative recordings.
Dedicated to exploration, experimentation and a robust collaborative practice, Ms. Heller has been a member of the International Contemporary Ensemble since 2008, serving as Artistic Director of that group from 2018-20. This work saw her in close collaboration with exciting new compositional voices, premiering hundreds of new compositions on stages large and small across the globe.
A dedicated pedagogue, Ms. Heller has been on the faculty of the Mannes School of Music at The New School since 2019, and in 2021 became co-chair of the wind department. She has given master classes at The Juilliard School, Oberlin Conservatory, Manhattan School of Music, New World Symphony and many other prestigious institutions.
Before moving to New York, Ms. Heller served as Principal Bassoonist of the Jacksonville Symphony. She is a proud alum of the New World Symphony, where she served from 2005-08. More info at rebekahheller.com.
Musicians of the New World Symphony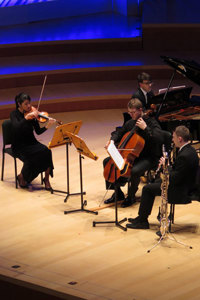 A laboratory for the way music is taught, presented and experienced, the New World Symphony consists of 87 young musicians who are granted fellowships lasting up to three years. The fellowship program offers in-depth exposure to traditional and modern repertoire, professional development training and personalized experiences working with leading guest conductors, soloists and visiting faculty. 
NWS Fellows take advantage of the innovative performance facilities and state-of-the art practice and ensemble rooms of the Frank Gehry-designed New World Center, the campus of the New World Symphony and home of the Knight New Media Center.
In the hopes of joining NWS, nearly 1,000 recent music school and conservatory graduates compete for available fellowships each year. The Fellows are selected for this highly competitive, prestigious opportunity based on their musical achievement and promise, as well as their passion for the future of classical music.