Events & Tickets
Chamber Music
Chamber Music with The Cleveland Orchestra
New World Center, Michael Tilson Thomas Performance Hall
Members of The Cleveland Orchestra join NWS Fellows for a thrilling afternoon of chamber music. Dai Fujikura offers an otherworldly quintet for winds with his new Cosmic Breath. With playful energy, symphonic giant Dmitri Shostakovich pens a joyful string quartet he dedicated to his wife. Robert Schumann's lush fugues were arranged for piano trio by his student, and Pulitzer Prize-winning Ned Rorem showcases 11 virtuoso soloists.
----
Reserve your seats today and enjoy unbeatable savings by subscribing to New World Symphony's Chamber Music series. Starting at just $10 a concert, our 2023-24 series features works for small ensembles by Wolfgang Amadeus Mozart, Claude Debussy, J.S. Bach, Wynton Marsalis and Hildegard von Bingen.
This concert can also be added to any Compose Your Own (CYO) subscription series. Pick three or more performances you'd like to attend and receive all the perks and savings of being a New World Symphony subscriber.
Tickets no longer available online.
Program
Dai Fujikura
(b. 1977)
Approx. Duration: 15 minutes

Cosmic Breath for Wind Quintet (2022; U.S. premiere for NWS co-commission)

Saeran St. Christopher*, flute/piccolo
Kate Bruns, oboe
Julianna Darby, clarinet
Barrick Stees*, bassoon
Abigail Black, horn
Dmitri Shostakovich
(1906-1975)
Approx. Duration: 25 minutes

Quartet No. 9 in E-flat major for Strings, Op. 117 (1964)

Moderato con moto
Adagio
Allegretto
Adagio
Allegro
Stephen Tavani*, violin I
Jacob Buhler, violin II
Gareth Zehngut*, viola
Shirley Kim, cello
Robert Schumann
(1810-1856)
Arranged by Theodor Kirchner
Approx. Duration: 15 minutes

Six Studies in Canonic Form, Op. 56 (1845)

Nicht zu schnell 
Mit innigem Ausdruck
Andantino
Innig 
Nicht zu schnell
Adagio 
Karen Lord-Powell+, violin
Marcie Kolacki, cello
Noah Sonderling, piano
Ned Rorem
(1923-2022)
Approx. Duration: 25 minutes

Eleven Studies for Eleven Players (1959-60)

Prelude
Allegretto
Bird Call
The Diary
Contest
Invention for Battery
In Memory of My Feelings
Fugato
Elegy
Presto
Epilogue
Molly Turner, conductor
Emily Bieker, flute/piccolo
Cally Banham+, oboe/English horn
Robert Woolfrey*+, clarinet
Kenneth Chauby, trumpet
Jennifer Marasti, Marc Damoulakis*+, percussion
Abigail Kent, harp
Noah Sonderling, piano
Karen Lord-Powell+, violin
Nicholas Pelletier, viola
Tanya Ell*, cello
* TCO member
+ NWS alumni
Dai Fujikura
Cosmic Breath for Wind Quintet (2022; U.S. premiere for NWS co-commission)

Approximate duration: 15 minutes
Born in Osaka, Japan and later moving to the U.K., Dai Fujikura has had a compositional career that spans the globe. He has received numerous international co-commissions from the Salzburg Festival, Lucerne Festival, BBC Proms, Bamberg Symphony, Chicago Symphony, Simón Bolívar Symphony and more. He has been Composer-in-Residence of Nagoya Philharmonic since 2014 and held the same post at the Orchestre national d'Île-de-France in 2017-18. His works are recorded by and released mainly on his own label Minabel Records in collaboration with SONY Music, and his compositions are published by Ricordi Berlin.
He provided the following note on Cosmic Breath:
Cosmic Breath is a composition for wind quintet. In the classical world, this ensemble is often considered a standard fare chamber group. I have always wondered, "Why is the horn included in this grouping?" To me, it stands out like an "elephant in the room."
Before delving into that question, I'd like to bring up my attempt and failure to compose for this instrumentation during my time as a student of music in college. I still vividly recall the "world premiere" of my wind quintet, performed in front of just seven (unfortunate) people in college, six of whom were, naturally, fellow musicians scheduled to perform other students' works after mine.
I can't recall the piece itself, but I do remember how unhappy and disappointed I was with myself at that moment. My writing for the horn was particularly abrasive and loud, and I felt that I couldn't strike a balance within the ensemble.
Ever since the trauma of that day, I've hoped for the chance to redeem my younger self, to write a proper wind quintet. I'm delighted that such a day has finally arrived! Thank you, Junge Deutsche Philharmonie and the New World Symphony for giving me a chance to overcome my past.
Cosmic Breath is my fresh take on the wind quintet. I have aimed to create a collective sound that transcends the quality of the individual instruments themselves. The horn, in particular, plays notes that alternate between open and closed. This effect guides the ear to believe as if there are two horn players producing entirely different sounds. Occasionally, the bassoon will play high pitched notes that interweave themselves with the horn. There are also shimmering sounds produced by the clarinet, flute and oboe that comprise textures including repeated note tremolos, sudden shifts in character, to flowing melodic lines and more. I imagine this interwoven fabric as one person producing multiple "voices," and multiplying that polyphony by five. Needless to say, the horn was the perfect instrument in terms of sound color and unification for this formation.
I enjoyed composing for the wind quintet, carefully planning to ensure that each member has their moment to shine while simultaneously supporting the bigger picture.
          -- Dai Fujikura (edited by Joseph Ehrenpreis)
Dmitri Shostakovich
Quartet No. 9 in E-flat major for Strings, Op. 117 (1964)

Approximate duration: 25 minutes
Dmitri Shostakovich was only 13 when he enrolled at the Petrograd Conservatory, and he excelled in his piano and compositions studies while also working a side job as an accompanist for silent films. He completed his education at 19 with a masterful First Symphony as his graduation piece, and soon performances at home and in Germany and the United States confirmed that young Shostakovich was already the preeminent composer in the nascent Soviet Union. Then everything changed when Joseph Stalin walked out of Shostakovich's new opera in 1936 and an official party newspaper delivered a frightening critique. Shostakovich rebounded from that calamity, and he survived a second crackdown in 1948, but from then on he buried his most controversial tendencies under a veneer of state-sanctioned approachability and realism.
When Shostakovich composed the String Quartet No. 9 in 1964, his life was as settled as it had been in decades. Compared to the terse and anguished Eighth String Quartet from four years earlier, the Ninth is a model of integration and positive momentum, starting with the first movement's tranquil melodies voiced over long, oscillating slurs. The symmetrical, five-movement structure of the Quartet flows together seamlessly, with a sustained note from the viola providing the bridge into the first of the slow movements. At the end, the violin's chant-like melody becomes quicker and crisper, forming a smooth link to the next section.
The central Allegretto has a scherzo-like sense of humor, with the muted strings circulating a galloping figure that obliquely references Rossini's William Tell Overture. To reach the second slow movement, the fast "galloping" transforms back into a slow oscillation, which then decorates a mysterious chorale punctuated by solo flights and percussive strums. The same oscillation serves as the thematic connection to the finale, a transition managed by the first violin with an abrupt jump in tempo and dynamic level.
The concluding Allegro, lasting twice as long as any preceding movement, is a microcosm of the Quartet as a whole. Organized in five continuous sections, it transitions seamlessly from a manic waltz into an edgy march, back to the original material for a brisk fugue, into a quiet reverie for cello, and finally on to a powerhouse conclusion that recalls material from the earlier movements.
                -- Aaron Grad
Robert Schumann
Six Studies in Canonic Form, Op. 56 (1845)

Approximate duration: 15 minutes
When Felix Mendelssohn founded the Leipzig Conservatory in 1843, it was only natural that he ask Robert Schumann, a famously lucid and focused musical observer with a growing reputation as composer, to join the inaugural faculty. His stay in Leipzig lasted only a few months, and would not concern us at all had he not encountered the pedal piano for the first time in Leipzig.
The pedal piano, like the organ, has a row of foot pedals on which the player can play bass notes. Such instruments were a natural development of 18th-century aesthetics, which prized the organ as the greatest of instruments and therefore favored any feature that made other keyboard instruments more like the organ. A pedal harpsichord was also useful as a practice instrument, since it was portable and cost a fraction of what an organ would. In the 19th century, the pedal piano was less common, though Liszt, Gounod and others composed for it.
In the early months of 1845, Schumann became preoccupied with counterpoint. "Continually engrossed in the study of fugue with Clara," he wrote in his diary on February 2, and on February 18: "busy with fugal studies the last three weeks." He installed a pedal board on his piano, and composed the Six Studies, Op. 56, the Four Sketches, Op. 58, and Six Fugues on B-A-C-H, Op. 60, that year. Pedal pianos are very rare now, and Schumann's works for the instrument are now mostly the property of organists, though Debussy made an arrangement of the Six Studies for two pianos. Theodor Kirchner, who arranged them for piano trio, was a Leipzig Conservatory student during Schumann's short tenure there.
A canon is at once the simplest and strictest form of fugue in which the voices imitate each other literally and completely. The best-known kind of canon is that campfire favorite, the "round."
For any 19th-century composer, studying counterpoint meant studying Bach, and the first Study has more Bach than Schumann in it: the two upper parts follow each other over a droning "pedal point" bass, much as the treble voices do at considerably greater length in Bach's Toccata and Fugue in F. Schumann knew the F-major toccata quite well: he wrote an article about printing errors in the available edition of it. The other studies are more firmly rooted in the 19th century. Often they involve a short bit of melody tossed between the voices in question-and-answer fashion. Far from academic exercises, they are short character pieces, like songs without words.
                -- Howard Posner
Ned Rorem
Eleven Studies for Eleven Players (1959-60)

Approximate duration: 25 minutes
Eleven Studies for Eleven Players is dedicated to the memory of Cameron Baird, who served as head of the music department at Buffalo University in the late 1950s. Baird had hired Ned Rorem in 1959 to teach a class in composition, give some public lectures and compose a work for chamber ensemble. Baird subsequently died before the premiere of the new work, which the composer conducted at the University in May of 1960. 
"The title refers to eleven players, not eleven instruments," writes Rorem. "The flute changes to piccolo, the oboe to English horn, and the two percussionists between them bang on 15 different surfaces." The other instruments involved are trumpet, clarinet, piano, violin, viola, cello, and harp. 
Not all the players are involved in all eleven studies. One study (Invention for Battery) utilizes only the two percussionists. There are also solos allotted to the trumpet (Prelude), flute (Bird Call), English horn (Elegy) and clarinet (Epilogue) in the other movements, which present differing combinations of the available instruments. 
Bird Call and The Diary were originally music from the evocative score Rorem composed for the 1958 New York premiere of the Tennessee Williams play Suddenly Last Summer, which was directed by his friend Herbert Machiz. Rorem also recycled the study titled Contest from music written for an unsuccessful play called Motel. Rorem writes that Contest was intended to depict the sound of traffic. 
In Memory of My Feelings takes its title from a poem by Frank O'Hara, to which Rorem added a Paul Hindemith quotation to the score as commentary: "The reactions music evokes are not feelings, but they are the images, memories of feelings." Rorem added another quotation to the ninth study (Elegy), this time from the opening section of "Kaddish," a poem by Allen Ginsberg: "Death is the remedy all singers dream of."
The score for Eleven Studies for Eleven Players has been choreographed several times, most successfully, in Rorem's opinion, by Martha Graham for a 1967 ballet called Dancing Ground. 
-- John Michel
Program
Cosmic Breath para Quinteto de Viento  (2022; Estreno en USA de una co-comisión de NWS)
Saeran St. Christopher*, flute/piccolo
Kate Bruns, oboe
Julianna Darby, clarinet
Barrick Stees*, bassoon
Abigail Black, horn
Dmitri Shostakovich
(1906-1975)


Cuarteto No. 9 para Cuerdas en Mi bemol mayor, Op. 117 (1964)
Moderato con moto
Adagio
Allegretto
Adagio
Allegro
Stephen Tavani*, violin I
Jacob Buhler, violin II
Gareth Zehngut*, viola
Shirley Kim, cello
Robert Schumann
(1810-1856)
Arreglado por Theodor Kirchner


Seis Estudios en Forma de Canon, Op. 56 (1845)
Nicht zu schnell 
Mit innigem Ausdruck
Andantino
Innig 
Nicht zu schnell
Adagio 
Karen Lord-Powell+, violin
Marcie Kolacki, cello
Noah Sonderling, piano
Once Estudios para Once Intérpretes (1959-60)
Prelude
Allegretto
Bird Call
The Diary
Contest
Invention for Battery
In Memory of My Feelings
Fugato
Elegy
Presto
Epilogue
Molly Turner, conductor
Emily Bieker, flute/piccolo
Cally Banham+, oboe/English horn
Robert Woolfrey*+, clarinet
Kenneth Chauby, trumpet
Jennifer Marasti, Marc Damoulakis*+, percussion
Abigail Kent, harp
Noah Sonderling, piano
Karen Lord-Powell+, violin
Nicholas Pelletier, viola
Tanya Ell*, cello
* Miembro de TCO
+ graduados de NWS
Dai Fujikura
Cosmic Breath para Quinteto de Viento (2022; Estreno en USA de una co-comisión de NWS)
Duración aproximada: 15 minutos
Nacido en Osaka, Japón y residiendo después en el Reino Unido, Dai Fujikura ha tenido una carrera composicional que abarca el mundo entero. Ha recibido numerosas co-comisiones del Festival de Salzburgo, el Festival de Lucerna, los BBC Proms, la Bamberg Symphony, la Chicago Symphony, la Sinfónica Simón Bolívar, entre otras. Ha sido Compositor-en-Residencia de la Filarmónica de Nagoya desde 2014 y ocupó el mismo puesto en la Orchestre national d'Île-de-France en 2017-18. Sus obras son grabadas y lanzadas principalmente en su propio sello de grabación Minabel Records en colaboración con SONY Music, y sus composiciones son publicadas por Ricordi Berlín.
Él proporcionó la siguiente nota sobre Cosmic Breath: 
Cosmic Breath es una obra para quinteto de viento. En el mundo de la música clásica, este conjunto es considerado un grupo de cámara estándar. Siempre me he preguntado, "¿Por qué está incluida la trompa en esta agrupación?". Para mí, se destaca como el "elefante en la habitación".
Antes de profundizar en esta pregunta, me gustaría mencionar mi intento fallido de componer para esta instrumentación durante mi tiempo como estudiante de música en la universidad. Aún recuerdo vívidamente el "estreno mundial" de mi quinteto de viento, interpretada delante de solo siete (desafortunadas) personas en la universidad, seis de las cuales eran, naturalmente, colegas músicos que esperaban para tocar otras obras escritas por estudiantes como la mía.
No puedo recordar la obra en sí, pero me acuerdo de cuán infeliz y decepcionado me sentí conmigo mismo en ese momento. Mi forma de componer para la trompa fue particularmente abrasiva y ruidosa, y sentí que no pude alcanzar un balance dentro del conjunto.
Desde el trauma de ese día, he esperado por la oportunidad para redimir a mi yo más joven, escribiendo un quinteto de viento de forma correcta. ¡Estoy encantado de que por fin ha llegado ese día! Gracias, Junge Deutsche Philharmonie y New World Symphony por darme la oportunidad de superar mi pasado.
Cosmic Breath es mi nueva versión del quinteto de viento. He trabajado con el objetivo de crear un sonido colectivo que trascienda la calidad de los instrumentos individuales. La trompa en particular tiene notas que alternan entre abiertas y cerradas. Este efecto lleva al oído a creer que hay dos trompistas produciendo sonidos completamente diferentes. En ocasiones, el fagot toca notas agudas que se entremezclan con la trompa. El clarinete, la flauta y el oboe también producen sonidos brillantes que constan de texturas que incluyen trémolos de notas repetidas, repentinos cambios de carácter, melodías que fluyen y más. Yo imagino esta textura entretejida como una persona produciendo múltiples "voces", y multiplicando esa polifonía por cinco. De más está decir que la trompa fue el instrumento perfecto en cuanto a color de sonido y unidad para esta formación.
Disfruté mucho componer para quinteto de viento, planeando cuidadosamente para asegurar que cada miembro tuviera su momento para brillar mientras simultáneamente apoya a la totalidad de la obra.
                       ---- Dai Fujikura (editado por Joseph Ehrenpreis)
Dmitri Shostakovich
Cuarteto No. 9 para Cuerdas en Mi bemol mayor, Op. 117 (1964)
Duración aproximada: 25 minutos
Dimitri Shostakovich tenía solo 13 años cuando matriculó en el Conservatorio de Petrogrado, y se distinguió en sus estudios de piano y composición mientras trabajaba también como acompañante para películas silentes. Terminó su educación a los 19 años con una magistral Primera Sinfonía como su pieza de graduación, y pronto después, presentaciones en su país y en Alemania y Estados Unidos confirmaban que el joven Shostakovich era ya un prominente compositor en la naciente Unión Soviética. Luego todo cambió cuando Joseph Stalin abandonó una presentación de la nueva ópera de Shostakovich en 1936 y un periódico del partido oficialista publicó una crítica aterradora. Shostakovich se recuperó de tal calamidad, y sobrevivió una segunda ola de medidas severas en 1948, pero a partir de ahí enterró sus tendencias más controversiales bajo un revestimiento de accesibilidad y realismo aprobados por el estado.
Cuando Shostakovich compuso el Cuarteto de Cuerdas No. 9 en 1964, su vida poseía la mayor estabilidad que había tenido en décadas. Comparado al terso y angustiado Octavo Cuarteto de Cuerdas de cuatro años antes, el Noveno es un modelo positivo de integración y momentum, comenzando con las tranquilas melodías del primer movimiento expresadas en largas y oscilantes ligaduras. La simétrica estructura de cinco movimientos del Cuarteto fluye conjuntamente sin interrupciones, con una nota sostenida por la viola que sirve de puente al primero de los movimientos lentos. Al final, la melodía a modo de cántico del violín se vuelve más rápida y marcada, formando una fluida conexión con la siguiente sección.
El Allegretto central posee un sentido del humor parecido a un scherzo, con las cuerdas silenciadas circulando una galopante figuración que hace referencia indirecta a la Obertura de Guillermo Tell de Rossini. Para llegar al segundo movimiento lento, la rápida figuración "galopante" se transforma de regreso a una lenta oscilación, la cual ornamenta un misterioso coral enfatizado por vuelos en solitarios y rasgueos percusivos. La misma oscilación sirve como la conexión temática con el finale, una transición manejada por el primer violín con un salto abrupto con relación al tempo y nivel dinámico.
El conclusivo Allegro, el cual dura el dos veces más que cualquier otro de los movimientos anteriores, es un microcosmos del Cuarteto en su totalidad. Organizado en cinco secciones continuas, hace una transición fluida de un vals a una marcha provocadora, regresa al material original con una rápida fuga, se adentra en una calmada ensoñación para chelo, y finalmente continúa a una poderosa conclusión que recuerda nos recuerda material de movimientos anteriores.
                -- Aaron Grad
Robert Schumann
Seis Estudios en Forma de Canon, Op. 56 (1845)
Duración aproximada: 15 minutos
Cuando Felix Mendelssohn fundó el Conservatorio de Leipzig en 1843, naturalmente le preguntó a Robert Schumann, un famoso y enfocado observador musical con una creciente reputación como compositor, que se uniera al claustro de profesores. Su estancia en Leipzig solo duró unos pocos meses, y no sería de nuestro interés si él no hubiera encontrado el piano de pedal por primera vez en Leipzig.
El piano de pedal, como el órgano, tiene una hilera de pedales en los cuales el intérprete puede tocar notas graves. Estos instrumentos fueron un producto natural de la estética del siglo dieciocho, el cual valoraba el órgano como el mejor de los instrumentos y por esta razón favorecía cualquier característica que hiciera que otros instrumentos de teclado se parecieran más al órgano. Un clavicémbalo de pedal también era útil como instrumento de práctica, ya que era portátil y costaba una fracción de lo que costaría un órgano. En el siglo diecinueve, el piano de pedal era menos común, aunque Liszt, Gounod y otros compusieron para él.
En los primeros meses de 1845, Schumann se preocupó por el contrapunto. "Continuamente absorto en el estudio de la fuga con Clara," escribió en su diario el 2 de febrero, y el 18 de febrero: "ocupado con estudios de la fuga en las ultimas tres semanas." Instaló una tabla de pedal en su piano, y compuso los Seis Estudios, Op. 56, los Cuatro Esbozos, Op. 58 y las Seis Fugas sobre B-A-C-H, Op. 60, ese año. Los pianos de pedal son muy raros ahora, y las obras de Schumann para el instrumento son hoy propiedad de los organistas principalmente, aunque Debussy hizo un arreglo de los Seis Estudios para dos pianos. Theodor Kirchner, quien los arregló para trio de piano, fue un alumno del Conservatorio de Leipzig durante la corta estancia de Schumann allí.
Un canon es a la vez la forma más simple y estricta de la fuga en la cual las voces se imitan unas a otras literal y completamente. El tipo de canon más conocido es el favorito en las fogatas, el canon "circular o infinito".
Para cualquier compositor del siglo diecinueve, estudiar contrapunto significaba estudiar a Bach, y el primer Estudio tiene más de Bach que de Schumann: las dos partes superiores se siguen una la otra sobre un "pedal" grave a modo de zumbido, como hacen las voces agudas a gran escala en la Tocata y Fuga en Fa Mayor de Bach.
Schumann conocía bien la Tocata en Fa Mayor: él escribió un artículo sobre errores de imprenta en la edición disponible de la misma. Los otros estudios tienen más raíces en el siglo diecinueve. A menudo poseen una melodía corta lanzada entre las voces a manera de pregunta y respuesta. Lejos de ser ejercicios académicos, son obras de carácter cortas, como las canciones sin palabras. 
                -- Howard Posner
Ned Rorem
Once Estudios para Once Intérpretes (1959-60)
Duración aproximada: 25 minutos
Once Estudios para Once Intérpretes está dedicado a la memoria de Cameron Baird, quien fue el Director del Departamento de Música de la Universidad de Búfalo a finales de los 1950. Baird había contratado a Ned Rorem en 1959 para impartir una clase de composición, dar algunas conferencias y componer una obra para conjunto de cámara. Baird murió antes del estreno de la nueva obra, la cual el compositor dirigió en la universidad en mayo de 1960.
"El título se refiere a once intérpretes, no once instrumentos", escribe Rorem. "La flauta cambia a pícolo, el oboe a corno inglés, y entre los dos percusionistas golpean como en 15 superficies diferentes." Los otros instrumentos incluyen la trompeta, el clarinete, el piano, el violín, la viola, el chelo y el arpa.
No todos los intérpretes están involucrados en los once estudios. Un estudio (Invención para Batería), utiliza solo a los dos percusionistas. Hay también varios solos asignados a la trompeta (Preludio), la flauta (Llamado de Pájaro), el corno inglés (Elegía) y el clarinete (Epílogo) en los otros movimientos, los cuales presentan diferentes combinaciones de los instrumentos disponibles.
Llamado de Pájaro y El Diario eran originalmente de la evocativa partitura que Rorem compuso para el estreno en Nueva York en 1958 de la obra de Tennessee Williams De Repente, el Verano Pasado, la cual fue dirigida por su amigo Herbert Machiz. Rorem también recicló el estudio titulado Concurso de la música escrita para una obra sin éxito llamada Motel. Rorem escribe que Concurso fue hecho con la intención de representar el sonido del tráfico.
En Memoria de Mis Sentimientos toma su título de un poema de Frank O'Hara, al cual Rorem añadió a la partitura una cita de Paul Hindemith como comentario: "Las reacciones que provoca la música no son sentimientos, sino que son imágenes, recuerdos de los sentimientos." Rorem añadió otra cita al noveno estudio (Elegía), esta vez de la sección de apertura de "Kaddish", un poema de Allen Gisnberg: "La muerte es el remedio con que sueñan todos los cantantes."
La partitura de Once Estudios para Once Intérpretes se ha coreografiado en varias ocasiones, la más exitosa, en la opinión de Rorem, es la de Martha Graham para un ballet de 1967 llamado Dancing Ground.
-- John Michel
Molly Turner, conductor
Molly Turner is a Chinese-born conductor and composer. Recently, she has conducted the Orchestre de Paris, Gstaad Festival Orchestra, Theater Orchester Biel Solothurn, Juilliard Orchestra, Dallas Opera Orchestra, Primrose International Viola Competition, Colburn Orchestra and Eastern Festival Orchestra. Highlights of the 2022-23 season included a debut with San Francisco Symphony's SoundBox Series, a Concert Scolaire with Orchestre de Paris, conducting the premiere of her own new orchestra work with the Tacoma Youth Symphony, Colburn Chamber Music Society with David Rejano and Cosi! Men Are Like That with opera company White Snake Projects. She has served as assistant conductor for the Berliner Philharmoniker, Orchestre de Paris, San Francisco Symphony, Utah Symphony, San Diego Symphony, National Polish Radio Symphony, Juilliard Orchestra and Colburn Orchestra. In 2019 she was the youngest conductor invited for residency at the Dallas Opera's Hart Institute for Women Conductors. She has assisted Esa-Pekka Salonen, David Robertson, Stéphane Denève, Yaniv Dinur, Rafael Payare, Nicholas McGegan and Jeffrey Milarsky.
Ms. Turner is a devoted advocate for contemporary and modern music. She has collaborated with many living composers including Paul Novak, Max Vinetz, Lauren Vandervelden, Corey Chang, Sujin Kang, Webster Gadbois and Sofia Ouyang and has a strong affinity for the music of Stravinsky, Bartók and Lutosławski. She is a member of the Colburn Contemporary Ensemble and has conducted works by Lou Harrison, Timo Andres and Nina Young with them. As part of Juilliard's ChoreoComp, Ms. Turner premiered four different dance pieces created by current student composers and choreographers and at Rice, she conducted and composed for Hear&Now: New Music.
 Pursuing projects outside of the traditional concert hall is a core part of Ms. Turner's artistic identity. In 2021 she performed an open improvisation set on violin alongside Pablo O'Connell, Kebra-Seyoun Charles and Ryan Jung in an Alice Tully Hall window performance. While she was a Teaching Artist Fellow at Juilliard, she was involved in creating an improvisatory work that used K-8 student "found sound" recordings as source material. From 2017-19 was the artistic director for New Art / New Music at the Moody Center for the Arts. There she worked with composers and visual artists to curate a concert of new works that were site-specific to current exhibitions at the Moody Center. In 2017 she played viola in a multimedia performance art project alongside Angelbet Metoyer creating art live, Saul Williams reciting poetry and other musicians openly improvising.  In 2015 she co-wrote a graphic score with Sarah Grace-Graves for sculptor Katie Grinnan's Astrology Orchestra written for the Turrell Skypsace.
In her own music, Ms. Turner is interested in the balance between strictly dictated elements and more aleatoric notation. Her relationship to the standard repertoire is often integrated in subtle ways beneath the foreground of the music. A violinist and violist herself, she finds string instruments endlessly fascinating. Improvisation is a core part of her writing process and she often starts her work as voice memos or graphic scores. In 2018 her string quartet, The Shapes of Stories, was read by the Arditti Quartet. Her work has been heard in Benaroya Hall, Duncan Recital Hall, the Moody Center for the Arts and has been privately recorded.  
She completed her master's degree in orchestral conducting at The Juilliard School studying with David Robertson and received a bachelor in music composition cum laude from Rice University. She recently was pursuing an artist diploma at the Colburn Conservatory of Music in Los Angeles, where she studied under the guidance of Esa-Pekka Salonen in the Negaunee Conducting Program as a Salonen Fellow. She has studied composition with Kurt Stallmann, Arthur Gottschalk, Karim Al-Zand and Richard Lavenda. She has attended the Gstaad Festival Conducting Academy where she worked with Johannes Schlaefli, Jaap van Zweden and Baldur Brönnimann and the Eastern Music Festival, where she worked with Gerard Schwarz. In her free time, she enjoys biking, playing Ultimate Frisbee and reading.
Musicians of The Cleveland Orchestra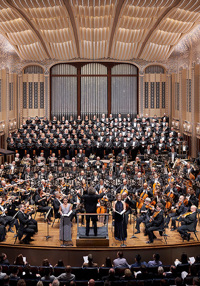 The Cleveland Orchestra is today hailed as one of the very best orchestras on the planet, noted for its musical excellence and for its devotion and service to the community it calls home.
The 100-plus members of The Cleveland Orchestra perform together year round, at the group's home at Severance, its summer home at Blossom Music Center, on tours in the United States and around the world, and at residencies such as Miami and Vienna. They make their homes in communities across the Cleveland metropolitan area, raising children and pursuing a range of hobbies and interests beyond their musical professions.
Musicians of the New World Symphony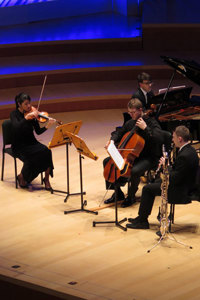 A laboratory for the way music is taught, presented and experienced, the New World Symphony consists of 87 young musicians who are granted fellowships lasting up to three years. The fellowship program offers in-depth exposure to traditional and modern repertoire, professional development training and personalized experiences working with leading guest conductors, soloists and visiting faculty. 
NWS Fellows take advantage of the innovative performance facilities and state-of-the art practice and ensemble rooms of the Frank Gehry-designed New World Center, the campus of the New World Symphony and home of the Knight New Media Center.
In the hopes of joining NWS, nearly 1,000 recent music school and conservatory graduates compete for available fellowships each year. The Fellows are selected for this highly competitive, prestigious opportunity based on their musical achievement and promise, as well as their passion for the future of classical music.