Events & Tickets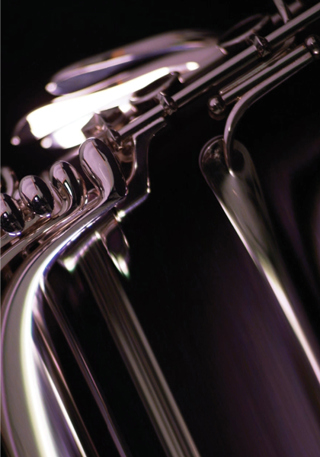 Special Event
Clarinet Visions: Rhapsodies and Echoes
New World Center
Friday, February 18, 2022 at 7:30 PM
Program
Sponsored by:


New World Symphony presents Clarinet Visions—the third installment of NWS's annual summit series that immerses participants in the world of a different orchestral instrument each year. Clarinet Visions' opening concert welcomes the world's finest clarinetists to perform alongside NWS Fellows in orchestral and chamber works by Claude Debussy, Carl Maria von Weber, Johannes Brahms and festival guest artist Jörg Widmann.
Clarinet Visions is sponsored in part by Art Mentor Foundation Lucerne; NWS Fund for New Ventures and the John S. and James L. Knight Foundation. Knight Foundation and New World Symphony: Reimagining Classical Music in the Digital Age.
Safety Protocols
This event has required safety protocols. Click here for details.
Program
Carl Maria von Weber
(1786-1826)
Approx. Duration: 18 minutes

Concerto No. 1 in F minor for Clarinet and Orchestra, Op. 73 (1811)

Allegro
Adagio ma non troppo
Rondo: Allegretto
Laura Ardan, clarinet
Chad Goodman

Jörg Widmann
(b. 1973)
Approx. Duration: 19 minutes

Echo-Fragmente (2006; U.S. premiere)

Johannes Brahms
(1833-1897)
Arranged by Luciano Berio (1925-2003)
Approx. Duration: 25 minutes

Sonata No. 1 in F minor for Clarinet and Orchestra, Op. 120, No. 1 (1894; 1986 arrangement)

Allegro appassionato                                                        
Andante, un poco adagio
Allegretto grazioso                                      
Vivace
Andreas Ottensamer, clarinet

Claude Debussy
(1862-1918)

Première rhapsodie for Clarinet and Orchestra (1909-10)

Anthony McGill, clarinet
Chad Goodman

Jörg Widmann
(b. 1973)
Approx. Duration: 5 minutes

Bavarian-Babylonian March for Clarinet Ensemble and Piano (2011; revised 2014)

Jörg Widmann, Andreas Ottensamer, Andrea Levine, Anthony McGill, Laura Ardan,
Angelo Quail, Jesse McCandless, Jesse Gilday
Carl Maria von Weber
Concerto No. 1 in F minor for Clarinet and Orchestra, Op. 73

(1811)


Approximate duration: 18 minutes

Carl Maria von Weber, born into the theater business, mounted fanciful productions in his native German that finally broke the stranglehold of Italian opera. Until his first big success with Der Freischütz in 1821, Weber struggled to hold a good job. He was dismissed from Stuttgart in 1810 over a corruption scandal, and then he traveled for the next three years, including a stop in Mannheim, Germany, where he met clarinetist Heinrich Baermann. When they reunited in Munich several months later, Weber produced a concerto for the clarinetist to play with the court orchestra. It turned out to be a lucrative encounter, with Weber fielding many requests from the orchestra members for new concertos of their own.

Weber had the advantage of composing for a new 12-key clarinet that Baermann had obtained, a more agile model than the five-key instruments that were common in Mozart's day. True to Weber's theatrical roots, the Concerto's episodic first movement progresses like an opera scene, with the clarinetist playing a diverse range of characters, from coquettish to sinister. In one memorable passage of the slow movement, the clarinet intones a humble melody over a glowing trio of horns—music that Baermann would eventually perform at a memorial concert for Weber in an arrangement for voices. Darting arpeggios and smooth phrases in the cheeky finale make the most of an instrument that navigates extremes of range and dynamics better than any other in the orchestra.


Jörg Widmann
Echo-Fragmente (2006; U.S. premiere)

Approximate duration: 19 minutes
Through all the years when Jörg Widmann was honing his skills as a clarinetist, he was also developing his unique voice as a composer. He continues to excel in both pursuits, performing frequently with major orchestras as a featured soloist while also producing major compositions for the world's great stages, including a term in the 2019-20 season holding the Richard and Barbara Debs Composer Chair at Carnegie Hall.
From 2001 to 2015, Widmann taught clarinet and composition at the conservatory in Freiburg, Germany, a historic college town that is home to two world-class orchestras, the Southwest German Radio Symphony Orchestra and Freiburg Baroque Orchestra, which plays on period instruments. These two ensembles teamed up to accompany Widmann in Echo-Fragmente, a clarinet concerto he performed at the Salzburg Festival in 2006. The nature of the two ensembles define the sound of this otherworldly composition, with the players split into Orchestra I (tuned at modern pitch, and dominated by the airy sounds of four clarinets and accordion), contrasted against Orchestra II (tuned at a lower pitch, and exploiting the quirks of intonation that come from horns without valves and 18th-century oboe and flute designs). Widmann's detailed scoring even asks for one player in the second orchestra to play guitar, bandurria (a 12-string folk instrument from Spain, somewhat like a mandolin), and a banjo strung with gut strings instead of metal, with one string slightly detuned.
Widmann is a gifted sound painter who makes the most of his incredibly precise palette, not least in terms of what he can do with extended clarinet techniques, including multiphonics that produce two simultaneous pitches. As the arc of Echo-Fragmente pulls the listener along, the mysterious sounds start to feel natural and even inevitable, shaped into a heroic push-and-pull grounded in the great concerto tradition of the Classical and Romantic eras.
Johannes Brahms
Sonata No. 1 in F minor for Clarinet and Orchestra, Op. 120, No. 1 (1894; 1986 arrangement)

Approximate duration: 25 minutes
In 1890, and again in 1894, Johannes Brahms announced his retirement from composition. Both times he returned to create more music for one particular performer: clarinetist Richard Mühlfeld, from the court orchestra in Meiningen, Germany. After hearing Mühlfeld play in 1891, Brahms wrote music for the first time in a year, crafting both the Clarinet Trio (Opus 114) and the Clarinet Quintet (Opus 115) during his summer holiday in an Austrian spa town. He broke his second silence with two sonatas written on vacation in 1894, works that he published together as Opus 120.
The version heard here uses an arrangement made in 1986 by the Italian composer Luciano Berio. While Berio was a daring experimenter in his own compositions, his loving treatment here of Brahms shows his deep grounding in tradition, and the interpretive choices that go beyond mere orchestration lean on his keen sense of drama and pacing. As a case in point, the opening measures of the first movement are Berio's invention, allowing the orchestra to establish its independence and building anticipation for a more concerto-like entrance by the clarinet.
Brahms' second movement, marked Andante, un poco adagio, brings Mozart to mind in how the clarinet approximates an operatic mezzo-soprano. (Mozart, also inspired by a friend, happened to write two of his own late masterpieces for clarinet: a quintet and a concerto.) The good-natured Allegretto grazioso is mellower than a true scherzo, with a three-beat, dancing pulse that recalls the minuet or Ländler styles from generations past. The lively finale strikes up the key of F major, bringing this introspective score to rest on a more extroverted note.
Claude Debussy
Première rhapsodie for Clarinet and Orchestra (1909-10)
Claude Debussy had a typical start for a French composer, attending the Paris Conservatory and dabbling in the modern sounds of Richard Wagner, but his outlook expanded dramatically in the 1890s, setting him on a course to reshape the aesthetics of concert music. Influenced by sounds he heard at the 1889 World's Fair in Paris (especially Javanese gamelan), and drawing on friendships with poets and painters, Debussy filtered his emerging ideas about symbols and impressions into a new musical language, one in which sounds were celebrated for their sensory appeal, independent of their harmonic function.
The once-controversial Debussy was an elder statesman of French music by 1909, when he joined the board of his alma mater at the invitation of the school's director, Gabriel Fauré. The next year, Debussy supplied the conservatory's clarinetists a final exam for the ages in the form of his Première rhapsodie, originally scored for clarinet and piano. This performance uses Debussy's own orchestral arrangement of the accompaniment that he published in 1911.
As might be expected from a conservatory test piece, the clarinet is challenged to engage in more than just sweet, lyrical melodies as heard in the peaceful sway of the first section. A central scherzando ("joking") passage, for instance, brings out the clarinet's humorous side with staccato articulation and slurred chromatic runs.
Jörg Widmann
Bavarian-Babylonian March for Clarinet Ensemble and Piano (2011; revised 2014)

Approximate duration: 5 minutes
Widmann, a native of Munich in the heart of Bavaria, based this "avant-garde joke for the whole clarinet family" on the Bavarian Parade March. Composed around 1850 by Adolf Scherzer as a march for military bands, the work is better known now as a fixture of Oktoberfest celebrations and an unofficial Bavarian anthem. The "Babylonian" portion of the title references the biblical tale of language confusion that ensued at the building site of the Tower of Babel, where no one could understand each other. Widmann created this "virtuoso Verfremdung" (a term from the German playwright Bertolt Brecht meaning "alienation effect" or "distancing effect") for Daniel Barenboim and the clarinetists of the Staatskapelle Berlin.
– © 2022 Aaron Grad
Aaron Grad is a composer, guitarist and writer based in Seattle. Besides providing program notes for the New World Symphony, he has been the Orpheus Chamber Orchestra's program annotator since 2005 and also contributes notes to the Saint Paul Chamber Orchestra and Seattle Symphony.
FOR YOUR SAFETY 
As of September 18, 2021, these are the guidelines that all guests at New World Symphony concerts must follow. These guidelines will apply to all members of your party before they are allowed to enter the New World Center and to any users of the tickets purchased by you.  Click here for additional information.
COVID REQUIREMENTS: 
We request that all guests are fully vaccinated against COVID-19 (at least two weeks after final dose) and provide proof of vaccination; i.e. original vaccination card, copy of vaccination card, or picture of vaccination card. Name on vaccination card must match name on ID. 

In lieu of proof of vaccination, we require proof of a negative COVID-19 diagnostic test result within 72-hours (including for unvaccinated children under 12 years of age). Name on test result must match name on ID. Results from self-test kits and test-at-home kits will not be accepted.

All guests may undergo a temperature screening upon entry into the building. 

Masks are required inside New World Center at all times, regardless of vaccination status. 
DAY OF EVENT 
Please arrive early for check-in process. 

Please bring your ID and proof of vaccination or negative test result. As noted above, the full name on your ID must match the name on your vaccination card or COVID test result. 

Please remember to bring a mask. 
By attending our events, you voluntarily accept responsibility for all risks related to exposure to COVID-19.
Kazem Abdullah, conductor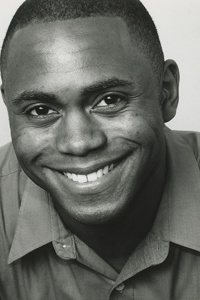 A vibrant, versatile and compelling presence on the podium, American conductor Kazem Abdullah currently lives in Nuremberg, Germany. He was Generalmusikdirektor (Music and Artistic Director) of the City of Aachen, Germany from 2012 to 2017. His predecessors in this tradition-rich post include Fritz Busch, Herbert von Karajan and Wolfgang Sawallisch.
A passionate advocate of new music as well as established repertoire, Mr. Abdullah continues to develop relationships with national and international orchestras and opera houses. Among his recent orchestral credits are the St. Gallen Symphony, Nuremburg Philharmonic, Staatskapelle Weimar, Finnish Radio Symphony, Helsinki Philharmonic, Mexico City Philharmonic, Oregon Symphony, Indianapolis Symphony, Detroit Symphony, Pittsburgh Symphony and Cincinnati Symphony.
In the opera arena, Mr. Abdullah has guest conducted such esteemed companies as Opera de Lorraine, where he conducted La clemenza di Tito, and the Théâtre du Châtelet de Paris, where he led sold-out performances of Scott Joplin's Treemonisha. Mr. Abdullah made his Metropolitan Opera debut in 2009 conducting Gluck's Orfeo ed Euridice, which The New York Times lauded as "a confident performance, impressively responsive to the singers during their long stretches of orchestra-accompanied recitative."
Trained as a clarinetist, Mr. Abdullah has performed extensively as an orchestral musician, chamber musician and soloist. He spent two seasons as a Fellow of the New World Symphony and has performed as a soloist with many orchestras including the Cincinnati and National symphonies. He has also performed with prominent chamber ensembles such as the Paris-based Trio Wanderer and the Auryn Quartet.
A dedicated educator, Mr. Abdullah has worked with student band and orchestras in the Los Angeles Unified School District, Interlochen, Oklahoma Arts Institute, Tanglewood, and at universities in Cologne, Aachen and Stellenbosch, South Africa. He was awarded the Outstanding Young Alumnus Award by his alma mater, the University of Cincinnati's College-Conservatory of Music, spoke at its commencement in 2015.
Born in Indiana, Mr. Abdullah began his music studies at the age of 10 with clarinet and piano. He studied at the Interlochen Arts Academy, Cincinnati College-Conservatory of Music and University of Southern California. He was a Clarinet Fellow in the New World Symphony from 2002-04.
Chad Goodman, conductor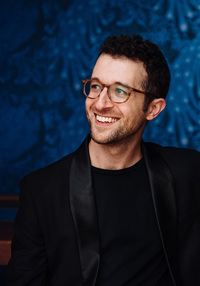 With a flair for inventive programming and a bold presence on stage and in the community, Chad Goodman has been praised for "bringing innovation to classical music" (Forbes).
As the Conducting Fellow of the New World Symphony, Mr. Goodman conducts on subscription, education, family and holiday programs. His program, "SPARK: How Composers Find Inspiration," blended captivating light design and videography with engaging audience participation to explore how a composition is created and brought to life by an orchestra.
Since 2018 Mr. Goodman has served as an Assistant Conductor to the San Francisco Symphony, assisting Esa-Pekka Salonen, Manfred Honeck, Daniel Harding, Pablo Heras-Casado, Simone Young and James Gaffigan among others.
Mr. Goodman's 2022-23 Season will include debut appearances with the Elgin Symphony, Baton Rouge Symphony, Greensboro Symphony and San Francisco Chamber Orchestra.
As Founder and Artistic Director of Elevate Ensemble, Mr. Goodman's ambitious vision for concert programming resulted in the pairing of music from Bay Area composers with underappreciated gems of the 20th and 21st centuries. Under his leadership, Elevate Ensemble established a Composer-in-Residence program and commissioned fifteen works from Bay Area composers. Elevate collaborated with photographers, videographers, poets and culinary artists, bringing new music and vibrant multi-genre experiences to unique venues such as yoga studios, historic Victorian homes and art studio warehouses.
Mr. Goodman has previously served as Conducting Fellow of Festival Napa Valley, Music Director of the Contra Costa Chamber Orchestra, Conducting Fellow of the Atlantic Music Festival, and a rehearsal and cover conductor for the San Francisco Ballet.
In addition to his performing career, he teaches young musicians the business and entrepreneurial skills needed to successfully navigate the world as a working musician in his workshop "You Earned a Music Degree. Now What?"
Mr. Goodman holds a bachelor of music degree from the Eastman School of Music and a master of music degree from San Francisco State University. His mentors include Michael Tilson Thomas, Alasdair Neale, Cyrus Ginwala and Martin Seggelke.
Laura Ardan, clarinet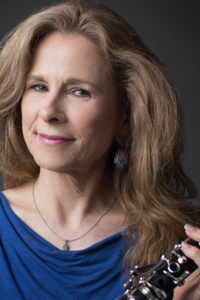 Laura Ardan has served as Principal Clarinet with the Atlanta Symphony Orchestra (ASO) since 1982 and holds the endowed Robert Shaw Chair. She has been a featured soloist with the orchestra in works by Mozart, Weber, Debussy, Copland, Bernstein, Finzi, Rossini, Shaw and Gandolfi, and has also performed with the Cleveland Quartet. She has performed in the Tanglewood, Marlboro, Mostly Mozart and Bellingham music festivals, and as a guest artist in Emanuel Ax Invites... on the Great Performers series at Lincoln Center. A frequent guest of the Atlanta Chamber Players, Georgian Chamber Players and Emory Chamber Music Society, she plays regularly at the Highlands Chamber Music Festival in North Carolina and Grand Teton Chamber Music Festival in Wyoming. A student of Roger Hiller and Stanley Drucker, Ms. Ardan attended The Juilliard School on scholarships from both Juilliard and the Naumburg Foundation. Before joining the ASO, she was a resident clarinetist and teaching artist at the Lincoln Center Institute for four years. She also played in the Metropolitan Opera Orchestra for two seasons.
Jörg Widmann, clarinet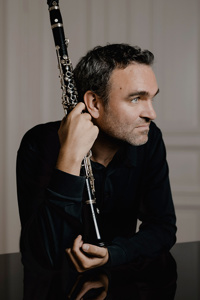 Clarinetist, composer and conductor Jörg Widmann is one of the most versatile and intriguing artists of his generation. As Carnegie Hall's 2019-20 Richard and Barbara Debs Composer Chair, his work was the season's focus. Future performances see him appear in all facets of his work. He appears as soloist with orchestras such as the New World Symphony and Bavarian Radio Symphony Orchestra, and is artist in residence at WDR Symphony Orchestra Cologne and BBC Scottish Symphony.
Mr. Widmann gave the world premiere of Mark Andre's clarinet concerto über. Other clarinet concertos dedicated to and written for him include Wolfgang Rihm's Music for Clarinet and Orchestra (1999) and Aribert Reimann's Cantus (2006).
Mr. Widmann studied composition with Kay Westermann, Wilfried Hiller and Wolfgang Rihm. His works continue to receive many awards such as the prestigious Chamber Music Society of Lincoln Center's Elise L. Stoeger Prize, Paul Hindemith Prize, Arnold Schönberg Prize by the Vienna Arnold Schönberg Centre and Deutsches Symphonie-Orchester Berlin, and both the SWR Symphony Orchestra Baden-Baden und Freiburg's composition award and the Berlin Philharmonic Academy's Claudio Abbado Composition Award in 2006.
Mr. Widmann's compositions are performed regularly by conductors such as Daniel Barenboim, Daniel Harding, Valery Gergiev, Kent Nagano, Christian Thielemann, Mariss Jansons, Andris Nelsons and Simon Rattle, and premiered by orchestras such as the Vienna, Berlin and New York philharmonics, Orchestre de Paris, BBC Symphony Orchestra and many others. This season sees the world premiere of Mr. Widmann's new trumpet concerto, commissioned by the Leipzig Gewandhaus Orchestra and Boston Symphony for Håkan Hardenberger and conducted by Andris Nelsons.
Mr. Widmann is Fellow at the Berlin Institute for Advanced Study and a full member of the Bavarian Academy of Fine Arts, and since 2007, the Freien Akademie der Künste Hamburg, German Academy of the Performing Arts and Academy of Sciences and Literature in Mainz. He is professor for composition at the Barenboim-Said Academy, Berlin.
Andreas Ottensamer, clarinet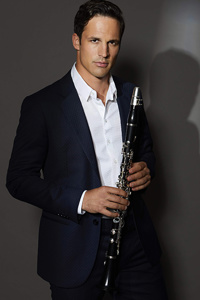 Andreas Ottensamer has captured audiences and critics alike with his distinct musicianship and versatility as clarinetist, artistic director and conductor. He is considered one of the leading instrumentalists of our time and performs as a clarinet soloist in the major concert halls around the world with orchestras such as the Berlin Philharmonic, Vienna Philharmonic, Mahler Chamber Orchestra, London Philharmonic, Seoul Philharmonic and NHK Symphony Orchestra under Mariss Jansons, Sir Simon Rattle, Andris Nelsons, Yannick Nezet-Seguin, Daniel Harding and Lorenzo Viotti.
Mr. Ottensamer is a regular guest artist at festivals such as the Salzburger Festspiele, Gstaad Menuhin Festival, Rheingau Musik Festival and Festival de Pâques d'Aix en Provence. Since the 2020-21 season, he has taken the podium as a conductor and is already much sought after. He is also artistic director of the Bürgenstock Festival in Switzerland.
Mr. Ottensamer has an exclusive recording partnership with Deutsche Grammophon since 2013, making him the first ever clarinetist on the Yellow Label. For his album Blue Hour, featuring works of Weber, Mendelssohn and Brahms, he partnered with the Berlin Philharmonic under Mariss Jansons and received his second Opus Klassik award as Instrumentalist of the Year.
Mr. Ottensamer was born in 1989 in Vienna. He comes from an Austro-Hungarian family of musicians and was drawn to music early, receiving his first piano lessons when he was four. At the age of 10 he began studying cello at the University of Music and Performing Arts Vienna, then changed to the clarinet in 2003. In 2009 he interrupted his Harvard undergraduate studies to become a scholar of the Orchestra Academy of the Berliner Philharmonic. Since 2011 he has held the position of Principal Clarinet with the Berlin Philharmonic.
Anthony McGill, clarinet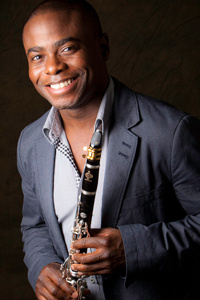 Hailed for his "trademark brilliance, penetrating sound and rich character" (The New York Times), clarinetist Anthony McGill is one of classical music's most recognizable and brilliantly multifaceted figures. In addition to his dynamic international solo and chamber music career, he is Principal Clarinet of the New York Philharmonic—the first African-American principal player in the organization's history. In 2020 he was awarded the Avery Fisher Prize, one of classical music's most significant awards given in recognition of soloists who represent the highest level of musical excellence.
In the aftermath of the killing of George Floyd on May 25, 2020, Mr. McGill launched a powerful musical protest video urging people to #TakeTwoKnees in demonstration against the death of George Floyd and historic racial injustice. His video went viral, and hundreds of artists and citizens amplified the message and responded to the protest with their own videos using the hashtag #TakeTwoKnees.
Mr. McGill appears regularly as a soloist with top orchestras around North America, including the New York Philharmonic, Metropolitan Opera, Baltimore Symphony, San Diego Symphony and Kansas City Symphony. As a chamber musician, he is a favorite collaborator of the Brentano, Daedalus, Guarneri, JACK, Miró, Pacifica, Shanghai, Takács and Tokyo quartets, as well as Emanuel Ax, Inon Barnatan, Gloria Chien, Yefim Bronfman, Gil Shaham, Midori, Mitsuko Uchida and Lang Lang.
A graduate of the Curtis Institute of Music, Mr. McGill previously served as the Principal Clarinet of the Metropolitan Opera Orchestra and Associate Principal Clarinet of the Cincinnati Symphony. In demand as a teacher, he serves on the faculty of The Juilliard School, Curtis Institute of Music and Bard College Conservatory of Music.
Mr. McGill has been covered in The New York Times and The New Yorker and has appeared on National Public Radio, Performance Today and Mister Rogers' Neighborhood.
Mr. McGill is an ardent advocate for helping music education reach underserved communities and for addressing issues of diversity, equity and inclusion in classical music. He is the Artistic Director for the Music Advancement Program at The Juilliard School, a weekend program for music students who demonstrate a commitment to artistic excellence, which actively seeks students from diverse backgrounds underrepresented in classical music. In concert with a $30,000 charitable gift from the Avery Fisher Artist Program designated to a charity of Mr. McGill's choice, he and Weston Sprott, Dean of the Preparatory Division of The Juilliard School, established the Weston Sprott and Anthony McGill MAP Summer Scholarship Fund so MAP students can take part in summer programs and festivals.
Mr. McGill serves on the board of directors for the League of American Orchestras, Cedille Records and the Harmony Program, and on the advisory councils for the InterSchool Orchestras of New York and Time In Children's Arts Initiative. He is a Vandoren Artist and Buffet Crampon Artist. For additional background, please visit anthonymcgill.com.



Andrea Levine, clarinet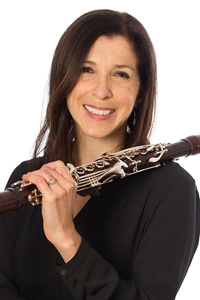 A native of Queens, New York, Andrea Levine was appointed Principal Clarinet of the Louisville Orchestra in 2003. She also served as Acting Principal Clarinet of the Detroit Symphony for the 2017-2018 season.
Ms. Levine won the position of interim Assistant Principal of the Colorado Symphony during the 2011-2012 season. She also won the position of interim Second Clarinet of the Cleveland Orchestra during the 2007-2008 season and joined them on two European tours. Prior to coming to Louisville, she spent a year as a member of the New World Symphony, and before joining NWS, she served as Interim Principal Clarinet of the Akron Symphony while completing a Professional Studies Diploma at the Cleveland Institute of Music.  She completed her undergraduate degree at the Eastman School of Music. In addition to serving as Principal Clarinet of the Britt Festival Orchestra, Ms. Levine holds the same position at the Artosphere Festival. She has appeared as guest Principal Clarinet of the Cincinnati Symphony, Baltimore Symphony, Detroit Symphony and Saint Louis Symphony. She has also appeared as a soloist with the Louisville Orchestra, Detroit Symphony, Artosphere Festival Orchestra and Eastman Philharmonia. 
Ms. Levine is also an active teacher, having presented master classes at the Eastman School of Music, University of Michigan, University of Florida, University of Cincinnati's College-Conservatory of Music, University of Tennessee and University of Louisville. She was recently appointed as Adjunct Instructor at the Indiana University Jacobs School of Music.
Teachers with whom Ms. Levine has studied include Daniel Gilbert, Kenneth Grant, Franklin Cohen, Yehuda Gilad and Mitchell Estrin.
Julianna Darby, NWS Clarinet Fellow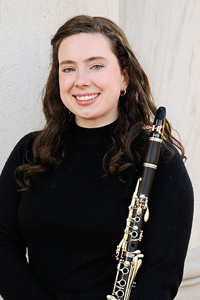 Julianna Darby is a first-year Clarinet Fellow at the New World Symphony. In fall 2021 began her first season playing second and E-flat clarinet with the Evansville Philharmonic in Indiana. Before moving to Miami, Ms. Darby was based in Rochester, New York, where she completed her master's degree at the Eastman School of Music in the studio of Michael Wayne. While at Eastman, she made her solo debut with orchestra, performing the Mozart's Clarinet Concerto in Kodak Hall. She has also worked with chamber groups including the Sequoia Reed Quintet, a semi-finalist in the 2021 Fischoff Chamber Music Competition. In addition, she coached chamber music and taught clarinet lessons to students at the University of Rochester throughout her degree.
Ms. Darby holds her bachelor's degree from Vanderbilt University, where she was a Cornelius Vanderbilt Scholar and studied with Bil Jackson. While living in Nashville, she subbed with the Murfreesboro Symphony and performed with a variety of chamber groups throughout the city. She has also spent summers studying at the Aspen Music Festival and School and Eastern Music Festival.
Angelo Quail, NWS Clarinet Fellow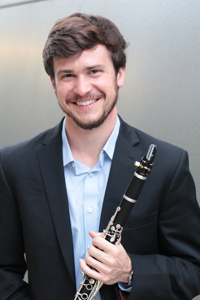 Angelo Quail is a third-year Clarinet Fellow at the New World Symphony. Before moving to Miami Beach, he served as Principal Clarinet of the Eastern Sierra Symphony and was an active freelancer based in Los Angeles. He can be heard in original soundtracks for the Netflix series Chef's Table as well as the BBC's documentary series Blue Planet. He has been a finalist and prizewinner in many solo and chamber music competitions, including the Coleman National Chamber Ensemble Competition, Pasadena Showcase House Young Artists Competition and University of Michigan Concerto Competition.
Mr. Quail has been a guest performer with the Baltimore Symphony, Milwaukee Symphony, Pacific Symphony, Spokane Symphony and Los Angeles Philharmonic, among other orchestras. He has given ensemble and solo performances in prestigious concert venues across the United States, Europe and China including the Beijing National Centre for the Performing Arts, Walt Disney Concert Hall and the Edinburgh Festival Theatre.
A native of Ann Arbor, Mr. Quail received bachelor of music and bachelor of arts degrees from the University of Michigan, a master of music from the University of Southern California and an artist diploma from the Colburn School, where he studied with world-renowned clarinet teacher Yehuda Gilad. His other primary teachers have included Daniel Gilbert, Theodore Oien and Wolfgang Meyer. He has spent summers at the Music Academy of the West, National Orchestral Institute, Aspen Music Festival and School and Chautauqua Music Festival.
Jesse McCandless, NWS Clarinet Fellow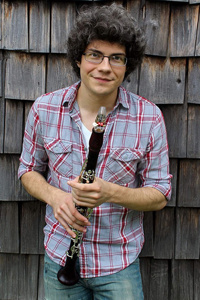 Clarinetist Jesse McCandless is a fourth-year Fellow at the New World Symphony. An avid solo and chamber musician, he has appeared in performances as a young artist in residence at the Detroit Chamber Winds and Strings, Fischoff National Chamber Music Competition, Oberlin in Oakton concert series and the Kennedy Center's Millennium Stage as part of "The Conservatory Project." He has also performed with Eighth Blackbird at the Third Practice Electroacoustic Music Festival, and has appeared as a soloist with the Oberlin Conservatory Orchestra as a winner of the Oberlin Concerto Competition.
Most recently, Mr. McCandless received a fellowship to attend the Norfolk Chamber Music Festival, where he collaborated and performed with such artists as Boris Berman, Mark Steinberg and Ransom Wilson, while at the same time performing many important chamber works for wind quintet. His time as an undergraduate was spent at the Oberlin College Conservatory of Music, where he studied with Richard Hawkins. Mr. McCandless then continued as a graduate at the Yale School of Music, under the guidance of David Shifrin, where he was recipient of the Thomas Daniel Nyfenger Memorial Prize in 2017 for having "demonstrated the highest standard of excellence in woodwind playing."