Events & Tickets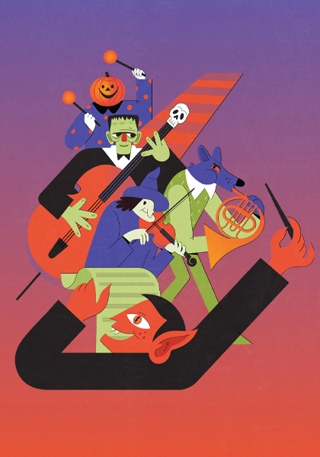 Orchestra Concert
Concert for Kids: Tricks and Treats
New World Center, Michael Tilson Thomas Performance Hall
Sunday, October 29, 2023 at 11:30 AM
Program
Families will enjoy a spooktacular afternoon at the New World Center for Tricks and Treats—NWS's first Concert for Kids program of the season. Conducting Fellow Molly Turner brings the goosebumps with scary-good musical favorites. Costumes encouraged for all!* Doors open at 10:00 AM for pre-concert activities by community partners and a chance to meet the NWS Fellows. Concerts for Kids are designed for young ones—ages four to nine—in mind.
A sensory-friendly room will be available at the performance.
*No functional props or weapons, including metal swords, or face masks for adults will be permitted. 
Tickets no longer available online.
Program
Bobby Pickett / Leonard Capizzi
(1938-2007 / 1940-1988)
Approx. Duration: 4 minutes

Dmitri Shostakovich
(1906-1975)
Arranged by Rudolf Barshai
Approx. Duration: 3 minutes

Quartet for Strings, No. 10, Op. 110a
Jalacy Hawkins
(1929-2000)
Arranged by Tarcisio Barreto
Approx. Duration: 3 minutes

Philip Glass
(b. 1937)
Approx. Duration: 4 minutes

Dracula – Carriage Without a Driver
Camille Saint-Saëns
(1835-1921)
Approx. Duration: 6 minutes

June Lee, NWS Violin Fellow
Bernard Herrmann
(1911-1975)
Arranged by Paul Lavender
Approx. Duration: 2 minutes

Angélica Negrón
(b. 1981)
Approx. Duration: 6 minutes

Kristen Anderson-Lopez / Robert Lopez
(b. 1972 / b. 1975)
Approx. Duration: 5 minutes

Pre-Concert Activities
1st Floor: Truist Pavilion
10:00-10:30 AM: Musical Exploratory Play: Have fun exploring a variety of instruments before the show!
10:30-11:00 AM: Spooky Compositions with Portia Dunkley of Teeny Violini
11:00-11:15 AM: Performance by Mariachi Sol de Oro
1st Floor: Atrium
10:00-11:15 AM: 360 Photobooth: Take a photo at the 360 photobooth! Wear your spookiest costume and dare to take a photo with your favorite goblins and ghouls.
1st Floor: Clinton Room
10:00-11:15 AM: Quiet Room for all ages: Designed for people who need a sensory break or prefer to play alone. Books, blocks and puzzles provided, as well as comfortable seating and low lighting. No conversations, phone calls, or food or drink. This room is also open during the concert. 
3rd Floor: Atrium Terrace
10:00-11:15 AM: Arts and Crafts with Miami Children's Museum: Create sun-catcher spider webs
SoundScape Park
Be sure to grab a scoop of Salt and Straw ice cream! 
Molly Turner, conductor
Molly Turner is a Chinese-born conductor and composer. Recently, she has conducted the Orchestre de Paris, Gstaad Festival Orchestra, Theater Orchester Biel Solothurn, Juilliard Orchestra, Dallas Opera Orchestra, Primrose International Viola Competition, Colburn Orchestra and Eastern Festival Orchestra. Highlights of the 2022-23 season included a debut with San Francisco Symphony's SoundBox Series, a Concert Scolaire with Orchestre de Paris, conducting the premiere of her own new orchestra work with the Tacoma Youth Symphony, Colburn Chamber Music Society with David Rejano and Cosi! Men Are Like That with opera company White Snake Projects. She has served as assistant conductor for the Berliner Philharmoniker, Orchestre de Paris, San Francisco Symphony, Utah Symphony, San Diego Symphony, National Polish Radio Symphony, Juilliard Orchestra and Colburn Orchestra. In 2019 she was the youngest conductor invited for residency at the Dallas Opera's Hart Institute for Women Conductors. She has assisted Esa-Pekka Salonen, David Robertson, Stéphane Denève, Yaniv Dinur, Rafael Payare, Nicholas McGegan and Jeffrey Milarsky.
Ms. Turner is a devoted advocate for contemporary and modern music. She has collaborated with many living composers including Paul Novak, Max Vinetz, Lauren Vandervelden, Corey Chang, Sujin Kang, Webster Gadbois and Sofia Ouyang and has a strong affinity for the music of Stravinsky, Bartók and Lutosławski. She is a member of the Colburn Contemporary Ensemble and has conducted works by Lou Harrison, Timo Andres and Nina Young with them. As part of Juilliard's ChoreoComp, Ms. Turner premiered four different dance pieces created by current student composers and choreographers and at Rice, she conducted and composed for Hear&Now: New Music.
 Pursuing projects outside of the traditional concert hall is a core part of Ms. Turner's artistic identity. In 2021 she performed an open improvisation set on violin alongside Pablo O'Connell, Kebra-Seyoun Charles and Ryan Jung in an Alice Tully Hall window performance. While she was a Teaching Artist Fellow at Juilliard, she was involved in creating an improvisatory work that used K-8 student "found sound" recordings as source material. From 2017-19 was the artistic director for New Art / New Music at the Moody Center for the Arts. There she worked with composers and visual artists to curate a concert of new works that were site-specific to current exhibitions at the Moody Center. In 2017 she played viola in a multimedia performance art project alongside Angelbet Metoyer creating art live, Saul Williams reciting poetry and other musicians openly improvising.  In 2015 she co-wrote a graphic score with Sarah Grace-Graves for sculptor Katie Grinnan's Astrology Orchestra written for the Turrell Skypsace.
In her own music, Ms. Turner is interested in the balance between strictly dictated elements and more aleatoric notation. Her relationship to the standard repertoire is often integrated in subtle ways beneath the foreground of the music. A violinist and violist herself, she finds string instruments endlessly fascinating. Improvisation is a core part of her writing process and she often starts her work as voice memos or graphic scores. In 2018 her string quartet, The Shapes of Stories, was read by the Arditti Quartet. Her work has been heard in Benaroya Hall, Duncan Recital Hall, the Moody Center for the Arts and has been privately recorded.  
She completed her master's degree in orchestral conducting at The Juilliard School studying with David Robertson and received a bachelor in music composition cum laude from Rice University. She recently was pursuing an artist diploma at the Colburn Conservatory of Music in Los Angeles, where she studied under the guidance of Esa-Pekka Salonen in the Negaunee Conducting Program as a Salonen Fellow. She has studied composition with Kurt Stallmann, Arthur Gottschalk, Karim Al-Zand and Richard Lavenda. She has attended the Gstaad Festival Conducting Academy where she worked with Johannes Schlaefli, Jaap van Zweden and Baldur Brönnimann and the Eastern Music Festival, where she worked with Gerard Schwarz. In her free time, she enjoys biking, playing Ultimate Frisbee and reading.
Liz Ramirez, vocalist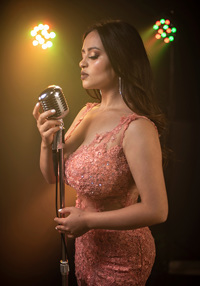 Liz Ramírez was born on August 13, 1996 in Bogota, Colombia, being raised by her parents, who are also musicians by profession. From a very young age she began to show her passion for music and her excellent singing ability, participating in several important contests in Colombia such as Factor XS and Angelitos dia a dia, and being the winner of the international contest "Yo Tengo Talento" representing her country Colombia and competing with more than seven countries.
She has traveled to several Latin American countries; interpretating songs of one of her favorite singers who inspired her so much in her musical career: Roció Dúrcal
Ramírez has gone through several artistic facets, doing musical theater and singing various musical genres, like Salsa, Mariachi and Pop.
Today she lives in Miami, Florida with her husband and young son and she hopes to continue traveling the Unites States with a happy heart full of dreams and musical notes.
Mariachi Sol de Oro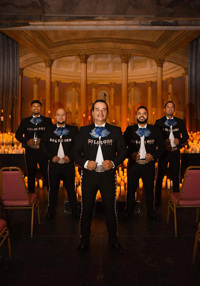 Mariachi Sol de Oro is a group of professional musicians specializing in the mariachi music genre. Its members have been at the height of important events in Miami accompanying different artists like, Marco Antonio Solís, Plácido Domingo, Marc Anthony, Raul DiBlasio and many more. This year they were chosen as the first mariachi to work a series of concerts with Candlelight Concerts performing emblematic songs by artists such as Juan Gabriel and Luis Miguel. The group has also performed for Miami's important cultural events together with the General Consulate of Mexico. In August 2023, they received an award from the City of Miami Beach, applauding the great talent and commitment that the members demonstrate in their presentations.

"It is an honor to represent Mexico through our music, each of us wears the charro suit with pride and with great respect. Long live Mexico and long live Mariachi music!"

– Director Musical Oscar A. Bedoya
   Alexi Bayona
   Julian Cumbe
   Javier Sanchez