Events & Tickets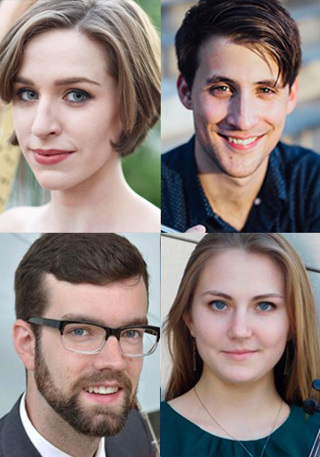 Orchestra Concert
CONCERTO SHOWCASE
New World Center
Saturday, March 24 at 8:00 PM
Sunday, March 25 at 2:00 PM
Program
In a popular all-concerto program—a staple of the NWS program—select Fellows take the coveted spotlight as winners of this season's concerto competition, an intense contest where Fellows compete head-to-head armed with their favorite solo work. The concert opens with lush, ultra-Romantic cascades by the harp in Reinhold Glière's dream-like Concerto featuring Chloe Tula. Rewind over 170 years for the classical cheerfulness and regal heralding of Johann Hummel's demanding Trumpet Concerto, performed by Ansel Norris, and the playful bravura of Carl Maria von Weber's Bassoon Concerto captured perfectly by Darren Hicks. Ultra-romantic Samuel Barber's Violin Concerto, once dubbed "unplayable," is the ultimate showstopper by Emerson Millar, as it seamlessly shifts from lush beauty to breakneck brilliance. Join us to celebrate the immeasurable talent and accomplishments of the young musicians who call the New World Symphony home.
Citi Pre-Concert Chat on Saturday, March 24: Join NWS Fellows for a free Pre-Concert Chat in SoundScape Park! These half-hour chats begin one hour prior to the performance. There will not be a pre-concert chat on Sunday, March 25. 
Loading Concert Information
Program
Reinhold Glière
(1875-1956)
Approx. Duration: 25 minutes

Concerto in E-flat major for Harp and Orchestra, Op. 74 (1938)

Allegro moderato
Tema con variazioni 
Allegro giocoso 
Johann Nepomuk Hummel
(1778-1837)

Concerto in E-flat major for Trumpet and Orchestra, S. 49 (1803)

Allegro con spirito
Andante
Rondo
Carl Maria von Weber
(1786-1826)

Concerto in F major for Bassoon and Orchestra, Op. 75 (1811, revised 1822)

Allegro ma non troppo
Adagio
Rondo: Allegro
Samuel Barber
(1910-1981)

Concerto for Violin and Orchestra, Op. 14 (1939)

Allegro
Andante
Presto in moto perpetuo
Edwin Outwater, conductor
Now launching his tenth season as Music Director of Ontario's Kitchener-Waterloo Symphony (KWS), Edwin Outwater also serves as Director of Summer Concerts at the San Francisco Symphony (SFS) and was recently appointed Artistic Director of the Eastern Sierra Symphony, a summer festival in Mammoth Lakes, California. An ardent champion of new music and cross-cultural and interdisciplinary collaboration, he is a visionary programmer with a gift for bringing context to the concert hall. Equally adept at interpreting canonical masterworks, premiering new commissions and connecting audiences with repertoire beyond the mainstream, the American conductor is, as San Francisco Classical Voice notes, "headed for a top-tier future." 
In the 2016-17 season, his final season as music director of the KWS, Mr. Outwater and the orchestra continue their groundbreaking Intersections concerts. This season he explores the deep relationship between music and science in a collaboration with the Institute for Quantum Computing and cellist Johannes Moser. Other KWS highlights include a gala farewell concert with Measha Brueggergosman and Stewart Goodyear and world premieres from Richard Reed Parry and Riho Esko Maimets. In his third season as Director of Summer Concerts at the SFS, an appointment that extends throughout the year, Mr. Outwater leads collaborations with vocalist Madeline Peyroux, pianist Makoto Ozone and others. As the only guest artist invited to curate a third consecutive season, Mr. Outwater returns to help lead the trailblazing series SoundBox in the SFS's new nightclub-style performance space, and will curate and conduct the Music for Families series.  
This season Mr. Outwater's extensive guest-conducting schedule features returns to the New World and Chicago symphonies and three appearances with the BBC National Orchestra of Wales. He also debuts with the Brussels Philharmonic, Grant Park Festival and Montreux Jazz Festival, and appears at the Kennedy Center in their new music series led by composer Mason Bates. In the United States Mr. Outwater has conducted the New York and Los Angeles philharmonics, as well as the symphony orchestras of Baltimore, Chicago, Detroit, Houston and Seattle. In Canada, he has led the National Arts Centre Orchestra and the symphonies of Toronto, Calgary, Edmonton, Winnipeg and Victoria. International appearances include the Tokyo Metropolitan Orchestra, Tokyo Symphony, Kyoto Symphony, BBCNOW, New Zealand Symphony, Adelaide Symphony, Malmö Symphony, Nordwestdeutsche Philharmonie, Mexico City Philharmonic, Orquesta Sinfónica de Xalapa and Hong Kong Sinfonietta. 
Mr. Outwater was Resident Conductor of the SFS from 2001-06, where he worked closely with Michael Tilson Thomas, accompanied the orchestra on tour, conducted numerous concerts each season and collaborated with such artists as Kurt Masur, Yo-Yo Ma and Evelyn Glennie. He twice substituted for Mr. Tilson Thomas, and in 2006 premiered and recorded The Composer is Dead by Nathaniel Stookey and Lemony Snicket, which was subsequently released by HarperCollins and has become one of the most-performed works written in the 21st century. In 2008 his SFS recording of music by Jerod Impichchaachaaha' Tate was released to wide acclaim. 
Mr. Outwater's work in music education and community outreach is justly celebrated. In Florida, Mr. Outwater designed the Florida Philharmonic Family Series and its Music for Youth program, heard annually by more than 40,000 fifth-grade students in South Florida. He appears frequently with training orchestras and at music festivals worldwide, including the New World Symphony, Civic Orchestra of Chicago, National Music Camp of Australia, National Youth Orchestra of New Zealand, Music Academy of the West, National Orchestral Institute, Festival-Institute at Round Top and New York's Mannes Conservatory Orchestra. Mr. Outwater has served as Music Director of the Santa Barbara Youth Symphony and on the faculties of the University of Tulsa, Idyllwild Arts Academy and University of California, Santa Barbara. 
A native of Santa Monica, California, Mr. Outwater graduated cum laude in English literature from Harvard University where he was music director of the Bach Society Orchestra and the a cappella group Harvard Din and Tonics and wrote the music for the 145th annual production of the Hasty Pudding Theatricals. He received his master's degree in conducting from the University of California, Santa Barbara, where he studied with Heiichiro Ohyama and Paul Polivnick, besides studying music theory and composition with John Stewart, Joel Feigin and Leonard Stein.
Chloe Tula, harp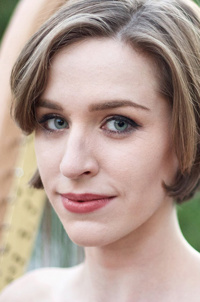 Chloe Tula is a first-year Harp Fellow at the New World Symphony. A versatile and in-demand musician, she has performed in venues ranging from New York's Carnegie Hall to the great outdoors of the Rocky Mountains. Her most notable orchestral engagements include performances with the Houston Symphony and the Santa Fe Opera.
Equally at ease as an orchestral musician and a soloist, Ms. Tula has established herself as a prizewinning harpist since making her solo debut with the Milwaukee Symphony at the age of 16. In 2014 she won the Anne Adams Awards, a biennial national competition sponsored by the American Harp Society.
As a scholarship recipient, Ms. Tula attended the Aspen Music Festival and School for two summers, where she studied with Nancy Allen (Principal Harp, New York Philharmonic) and Anneleen Lenaerts (Principal Harp, Vienna Philharmonic). In the summer of 2016 she also appeared as Principal Harpist with the Lakes Area Music Festival in Brainerd, Minnesota.
Having had the support and inspiration to pursue music since her upbringing in the Wisconsin countryside, Ms. Tula finds opportunities to pay it forward. She was a recipient of the Sviatslov Richter Fund for Music Outreach to perform a recital series for children in hospitals throughout the Texas Medical Center in 2017, and continues to work closely with her hometown youth orchestra — the Milwaukee Youth Symphony — to maintain a scholarship fund for students, in memory of her late father.
Ms. Tula received her bachelor's degree from the Shepherd School of Music at Rice University, where she studied with Paula Page, former Principal Harpist of the Houston Symphony. When she is away from the harp, she enjoys experimenting in the kitchen, and is currently cooking her way through Julia Child's Mastering the Art of French Cooking.
Ansel Norris, trumpet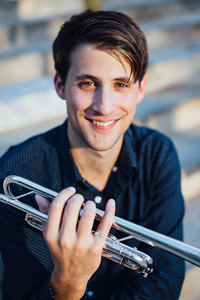 Second-year Trumpet Fellow Ansel Norris has distinguished himself as a soloist, orchestral and chamber musician of enthusiasm and diverse taste. He was twice a first-prize winner at the National Trumpet Competition's solo division, a YoungARTS Gold Award recipient and a first prize winner in Chicago's Luminarts competition, among others. In 2016 he gave a provocative solo recital in a bold new format—a performance of Schubert's "Die Schone Müllerin" with the text of the poems delivered verbally in between each song. He has been inspired by the relationship of music to storytelling, and finds particular relevance in the palette of moods and colors that gave life to romantic art song. This is a medium he has become fascinated with and intends to continue to explore as he moves forward. 
Mr. Norris has a great love for the sound of the orchestra and has given performances with the Chicago and Boston symphonies, spent two summers as a fellow at the Tanglewood Music Center and completed a two-year period as a member of the Civic Orchestra of Chicago. He is excited to join the Peninsula Music Festival of Door County, Wisconsin this season. 
As a founding member of the Lincoln Chamber Brass, Mr. Norris competed in the Fischoff International Chamber Music Competition of 2014, earning a bronze medal. In 2016 he graduated from Northwestern University. He feels very grateful for the mentors who have pushed him along the way, including his mom, John Aley, Charles Geyer, Thomas Rolfs, Christopher Martin, Stephen Burns, Mark Gould and Robert Sullivan, to name just a few. 
Mr. Norris has interests in reading, cooking, hiking, playing ping pong, doing yoga and playing video games, in no particular order. In Miami he hopes to explore all of these interests, in addition to many great musical opportunities, with a curious mind and an open heart.
Darren Hicks, bassoon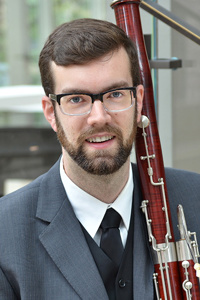 Darren Hicks, a third-year Bassoon Fellow at the New World Symphony, is an award-winning Canadian bassoonist with his hands in both the orchestral world and the chamber music scene.
Mr. Hicks' orchestral experiences include the Verbier Festival Orchestra (Verbier, Switzerland) from 2013-15 where he worked with world-renowned conductors like Valery Gergiev, Gianandrea Noseda, Daniel Harding, Charles Dutoit and Yuri Temirkanov. He has also been privileged to perform with the Toronto Symphony, National Arts Centre Orchestra (Ottawa) and conductors Peter Oundjian, Trevor Pinnock, Pinchas Zukerman and Alexander Shelley. Summers spent at the Banff Centre, Domaine Forget and the National Youth Orchestra of Canada have allowed Mr. Hicks to work with bassoonists Whitney Crockett, Gilbert Audin and Kathleen McLean, as well as perform chamber music under the guidance of Werner Herbers. 
In 2016 Mr. Hicks was named to the "Hot 30 under 30" list of classical musicians by the Canadian Broadcasting Corporation (CBC), the national broadcaster of Canada. Other recent accolades include the Dean's Prize at Yale University's 2014 Commencement, the Thomas Daniel Nyfenger Prize (awarded to the student displaying the highest level of excellence in woodwind playing) from the Yale School of Music, and the 2012 National Arts Centre Orchestra Bursary Prize. A graduate of Yale University and the University of Ottawa, Mr. Hicks has studied with principal teachers Frank Morelli and Christopher Millard (bassoon), Joan Panetti (musicianship) and David Shifrin (chamber music). When not diligently practicing or scraping thousands of reeds, Mr. Hicks can be found reading books on physics, gazing at the architectural details of concert halls, or rowing a canoe through the many provincial parks of his home country.
Emerson Millar, violin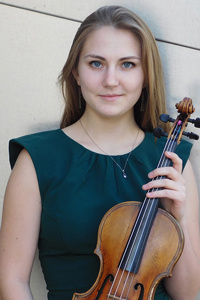 Emerson Millar is a first-year Violin Fellow at the New World Symphony. A prize winner for the National YoungArts Foundation competition in 2013, she is also the recipient of a generous Career and Education Grant from the Rachel Barton Pine Foundation and the 2015 David Weiss Memorial Scholarship.
As an orchestral musician, Ms. Millar has appeared as assistant concertmaster of the Aspen Festival Orchestra, Concertmaster of the Debut Orchestra, associate concertmaster of the American Youth Symphony, and has performed with Wild Up, a classical/contemporary ensemble. She has been a participant at Tanglewood Music Center, Heifetz International Music Institute, Spoleto Festival U.S.A. and was a recipient of the New Horizons Fellowship at the Aspen Music Festival. She has worked with many renowned conductors including Andris Nelsons, Stéphane Denève, Esa-Pekka Salonen, Sir Neville Marriner, Ludovic Morlot, Charles Dutoit and Nicholas McGegan. Her concerto performances include the Barber and Mendelssohn concertos as the winner of both junior and senior divisions of the Lee Strebel Memorial Youth Concerto Competition.
Ms. Millar is an avid chamber musician and has studied with Ronald Leonard, Paul Colletti and members of the Juilliard, Guarneri, Tokyo and the Emerson string quartets. She received a bachelor of music degree from The Colburn School, where she studied with Robert Lipsett.