Events & Tickets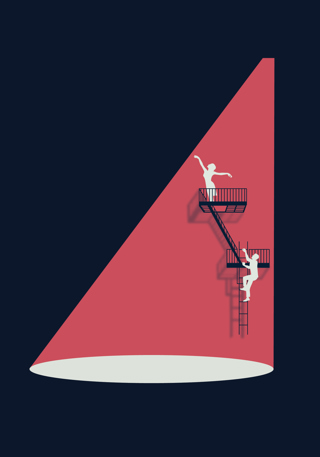 Orchestra Concert
Dances from West Side Story
Adrienne Arsht Center
Saturday, October 21, 2023 at 8:00 PM
Program
New World Symphony and Emmy Award-winning conductor Miguel-Harth Bedoya team up for a toe-tapping, jazz-infused evening that's fun for the whole family. Get swept away by the romance and drama of Leonard Bernstein's Symphonic Dances from West Side Story. Explore the intersection of jazz and classical music as saxophonist Steven Banks takes the stage for a moving concerto dedicated to the Black experience in America. End your night with Fiesta!, four Latin, Afro-Peruvian and pop music-inspired dances by Jimmy López Bellido. 
----
Reserve your seats today and enjoy unbeatable savings by subscribing to New World Symphony's Arsht Center series. From West Side Story to Ode to Joy, this series features some of the most beloved melodies in orchestral music. Starting at just $15 a concert, the series concludes with Michael Tilson Thomas leading New World Symphony in Copland's Old American Songs and Tchaikovsky's Fourth Symphony. 
This concert can also be added to any Compose Your Own (CYO) subscription series. Pick three or more performances you'd like to attend and receive all the perks and savings of being a New World Symphony subscriber. 
Tickets no longer available online.
Program
Samuel Barber
(1910-1981)
Approx. Duration: 20 minutes

Symphony No. 1 (In One Movement), Op. 9 (1936)

Billy Childs
(b. 1957)
Approx. Duration: 20 minutes

Diaspora (Concerto for Saxophone and Orchestra) (2023; NWS co-commission)

Part I: Motherland
Part II: If We Must Die
Part III: And Still I Rise
Jimmy López Bellido
(b. 1978)
Approx. Duration: 11 minutes

Fiesta!: Four Pop Dances for Orchestra (2007)

Trance I
Countertime
Trance 2
Techno
Leonard Bernstein
(1918-1990)
Approx. Duration: 23 minutes

Symphonic Dances from West Side Story (1961)

Prologue
"Somewhere"
Scherzo
Mambo
Cha Cha
Meeting Scene
"Cool" Fugue
Rumble
Finale
Samuel Barber
Symphony No. 1 (In One Movement), Op. 9 (1936)

Approximate duration: 20 minutes
A child prodigy from a musical family, Samuel Barber enrolled in the founding class at Philadelphia's Curtis Institute of Music at the age of 14. He went on to win the American Academy's Rome Prize, which bankrolled his Italian residency from 1935 to 1937. Barber composed his First Symphony there, and the performances that soon followed in Rome, Cleveland, New York and Salzburg helped launch his career.
Barber employed an unusually compact form for his First Symphony. It begins with a typical exposition, the portion of a movement that establishes the themes and tonal centers. It then skips the expected rest of the movement, and instead the two main ideas expand into contrasting episodes that take the place of a symphony's middle movements. The final section reunites the two ideas in the form of a passacaglia, a Baroque technique in which the instruments cycle through a recurring pattern, first heard in the cellos and basses alone.
Billy Childs
Diaspora (Concerto for Saxophone and Orchestra) (2023; NWS co-commission)

Approximate duration: 20 minutes
Pianist and composer Billy Childs got his start as a sideman for jazz giants including Freddie Hubbard and J.J. Johnson. He began recording his own compositions for jazz combos starting in the late 1980s, and soon commissions followed from classical ensembles, including several works for the Los Angeles Philharmonic. Childs has continued to straddle musical worlds, winning a total of five Grammy Awards for his jazz performances as well as his compositions and arrangements. The following is excerpted from his program note for Diaspora, co-commissioned by the Kansas City Symphony and Cincinnati Symphony.
The Saxophone Concerto strives to chronicle the paradigm of the forced Black American diaspora, as sifted through the prism of my own experience as a Black man in America. When saxophonist Steven Banks approached me about the piece, the first thing we discussed was the narrative: What particular story would the piece tell? How would it unfold? We decided that, much in the same way that Ravel's Gaspard de la Nuit illustrates three poems by Aloysius Bertrand, so would this Concerto do with poems by Black poets. But then I started thinking of the elegantly succinct and fluent structure of Barber's Symphony No. 1, where he brilliantly ties together a handful of thematic materials into a seamless and organic whole. I started to compose from the vantage point that the poems we chose ("Africa's Lament" by Nayyirah Waheed, "If We Must Die" by Claude McKay and "And Still I Rise" by Maya Angelou) would be guideposts in a three-part storyline.
The first theme played solo by the soprano saxophone is meant to evoke a sense of well-being and security as Africans are living in the Motherland. After this, a pattern in the strings transitions the listener into a sense of foreboding, signaling trouble on the horizon. Then a battle ensues between the slave traders and the future slaves, climaxing in an orchestral section bolstered by a brass fanfare. The soprano sax utters a melancholy theme as the slaves are being led to the slave ship.
If We Must Die begins with the first vision of the slave ship, illustrated by a loud blast in the orchestra. The slaves are boarded onto the ships and the Middle Passage journey to America begins; sweeping rapid scales in the lower strings, woodwinds and harp describe the back-and-forth movement of the waves. A percussion section and saxophone exchange aims to represent the confusion, rage and terror of the slave trade, where families are ripped apart as humans are bought and sold like cattle. The subsequent section is a mournful lament of despair. A background pattern played by vibraphone and celesta gets faster and faster until it brings us into the next scherzo-like section. After five orchestral stabs, the alto saxophone plays a short and tender cadenza that signifies the resilience of Black Americans and introduces the idea of self-love, self-worth and self-determination.
This final section, And Still I Rise, is about Black empowerment. The church has always been a cultural focal point in the Black community, a sanctuary providing psychological and emotional relief from the particular hardships of Black life in America. This final chapter of the piece starts out with a hymn-like passage, as though the saxophonist were a singer accompanied by a piano during a Sunday church service. A march-like ostinato symbolizes steely determination in the midst of great and formidable obstacles, until we finally reach the victorious fanfare at the conclusion of the piece. Maya Angelou's shining poem reminds us that Black people cannot and will not be held to a position of second-class citizenship—we will still rise.
                — Billy Childs
Jimmy López Bellido
Fiesta!: Four Pop Dances for Orchestra (2007)

Approximate duration: 11 minutes
The composer Jimmy López Bellido has found one of his strongest champions in Miguel Harth-Bedoya, a fellow Peruvian who commissioned the original chamber ensemble version of Fiesta! in 2007 to mark the centennial of Peru's Lima Philharmonic Society. Harth-Bedoya also debuted the orchestral version the next year with the Baltimore Symphony. The following is excerpted from Lopez's program note about the piece he subtitled "four pop dances for orchestra."
Fiesta! draws influences from several musical sources, including European academic compositional techniques, Latin-American music, Afro-Peruvian music and today's pop music. The word "trance" belongs to the realm of techno, a form of electronic dance music which generally makes use of hypnotic and repetitive rhythms. The purpose of repetition is to keep a steady pulse so that everybody can dance continuously, and it is an effective way of building up tension. I also use the word "trance" in its original meaning, thus trying to convey the hypnotizing state achieved while listening to a constantly shifting melody against a static background. The first and third movements, Trance 1 and Trance 2, both start energetically, feature slow passages and lead to the following movements by means of open endings.
The third movement, Countertime, is an interplay of syncopations where the downbeat is constantly shifted from the strong to the weak beat of the bar. Techno, the fourth movement, uses Latin-American rhythms such as merengue. The trumpet and trombone solo marks the beginning of a section where techno rhythms are made explicit.
                — Jimmy López Bellido
Leonard Bernstein
Symphonic Dances from West Side Story (1961)

Approximate duration: 23 minutes
The idea for Leonard Bernstein's West Side Story first came from the choreographer Jerome Robbins, who suggested making a contemporary adaptation of Shakespeare's Romeo and Juliet. The initial concept centered on Jews and Catholics on Manhattan's Lower East Side, and playwright Arthur Laurents drafted a scenario he called East Side Story. Later the Jews were recast as Puerto Ricans, and the setting shifted from Manhattan's Jewish tenements of the east to the Latinx tracts west of Central Park (an entire neighborhood that would soon be razed, ironically, to make way for Lincoln Center, the arts complex where Bernstein later directed the New York Philharmonic). Bernstein was disappointed that his go-to lyricists weren't available, the Broadway veterans Comden and Green, but it cleared space for a promising new talent, the young Stephen Sondheim, who completed the West Side Story dream team.
The jazzy licks and Latin dances of Bernstein's score have had a long life in the concert hall, ever since the composer worked with assistants to create the Symphonic Dances from West Side Story in 1961. The instrumental suite includes such highlights as "Something's Coming" with its sizzling cross-rhythms, along with punchy brawl of "Mambo," capping a dance-off between the rival gangs. In "America," Bernstein exploited a rhythmic rub between groups of three beats and two beats, a staple of Afro-Caribbean dance music. This suite closes with the show's great ballad, "Somewhere," a hymn to the possibility of a happy ending—although it ends ominously, with an unsettled, dissonant interval. This particular dissonance, known as an augmented fourth or "tritone," appears as a signature sound throughout the score, from the opening prologue to the yearning rise in the song "Maria."
— © 2023 Aaron Grad
Aaron Grad is a composer and writer based in Seattle. In addition to providing program notes for the New World Symphony, Orpheus Chamber Orchestra, Baltimore Symphony Orchestra and others, he is also the artistic director of Many Messiahs, a project that reframes George Frideric Handel's masterpiece as a collective call for justice.
Miguel Harth-Bedoya, conductor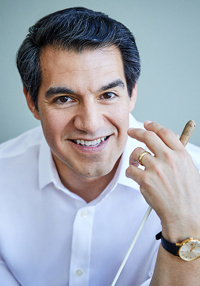 Miguel Harth-Bedoya is a master of color, drawing idiomatic interpretations from a wide range of repertoire in concerts across the globe.
Celebrating more than 30 years of professional conducting at the highest levels, Mr. Harth-Bedoya has a deep commitment to passing his experience on to the next generation of conductors. He is the Music Director and Mary Franks Thompson Director of Orchestral Studies at Baylor University, Music Director Laureate of Fort Worth Symphony and Director of The Conducting Institute.
Mr. Harth-Bedoya has amassed considerable experience at the helm of orchestras, including recently completing tenures as Chief Conductor of the Norwegian Radio Orchestra—a post he held for seven seasons—and 20 seasons as Music Director of the Fort Worth Symphony, where he now holds the title of Music Director Laureate and will conduct regularly. Previously he has held Music Director positions with the Auckland Philharmonia and Eugene Symphony.
Mr. Harth-Bedoya guest conducts with orchestras around the world. In the United States he has conducted the symphonies of Atlanta, Baltimore, Boston, Chicago, Dallas, Seattle and St. Louis; the Cleveland and Philadelphia orchestras and the Los Angeles Philharmonic, among others. Following his exceptional tenure as Associate Conductor of the Los Angeles Philharmonic during the early years of his career, Mr. Harth-Bedoya's "special chemistry" (LA Times) with the orchestra remains strong and he returns often as a guest conductor.
With a passionate devotion to unearthing new South American repertoire, Mr. Harth-Bedoya is the founder and Artistic Director of Caminos del Inka, a non-profit organization dedicated to researching, performing and preserving the rich musical legacy of South America. Among its varied activities, Caminos del Inka champions South American composers, produces lectures, chamber music concerts, CD and video recordings, and supports The Conducting Institute. In addition, Mr. Harth-Bedoya's multimedia project: Caminos del Inka, a musical journey has been performed by the Chicago Symphony, The Philadelphia Orchestra, Boston Symphony, Seattle Symphony, Baltimore Symphony, Residentie Orkest and MDR Leipzig Radio Symphony.
Born and raised in Peru, Mr. Harth-Bedoya received his bachelor of music degree from the Curtis Institute of Music and his master of music degree from The Juilliard School, both under the guidance of Otto-Werner Mueller. He also studied with Seiji Ozawa and Gustav Meier at Tanglewood.
Mr. Harth-Bedoya is an environmental advocate who is committed to a zero-waste lifestyle. In 2016 he co-founded Cowboy Compost, a business geared to achieve food waste reduction. He lives in Fort Worth with his wife, Dr. Maritza Cáceres, a choral conductor, and their three children, Elena, Emilio and Elisa.
Steven Banks, saxophone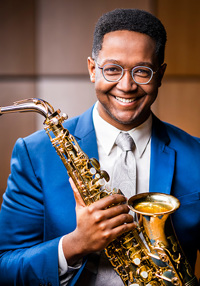 As a performer and composer, saxophonist Steven Banks is striving to bring his instrument to the heart of the classical music world. He is driven to program and write music that directly addresses aspects of the human experience and is an active and intentional supporter of diverse voices in the future of concert music. Rick Perdian of Seen and Heard International has said "one senses that Banks has the potential to be one of the transformational musicians of the twenty-first century."
Mr. Banks is establishing himself as a compelling and charismatic soloist and in 2022, he was awarded the prestigious Avery Fisher Career Grant and was a chosen artist for WQXR's Artist Propulsion Lab. He was the first saxophonist to be awarded First Prize at the Young Concert Artists Susan Wadsworth International Auditions. Critics have consistently recognized Mr. Banks for his warm yet glowing tone, well-crafted and communicative musical expression and deft technical abilities.
Mr. Banks has appeared with The Cleveland Orchestra, Montreal Symphony, Utah Symphony, Colorado Symphony, Mostly Mozart Festival Orchestra and Aspen Festival Orchestra and has enjoyed working with such conductors as Franz Welser-Most, Xian Zhang, Nicholas McGegan, Rafael Payare, John Adams, Peter Oundjian, Jahja Ling, Matthias Pintscher, Alain Altinoglu and Roderick Cox.
In recital, Mr. Banks has appeared across the U.S. at the San Francisco Symphony's Spotlight Series at Davies Hall, Merkin Hall, The Kennedy Center, The Kravis Center and Festival Napa Valley with his collaborative partner, pianist Xak Bjerken. A keen chamber musician, Mr. Banks has appeared at Spoleto Festival U.S.A., Chamber Music Chicago and Aspen Music Festival, and will be the first artist-in-residence of the Skaneateles Festival in the 2023-24 season. He has collaborated with the Borromeo and St. Lawrence string quartets and will work with the Dover and Verona quartets in the coming seasons. He is a founding member of the Kenari Quartet, an all-saxophone ensemble that performs regularly together, offering inspiring and uplifting compositions and arrangements. As baritone saxophonist of Kenari, Mr. Banks won first prize at the inaugural M-Prize Chamber Arts Competition and has garnered two silver medals from the Fischoff Chamber Music Competition. Their album, French Saxophone Quartets, was released in 2016 on the Naxos label.
In 2023 and 2024 Mr. Banks will premiere and tour with a commissioned concerto from Grammy Award-winning composer Billy Childs. The nine co-commissioning orchestras are the Kansas City Symphony, Cincinnati Symphony, Aspen Music Festival, Chautauqua Institution, New World Symphony, Minnesota Orchestra, Detroit Symphony, National Symphony and San Diego Symphony with Young Concert Artists being the tenth partner in the consortium. The three-movement, 20-minute concerto will explore aspects of the African American experience in America and takes inspiration from such poets as Nayyirah Waheed, Claude McKay and Maya Angelou.
As a composer, Mr. Banks has been commissioned by such organizations as Young Concert Artists, WQXR's Artist Propulsion Lab, Latitude 49, Yale University's Project 14 Initiative and Northwestern University's Saxophone Ensemble. Jarrett Hoffman of Cleveland Classical has said that his music showcases "a unique and ambitious blend of feelings and sounds" and portrays "a deep intimacy" and "a sense of vulnerability." His work for alto saxophone and string quartet, Cries, Sighs and Dreams, was premiered in May 2022 at Carnegie Hall with the Borromeo Quartet. His work for solo piano, Fantasy on Recurring Daydreams, was premiered by Zhu Wang in April 2023. Mr. Banks' works are published by Murphy Music Press.
An advocate for diversity and inclusion in music education and performance, Mr. Banks was part of the TEDxNorthwesternU 2017 conference presenting his dynamic approach to overcoming institutionalized prejudices against women and people of color. In addition, he has written about and given lectures on the history of Black classical composers. In collaboration with Anthony Trionfo and Randall Goosby, the Learning to Listen roundtable was created to discuss the nuances of the Black experience in classical music and beyond. In partnership with the Sphinx Organization, they also created the Illuminate! series, which opened three essential conversations on the subject of music education, artist activism and the LGBTQIA+ community in classical music.
Mr. Banks serves as a visiting faculty member at the Cleveland Institute of Music and holds the Jackie McLean Fellowship at the University of Hartford. He was previously Assistant Professor of Saxophone at both Ithaca College and the Baldwin Wallace Conservatory. His own primary saxophone teachers have been Taimur Sullivan, Otis Murphy Jr. and Galvin Crisp. He holds a bachelor of music degree from the Indiana University Jacobs School of Music, as well as a master of music degree from the Northwestern University Bienen School of Music.
Mr. Banks is an endorsing artist for Conn-Selmer instruments, D'Addario Woodwinds, lefreQue Sound Solutions and Key Leaves.
Molly Turner, conductor
Molly Turner is a Chinese-born conductor and composer. Recently, she has conducted the Orchestre de Paris, Gstaad Festival Orchestra, Theater Orchester Biel Solothurn, Juilliard Orchestra, Dallas Opera Orchestra, Primrose International Viola Competition, Colburn Orchestra and Eastern Festival Orchestra. Highlights of the 2022-23 season included a debut with San Francisco Symphony's SoundBox Series, a Concert Scolaire with Orchestre de Paris, conducting the premiere of her own new orchestra work with the Tacoma Youth Symphony, Colburn Chamber Music Society with David Rejano and Cosi! Men Are Like That with opera company White Snake Projects. She has served as assistant conductor for the Berliner Philharmoniker, Orchestre de Paris, San Francisco Symphony, Utah Symphony, San Diego Symphony, National Polish Radio Symphony, Juilliard Orchestra and Colburn Orchestra. In 2019 she was the youngest conductor invited for residency at the Dallas Opera's Hart Institute for Women Conductors. She has assisted Esa-Pekka Salonen, David Robertson, Stéphane Denève, Yaniv Dinur, Rafael Payare, Nicholas McGegan and Jeffrey Milarsky.
Ms. Turner is a devoted advocate for contemporary and modern music. She has collaborated with many living composers including Paul Novak, Max Vinetz, Lauren Vandervelden, Corey Chang, Sujin Kang, Webster Gadbois and Sofia Ouyang and has a strong affinity for the music of Stravinsky, Bartók and Lutosławski. She is a member of the Colburn Contemporary Ensemble and has conducted works by Lou Harrison, Timo Andres and Nina Young with them. As part of Juilliard's ChoreoComp, Ms. Turner premiered four different dance pieces created by current student composers and choreographers and at Rice, she conducted and composed for Hear&Now: New Music.
 Pursuing projects outside of the traditional concert hall is a core part of Ms. Turner's artistic identity. In 2021 she performed an open improvisation set on violin alongside Pablo O'Connell, Kebra-Seyoun Charles and Ryan Jung in an Alice Tully Hall window performance. While she was a Teaching Artist Fellow at Juilliard, she was involved in creating an improvisatory work that used K-8 student "found sound" recordings as source material. From 2017-19 was the artistic director for New Art / New Music at the Moody Center for the Arts. There she worked with composers and visual artists to curate a concert of new works that were site-specific to current exhibitions at the Moody Center. In 2017 she played viola in a multimedia performance art project alongside Angelbet Metoyer creating art live, Saul Williams reciting poetry and other musicians openly improvising.  In 2015 she co-wrote a graphic score with Sarah Grace-Graves for sculptor Katie Grinnan's Astrology Orchestra written for the Turrell Skypsace.
In her own music, Ms. Turner is interested in the balance between strictly dictated elements and more aleatoric notation. Her relationship to the standard repertoire is often integrated in subtle ways beneath the foreground of the music. A violinist and violist herself, she finds string instruments endlessly fascinating. Improvisation is a core part of her writing process and she often starts her work as voice memos or graphic scores. In 2018 her string quartet, The Shapes of Stories, was read by the Arditti Quartet. Her work has been heard in Benaroya Hall, Duncan Recital Hall, the Moody Center for the Arts and has been privately recorded.  
She completed her master's degree in orchestral conducting at The Juilliard School studying with David Robertson and received a bachelor in music composition cum laude from Rice University. She recently was pursuing an artist diploma at the Colburn Conservatory of Music in Los Angeles, where she studied under the guidance of Esa-Pekka Salonen in the Negaunee Conducting Program as a Salonen Fellow. She has studied composition with Kurt Stallmann, Arthur Gottschalk, Karim Al-Zand and Richard Lavenda. She has attended the Gstaad Festival Conducting Academy where she worked with Johannes Schlaefli, Jaap van Zweden and Baldur Brönnimann and the Eastern Music Festival, where she worked with Gerard Schwarz. In her free time, she enjoys biking, playing Ultimate Frisbee and reading.