Events & Tickets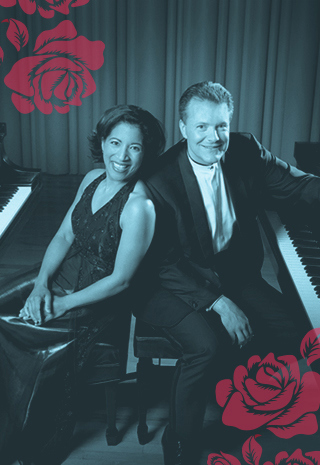 Guest Presenter
Dranoff 2 Piano presents 2 Piano Loves Latin
New World Center
Sunday, February 21, 2016 at 7:30 PM
Duo Turgeon perform the classical two piano works of Piazzolla, Guastavino, Lecuona and other Latin American masters of the 20th century, as well as the world premiere of the 2016 "Bacardi Choice" Jazz Commission by Latin Grammy-nominee, Cuban jazz pianist and composer, Manuel Valera. Valera's work, titled Migrant Voyage, was written in dedication "to the immigrant struggle in the United States and to those lives lost at sea in the Florida stretch in search of a better life." Anne Louise and Edward Turgeon are Gold medal winners of the 6th Dranoff International 2 Piano Competition and the Sixth International Schubert Competition for 2 Pianos. 

The "Bacardi Choice" Commission is a corporate-sponsored commission of a new work for 2 pianos by a young, Latin-American composer.
Program
Ástor Piazzolla
(1921-1992) Argentina
Libertango
Approx. Duration: 4 Minutes     
Enrique Granados
(1867-1916) Spanish
from Goyescas
Quejas O La Maja Y El Ruisenor
(Arr. for 2 pianos by Bartlett and Robertson)
Approx. Duration: 7 Minutes
Octavio Pinto
(1890-1950) Brazil
Scenas Infantis
  i. Corre Corre (Run, Run)
  ii. Roda Roda (Ring around the Rosey)
  iii. Marcha, Soldadinho (March little soldier)
  iv. Dorme, Nene (Sleepy time)
  v. Salta Salta (Hobby horse)
Approx. Duration: 15 minutes
Carlos Guastavino
(1912-2000) Argentina
Tres Romances Argentinos
  i. Baile
  ii. Muchacho Jujeno
  iii. Las Ninas
Approx. Duration: 17 Minutes
Intermission 20:00 
Manuel Valera
(1980-) Cuba
Migrant Voyage
"Dedicated to the immigrant Struggle in the United States and to those lives lost at sea in the Florida stretch in search of a better life."
* World Premiere "Bacardi Choice" composition
Approx. Duration: 12 Minutes
Ernesto Lecuona
(1895-1963) Cuba
from Suite Andalucia
  i. Córdoba (arr. for two pianos by Enrico Cabiati and Mario Carta)
  vi. Malagueña (arr. for two pianos by Grace Helen Nash)
Approx. Duration: 8 Minutes
 Reynaldo Hahn
(1874-1947) Venezualan
From Le Ruban Denoue (12 waltzes for 2 pianos)
Approx. Duration: 8 Minutes
Manuel Ponce
(1882-1948) Mexico
Idilio Mexicano
Approx. Duration: 4 Minutes
Francisco Mignone
(1897-1986) Brazil
Valsa de Esquina No. 2
Approx. Duration: 3 Minutes
Duo Turgeon, Piano Duo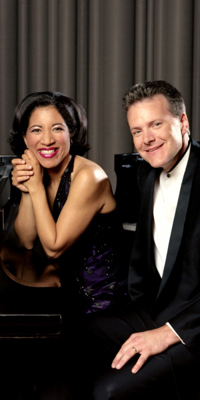 Born in Montreal and Toronto respectively, Canadian pianists Anne Louise-Turgeon and Edward Turgeon have been playing together since 1988, and performing professionally since 1996. Critically acclaimed as one of the top piano duos of our time, the Turgeons have given hundreds of performances, including a European debut at the Concertgebouw of Amsterdam, and a New York debut at Weill Recital Hall, to name a few. Festival appearances include Sanibel Chamber Music, San Francisco International Chamber Music, Montreal International Duo Piano, Duettissimo (Minsk), Novosibirsk International Duo Piano, Festival Miami, New York Summer Music Festival, Austin Chamber Music, Algoma Fall Festival, Chicago International Two Piano Festival, Norfolk Chamber and the World Piano Conference (Serbia), to name a few.
The Turgeon's prizes and awards include first prize in the Sixth International Schubert Competition for Piano Duos (Czech Republic, 1995) and first prize in the prestigious Murray Dranoff International Two Piano Competition (Miami, 1997). They received additional special prizes at the Dranoff, including the award for best performance of works for one piano, four–hands, and a special award for best performance of the commissioned work "Chiaroscuro", by John Corigliano. The latter prize included an opportunity to complete a world premiere recording of Chiaroscuro, which American Record Guide described as having "hypnotic intensity".
Anne Louise-Turgeon's awards, prizes and scholarships include the University of Toronto Faculty of Music's highest graduating award, the Eaton Scholarship (1989), and Yale University School of Music's highest honor, the Dean's Award for top graduate (1993). In addition she received Yale's Charles Miller Award for best recital. She is a recipient of an Ontario Arts Council Chalmers Award for graduate studies with a master teacher, and the Harry Jerome Award for achievement in the arts. Edward Turgeon received the coveted Forsyth Memorial Scholarship from University of Toronto Faculty of Music. At Yale University he received the Catherine Winchell and Phillip Nelson Memorial scholarships, awarded to an outstanding piano performance major, as well as the prize for best chamber ensemble (1993).
The Turgeons have served on the faculties of Algoma University College, Algoma Conservatory, Mount Holyoke College, the HARID Conservatory and Florida Atlantic University. They currently serve as keyboard faculty and ensemble-in-residence at Florida Atlantic University's Dorothy F. Schmidt College of Arts and Letters, School of the Arts, in Boca Raton.