Events & Tickets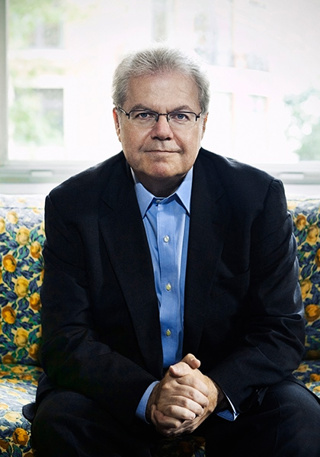 Orchestra Concert
EMANUEL AX PLAYS BEETHOVEN
Adrienne Arsht Center
Saturday, November 3 at 8:00 PM
Program
This concert is part of the New World Symphony's Adrienne Arsht Center Series. Artistic Director Michael Tilson Thomas and NWS Fellows welcome world-renowned guest artists for a series of star-studded, one-night-only events. Subscriptions for this 3-concert series begin at just $36. Click here to explore the full subscription!
COMPOSE YOUR OWN SUBSCRIPTION PACKAGE!
Choose this plus two more concerts to customize your own subscription. It's the ultimate flexibility with all the subscriber benefits, including free exchanges when plans change! Call the NWS Box Office at 305.673.3331 to create your own series today.
SUBSCRIBERS ENJOY THE BEST OF NWS!
As an NWS Subscriber, you receive amazing benefits to enjoy throughout the season, including the best seats for the lowest prices and access to our incredibly talented Fellows. Click here to learn more!
Tickets on Sale 7/16/2018
Program
Richard Wagner
(1813-1883)
Approx. Duration: 11 minutes

Overture to The Flying Dutchman (1840)

Ludwig van Beethoven
(1770-1827)
Approx. Duration: 37 minutes

Concerto No. 1 in C major for Piano and Orchestra, Op. 15 (1798)

Allegro con brio
Largo
Rondo: Allegro
Jean Sibelius
(1865-1957)
Approx. Duration: 31 minutes

Symphony No. 5 in E-flat major, Op. 82 (1915-19)

Tempo molto moderato -- Allegro moderato -- Preto
Andante mosso, quasi allegretto
Allegro molto -- Misterioso
Michael Tilson Thomas, conductor
Michael Tilson Thomas is Co-Founder and Artistic Director of the New World Symphony, America's Orchestral Academy; Music Director of the San Francisco Symphony; and Conductor Laureate of the London Symphony Orchestra. In addition to these posts, he maintains an active presence guest conducting with the major orchestras of Europe and the United States.
Born in Los Angeles, Mr. Tilson Thomas is the third generation of his family to follow an artistic career. His grandparents, Boris and Bessie Thomashefsky, were founding members of the Yiddish Theater in America. His father, Ted Thomas, was a producer in the Mercury Theater Company in New York before moving to Los Angeles where he worked in films and television. His mother, Roberta Thomas, was the head of research for Columbia Pictures.
Mr. Tilson Thomas began his formal studies at the University of Southern California where he studied piano with John Crown and conducting and composition with Ingolf Dahl. At age 19 he was named Music Director of the Young Musicians Foundation Debut Orchestra. He worked with Stravinsky, Boulez, Stockhausen and Copland on premieres of their compositions at Los Angeles' Monday Evening Concerts. During this same period he was the pianist and conductor for Gregor Piatigorsky and Jascha Heifetz.
In 1969, after winning the Koussevitzky Prize at Tanglewood, he was appointed Assistant Conductor of the Boston Symphony Orchestra. That year he also made his New York debut with the Boston Symphony and gained international recognition after replacing Music Director William Steinberg in mid-concert. He was later appointed Principal Guest Conductor of the Boston Symphony Orchestra where he remained until 1974. He was Music Director of the Buffalo Philharmonic from 1971 to 1979 and a Principal Guest Conductor of the Los Angeles Philharmonic from 1981 to 1985. His guest conducting includes appearances with the major orchestras of Europe and the United States.
His recorded repertoire of more than 120 discs includes works by composers such as Bach, Beethoven, Mahler, Prokofiev and Stravinsky as well as his pioneering work with the music of Charles Ives, Carl Ruggles, Steve Reich, John Cage, Ingolf Dahl, Morton Feldman, George Gershwin, John McLaughlin and Elvis Costello. He also recorded the complete orchestral works of Gustav Mahler with the San Francisco Symphony.
Mr. Tilson Thomas' television work includes a series with the London Symphony Orchestra for BBC Television, the television broadcasts of the New York Philharmonic Young People's Concerts from 1971 to 1977 and numerous productions on PBS' Great Performances. Mr. Tilson Thomas and the San Francisco Symphony produced a multi-tiered media project, Keeping Score, which includes a television series, web sites, radio programs and programs in schools.
In 1990 Mr. Tilson Thomas and the New World Symphony were presented in a series of benefit concerts for UNICEF in the United States, featuring Audrey Hepburn as narrator of From the Diary of Anne Frank, composed by Mr. Tilson Thomas and commissioned by UNICEF. This piece has since been translated and performed in many languages worldwide. In August 1995 he led the Pacific Music Festival Orchestra in the premiere of his composition Showa/Shoah, commemorating the 50th anniversary of the bombing of Hiroshima. Thomas Hampson premiered his settings of poetry by Walt Whitman, Renée Fleming premiered his settings of the poetry of Emily Dickinson and the San Francisco Symphony premiered his concerto for contrabassoon entitled Urban Legend. As a Carnegie Hall Perspectives Artist from 2003 to 2005, he had an evening devoted to his own compositions which included Island Music for four marimbas and percussion, Notturno for solo flute and strings and a new setting of poems by Rainer Maria Rilke. Other compositions include Street Song for brass instruments and Agnegram, an overture for orchestra.
Among his many honors and awards, Mr. Tilson Thomas is a Chevalier dans l'ordre des Arts et des Lettres of France, was Musical America's Musician of the Year and Conductor of the Year, Gramophone Magazine's Artist of the Year and has been profiled on CBS's 60 Minutes and ABC's Nightline. He has won 11 Grammy Awards for his recordings. In 2008 he received the Peabody Award for his radio series for SFS Media, The MTT Files. In 2010 President Obama awarded him the National Medal of Arts, the highest award given to artists by the United States Government.
Emanuel Ax, piano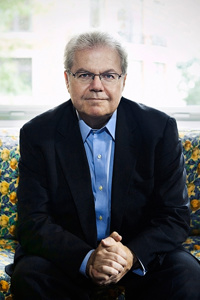 Born in modern day Lvov, Poland, Emanuel Ax moved to Winnipeg, Canada, with his family when he was a young boy. His studies at The Juilliard School were supported by the sponsorship of the Epstein Scholarship Program of the Boys Clubs of America, and he subsequently won the Young Concert Artists Award. Additionally, he attended Columbia University, where he majored in French. Mr. Ax made his New York debut in the Young Concert Artists Series, and captured public attention in 1974 when he won the first Arthur Rubinstein International Piano Competition in Tel Aviv. In 1975 he won the Michaels Award of Young Concert Artists followed four years later by the coveted Avery Fisher Prize. 
Always a committed exponent of contemporary composers, with works written for him by John Adams, Christopher Rouse, Krzysztof Penderecki, Bright Sheng and Melinda Wagner already in his repertoire, the 2016-17 season will feature two newly commissioned works. With the New York Philharmonic conducted by Alan Gilbert, January will bring the world premiere of HK Gruber's Piano Concerto, followed in March by the European premiere with the Berlin Philharmonic and Sir Simon Rattle. In recitals throughout the season his program will include works by Schubert and Chopin partnered with Impromptus (2015-16) by Samuel Adams, commissioned by Music Accord and inspired by Schubert. His ongoing relationship with the Boston Symphony will include visits with it to Carnegie Hall, Montreal and Toronto; and with The Cleveland Orchestra Mr. Ax will appear as the featured artist for its gala opening concert of the season. As a regular visitor he will return to the orchestras of Chicago, Los Angeles, San Francisco, Cincinnati, Toronto, Seattle, Milwaukee and Detroit. 
A Sony Classical exclusive recording artist since 1987, Mr. Ax's recent releases include Mendelssohn Trios with Yo-Yo Ma and Itzhak Perlman, Strauss' Enoch Arden narrated by Patrick Stewart and discs of two-piano music by Brahms and Rachmaninoff with Yefim Bronfman. In 2015 Deutche Grammophon released a duo recording with Mr. Perlman of sonatas by Fauré and Strauss, which the two artists presented on tour during the 2015-16 season. Mr. Ax has received Grammy Awards for the second and third volumes of his cycle of Haydn's piano sonatas. He has also made a series of Grammy Award-winning recordings with cellist Yo-Yo Ma of the Beethoven and Brahms sonatas for cello and piano. His other recordings include the concertos of Liszt and Schoenberg, three solo Brahms albums, an album of tangos by Ástor Piazzolla and the premiere recording of John Adams' Century Rolls with The Cleveland Orchestra for Nonesuch. In the 2004-05 season Mr. Ax also contributed to an International Emmy Award-winning BBC documentary commemorating the Holocaust that aired on the 60th anniversary of the liberation of Auschwitz. In 2013 Mr. Ax's recording Variations received the Echo Klassik Award for Solo Recording of the Year (19th-century music/Piano). 
A frequent and committed partner for chamber music, he has worked regularly with such artists as Young Uck Kim, Cho-Liang Lin, Mr. Ma, Edgar Meyer, Peter Serkin, Jaime Laredo and the late Isaac Stern. 
Mr. Ax resides in New York City with his wife, pianist Yoko Nozaki. They have two children together, Joseph and Sarah. He is a Fellow of the American Academy of Arts and Sciences and holds honorary doctorates of music from Yale and Columbia universities. For more information about Mr. Ax's career, please visit www.EmanuelAx.com.
Dean Whiteside, conductor
Dean Whiteside was born in New York City and trained in Vienna at the University of Music and Performing Arts. He is in his third season as the New World Symphony's Conducting Fellow, where he leads a variety of performances and serves as assistant to Artistic Director Michael Tilson Thomas. Mr. Whiteside is founder and director of the Nashville Sinfonietta, hailed by The Tennessean as "a virtuoso band." He opened the Blair School of Music's 2013-14 season directing a multimedia realization of Haydn's Seven Last Words of Our Savior on the Cross called "innovative" by The Tennessean and "deeply meditative and satisfyingly original" by ArtsNash. 
Mr. Whiteside's European debut came in 2011 after winning the Jorma Panula Blue Danube Masterclass and Competition. As guest conductor he has led the Juilliard Orchestra, Opéra Orchestre National Montpellier, Orlando Philharmonic, Polish Baltic Philharmonic, Rousse State Opera Orchestra, Sibiu Philharmonic, Wiener Kammerorchester and Zagreb Philharmonic, as well as the Vanderbilt Orchestra on a five-city tour of China. He has served as Cover Conductor to MTT and the San Francisco Symphony.
Mr. Whiteside's awards include the 2017 Mahler Conducting Fellowship, Bruno Walter Memorial Foundation Conducting Scholarship, David Effron Conducting Fellowship, Bayreuth Festival Scholarship, David Rabin Performance Prize, and Second Prize and the Zagreb Philharmonic Orchestra Prize at the Sixth International Competition of Young Conductors Lovro von Matačić. He has received fellowships from the Aspen Music Festival, Cabrillo Festival of Contemporary Music, Castleton Festival and Tonhalle Orchestra Zurich.
Mr. Whiteside has worked closely with such conductors as Bertrand de Billy, Fabio Luisi, Lorin Maazel, Jun Märkl, Kurt Masur, Jorma Panula, Leonard Slatkin and Robert Spano. He began his conducting studies with Robin Fountain at Vanderbilt University.