Events & Tickets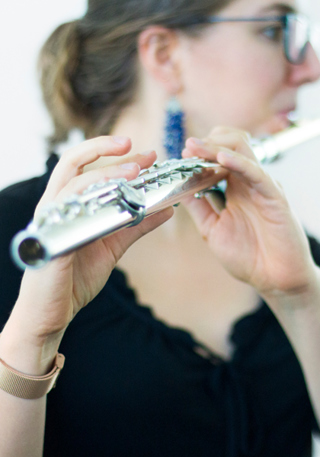 Special Event
FLUTE FORUM WITH MTT
New World Center, Truist Pavilion
Tuesday, October 23, 2018 at 7:30 – 9:00 PM EDT
On Tuesday, October 23, from 7:30 - 9:00 PM (Eastern) / 6:30 – 8:00 PM (Central), Michael Tilson Thomas and the New World Symphony (NWS) will convene an online Flute Forum, a gathering of flutists from around the country, with the opportunity to connect and explore topics related to the flute. In the first hour, Michael Tilson Thomas will teach a flute master class with three performers in different locations – one each at the New World Center in Miami, Berklee College of Music in Boston, and Northwestern Bienen School of Music in Chicago – followed by a half hour or so of discussion. He will be assisted by three NWS alumni emcees, one in each location: Ebonee Thomas in Miami; Marisela Sager, formerly of the Cleveland Orchestra, in Boston; and John Thorne, Associate Professor of Flute at Northwestern University, in Chicago.
Live master class participants include:
Chicago: Ann Green performing Reinecke's Flute Sonata
Ann Green is currently pursuing her master's of music degree at Northwestern University under the direction of John Thorne. In May 2017 Ann earned a bachelor's degree from The Ohio State University, studying with Katherine Borst Jones. She has enjoyed performing with Westerville Symphony, Opera Project Columbus and the American Wind Symphony.
Boston: Jisun Oh performing Mozart's Flute Concerto in G major
Jisun Oh received her bachelor's and master's of music degrees with honors at the New England Conservatory. She has studied with Elizabeth Rowe, Cynthia Meyers, Renée Krimsier and Julie Ranti. Jisun is currently pursuing a doctoral of musical arts degree at Boston University under the tutelage of Linda Toote.
Miami: Aalia Hanif performing Debussy's Syrinx
Aalia Hanif, a senior at Central Magnet High School in Murfreesboro, Tennessee, is in the Nashville Symphony's Accelerando program and performs in the Nashville Youth Orchestra Program. She studies privately with Leslie Fagan. She performed in the New World Symphony's Side-by-Side Concert and attended Boston University Tanglewood Institute in 2018.
This event will be streamed on Facebook Live, to encourage participation from many people in different locations, and to invite others to watch. The Facebook event will allow you to confirm your participation, and easily share the event with others. If you don't use Facebook, you can also join the event on MUSAIC, the New World Symphony's online resource for practicing classical musicians.
Use the hashtag #MTTMasterclass on Twitter to submit questions for the discussion in advance or post them in the discussion for this event to have them answered during the broadcast!
CLICK HERE TO WATCH ON FACEBOOK LIVE ON OCTOBER 23.
The Flute Forum with MTT is supported in part by New World Symphony's Fund for New Ventures.
Michael Tilson Thomas, conductor
Michael Tilson Thomas is Co-Founder and Artistic Director Laureate of the New World Symphony, America's Orchestral Academy; Music Director Laureate of the San Francisco Symphony; and Conductor Laureate of the London Symphony Orchestra. In addition to these posts, he maintains an active presence guest conducting with the major orchestras of Europe and the United States.
Born in Los Angeles, Mr. Tilson Thomas is the third generation of his family to follow an artistic career. His grandparents, Boris and Bessie Thomashefsky, were founding members of the Yiddish Theater in America. His father, Ted Thomas, was a producer in the Mercury Theater Company in New York before moving to Los Angeles where he worked in films and television. His mother, Roberta Thomas, was the head of research for Columbia Pictures.
Mr. Tilson Thomas began his formal studies at the University of Southern California, where he studied piano with John Crown, and conducting and composition with Ingolf Dahl. At age 19 he was named Music Director of the Young Musicians Foundation Debut Orchestra. During this same period, he was the pianist and conductor in master classes of Gregor Piatigorsky and Jascha Heifetz and worked with Stravinsky, Boulez, Stockhausen and Copland on premieres of their compositions at Los Angeles' Monday Evening Concerts.
In 1969, after winning the Koussevitzky Prize at Tanglewood, he was appointed Assistant Conductor of the Boston Symphony Orchestra. That year he also made his New York debut with the Boston Symphony and gained international recognition after replacing Music Director William Steinberg in mid-concert. He was later appointed Principal Guest Conductor of the Boston Symphony Orchestra where he remained until 1974. He was Music Director of the Buffalo Philharmonic from 1971 to 1979 and a Principal Guest Conductor of the Los Angeles Philharmonic from 1981 to 1985. His guest conducting includes appearances with the major orchestras of Europe and the United States.
Mr. Tilson Thomas is a two-time Carnegie Hall Perspectives artist, curating and conducting series at the hall from 2003 to 2005 and from 2018 to 2019. In the most recent series, he led Carnegie Hall's National Youth Orchestra of the United States of America both at the hall and on tour in Asia, opened the Carnegie Hall season over two evenings with the San Francisco Symphony, conducted two programs with the Vienna Philharmonic and finished with a pair of concerts leading the New World Symphony.
A winner of eleven Grammy Awards, Mr. Tilson Thomas appears on more than 120 recordings. His discography includes The Mahler Project, a collection of the composer's complete symphonies and works for voice and orchestra performed with the San Francisco Symphony, in addition to pioneering recordings of music by Charles Ives, Carl Ruggles, Steve Reich, John Cage, Ingolf Dahl, Morton Feldman, George Gershwin, John McLaughlin and Elvis Costello. His recordings span repertoire from Bach and Beethoven to Debussy and Stravinsky, and from Sarah Vaughan to Metallica.
His television work includes a series with the London Symphony Orchestra for BBC Television, broadcasts of the New York Philharmonic Young People's Concerts from 1971 to 1977 and numerous productions on PBS's Great Performances. With the San Francisco Symphony, he created a multi-tiered media project, Keeping Score, which includes a television series, web sites, and radio programs. He received a Peabody Award for his SFS Media radio series The MTT Files.
Mr. Tilson Thomas's compositions are published by G. Schirmer. In 1991, he and the New World Symphony were presented in a series of benefit concerts for UNICEF in the United States, featuring Audrey Hepburn as narrator of his work From the Diary of Anne Frank, which was commissioned by UNICEF. This piece has since been translated and performed in many languages worldwide. In August 1995, he led the Pacific Music Festival Orchestra in the premiere of his composition Shówa/Shoáh, commemorating the 50th anniversary of the bombing of Hiroshima. His vocal music includes settings of poetry by Walt Whitman and Emily Dickinson, which were premiered by Thomas Hampson and Renée Fleming, respectively. In 2016, Yuja Wang premiered his piano piece You Come Here Often?.
Mr. Tilson Thomas' song cycle Four Preludes on Playthings of the Wind, a setting of Carl Sandburg's poem, was premiered in 2016 by the New World Symphony, with Measha Brueggergosman as soloist. In 2019 the piece was recorded for Medici.tv at the New World Center and given its New York premiere as part of Mr. Tilson Thomas's second Carnegie Hall Perspectives series. His first Perspectives series also featured performances of his own compositions, including Island Music for four marimbas and percussion; Notturno for solo flute and strings, featuring soloist Paula Robison; and new settings of poems by Rainer Maria Rilke. In 2020, he led the San Francisco Symphony in the world premiere of his six-part song cycle Meditations on Rilke, and he subsequently conducted the work at the Cleveland Orchestra. Additional compositions include Street Song for brass instruments; Agnegram, an overture for orchestra; and Urban Legend, a concerto for contrabassoon that was premiered by the San Francisco Symphony. In June 2020, SFS Media released an album of works composed by Mr. Tilson Thomas, featuring live concert recordings of From the Diary of Anne Frank, narrated by mezzo-soprano Isabel Leonard, and Meditations on Rilke, sung by mezzo-soprano Sasha Cooke and bass-baritone Ryan McKinny.
Mr. Tilson Thomas is an Officier de l'Ordre des Arts et des Lettres of France, is a member of the American Academy of Arts and Sciences, was Musical America's Musician of the Year and Conductor of the Year, was Gramophone magazine's Artist of the Year and has been profiled on CBS's 60 Minutes and ABC's Nightline. He has been awarded the National Medal of Arts, has been inducted into the California Hall of Fame and the American Academy of Arts and Letters, and was a 2019 recipient of the Kennedy Center Honors.