Events & Tickets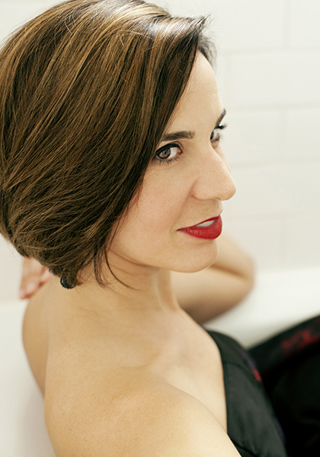 Chamber Music
FOLK FANTASIES
New World Center
Sunday, October 9 at 2:00 PM
Program
Grammy Award-winning mezzo-soprano Kelley O'Connor joins NWS Fellows for an afternoon of charming chamber music. Though in his seventh decade, Leoš Janáček reflected on his Youth with whimsical remembrance in this enchanting woodwind sextet. Travel the world in Luciano Berio's 11-song cycle featuring melodies from Armenia, Italy, Sardinia and beyond that are sometimes haunting, but always beautiful. The pointed three-minute Mini Overture by Witold Lutosławski for brass quintet packs a quick but unforgettable punch before Antonín Dvořák compresses the emotions and richness of symphonies into his Second Piano Quartet, featuring an incredibly heart-wrenching second movement and frolicking finale.
Program
Leoš Janáček
(1854-1928)
Approx. Duration: 17 minutes

Allegro
Andante sostenuto
Vivace
Allegro animato
Luciano Berio
(1925-2003)
Approx. Duration: 21 minutes

Folk Songs for Mezzo-Soprano and Seven Instruments (1964)

Black is the Color (USA)
I Wonder as I Wander (USA)
The Moon has Risen (Armenia)
 Little Nightingale of the Woods (France)
May the Lord Send Fine Weather (Sicily)
The Ideal Woman
Dance
Song of Sadness (Sardinia)
Wretched is He (Auvergne)
The Spinner (Auvergne)
Azerbaijan Love Song
Witold Lutosławski
(1913-1994)
Approx. Duration: 3 minutes

Mini Overture for Brass Quintet (1982)

Antonín Dvořák
(1841-1904)
Approx. Duration: 33 minutes

Quartet No. 2 in E-flat major for Piano and Strings, Op. 87 (1889)

Allegro con fuoco
Lento
Allegro moderato, grazioso
Finale: Allegro ma non troppo
Leoš Janáček
Youth (1924)

Approximate duration: 17 minutes
Leoš Janáček was born into a musical family in Moravia, a region that now forms the eastern portion of what is now the Czech Republic. At 11 he left home for the Queen's Monastery in Brno, where he excelled as a chorister. After studies in Prague and Vienna, he established himself in Brno as a teacher, choir director, critic and musicologist. The 1904 premiere in Brno of his second full-length opera, Jenůfa, did little for his composing career, but a revival staged in Prague in 1916 finally pushed Janáček into the international limelight.
Janáček composed Mládí (Youth) in 1924, around the time of his 70th birthday. The work looked back at the composer's own childhood, with folk-like tunes and lighthearted melodies rendered in the breezy tones of a wind sextet. In his operas, Janáček mastered the technique of shaping his vocal lines to the natural contours of the Czech language; he utilized the same principle in this instrumental work, shaping the main theme to match the tone of the phrase, "Mládí, zlaté mládí!" ("Youth, golden youth!") This melody begins the sextet and reappears at key points.
The second movement is the most reserved, with its modal melody first intoned by the bassoon alone.
The third movement borrows a piccolo theme from a short work Janáček composed earlier in 1924, March of the Blue Boys, a reference to the blue uniforms he wore along with other young choristers.
The finale spins out new possibilities from the "Youth, golden youth" motive while requiring the winds to execute virtuosic, rapid-fire tonguing.
Additional Resources
PDF score from the IMSLP Petrucci Music Library
Information from G. Henle Verlag, publisher of the critical edition, including a preface and critical commentary
Luciano Berio
Folk Songs for Mezzo-Soprano and Seven Instruments (1964)

Approximate duration: 21 minutes
The Italian composer Luciano Berio was a leading figure in contemporary music in the second half of the 20th century, renowned for his pioneering electronic music and for his virtuosic studies for solo acoustic instruments. Another area of focus, music for the voice, owed much to his marriage to the American mezzo-soprano Cathy Berberian. Even with their divorce in 1964, they remained devoted collaborators, including their work that year on the Folk Songs commissioned by Mills College in Oakland, California, where Berio was a visiting professor.
The simple title is deceptive, in that two of the songs are not really folk music. An Appalachian folk song (probably with Scottish roots) called "Black is the Color" does exist, but this melody belongs to John Jacob Niles (1892-1980), a singer, composer and folk song collector from Kentucky. The viola begins alone, "like a wistful country dance fiddler."
"I Wonder as I Wander" is also by Niles; the prominent harp part contributes the steady strum of a balladeer, and then the flute and clarinet trail off in a mysterious duet.
"The Moon has Risen", an Armenian serenade to the moon, makes a nod to Berberian's Armenian heritage.
"Little Nightingale of the Woods," a French folk song, receives a spare and haunting treatment, with first clarinet alone and later harp and crotales following the free-flowing voice in its entreaty to a nightingale.
The Sicilian song "May the Lord Send Fine Weather" enunciates the strong beats with the incisive sound of spring coils struck with metal and rumbling tam-tam. The flute tremolo and trilling strings sustain the quivering emotion of a song praying for good weather for a sweetheart at sea.
Berio incorporated two of his own earlier songs, "The Ideal Woman" and Dance, composed in 1947 while he was a conservatory student. The chromatic inflections of the first song and the monosyllabic rhythms sung in the second differentiate this music from true folk material, but the simple charms and driving energy channel a rustic spirit.
"Song of Sadness," another sad song to a nightingale, uses swirling microtones, irregular percussive clicks and darting piccolo to support the mournful melody.
Berio adapted the next songs, "Wretched is He" and "The Spinner," from the Chants d'Auvergne by Joseph Canteloube (1879-1957), retaining the melodies and Occitan language of Canteloube's folksong transcriptions.
Berberian found the Azerbaijan Love Song on a 78-RPM record from the Soviet Union and she learned the song by mimicking the recording.  Since she knew not a word of the Azerbaijani language and the record was severely damaged, her reproduction of the song defied translation. Berio transcribed it and created this playful, mock-militaristic finale to round out the Folk Songs.

Additional Resources
Recording of Folk Songs featuring Cathy Berberian
Information from the publisher, Universal Edition, including a note by Berio
Texts and translations for Folk Songs
Witold Lutosławski
Mini Overture for Brass Quintet (1982)

Approximate duration: 3 minutes
For Witold Lutosławski, arguably Poland's greatest composer since Chopin, the path to his creative maturity was first a matter of survival. Born in Warsaw, his Polish family sought refuge during World War I in Russia, until his father was executed by a Bolshevik firing squad after the Revolution. Between the wars, Lutosławski studied piano and composition at the Warsaw Conservatory, until his own compulsory military service began. He was captured by the Germans, but soon escaped back to Warsaw; he fled again as his hometown plotted an ill-fated uprising, and he lost most of his early compositions in the destruction that followed. 
From those harrowing origins, Lutosławski went on to lead a renaissance of Polish composition in the 1950s and beyond. Building off the ideas of John Cage, Lutosławski's greatest contribution was his development of aleatoric techniques, whereby certain details of pitch and timing were left to the discretion of performers. His symphonies and concertos, enriched by nuanced layering that could never have been notated precisely, remain pillars of 20th-century modernism. 
Lutosławski composed the Mini Overture in 1982 as a birthday tribute to Ursula Jones, to be played by her husband's group, the Philip Jones Brass Ensemble. The compact brass fanfare demonstrates Lutosławski's knack for maintaining momentum and clarity through his clever layering and dovetailing of discreet gestures. 
Additional Resources 
Details on the work from publisher Chester Music
More information from the Witold Lutosławski Society
Guide to Lutosławski's music from The Guardian
Video discussion of Lutoslawski's aleatoric techniques, hosted by composer Steven Stucky
Antonín Dvořák
Quartet No. 2 in E-flat major for Piano and Strings, Op. 87 (1889)

Approximate duration: 33 minutes
Dvořák might have been stuck forever in Prague, underpaid and unknown to the world, had it not been for an intervention on his behalf by Brahms, who set Dvořák up with his publisher in 1877. Dvořák went on to have a tremendous impact with his symphonies and concertos, and he even embraced opera in his final years, but his smaller works for the publishing market, the kind of music that could be enjoyed at home by amateurs, remained central to his reputation. He was certainly cajoled in that direction by his enterprising publisher, Fritz Simrock, who nagged Dvořák about a promised piano quartet. Dvořák did end up delivering the Piano Quartet No. 2 in E-flat major, composed in July and August of 1889 and published the next year.
In grappling with the old, established forms of chamber music, Dvořák followed the example of his mentor Brahms, continuing the lineage that stretched back through Schumann and Mendelssohn to Haydn, Mozart and Beethoven. Within the formal structure of a sonata-allegro movement, such as the Allegro con fuoco that begins the Second Piano Quartet, Dvořák had a special gift for constructing alluring and recognizable motives. The strings begin in unison, tracing the same contour twice in a row—a stepwise ascent, a return to the starting pitch, and then a larger drop—except that the last note of each phrase is different, clouding the sense of tonality from the outset.
That four-note pattern is a touchstone throughout the movement, maintaining its strong profile even when subjected to a range of developmental transformations.
The closing material and coda work through the possibilities of that four-note phrase with a single-minded focus that would have made Beethoven proud.
The Lento that follows takes a different tack, indulging in a spacious form full of inventive and unexpected new themes. One fanciful detour descends into the drama of C-sharp minor, pivots next to a new serenity in the parallel key of D-flat major, and only then finds its way back to a restatement of the humble cello theme from the opening.
The third movement features the dancing, three-beat pulse of a waltz (or its cousin from the Austrian countryside, the Ländler). Between statements of the jolly theme in E-flat major, a piano melody based on an unusual scale adds some dark intrigue.
As in the opening movement, the finale begins with a unison statement of a strong theme, and once again it disturbs harmonic expectations. The tonality finally shifts from minor to major midway through the recapitulation, sending this quartet off with a well-deserved celebration.

Additional Resources
PDF score from the IMSLP Petrucci Music Library
Information on the Quartet from the Dvořák Society
Recording of Dvořák's lesser-known Piano Quartet No. 1, composed in 1875
-- Copyright © 2016 Aaron Grad 
Aaron Grad is a composer, guitarist and writer based in Seattle. Besides providing program notes for the New World Symphony, he has been the Orpheus Chamber Orchestra's program annotator since 2005 and also contributes notes to the Saint Paul Chamber Orchestra and Seattle Symphony.
Audio clips provided by Naxos of America, Inc. 
Kelley O'Connor, mezzo-soprano
Possessing a voice of uncommon allure, musical sophistication far beyond her years, and intuitive and innate dramatic artistry, the Grammy Award-winning mezzo-soprano Kelley O'Connor has emerged as one of the most compelling performers of her generation.
During the 2016-17 season, Ms. O'Connor's impressive symphonic calendar includes Wagner's Wesendonck Lieder with Matthias Pintscher and the Indianapolis Symphony; John Adams' The Gospel According to the Other Mary with Sir Simon Rattle and the Berlin Philharmonic, as well as with David Robertson and the St. Louis Symphony both at Powell Symphony Hall in St. Louis and at Carnegie Hall; Beethoven's Ninth Symphony with Iván Fischer and the Budapest Festival Orchestra; and Mahler's The Song of the Earth with Louis Langrée and the Detroit Symphony and with Donald Runnicles and the Atlanta Symphony. In performances with Jaap van Zweden and the Hong Kong Philharmonic, Ms. O'Connor sings Mahler's Third Symphony, and she assays the role of Erda in concert performances of Wagner's Das Rheingold with the New York Philharmonic and Alan Gilbert conducting. The California native also brings her artistry to the recital stage in three distinguished settings: a return to Collaborative Arts Institute Chicago for programs spotlighting the songs of Debussy, Massenet, Chausson and Canteloube; she joins pianist Louis Langrée for recital programs in Cincinnati featuring songs of Brahms and Ravel; and she was accompanied by her frequent collaborator, Donald Runnicles, at the Grand Teton Music Festival in a program of Brahms and Bernstein.
Ms. O'Connor's recent seasons include performances of John Adams' El Niño under the baton of Vladimir Jurowski with the London Philharmonic, Ravel's Shéhérazade with Esa-Pekka Salonen and the Philharmonia Orchestra at the Edinburgh Festival, Mahler's Eighth Symphony with Jirí Belohlávek and the BBC Symphony Orchestra, Berio's Folk Songs with Daniel Harding and the London Symphony, Bach's St. Matthew Passion with Robert Spano and the Atlanta Symphony, Stravinsky's Les Noces with David Robertson and the St. Louis Symphony, and Elgar's Sea Pictures and Britten's Spring Symphony with Edward Gardner and the City of Birmingham Symphony.
John Adams wrote the title role of The Gospel According to the Other Mary for Ms. O'Connor, and she has performed the work internationally, both in concert and in the Peter Sellars production, under the batons of Gustavo Dudamel and Grant Gershon. She continues to be the eminent living interpreter of Peter Lieberson's Neruda Songs and has presented this moving set of songs with Christoph Eschenbach and the National Symphony, with Bernard Haitink and the Chicago Symphony, with Robert Spano and the Minnesota Orchestra, with David Zinman and the Berlin Philharmonic and the Tonhalle-Orchester Zürich, among many others.
Ms. O'Connor has appeared numerous times with Gustavo Dudamel, including in performances of Bernstein's "Jeremiah" Symphony on an international tour with the Los Angeles Philharmonic and Mahler's "Resurrection" Symphony with the Simón Bolívar Orchestra. With Christoph Eschenbach and the National Symphony, she has sung excerpts from Roussel's Padmâvatî and given the world premiere of a vocal work written for her by the legendary Indian musician Zakir Hussain.
The artist enjoys a rich musical collaboration with Franz Welser-Möst and The Cleveland Orchestra, with whom she has sung Beethoven's Ninth Symphony and Mass in C, Bernstein's "Jeremiah" Symphony, staged performances of Falstaff both in Cleveland and at the Lucerne Festival and Stravinsky's Requiem Canticles.
Operatic highlights include Donizetti's Anna Bolena at the Lyric Opera of Chicago conducted by Patrick Summers and directed by Kevin Newbury, Madama Butterfly in a new production by Lillian Groag at the Boston Lyric Opera and at the Cincinnati Opera under the baton of Ramón Tebar, Berlioz' Béatrice et Bénédict at Opera Boston, Falstaff with the Santa Fe Opera and A Midsummer Night's Dream at the Lyric Opera of Chicago and the Canadian Opera Company.
Ms. O'Connor has received unanimous international, critical acclaim for her numerous performances as Federico García Lorca in Osvaldo Golijov's Ainadamar. She created the role for the world premiere at Tanglewood under the baton of Robert Spano, and subsequently joined Miguel Harth-Bedoya for performances of Golijov's piece with the Los Angeles Philharmonic at Walt Disney Concert Hall. She reprised her "musically seductive, palpably charismatic" (The Washington Post) portrayal of Lorca in the world premiere of the revised edition of Ainadamar at the Santa Fe Opera in a new staging by Peter Sellars during the 2005 season, which was also presented at New York City's Lincoln Center and Madrid's Teatro Real. For her debut with the Atlanta Symphony in Ainadamar, she joined Robert Spano for performances and a Grammy Award-winning Deutsche Grammophon recording. Her discography also includes Lieberson's Neruda Songs with Robert Spano and the Atlanta Symphony, as well as Adams' The Gospel According to the Other Mary with Gustavo Dudamel and the Los Angeles Philharmonic and Beethoven's Ninth Symphony with Franz Welser-Möst and The Cleveland Orchestra for Deutsche Grammophon.
Musicians of the New World Symphony