Events & Tickets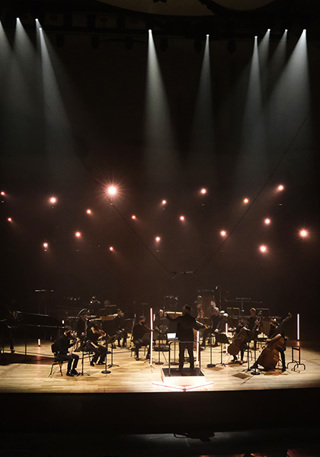 Orchestra Concert
Sounds of the Times: From the Canyons to the Stars
New World Center, Michael Tilson Thomas Performance Hall
Saturday, April 1, 2023 at 7:30 PM
Program
Members of Ensemble intercontemporain—the premier ensemble for contemporary music—and its Music Director Matthias Pintscher join Fellows for Olivier Messiaen's epic 12-movement masterpiece From the canyons to the stars… Inspired by visits to Utah's Bryce Canyon and Zion National Park, nature enthusiast Messiaen captured the scenic wonders in a work that spans 90 minutes with solo features for piano, violin, horn and percussion. This performance will feature immersive multimedia projections by Hicham Berrada across the New World Center's architectural sails. 
---
This concert is part of the Sounds of the Times Series. Explore today's most innovative and vital music. Witness groundbreaking artistic collaborations and NWS Percussion Fellows in action. Subscriptions for this 3-concert series begin at $30 ($10/concert). Click here to explore the full subscription! 
COMPOSE YOUR OWN SUBSCRIPTION PACKAGE! 
Want to try a little of everything? Customize your own subscription of three or more concerts to exercise full creative freedom while enjoying all the flexibility and perks of being a New World Symphony subscriber. Click here to build your CYO subscription or call the Box Office at 305.673.3331 to compose your series today.  
SUBSCRIBERS ENJOY THE BEST OF NWS! 
As an NWS Subscriber, you receive amazing benefits to enjoy throughout the season, including the best seats for the lowest prices and access to our incredibly talented Fellows. Click here to learn more! 
Program
Olivier Messiaen
(1908-1992 )
Approx. Duration: 90 minutes

Des Canyons aux étoiles… (From the Canyons to the Stars...)
(1971)

Part I:  
   The Desert 
   The Orioles 
   What is Written in the Stars… 
   The White-browed Robin 
   Cedar Breaks and the Gift of Awe 
Part II:  
   Interstellar Call 
   Bryce Canyon and the Red-Orange Rocks 
Part III:  
   The Resurrected and the Song of the Aldebaran Star 
   The Mockingbird 
   The Wood Thrush 
   'Ōmao, Leiothrix, ʻElepaio, Shama 
   Zion Park and the Celestial City
Dimitri Vassilakis, piano
Henry Bond, horn
Joe Desotelle, glockenspiel
Ben Cornavaca, xylophone
Hicham Berrada, projection designer
Olivier Messiaen
Des Canyons aux

é

toiles…

 

(From the Canyons to the Stars...)
(1971)

Approximate duration: 90 minutes
Though most of Olivier Messiaen's music was not written specifically for religious settings, virtually all of it expresses religious feeling. A devout Roman Catholic, Messiaen found the divine presence everywhere in nature, most especially in the songs of birds. All of his compositions reflect the deeply held religious faith that he constantly refreshed in his observations of nature. Musical "scene paintings" that depict the natural world—perhaps Vivaldi's The Four Seasons is the most famous example—are not uncommon in classical music, but no composer approached Messiaen in combining direct imitation of the sounds of nature with metaphorical expressions of divine creation.
Born in 1908, Messiaen entered the Paris Conservatory at the age of 11. His wide-ranging musical influences span rhythmic patterns from Classical Greek and Hindu sources and melodies based on modes of transposition he developed from his own early compositions; he also experimented with "total serialism," an almost epistemological application of 12-tone "rows," and with Eastern musical sources including Japan and Indonesia.
If all this sounds mystical, perhaps it is. But Messiaen's deepest musical influence—apart from his Roman Catholic faith—was almost certainly his devotion to nature and in particular his love of birds. He was an accomplished ornithologist, and as a composer took the time to transcribe bird songs as musical notation. He was devoted to the teachings of St. Francis of Assisi. To Messiaen's admirers, his music and his life are inseparable; they seem to be the worldly evidence of a saintly life, and his music reveals a sincerity of expression that seems as simple as nature itself in the listening, regardless of the complexity of its sources.
Commissioned in 1971 by the American philanthropist and arts patron Alice Tully to celebrate the bicentenary of the Declaration of Independence, Des canyons aux étoiles... is a suite of 12 orchestral movements arranged in three groupings of five, two and five. When all 12 are performed together, the movements are operatic in scope, spanning more than an hour and a half. Like Ferde Grofe's Grand Canyon Suite, Messiaen's work is intimately connected to a particular place in the American Southwest—in this case, the state of Utah. Messiaen took inspiration from the landscape and the birds of the Beehive State, and was particularly moved by his visits to Bryce Canyon and Zion national parks. There he listened intently to the sounds of nature and transcribed the melodies of birdsong in his notebooks. At Cedar Breaks the composer noted the "wild and colorful beauty–a vast amphitheater plunging into a deep gorge," emphasizing its "immense solitude."
THE DESERT: Messiaen's musical reflections on Utahn grandeur witness the meanings he discerned "written in stars," and the colors and forms he saw in the desert.
THE ORIOLES: Messiaen's musical evocation of the sounds of nature, such as the "The Orioles" in Des canyons aux étoiles..., stands apart from examples of scene-painting by other composers. A lifelong student of ornithology who heard the voice of God in the songs of birds, Messiaen listened to nature with the ear of a documentarian and a prophet, as well as a composer. His work transcribing bird songs in musical notation is unequaled in the history of composition.
WHAT IS WRITTEN IN THE STARS...: In sections like "What is Written in the Stars…" that engage full orchestra, Messiaen's instrumentation goes to unusual lengths to emulate nature—for example, in its unusually large percussion section, requiring five percussionists to take charge of a wind machine, a thunder sheet, various gongs, bells, maracas, whip, bass drum, triangle, wood block, crotales, reco reco, tumba and an instrument of Messiaen's own invention, the geophone—a large drum filled with thousands of lead pellets.
THE WHITE-BROWED ROBIN: At the other extreme, "The White-browed Robin" is for solo pianist. But it requires an instrumentalist who can achieve a practically trancelike communion with Messiaen's recreation of a bird in the wild. Messiaen created this movement, like much of his piano music, for his wife, the pianist Yvonne Loriod. The white-browed robin, or Heuglin's robin, is a beguiling songbird found mainly in Africa whose "chat" is a melodious and highly variable song heard at dawn and dusk.
CEDAR BREAKS AND THE GIFT OF AWE: Messiaen considered the feelings of awe he expresses in the "Cedar Breaks" movement to be a gift of the Holy Spirit. In his notebook he described the area's "wild and colorful beauty—a vast amphitheater plunging into a deep gorge." He remarked on its "immense solitude." Perhaps no other composer could have combined both a literal recreation of the sounds of nature with original, classically composed music. The influential British composer and conductor Oliver Knussen noted: "Certainly a fantastic rushing sound ('development of the sound of the wind') from the whole orchestra [in this movement] was a most effective stroke."
INTERSTELLAR CALL: Composed in 1971, the "Interstellar Call" is the earliest of the Suite's 12 movements and was originally created to memorialize Messiaen's friend Jean-Pierre Guezec, a French composer who died that year at age 36. The sounds of the horn haunt us in this movement with a call that is somehow intimate yet infinitely distant.
BRYCE CANYON AND THE RED-ORANGE ROCKS: During his time in Utah, Messiaen was particularly moved by visiting Bryce Canyon National Park. The Suite's movements describe his experiences of Bryce as a divine creation. The cathedrallike grandeur of the park's rock formations echoes through movement seven.
THE RESURRECTED AND THE SONG OF THE ALDEBARAN STAR: In the eighth movement of the Suite, what we hear is quite literally Messiaen's rendering of the music of the stars: a song of resurrection and of the star Aldebaran. The brightest star in the constellation Taurus, Aldebaran glows red in the heavens and is the 14th-brightest star in the night sky. Messiaen's starscape transports us from the Suite's intimate observation of the nature around us to the furthest reaches of the heavens, finding the unity of divine creation in both—our small, fragile earth and the infinity of space.
THE MOCKINGBIRD: The ninth, tenth, and eleventh movements of Des canyons aux étoiles... showcase the music of birds, a sound that Messiaen evoked with a kind of inspired precision that no other composer has ever matched. Messiaen knew his birds, and in their song he quite literally heard the voice of God and the glories of divine creation.
THE WOOD THRUSH: We hear the song of the wood thrush, a bird that may be found in Southwestern American locations such as Bryce Canyon as well as Mexico and Central America.
'ŌMA'O, LEIOTHRIX, 'ELEPAIO, SHAMA: Messiaen's horizon widens to include species that can only be heard far from Utah: the 'ōma`o, leothrix, 'elepaio and shama, indigenous to Africa and the Hawaiian Islands. All are small songbirds that physically resemble the wood thrush—but, clearly, Messiaen wants us to hear the differences.
ZION PARK AND THE CELESTIAL CITY: The consummation of Messiaen's vision is expressed in the 12th movement, "Zion Park and the Celestial City," a paean to the glory of all creation.
– © Michael Clive
Cultural reporter Michael Clive blogs at Operahound.com.
In November 2022, I was asked by the French cultural organization Villa Albertine to go to Bryce Canyon and Zion National Park with artist Hicham Berrada, to write a text that would accompany his art, which in turn would accompany the performance of Olivier Messiaen's From the Canyons to the Stars…. I was unfamiliar with almost every element that made up this proposal: I had not met Hicham, had never been to southern Utah, did not know this piece of music (though I was familiar with Messiaen's spookily gorgeous Quartet for the End of Time), and, because I live in California, was not currently in possession of a proper winter coat. Naturally, I agreed to go. As always when writing a poem, I had no plan. I took notes everywhere: holding a pen with my stiff new gloves as we hiked around and then into the ancient lake that became Bryce Canyon, where Messiaen also walked with his wife in 1972; seeing the same red rocks sculpted not by wind as I might have thought, but by moisture, what the poet García Lorca calls "the pure, patient, eternal drop of water;" in the lodge, watching people come and go; during long drives through the sublime landscape to Zion; on hikes that occasionally got a little vertiginous; during and after conversations with Hicham about our lives and our work; at rest stops and in the airport. When I got home, I typed everything out, and started working to see what was there. For months I thought and wrote and rewrote. One thought stayed with me from the very beginning through the whole process. I wanted to write a poem that would directly address you, the listeners, as you sat in your seats, waiting. As I say in the poem, I have always secretly loved that moment of waiting together with (mostly) strangers for a performance to begin, just before that sudden darkness when the house lights go down. I imagined being with you, in the gorgeous concert hall, and all the different people you might be, as I say in the poem, "in all your different forms." Thank you for reading the poem, enjoy the concert, I wish I could be there with you, instead I send these words.
— Matthew Zapruder, Northern California, March 2023
Dear strangers
all afternoon
I've been thinking
of you in all your
different forms,
when I close
my eyes I see
you sitting
in the modern
hall, listening
to that sound
before the lights
go out, each
time it happens
it seems it
will now be
dark forever,
above you
giant screens
like empty sails
wait, I hear
a murmur
interspersed with
tuning, always
the same sound
as we wait
for whatever is
to come, dear
listeners here
in California
it is December
unseasonably cold
but not enough
to stop the fountain
from babbling
happily all
afternoon, I close
my eyes again
and see you
this time in a park
built on the roof
of the gleaming
transport center
so clean and pure
I wonder where
did they put
all the suffering
and wonder what
good does it do
to wonder, none,
at a table you
sit in the shadow
a corporate
building casts,
its sign giantly
glows down
on your face,
they paid
for this park
and the plaza
companionable
laughter fills,
through a tidy
forest little
paths curve,
some trees are
real and some
metal sculptures
exactly resembling
trees except
for something we
miss and maybe
therefore treasure,
the little sign
says that is
exactly what
the artist wanted
us to experience,
like real trees
they communicate
by extending
branches filled
with little
white lights just
like those strung
across ceilings
I drifted under
in temporary
rooms long ago,
you were there,
I almost remember
your name, now
I see you sitting
beside a lake
in the middle
of the city,
behind you thin
blue buildings
rise up seeming
too narrow for
anyone to live in,
through the blue
translucent walls
elevators rise
to clouds, above
us all they
drift resembling
nothing, dear
listeners are
you still there,
are you almost
sleepy sitting
in those seats
waiting as what
we call night
outside the giant
windows looks
in on all of us,
strangers I must
confess I don't
know why
I love that sudden
dark, maybe in it
I am again
a gloomy child
overlord surrounded
by the yellow house
where I grew up
waiting for anything
to change, some
houses are full
of peace and
some ominous
silence, what
dear listeners is
the difference
and of what
does this silence
remind you,
can you tell me
in your mind,
in the murmur
and the tuning
I hear intimations
of an empty
lake, then drops
melting off the roof
of a cabin deep
in the broken
forest no one
alive remembers
how to navigate,
two black birds
fly above
a huge scar
we call a canyon,
they make
a sound, snow
coming down
the great
staircase creaks,
to pines it
complains no one
listens anymore,
poor snow when
you speak like
a professor of once
vital things
the young look
out windows, they
know something
is nearly finished
ending, dear
listeners which
barge are you
drifting on,
do you agree
we have from
the knowledge
of our dead
drifted away,
they know
nothing is truly
separate, they
know they were
buried under
an earth we gave
names so
temporary in just
a few centuries
only a handful
of dusty scholars
will laugh and
argue which
was Florida and
which California,
dear listeners
I want to ask you
is there a way
we can live
just a little while
longer in this dark
together, I don't
believe those
who say we
are strangers
and I don't believe
all we can do
is let them pour
poisonous code
into our ears
until we feel
sure we were
the ones who
decided to burn
the books
that tell us
what we already
know, at night
we lean
toward necessary
darkness, if it
did not come
we would grow
confused and move
our heads in
strange circles,
at night we
wait for bees
or whatever
winged insects
against our petals
to brush taking
our useful pollen
elsewhere, dear
listeners will you
let me stay
here with you
in this darkness
a little while
longer, in it
we could together
become a tree,
under us gentle
beings would
discuss our world
and we would
watch them draw
simple glowing
shapes in air
feeling anger
in us change
into something
for which
we do not
have a name,
o penultimate
dream, let us
dream you into
being, until then
in these final
moments let us
sit together
in the darkness,
let us listen
to the dark
and what
the dark becomes.
Matthew Zapruder
December 2022
Piedmont, California
Commissioned by Villa Albertine
Programa
Olivier Messiaen
(1908-1992 )


Des Canyons aux étoiles… (De los cañones a las estrellas...)
(1971)
I:  
   El Desierto
   Las oropéndolas 
   Lo que está escrito en las estrellas…
   El mirlo de ceño blanco 
  Cedar Breaks y el don del asombro
II:  
   Llamado interestelar
   Bryce Canyon and the Red-Orange Rocks 
III:  
   El Resucitado y el Canto de la Estrella de Aldebarán
   El sinsonte
   El tordo del bosque
   'Ōmao, Leiothrix, ʻElepaio, Shama 
   El parque de Zion y la Ciudad Celestial
Dimitri Vassilakis, piano
Henry Bond, horn
Joe Desotelle, glockenspiel
Ben Cornavaca, xylophone
Hicham Berrada, projection designer
Olivier Messiaen
Des Canyons aux

 

é

toiles…

 

(De los cañones a las estrellas...)
(1971)
Duración aproximada: 90 minutos
Aunque la mayor parte de la música de Olivier Messiaen no fue escrita específicamente para escenarios religiosos, la gran mayoría expresa sentimientos religiosos. Un devoto católico romano, Messiaen encontraba la presencia divina en toda la naturaleza, especialmente en el canto de los pájaros. Todas sus composiciones reflejan la profunda fe religiosa que él manifestaba constantemente en sus observaciones de la naturaleza. Las "pinturas escénicas" musicales que describen la naturaleza no son poco comunes en la música clásica – quizás Las cuatro estaciones de Vivaldi es el ejemplo más famoso- pero ningún compositor se acercó a Messiaen en combinar la imitación directa de los sonidos de la naturaleza con las expresiones metafóricas de la creación divina.
Nacido en 1908, Messiaen entró al Conservatorio de París a la edad de 11 años. Sus amplias influencias musicales contienen patrones rítmicos de fuentes clásicas griegas e hindúes y melodías basadas en modos de transposición que él desarrolló de sus propias composiciones tempranas; también experimentó con el "serialismo total", una aplicación casi epistemológica de las "series" de 12 tonos, y con fuentes musicales del Oriente, incluyendo Japón e Indonesia.
Si todo esto suena místico, quizás lo es, pero la influencia más profunda de Messiaen – además de su fe católica romana- fue casi con certeza su devoción por la naturaleza y en particular, su amor por las aves. Un ornitólogo consumado, se tomó el tiempo como compositor para transcribir los cantos de los pájaros en notación musical, y era un devoto de las enseñanzas de San Francisco de Asís. Para los admiradores de Messiaen, su vida y su música eran inseparables; parecen ser la evidencia terrenal de una vida de santidad, y su música revela una sinceridad de expresión que parece tan simple como la naturaleza misma, sin importar la complejidad de sus fuentes.
Encargada en 1971 por la filántropa y patrocinadora de las artes estadounidense Alice Tully para celebrar el bicentenario de la Declaración de Independencia, Des canyons aux étoile… es una suite de 12 movimientos orquestales arreglados en tres grupos de cinco, dos y cinco. Cuando los 12 son interpretados juntos, los movimientos son de ámbito operático, abarcando más de una hora y media. Como la Grand Canyon Suite de Ferde Grofe,  la obra de Messiaen está íntimamente conectada a un lugar particular en el suroeste de Estados Unidos-en este caso, el estado de Utah. Messiaen se inspiró en el paisaje y las aves del Beehive State (Estado de la colmena), y se sintió especialmente conmovido por sus visitas a los parques nacionales Zion y Bryce Canyon. Allí escuchaba atentamente los sonidos de la naturaleza y transcribía las melodías del canto de los pájaros en sus cuadernos. En Cedar Breaks el compositor notó la "belleza salvaje y colorida de un vasto anfiteatro que se sumerge en un profundo desfiladero," enfatizando su "soledad inmensa".
THE DESERT (El Desierto): Las reflexiones musicales de Messiaen sobre la grandeza de Utah son testigos del significado que distinguió "escrito en las estrellas", y las formas y colores que vio en el desierto.
THE ORIOLES (Las oropéndolas): La evocación musical de Messiaen de los sonidos de la naturaleza, como "The Orioles" (Las Oropéndolas) en Des canyons aux étoiles…, se diferencia de los ejemplos de pintura escénica de otros compositores. Estudiante de ornitología de toda la vida que oía la voz de Dios en el canto de los pájaros, Messiaen escuchó a la naturaleza con el oído de un documentador y profeta, así como el de un compositor. Su trabajo transcribiendo el canto de los pájaros a notación musical no ha sido igualado en la historia de la composición.
WHAT IS WRITTEN IN THE STARS...(Lo que está escrito en las estrellas…): En secciones como esta que involucran a toda la orquesta, la instrumentación de Messiaen alcanza límites inusuales para emular la naturaleza- por ejemplo, en su sección de percusión extraordinariamente grande, requerían cinco percusionistas para encargarse de una máquina de viento, una sábana de trueno, varios gongs, campanas, maracas, látigo, bombo, triángulo, bloque de madera, crotales, reco reco, tumba y un instrumento creado por Messiaen, el geófono – un tambor grande lleno de miles de bolitas de plomo.
THE WHITE-BROWED ROBIN (El mirlo de ceño blanco): En el otro extremo, The White-browed Robin" es para piano solo, pero requiere de un instrumentista que pueda lograr una comunión prácticamente de trance con la recreación de Messiaen de un pájaro en la naturaleza. Messiaen creó este movimiento, como mucha de su música para piano, para su esposa, la pianista Yvonne Loriod. El mirlo de ceño blanco, o El mirlo de Heuglin, es un encantador pájaro cantor que vive mayormente en África, cuyo "diálogo" es una melodiosa y variable canción que se escucha al amanecer y al anochecer.
CEDAR BREAKS AND THE GIFT OF AWE (Cedar Breaks y el don del asombro): Messiaen considera los sentimientos de asombro que expresa en "Cedar Breaks" un regalo del Espíritu Santo. En su cuaderno describe la "belleza salvaje y colorida" del área— un vasto anfiteatro que se sumerge en un profundo desfiladero," remarcando  su "soledad inmensa". Quizás ningún otro compositor pudiera haber combinado una recreación literal de los sonidos de la naturaleza con música clásica original. El influyente compositor y director de orquesta Oliver Knussen escribió: "Con certeza un fantástico sonido precipitado ('desarrollo del sonido del viento') de la orquesta completa, fue un golpe muy efectivo [en este movimiento]."
INTERSTELLAR CALL (Llamado interestelar): Compuesta en 1971, el "Interstellar Call" es el primero de los 12 movimientos y fue creado originalmente para recordar al amigo de Messiaen Jean-Pierre Guezec, un compositor francés que había muerto ese año a la edad de 36 años. Los sonidos de la trompa nos persiguen en este movimiento con una llamada por momentos íntima y a la vez infinitamente lejana.
BRYCE CANYON AND THE RED-ORANGE ROCKS: Durante su estancia en Utah, Messiaen se sintió particularmente conmovido al visitar el Bryce Canyon National Park. Los movimientos de la Suite describen sus experiencias en Bryce como una creación divina. La grandeza del parque y sus formaciones rocosas que evocan catedrales hacen eco en el séptimo movimiento.
THE RESURRECTED AND THE SONG OF THE ALDEBARAN STAR (El Resucitado y el Canto de la Estrella de Aldebarán): En el octavo movimiento de la Suite, lo que escuchamos es la interpretación literal de Messiaen de la música de las estrellas: un canto de resurrección y de la estrella de Aldebarán. La estrella más brillante de la constelación Tauro, Aldebarán, brilla en rojo y es la decimocuarta estrella que más brilla en el cielo nocturno. El paisaje estelar de la Suite de Messiaen nos transporta desde la íntima observación de la naturaleza a nuestro alrededor hasta los lugares más recónditos de los cielos, encontrando la unidad de la creación divina tanto en nuestra pequeña y frágil Tierra como en la infinidad del espacio.
THE MOCKINGBIRD (El sinsonte): El noveno, décimo y onceno movimiento de Des canyons aux étoiles... resaltan la música de las aves, un sonido que Messiaen evocaba con el tipo de precisión inspirada que ningún otro compositor ha podido igualar. Messiaen conocía sus pájaros, en su canto él escuchaba literalmente la voz de Dios y las glorias de la creación divina.
THE WOOD THRUSH (El tordo del bosque): Escuchamos el canto del tordo del bosque, un pájaro que podemos encontrar en lugares del suroeste de Estados Unidos como el Bryce Canyon, así como también en México y América Central.
'ŌMA'O, LEIOTHRIX, 'ELEPAIO, SHAMA: El horizonte de Messiaen se amplía para incluir especies que solo se pueden escuchar lejos de Utah: el 'ōma`o, leothrix, 'elepaio y shama, nativos de África y las Islas Hawaianas. Todos son pájaros pequeños que se parecen físicamente al tordo del bosque, pero, claramente, Messiaen quiere que notemos sus diferencias.
ZION PARK AND THE CELESTIAL CITY (El parque de Zion y la Ciudad Celestial): La consumación de la visión de Messiaen es representada en el duodécimo movimiento, "El parque de Zion y la Ciudad Celestial," un himno a la gloria de toda la creación.
               – © Michael Clive


Translated by Maria Paulina García
Matthias Pintscher, conductor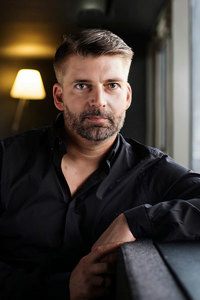 The 2022-23 season is Matthias Pintscher's final season as Music Director of the Ensemble intercontemporain (EI), the world's foremost contemporary music ensemble, founded in 1980 by Pierre Boulez and winner of the 2022 Polar Prize of the Royal Swedish Academy, the equivalent of the Nobel Prize in music.
In his most successful decade-long artistic leadership of EIC, he continued and expanded the cultivation of new work by emerging composers of the 21st century, alongside performances of iconic works by the pillars of the avant-garde of the 20th Century. In this, his valedictory season, Mr. Pintscher has a robust season of concerts in Paris including collaborations with the Conservatoire de Paris and IRCAM, operas-in-concert and tours throughout Europe and the United States, including performances in Carnegie Hall and Walt Disney Concert Hall.
As a conductor, Mr. Pintscher enjoys and maintains relationships with several of the world's most distinguished orchestras, among them the Bavarian Radio Symphony Orchestra, Los Angeles Philharmonic, Amsterdam's Royal Concertgebouw Orchestra and BBC Scottish Symphony. He is also Creative Partner for the Cincinnati Symphony. As guest conductor in Europe, he makes debut appearances this season with the Wiener Symphoniker and Gurzenich Orchester of Cologne, and returns to the Royal Concertgebouw, BRSO, BBC Scottish SO, Barcelona Symphony and Berlin's Boulez Ensemble. In North America, he will make prominent debuts with The Philadelphia Orchestra and Kansas City Symphony, in addition to regular visits to Cincinnati Symphony, and repeat guest engagements with
the Detroit Symphony, Baltimore Symphony, Los Angeles Philharmonic and New World Symphony. Mr. Pintscher has also conducted several opera productions for the Berliner Staatsoper (Beat Furrer's Violetter Schnee, Wagner's Lohengrin), Wiener Staatsoper (Olga Neuwirth's Orlando) and the Theatre du Chatelet in Paris. He returns to the Berliner Staatsoper in 2023 for Der Fliegende Holländer. 
Mr. Pintscher is well known as a composer, and his works appear frequently on the programs of major symphony orchestras throughout the world. In 2021 he was the focus of the Suntory Hall Summer Festival—a weeklong celebration of his works with the Tokyo Symphony, as well as a residency by the EIC with symphonic and chamber music performances. His third violin concerto, Assonanza, written for Leila Josefowicz, was premiered in January 2022 with the Cincinnati Symphony. Another 2021-22 world premiere was neharot, a co-commission of Suntory Hall, Orchestre Philharmonique de Radio France, Orchestre de la Suisse Romande, Los Angeles Philharmonic and Staatskapelle Dresden, where he was named Capell-Compositeur. In the 2016-17 season, he was the inaugural composer-in-residence of the Elbphilharmonie Hamburg, and from 2014 to 2017, he was artist-in-residence at the Danish National Symphony Orchestra.
Mr. Pintscher began his musical training in conducting, studying with Pierre Boulez and Péter Eötvös in his early twenties, when composing soon took a more prominent role in his life. He rapidly gained critical acclaim in both areas of activity and continues to compose in addition to his conducting career. A prolific composer, Mr. Pintscher's music is championed by some of today's finest performing artists, orchestras and conductors. His works have been performed by such orchestras as the Boston Symphony, Chicago Symphony, Cleveland Orchestra, New York Philharmonic, Philadelphia Orchestra, Berlin Philharmonic, London Symphony, Royal Concertgebouw Orchestra and the Orchestre de Paris, among many others. He is published exclusively by Barenreiter, and recordings of his works can be found on Kairos, EMI, Teldec, Wergo, and Winter & Winter.
Ensemble intercontemporain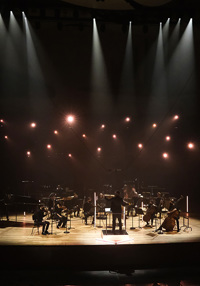 In 1976 Pierre Boulez founded the Ensemble intercontemporain with the support of Michel Guy (who was Minister of Culture at the time) and the collaboration and Nicholas Snowman.
The Ensemble's 31 soloists share a passion for 20th-21st-century music. They are employed on permanent contract, enabling them to fulfill the major aims of the Ensemble: performance, creation and education for young musicians and the general public. Under the artistic direction of Matthias Pintscher, the musicians work in close collaboration with composers, exploring instrumental techniques and developing projects that interweave music, dance, theater, film, video and visual arts.
In collaboration with IRCAM (Institut de Recherche et Coordination Acoustique/Musique), the Ensemble intercontemporain is also active in the field of synthetic sound generation. New pieces are commissioned and performed on a regular basis.
The Ensemble is renowned for its strong emphasis on music education: concerts for kids, creative workshops for students, training programs for future performers, conductors, composers, etc.
Resident of the Cite de la musique – Philharmonie de Paris, the Ensemble performs and records in France and abroad, taking part in major festivals worldwide.
The Ensemble is financed by the Ministry of Culture and receives additional support from the Paris City Council. In 2022 it was awarded the prestigious Polar Music Prize.
Diego Tosi, violin
John Stulz, viola
Eric-Maria Couturier, cello
Sophie Cherrier, flute
Philippe Grauvogel, oboe
Martin Adamek, clarinet
Jean-Christophe Vervoitte, horn
Samuel Favre, percussion
Dimitri Vassilakis, piano