Events & Tickets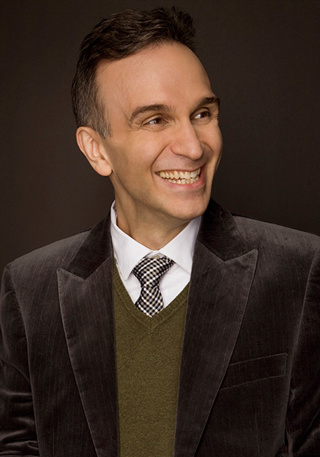 Orchestra Concert
GIL SHAHAM PLAYS BRAHMS
Adrienne Arsht Center
Saturday, October 26 at 8:00 PM
Program
MTT opens NWS's Arsht Center series with an exclusive evening featuring works by music's defining Romantics. Hailed by Time magazine as "the outstanding American violinist of his generation," Gil Shaham brings captivating lyricism and gypsy flair to Johannes Brahms' only Violin Concerto with a "transfixing array of finesse and grit" (Orange County Register).  Alban Berg's Three Pieces for Orchestra—what he called a "fictitious symphony"—is a kaleidoscope of vivid colors and textures, and contains nods to Gustav Mahler throughout. Robert Schumann's tumultuous Overture forms the dramatic start to this unforgettable evening. 
Click here to read all about NWS Downtown -- a series of new benefits to your Arsht Center experience!
COMPOSE YOUR OWN SUBSCRIPTION PACKAGE!
Choose this plus two more concerts to customize your own subscription. It's the ultimate flexibility with all the subscriber benefits, including free exchanges when plans change! Click here to create your own series today.
SUBSCRIBERS ENJOY THE BEST OF NWS!
As an NWS Subscriber, you receive amazing benefits to enjoy throughout the season, including the best seats for the lowest prices and access to our incredibly talented Fellows. Click here to learn more!
Loading Concert Information
Program
Robert Schumann
(1810-1856)
Approx. Duration: 8 minutes

Overture to The Bride of Messina, Op. 100 (1850-51)

Alban Berg
(1885-1935)
Approx. Duration: 19 minutes

Three Pieces for Orchestra, Op. 6 (1913-15; revised 1929)

Johannes Brahms
(1833-1897)
Approx. Duration: 38 minutes

Concerto in D major for Violin and Orchestra, Op. 77 (1878)

Allegro non troppo
Adagio
Allegro giocoso, ma non troppo vivace
Robert Schumann
Overture to The Bride of Messina, Op. 100 (1850-51)

Approximate duration: 8 minutes
When Schumann became the municipal music director for the German city of Düsseldorf in 1850, it seemed that he had finally found the stable, respected post he had long dreamed of. Early in his tenure, he won over fans with the orchestral concerts he conducted, and his setup allowed him to flourish as a composer, leading to landmark works like the Cello Concerto and Third Symphony. It wasn't long, though, before his wife Clara noted her husband's "highly nervous, irritable, excited mood," which only grew worse under the strain of his demanding job. In 1853 the orchestra forced Schumann to resign, and in 1854 he threw himself into the Rhine River in a suicide attempt. He lived out his remaining two years in an insane asylum.
During his first Düsseldorf season, Schumann considered writing an opera based on a play he had admired since he was a teenager, Friedrich Schiller's The Bride of Messina. He ended up writing a concert overture instead, distilling the play's Greek-inspired tragedy into a tense and dramatic sonata form. Rising arpeggios ripple through the slow introduction, building expectation, and then the fast body of the Overture juggles terse motives in the key of C minor, recalling Beethoven's fateful orchestral music in that same key, including the Fifth Symphony and the Coriolan Overture. The contrasting lyrical music, starting with a clarinet solo that is marked "very expressive," amplifies the play's ill-fated romance, in which two brothers are in love with the same woman, only to discover that she is their long-lost sister.
Alban Berg
Three Pieces for Orchestra, Op. 6 (1913-15; revised 1929)

Approximate duration: 19 minutes
Until the age of 19, Alban Berg's only formal training in music consisted of childhood piano lessons from the family's governess. His early, self-guided attempts at composing focused on lieder, and he wrote about 80 songs in a Romantic style indebted to Schumann and Brahms.
Berg entered a new phase in 1904, when he began seven years of private study with Arnold Schoenberg. Even though Schoenberg was only 11 years older than his pupil and still in the process of finding his own way toward an intuitive form of atonality, Berg revered his teacher as an unquestionable father figure, and he remained a committed disciple throughout his life. Together with another student who joined the fold in 1904, Anton Webern, they made up the nucleus of what has been dubbed the "Second Viennese School," stacking them up against that first great flowering of Viennese music from Haydn, Mozart and Beethoven.
Berg's formal lessons ended when Schoenberg moved from Vienna to Berlin in 1911, and his first published works from around that time show his own personal sound coming into focus, but the insecure young composer remained eager as ever for his teacher's stingy praise. When they met up in Berlin in 1913, Schoenberg was brutal in his criticism of Berg's recent efforts, especially the brevity of the works' movements. In response, Berg began the Three Pieces for Orchestra, his first work for orchestra alone, which he planned to offer to Schoenberg as a 40th birthday present in 1914. He only finished the outer movements in time, with the middle movement following in 1915. Webern conducted two movements in 1923, and Berg revised the entire score in 1929 as he prepared for its publication and first full performance.
To find his way back to longer, more developed movements, Berg took inspiration from one of his other musical heroes, Mahler, whose Ninth Symphony had just received its posthumous premiere in 1912, with Berg in the audience. The first of Berg's Three Pieces, a Prelude, approximates the start of Mahler's Ninth in its slow bloom. The extremes of orchestral color, from remote solos to overpowering smears of brass, likewise borrow from Mahler's all-encompassing vocabulary of symphonic sounds.
Berg likened his Three Pieces to a symphony, with the multi-faceted second movement serving as both the scherzo (complete with Mahler-like dance strains) and the slow movement. The concluding March veers from deadly serious to ridiculously grotesque, a dichotomy that replays to astounding effect in Wozzeck, the operatic masterpiece that Berg began while he was finishing the Three Pieces for Orchestra.
Johannes Brahms
Concerto in D major for Violin and Orchestra, Op. 77 (1878)

Approximate duration: 38 minutes
Brahms was at the impressionable age of 15 when a revolution in Hungary sent refugees fleeing to the United States, many of them embarking from Brahms' native Hamburg. Brahms fell in love with the Hungarian music that flooded his city, brought by the likes of violinist Ede Reményi, and so it was both a tremendous honor and a lucky career break when that same musician returned five years later and hired the 20-year-old Brahms to accompany him on the piano during a tour through Germany. During that tour, Brahms met another Hungarian violinist, Joseph Joachim, who at 22 was already at the start of an impressive career. Joachim's first great kindness to Brahms was to introduce him to Robert Schumann, sparking the brief mentorship that helped Brahms foster his passion for the formal models perfected by Mozart, Beethoven and Mendelssohn.
Brahms and Joachim remained friends for most of their lives (apart from a falling out surrounding Joachim's divorce), and the one and only Violin Concerto that Brahms composed in 1878 stands as a testament to their strong working relationship. Brahms mailed drafts to Joachim to consult on the solo part, and the violinist ended up supplying the enormous cadenza for the first movement that many performers still use. They debuted the work together in Leipzig on January 1, 1879, with Brahms conducting the Gewandhaus Orchestra. 
On that same program, Joachim also performed the Violin Concerto by Beethoven, about whom Brahms once wrote, "You can't have any idea what it's like always to hear such a giant marching behind you!" Once Brahms hit his stride with orchestral music in his 40s, he did not shy away from writing works that paralleled those of his idol, and he even seemed to embrace the implicit comparison at times, like when the solo violin enters his Concerto over an exposed timpani roll, recalling the prominent timpani strikes that begin Beethoven's Concerto. Brahms also followed Beethoven's lead in how the first movement's solo cadenza releases into music of great delicacy and beauty, instead of a loud and blustery conclusion.
The central Adagio movement presents one of Brahms' loveliest melodies, which ironically comes from a solo oboe, not the violin soloist. (This shared spotlight prompted the violinist Pablo de Sarasate to quip, "Would I stand there, violin in hand, while the oboe plays the only melody in the whole work?") The violin does take up a version of the theme, but it migrates from F major to the stormier key of F-sharp minor. By the time it returns for a closing passage in F major, only wisps of the original melody remain.
The Concerto concludes with a rowdy finale built from a theme with a Hungarian flavor. That motive, voiced in thirds and following a rising and following contour, sounds quite similar to the main theme from the finale of Bruch's Violin Concerto No. 1, composed 10 years earlier, and also edited and premiered by Joachim.
-- © 2019 Aaron Grad
Aaron Grad is a composer, guitarist and writer based in Seattle. Besides providing program notes for the New World Symphony, he has been the Orpheus Chamber Orchestra's program annotator since 2005 and also contributes notes to the Saint Paul Chamber Orchestra and Seattle Symphony.
Welcome to Keynotes, NWS's new program-based podcast! NWS audiences can now soak up musical clips and commentary for an upcoming performance while on the road, in the kitchen or at work -- wherever life takes you! Keynotes will be available for select concerts throughout the season. Let us set the stage for your concert experience by sharing noteworthy moments guided by NWS's program note annotator Aaron Grad. Audio clips provided by Naxos of America, Inc. 
Michael Tilson Thomas, conductor
Michael Tilson Thomas is Co-Founder and Artistic Director of the New World Symphony, America's Orchestral Academy; Music Director of the San Francisco Symphony; and Conductor Laureate of the London Symphony Orchestra. In addition to these posts, he maintains an active presence guest conducting with the major orchestras of Europe and the United States.
Born in Los Angeles, Mr. Tilson Thomas is the third generation of his family to follow an artistic career. His grandparents, Boris and Bessie Thomashefsky, were founding members of the Yiddish Theater in America. His father, Ted Thomas, was a producer in the Mercury Theater Company in New York before moving to Los Angeles where he worked in films and television. His mother, Roberta Thomas, was the head of research for Columbia Pictures.
Mr. Tilson Thomas began his formal studies at the University of Southern California where he studied piano with John Crown and conducting and composition with Ingolf Dahl. At age 19 he was named Music Director of the Young Musicians Foundation Debut Orchestra. He worked with Stravinsky, Boulez, Stockhausen and Copland on premieres of their compositions at Los Angeles' Monday Evening Concerts. During this same period he was the pianist and conductor for Gregor Piatigorsky and Jascha Heifetz.
In 1969, after winning the Koussevitzky Prize at Tanglewood, he was appointed Assistant Conductor of the Boston Symphony Orchestra. That year he also made his New York debut with the Boston Symphony and gained international recognition after replacing Music Director William Steinberg in mid-concert. He was later appointed Principal Guest Conductor of the Boston Symphony Orchestra where he remained until 1974. He was Music Director of the Buffalo Philharmonic from 1971 to 1979 and a Principal Guest Conductor of the Los Angeles Philharmonic from 1981 to 1985. His guest conducting includes appearances with the major orchestras of Europe and the United States.
His recorded repertoire of more than 120 discs includes works by composers such as Bach, Beethoven, Mahler, Prokofiev and Stravinsky as well as his pioneering work with the music of Charles Ives, Carl Ruggles, Steve Reich, John Cage, Ingolf Dahl, Morton Feldman, George Gershwin, John McLaughlin and Elvis Costello. He also recorded the complete orchestral works of Gustav Mahler with the San Francisco Symphony.
Mr. Tilson Thomas' television work includes a series with the London Symphony Orchestra for BBC Television, the television broadcasts of the New York Philharmonic Young People's Concerts from 1971 to 1977 and numerous productions on PBS' Great Performances. Mr. Tilson Thomas and the San Francisco Symphony produced a multi-tiered media project, Keeping Score, which includes a television series, web sites, radio programs and programs in schools.
In 1990 Mr. Tilson Thomas and the New World Symphony were presented in a series of benefit concerts for UNICEF in the United States, featuring Audrey Hepburn as narrator of From the Diary of Anne Frank, composed by Mr. Tilson Thomas and commissioned by UNICEF. This piece has since been translated and performed in many languages worldwide. In August 1995 he led the Pacific Music Festival Orchestra in the premiere of his composition Showa/Shoah, commemorating the 50th anniversary of the bombing of Hiroshima. Thomas Hampson premiered his settings of poetry by Walt Whitman, Renée Fleming premiered his settings of the poetry of Emily Dickinson and the San Francisco Symphony premiered his concerto for contrabassoon entitled Urban Legend. As a Carnegie Hall Perspectives Artist from 2003 to 2005, he had an evening devoted to his own compositions which included Island Music for four marimbas and percussion, Notturno for solo flute and strings and a new setting of poems by Rainer Maria Rilke. Other compositions include Street Song for brass instruments and Agnegram, an overture for orchestra.
Among his many honors and awards, Mr. Tilson Thomas is a Chevalier dans l'ordre des Arts et des Lettres of France, was Musical America's Musician of the Year and Conductor of the Year, Gramophone Magazine's Artist of the Year and has been profiled on CBS's 60 Minutes and ABC's Nightline. He has won 11 Grammy Awards for his recordings. In 2008 he received the Peabody Award for his radio series for SFS Media, The MTT Files. In 2010 President Obama awarded him the National Medal of Arts, the highest award given to artists by the United States Government.
Gil Shaham, violin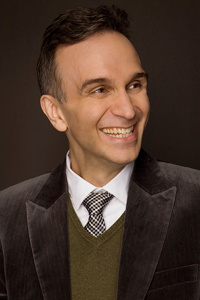 Gil Shaham is one of the foremost violinists of our time: his flawless technique combined with his inimitable warmth and generosity of spirit has solidified his renown as an American master. The Grammy Award-winner is sought after throughout the world for concerto appearances with leading orchestras and conductors, and regularly gives recitals and appears with ensembles on the world's great concert stages and at the most prestigious festivals.
Mr. Shaham's recent highlights include the acclaimed recording and performances of J.S. Bach's complete sonatas and partitas for solo violin. In the coming seasons, in addition to championing these solo works, he will join his long-time duo partner pianist, Akira Eguchi in recitals throughout North America, Europe and Asia.
Mr. Shaham's appearances with orchestra regularly include the Berlin Philharmonic, Boston Symphony, Chicago Symphony, Israel Philharmonic, Los Angeles Philharmonic, New York Philharmonic, Orchestre de Paris and San Francisco Symphony as well as multi-year residencies with the Orchestras of Montreal, Stuttgart and Singapore.  Mr. Shaham continues his exploration of violin concertos from the 1930s, including the works of Samuel Barber, Béla Bartók, Alban Berg, Erich Korngold, Sergei Prokofiev, among many others. 
Mr. Shaham has more than two dozen concerto and solo CDs to his name, earning multiple Grammys, a Grand Prix du Disque, Diapason d'Or and Gramophone Editor's Choice. Many of these recordings appear on Canary Classics, the label he founded in 2004. His CDs include 1930s Violin Concertos, Virtuoso Violin Works, Elgar's Violin Concerto, Hebrew Melodies, The Butterfly Lovers and many more. His most recent recording in the series 1930s Violin Concertos Vol. 2, including Prokofiev's Violin Concerto and Bartók's Violin Concerto No. 2, was nominated for a Grammy Award.
Mr. Shaham was born in Champaign-Urbana, Illinois in 1971. He moved with his parents to Israel, where he began violin studies with Samuel Bernstein of the Rubin Academy of Music at the age of seven, receiving annual scholarships from the America-Israel Cultural Foundation. In 1981 he made debuts with the Jerusalem Symphony and Israel Philharmonic, and the following year, took the first prize in Israel's Claremont Competition. He then became a scholarship student at The Juilliard School, and also studied at Columbia University.
Mr. Shaham was awarded an Avery Fisher Career Grant in 1990, and in 2008 received the coveted Avery Fisher Prize. In 2012 he was named "Instrumentalist of the Year" by Musical America. He plays the 1699 "Countess Polignac" Stradivarius, and lives in New York City with his wife, violinist Adele Anthony, and their three children.
Chad Goodman, conductor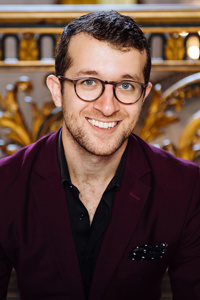 Recognized as "an entrepreneur bringing innovation to classical music" (Forbes), Chad Goodman leads an active and diverse conducting career.
The Conducting Fellow of the New World Symphony, Mr. Goodman will work closely with Artistic Director Michael Tilson Thomas and take the podium on 13 programs during the 2019-20 Season. Since 2018 he has served as an Assistant Conductor to the San Francisco Symphony, assisting Esa-Pekka Salonen, Manfred Honeck, Daniel Harding, Pablo Heras-Casado, Simone Young and James Gaffigan, among others.
As Founder and Artistic Director of Elevate Ensemble, Mr. Goodman's "courageous" and "ambitious" (San Francisco Classical Voice) vision for concert programming resulted in the pairing of music from Bay Area composers with underappreciated gems of the 20th and 21st centuries. Under his leadership, Elevate Ensemble established a Composer-in-Residence program, served as Ensemble-in-Residence at San Francisco State University, and commissioned 15 works from Bay Area composers.
Mr. Goodman has previously served as Music Director of the Contra Costa Chamber Orchestra and Assistant Conductor of the Peninsula Symphony. He has been a Conducting Fellow at the Atlantic Music Festival, a cover conductor for the San Francisco Ballet and has collaborated with composer Mason Bates on his electronica-classical music project, Mercury Soul.
A driving force in the new music scene, Mr. Goodman has conducted the premieres of more than 50 works. In addition to his performing career, he has taught young musicians the business and entrepreneurial skills needed to successfully navigate the world as a working musician in his workshop "You Just Earned a Music Degree. Now What?"
Mr. Goodman holds a bachelor of music degree from the Eastman School of Music and a master of music degree from San Francisco State University. His mentors include Michael Tilson Thomas, Alasdair Neale, Cyrus Ginwala and Martin Seggelke.