Events & Tickets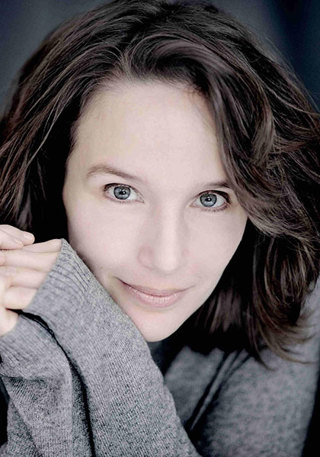 Orchestra Concert
HÉLÈNE GRIMAUD AND MAHLER
Adrienne Arsht Center
Saturday, March 16 at 8:00 PM
Program
Celebrated pianist, human rights activist, wildlife conservationist and author Hélène Grimaud makes her anticipated return to the Adrienne Arsht Center in a one-night-only performance of Maurice Ravel's jazzy Concerto in G. Its sublime second movement in the hands of Ms. Grimaud is said to make time stand still. Conductor Mark Wigglesworth closes the program with the Fellows in Gustav Mahler's First Symphony. Mahler famously said, "to create a symphony is, for me, to create a world," and this world is boldly emblazoned with both youthful energy and musical maturity. Wolfgang Amadeus Mozart's beloved Overture to The Magic Flute is a sparkling romp fueled by musical genius.
Click here to read more about Hélène Grimaud with a preview of her performing Ravel's Concerto in G.
COMPOSE YOUR OWN SUBSCRIPTION PACKAGE!
Choose this plus two more concerts to customize your own subscription. It's the ultimate flexibility with all the subscriber benefits, including free exchanges when plans change! Click or call the NWS Box Office at 305.673.3331 to create your own series today.
Program
Wolfgang Amadeus Mozart
(1756-1791)
Approx. Duration: 7 minutes

Overture to The Magic Flute, K. 620 (1791)

Maurice Ravel
(1875-1937)
Approx. Duration: 23 minutes

Concerto in G major for Piano and Orchestra (1929-31)

Allegramente
Adagio assai
Presto
Gustav Mahler
(1860-1911)
Approx. Duration: 53 minutes

Symphony No. 1 in D major (1884-88; revised 1893-99)

Slowly, dragging
Moving strongly, but not too quickly
Solemnly and measured, without dragging
Stormily agitated – Energetic  
Wolfgang Amadeus Mozart
Overture to The Magic Flute, K. 620 (1791)

Approximate duration: 7 minutes
Mozart, desperate as ever for a new income stream, joined with his friend and fellow Freemason Emanuel Schikaneder in 1791 to create a Singspiel, a popular format akin to today's Broadway musicals. Working from Schikaneder's original libretto that blended elements from fairy tales and Masonic symbolism, Mozart completed most of The Magic Flute by July, and then he paused to deal with a last-minute commission to write the opera La clemenza di Tito. He finished the Overture to The Magic Flute just two days before the premiere on September 30; two months later he was on his deathbed, silenced in his prime by an infection. 
To begin the Overture, a slow and solemn introduction builds anticipation that releases into a breathless fugue, whipping the primary theme into a glorious frenzy.
After a series of ceremonial chords adapted from the introduction, the development section continues the jumble of intricate counterpoint, hinting at the mysteries and intrigues forthcoming in this most fantastical of Mozart's operas.
Maurice Ravel
Concerto in G major for Piano and Orchestra (1929-31)

Approximate duration: 23 minutes
Maurice Ravel had an unrivaled ear for orchestral color and an imaginative approach to standard classical forms—and still it took him until the very end of his career to combine those talents in a traditional, multi-movement orchestral score. He never wrote a symphony, but he did finally write two piano concertos: the first a single-movement concerto for left hand only (commissioned by Paul Wittgenstein, who was maimed during World War I), followed soon after by the Piano Concerto in G major. It was a work he hoped to perform himself and take on tour, but the advancing state of his degenerative brain disease kept him from ever playing it. He did manage to conduct the premiere, performed by the Concerto's dedicatee, the pianist Marguerite Long.
As Ravel told an interviewer, "A concerto can be gay and brilliant and need not try to be profound or strive after dramatic effects. It has been said of some of the great classical composers that their concertos were written not for but against the piano, and I think this is perfectly correct."
Spurred on by an initial crack of the whip (the actual name of the percussion instrument made of two long boards), the Concerto opens with the pianist functioning as an integral part of the orchestra, its flowing filigree decorating a call to action from the piccolo and trumpet.
Ravel was one of many European composers who flirted with jazz in the 1920s, and he was especially struck by the jazz bands he heard while touring North America in 1928. For the slower, contrasting material of the Concerto's opening movement, he devised a five-note motive that leans on the lowered third tone of the scale, a classic "blue" note.
The slow movement is exquisitely understated, flowing in a songlike manner that, as Ravel acknowledged, leans on the example of Mozart. The piano plays in solitude for the first third of the movement, as if the orchestra, the audience and the entire world are just distant, half-remembered visions in a dream.
When the piano and orchestra go on to develop the ideas together, slightly mismatched harmonies and rhythmic groupings preserve the sense that the pianist is still adrift in a private reverie.
The finale echoes the Concerto's opening by launching in with a percussive burst (this time a drum roll) and using the piano's restless figures as a platform for feisty contributions from solo voices within the orchestra.
Even when the music takes on a marching, militaristic character, it never loses the youthful exuberance that was central to Ravel's personality, like a child delighting in an imaginary scene acted out by his toys.
Gustav Mahler
Symphony No. 1 in D major (1884-88; revised 1893-99)

Approximate duration: 53 minutes
Gustav Mahler was born into a German-speaking, upwardly mobile Jewish family in what is now the Czech Republic. He focused on composition as a student at the Vienna Conservatory, but from the time he directed his first opera at 21, he was bound for a career that involved him holding a conductor's baton more often than a composer's quill. In 1897 he ascended to the most influential podium in Europe, becoming director of the Vienna Court Opera; it was also the year he converted to Catholicism, to get around the opera's prohibition on hiring a Jewish leader.
Mahler focused his limited composing time on songs and symphonies, with significant cross-pollination between the two genres. His First Symphony developed particularly slowly, beginning in 1884, when he was working in Kassel, Germany. Having become infatuated with a soprano in the choir he led, Mahler wrote her love poems, and he set some to music in the song cycle Songs of a Wayfarer, including melodies he later folded into the First Symphony. The piece remained unfinished during Mahler's brief tenure in Prague, and it progressed as far as a piano score by early 1888, when he resigned from an even more prominent position in Leipzig. The 28-year-old went on to head the Royal Hungarian Opera in Budapest, and before year's end he had completed the orchestration of his symphonic debut.
Mahler conducted the first performance of the "Symphonic Poem in Two Parts" (as he initially titled it) in Budapest in November of 1889. It confounded critics, especially the second part with its mix of grotesque parody and raw power, leading Mahler to shelve the score temporarily. After moving on to yet another conducting job in Hamburg, he brought the Symphony back for a second performance in 1893, with an expanded wind section and a new title: Titan, a Tone Poem in Symphony Form. Further revisions added more woodwinds and eliminated the slow Blumine movement, bringing the score to the form in which it was published in 1899 as the Symphony No. 1. By then Mahler had removed the Titan title, but it continues to stick as a nickname.
The Symphony begins with the mystical resonance of the note "A" spread across the full range of the strings, joined by a slow motive of descending intervals based in D minor. Mahler's 1893 program described this movement as "the awakening of Nature from the long sleep of winter," an association supported by pastoral birdcalls and distant fanfares, as if from a hunting party. Besides the naturalistic tone painting, Mahler's opening pays homage to Beethoven's Ninth Symphony, which likewise starts with a sustained "A" and motives based on similar descending intervals.
The second movement is a Ländler, an exuberant peasant dance in triple meter—music "with full sails," as Mahler characterized it in his program note.
An emotionally ambiguous Funeral March follows, building from a minor-key rendition of the round-tune Bruder Martin (also known as Frère Jacques).
Mahler described the inspiration as coming from "The Huntsman's Funeral, from an old children's book: the animals of the forest accompany the dead huntsman's bier to the grave; hares escort the little troop, in front of them marches a group of Bohemian musicians, accompanied by playing cats, toads, crows etc. Stags, deer, foxes and other four-legged and feathered animals follow the procession in comic attitudes. In this passage the piece is intended to have now an ironically merry, now a mysteriously brooding mood."
The finale, in Mahler's design, is meant to enter "like the suddenly erupting cry of a heart wounded to its depths."
Upon reaching a terrifying climax, the music breaks off into a hushed recollection of the naturalistic scene from the Symphony's opening.
When the movement reaches its ultimate peak, seven horns and four trumpets pushed to a fortississimo (fff) dynamic leave no doubt as to this Symphony's redemption, their bright fanfare in D-major cleansing away any doubts planted long ago in the Symphony's D-minor arrival.

-- Copyright © 2019 Aaron Grad
Aaron Grad is a composer, guitarist and writer based in Seattle. Besides providing program notes for the New World Symphony, he has been the Orpheus Chamber Orchestra's program annotator since 2005 and also contributes notes to the Saint Paul Chamber Orchestra and Seattle Symphony.
Mark Wigglesworth, conductor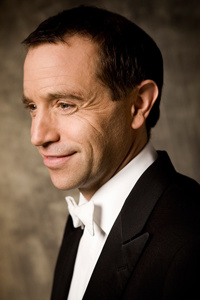 Internationally renowned and Olivier Award-winning conductor Mark Wigglesworth is one of the outstanding musicians of his generation, as much at home in the opera house as the concert hall. Recognized for his masterly interpretations, his highly detailed performances combine a finely considered architectural structure with great sophistication and rare beauty. Through a broad repertoire ranging from Mozart to Boulez, he has forged enduring relationships with many orchestras and opera houses throughout the world.
Mr. Wigglesworth's book The Silent Musician: Why Conducting Matters was published in 2018 by Faber & Faber. He has enjoyed a long relationship with English National Opera (Lady Macbeth of the Mtsensk District, Così fan Tutti, Falstaff, Katya Kabanova, Parsifal, Force of Destiny, Magic Flute, Jenůfa, Don Giovanni and Lulu), and operatic engagements elsewhere include The Royal Opera House, Covent Garden (Die Meistersinger von Nürnberg, Rise and Fall of Mahagonny), The Metropolitan Opera, New York (The Marriage of Figaro) as well as at The Bavarian State Opera, Semperoper Dresden, Teatro Real, The Netherlands Opera, La Monnaie, Welsh National Opera, Glyndebourne and Opera Australia. In 2017 he received the Oliver Award for Outstanding Achievement in Opera.
On the concert platform, Mr. Wigglesworth's highlights include performances with the Berlin Philharmonic, Royal Concertgebouw, London Symphony, London Philharmonic, Boston Symphony, New York Philharmonic, Philadelphia Orchestra, Chicago Symphony, Los Angeles Philharmonic, Cleveland Orchestra, Tokyo Symphony and Sydney Symphony. His recordings include a critically acclaimed complete cycle of the Shostakovich Symphonies with the BBC National Orchestra of Wales and the Netherlands Radio Philharmonic, Mahler's Sixth and Tenth symphonies with the Melbourne Symphony, a disc of English music with the Sydney Symphony, Britten's Peter Grimes with Glyndebourne and the Brahms Piano Concertos with Stephen Hough.
He has written articles for The Guardian and The Independent, made a six-part TV series for the BBC, entitled Everything to Play For, and held positions as Associate Conductor of the BBC Symphony, Principal Guest Conductor of the Swedish Radio Symphony, Music Director of the BBC National Orchestra of Wales and, most recently, Music Director of English National Opera. He is currently Principal Guest Conductor of the Adelaide Symphony Orchestra.
Hélène Grimaud, piano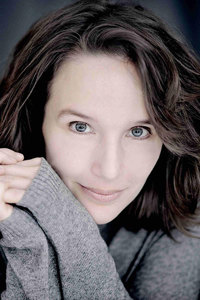 Renaissance woman Hélène Grimaud is not just a deeply passionate and committed musical artist whose pianistic accomplishments play a central role in her life. She is a woman with multiple talents that extend far beyond the instrument she plays with such poetic expression and peerless technical control. The French artist has established herself as a committed wildlife conservationist, compassionate human rights activist and writer.
Ms. Grimaud was born in 1969 in Aix-en-Provence and began her piano studies at the local conservatory with Jacqueline Courtin before going on to work with Pierre Barbizet in ­Marseille. She was accepted into the Paris Conservatory at just 13 and won first prize in piano performance a mere three years later. She continued to study with György Sándor and Leon Fleisher until, in 1987, she gave her well-received debut recital in Tokyo. That same year, renowned conductor Daniel Barenboim invited her to perform with the Orchestre de Paris: this marked the launch of Grimaud's musical career, characterized ever since by concerts with most of the world's major orchestras and many celebrated conductors.
Ms. Grimaud has been an exclusive Deutsche Grammophon artist since 2002. Her recordings have been critically acclaimed and awarded numerous accolades, among them the Cannes Classical Recording of the Year, Choc du Monde de la musique, Diapason d'or, Grand Prix du disque, Record Academy Prize (Tokyo), Midem Classic Award and the ECHO Klassik Award.
Ms. Grimaud's latest album, Memory, was released in September 2018. Exploring music's ability to bring the past back to life, it comprises a selection of evanescent miniatures by Chopin, Debussy, Satie and Valentin Silvestrov which, in the pianist's own words, "conjure atmospheres of fragile reflection, a mirage of what was—or what could have been."
She will give a series of recitals featuring repertoire from Memory during the 2018-19 season, initially at venues in Japan (November 2018), then in Germany, the Netherlands and Belgium (February 2019), with more European dates to follow in May and June 2019. Her tour of Taiwan, South Korea, China and Japan this autumn will focus on performances of Beethoven's Fourth Concerto and Ravel's Concerto in G major, works she will also play on a U.S. tour in March and April, at venues including the Walt Disney Concert Hall in Los Angeles and New York's Carnegie Hall. At the start of 2019, she joined forces with Andris Nelsons and the Leipzig Gewandhausorchester for a series of performances of the Schumann Piano Concerto in Leipzig, Hamburg, Paris, Luxembourg, Munich and Vienna.
Hélène Grimaud is undoubtedly a multi-faceted artist. Her deep dedication to her musical career, both in performances and recordings, is reflected and reciprocally amplified by the scope and depth of her environmental, literary and artistic interests.