Events & Tickets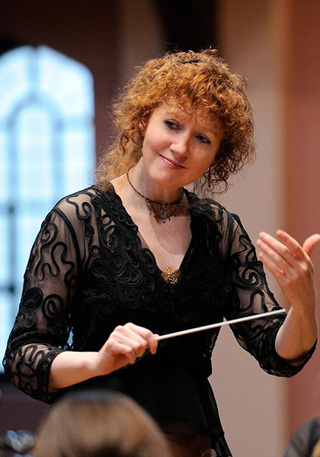 Orchestra Concert
Handel's Water Music
New World Center
Saturday, November 19, 2022 at 7:30 PM
Sunday, November 20, 2022 at 2:00 PM
Program
Handel's Water Music is NWS's celebration of Baroque and Classical favorites. Featuring conductor Jeannette Sorrell and soprano Sonya Headlam, this concert is part of the Saturday Evening Two and Sunday Symphony series. By subscribing, you secure a season of world-renowned artists performing an exciting range of orchestral music. Subscriptions for the Saturday Two Series (4 concerts) begin at $132 ($33/concert). Subscriptions to the 5-concert Sunday Symphony Series begin at $140 ($28/concert). Click here to explore the full subscriptions! 
COMPOSE YOUR OWN SUBSCRIPTION PACKAGE! 
Want to try a little of everything? Customize your own subscription of three or more concerts to exercise full creative freedom while enjoying all the flexibility and perks of being a New World Symphony subscriber. CYO series cannot be purchased online. Call the Box Office at 305.673.331 to compose your series today. 
SUBSCRIBERS ENJOY THE BEST OF NWS! 
As an NWS Subscriber, you receive amazing benefits to enjoy throughout the season, including the best seats for the lowest prices and access to our incredibly talented Fellows. Click here to learn more! 
Tickets on Sale 9/2/2022
Program
George Frideric Handel
(1685-1759)
Approx. Duration: 25 minutes

Water Music, HWV 348-350 (1714-26)

Antonio Vivaldi
(1678-1741)
Approx. Duration: 10 minutes

Concerto in B minor for Four Violins, RV 580 (1711)

Joseph Boulogne
(1745-1799)
Approx. Duration: 3 minutes

L'Amant anonyme (c. 1780)

Act II, Scene 1: "Enfin, une foule importune…Amour, deviant moi propice"
Wolfgang Amadeus Mozart
(1756-1791)
Approx. Duration: 15 minutes

Exsultate, jubilate, K. 165/158a (1773)

Allegro 
Tu virginum corona 
Alleluja 

Wolfgang Amadeus Mozart
(1756-1791)
Edited by Jeannette Sorrell
Approx. Duration: 17 minutes

Idomeneo, K. 366 (1780-81)

Chaconne 
Passepied 
Gavotte 
La chaconne, qui reprend 
Pas seul de M. LeGrand 

Jeannette Sorrell, conductor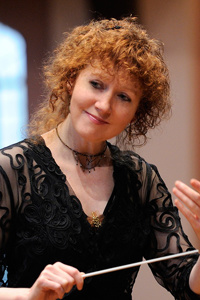 Award-winning harpsichordist and conductor ​Jeannette Sorrell ​has been credited by the BBC Music Magazine for forging​ "a vibrant, life-affirming approach to the remaking of early music… a seductive vision of musical authenticity."​ She takes her inspiration from the 17th-century concept of ​Affekt​, in which the goal of the musician is to move the emotions of the listeners. Ms. Sorrell makes use of Baroque dramatic devices, including rhetoric and harmonic tension and release, to bring Baroque repertoire to life in a highly personal and communicative way.   
Ms. Sorrell's recent and upcoming guest conducting engagements include Handel's Messiah in her Kennedy Center debut with the National Symphony in December 2017, as well as returns to the New World and Utah symphonies and debuts with the St. Paul Chamber Orchestra and at the Grand Teton Festival. She has previously led the Pittsburgh Symphony, Los Angeles Chamber Orchestra, Seattle Symphony, Opera Theatre of St. Louis with the St. Louis Symphony, Handel & Haydn Society (Boston) and the symphony orchestras of Jacksonville, Omaha, North Carolina, and Grand Rapids.
Founder and conductor of Apollo's Fire, Ms. Sorrell has built one of the largest audiences of any North American Baroque orchestras, with performances across America and Europe including the Tanglewood, Aldeburgh, BBC Proms and Aspen festivals, Metropolitan Museum in New York, Library of Congress and London's Wigmore Hall.  
Ms. Sorrell and Apollo's Fire record for the British label AVIE RECORDS and have released 24 commercial CDs, of which seven have been bestsellers on the Billboard Classical chart. Her recordings include the complete ​Brandenburg Concertos​ and ​harpsichord concertos​ (with Ms. Sorrell as harpsichord soloist and director), which was praised by the The Times of London as "a swaggering version… brilliantly played by Sorrell."  Her other bestsellers with Apollo's Fire include two crossover/folk programs, Sacrum Mysterium:  A Celtic Christmas Vespers​ and ​Come to the River: An Early American Gathering.  For the research and production of the latter disc, she received an American Masterpieces grant from the National Endowment for the Arts, one of two she has been awarded by the NEA.  
Ms. Sorrell's other awards include an honorary doctorate from Case Western University, Bodky Award from the Cambridge Society of Early Music and Noah Greenberg Award from the American Musicological Society. Passionate about guiding the next generation of performers, Ms. Sorrell has led many Baroque projects for Oberlin Conservatory and the Cleveland Institute of Music. She has also developed a highly successful Young Artist Apprentice Program to provide pre-professional training for talented period-instrument students under the auspices of Apollo's Fire.  
Born in the U.S. of Swiss and American parents, Ms. Sorrell was one of the youngest students ever accepted to the prestigious conducting courses of the Aspen and Tanglewood music festivals, studying conducting under Robert Spano, Roger Norrington and Leonard Bernstein, and harpsichord with Gustav Leonhardt in Amsterdam. She holds an artist diploma from Oberlin Conservatory, whereupon graduation she was invited to join the faculty of the Oberlin Baroque Performance Institute. 
Sonya Headlam, soprano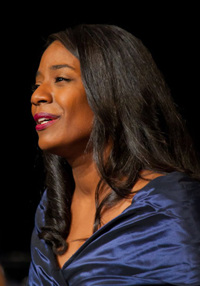 Soprano Sonya Headlam is a passionate and dynamic performer and vocal artist. Her career has taken her all over the world, from South America and the Caribbean to Europe and Asia, and she remains active in the New York/New Jersey area as a performer of vocal recitals, chamber music, oratorio and operatic repertoire. She has been lauded for her beautiful sound and a special ability to connect with her audience.
Ms. Headlam's recent performances include appearances as First Fairy in Mendelssohn's A Midsummer Night's Dream, as well as the soloist in Leonard Bernstein's Symphony No. 1. Career highlights include her critically acclaimed American Affairs and Ecstasy performances with One World Symphony, in addition to a solo Christmas concert, which was webcast live from Trinity Church Wall Street in downtown Manhattan. In 2010 Ms. Headlam made her Carnegie Hall debut as the soprano soloist in Vaughan Williams' Dona Nobis Pacem and Haydn's Paukenmesse with Distinguished Concerts International New York.
As a concert artist, Ms. Headlam has been a frequent soloist with New York's "hippest orchestra," One World Symphony, and has also been a featured soloist with the Greenwich Choral Society, Bronx Orchestra, Master Singers of Milwaukee and Willow Ensemble. Additional past concert engagements include Faure's Requiem, Haydn's Missa Brevis: St Joannis de Deo, The Messiah, Brahms' German Requiem and Mahler's Fourth Symphony.
Equally comfortable on the operatic stage, Ms. Headlam's roles include Lakmé, Frasquita in Carmen, Musetta in La bohème, Barbarina in The Marriage of Figaro, Laurie in The Tender Land and Lucia from Benjamin Britten's The Rape of Lucretia. Ms. Headlam has also been involved in contemporary opera and has performed roles in two world premieres: Michael Sahl's Katrina, Voices of the Lost, featured at the Tribeca New Music Festival, and a reading of Richard Thompson's The Mask in the Mirror in an event sponsored by New York City and presented by the City University of New York.
Born of Jamaican parentage, Ms. Headlam maintains close ties with the Caribbean where she has been active as a recitalist and soloist including a tour of Guadeloupe with members of the Cuban Philharmonic.
Ms. Headlam holds performance degrees from Miami University of Ohio, and received additional training at Mannes College of Music in New York City. She is currently pursuing a Doctor of Musical Arts degree in Voice Performance at the Mason Gross School of the Arts, Rutgers University.